2018 Women's NCAA Gymnastics Championships
Marissa Oakley Embraces Team At Georgia
Marissa Oakley Embraces Team At Georgia
Georgia freshman Marissa Oakley chats about her favorite event, the feeling at regionals, and rebounding from adversity.
Apr 19, 2018
by Lauren Green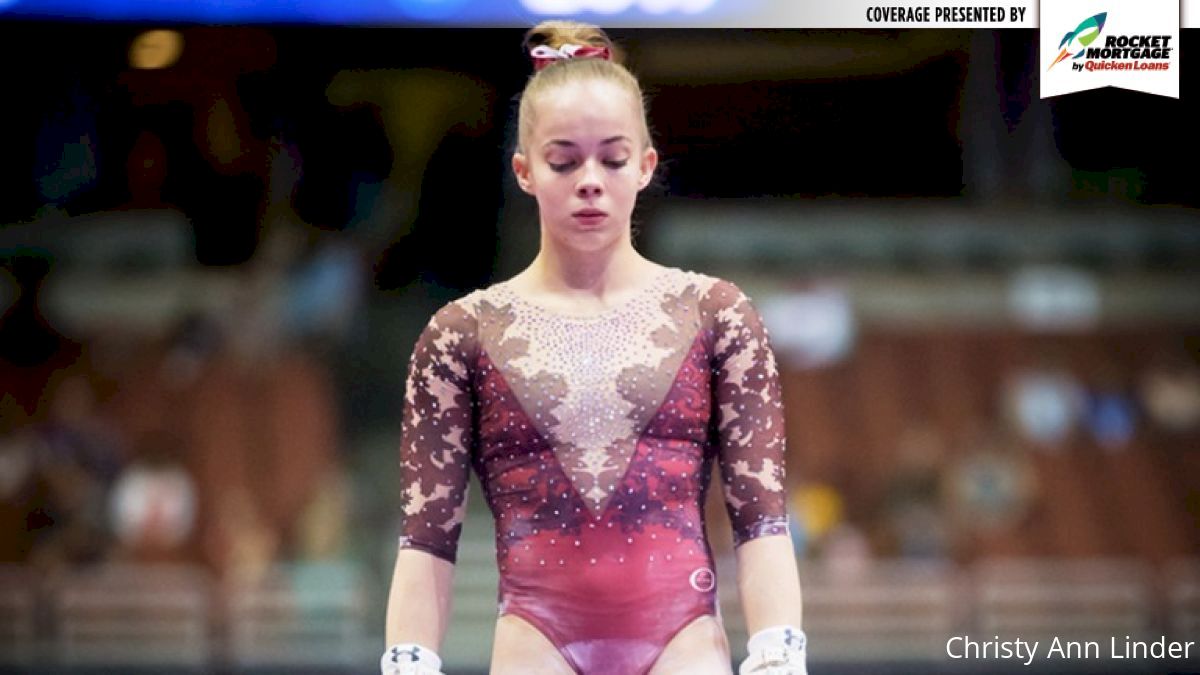 Marissa Oakley has been a solid, consistent three-event gymnast for the GymDogs this season. Offseason shoulder surgery kept her from adding her full difficulty on bars right away, but by the middle of the season she had found a groove on bars and on balance beam.
Marissa Oakley scores the first 9.9 of the night on bars! pic.twitter.com/oE9g5gpA9X

— Georgia Gymnastics (@UGAGymnastics) February 24, 2018
Oakley posted a 9.800 or better in eight of 13 routines on beam including a season-best 9.950 at home on Feb. 23 against LSU. The freshman posted a solid 9.775 for the GymDogs at regionals where Georgia clinched a spot at nationals on the final routine of the competition.
Marissa Oakley scores the first 9.9 of the night on bars! pic.twitter.com/oE9g5gpA9X

— Georgia Gymnastics (@UGAGymnastics) February 24, 2018
She has been a steady contributor on vault as well. While not her strongest event, the Gym Dogs have been somewhat shorthanded on vault due to injury and Oakley's serviceable full twisting Yurchenko is capable of bringing in a score in the 9.75 to 9.80 range.
Georgia will face LSU, Nebraska, UCLA, Arkansas, and Alabama on Friday in the first semifinal session.
What has the transition been like going from club to college gymnastics?
The transition from club to college gymnastics, it's so different. In club it's all individual and in college you have this whole team and they're supporting you through everything. They're pretty much like your family. Just having them there to help me through all the changes and getting used to being on my own, just this whole new world. It's amazing to have the whole team supporting me.
What is your favorite event to perform on and why?
My event to perform on in club was always bars but coming into college I've actually really enjoyed performing on beam. I feel like my personality has started to come out a little bit more. I feel like I've improved a lot on that event in my confidence as well since I've gotten to college. I've really enjoyed performing on that event this year.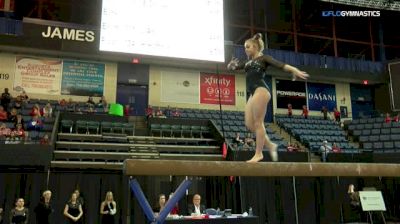 What is your favorite skill to perform on any event?
I really like my bars dismount. I've always liked bars dismounts. The dismount I'm competing this year, I had done in the past and I hadn't done it for a while when I got to college and got back into it this year. I really enjoyed that.
What is the most challenging skill you've learned and what made it challenging for you?
would go back to the bars dismount on that one, too. In college in general, this year I went back and forth between a couple dismounts trying to get the best routine possible for me. It actually took a while to settle in on what dismount I was going to do and get that consistent enough to put in the routine. Just getting the numbers and figuring out what I was doing and getting the numbers consistently so I could feel confident in what I was doing.
What was the biggest thing you've taken away from the regular season that you'll look to use during postseason?
The biggest thing I've taken away from the regular season [is] just building confidence. It's a whole new thing competing every single weekend and definitely something I've never done before. Each time you get out there and get those numbers under your belt, your confidence grows and builds. The bond that our team has. We're all there for each other, we have each other's backs and just forming those relationships and making those memories and becoming more and more of a family. I think it makes it that much more exciting heading into the postseason.
How does the adversity that your team faces in the regular season help prepare you for the postseason?
This team's definitely had a lot of adversity. We've had some injuries and things to work through. I think it brings us closer. We're all trying to step up in any way that we can. We know that every single person on this team is 100 percent invested. We've been finding our roles and no matter what, our goal on the team every single person plays a really important role. So I think just having everybody supporting each other and having each other's back has really helped as we got through the season.
How do you bounce back from a fall?
Honestly it's just taking things one step at a time and focusing on the moment that you're in. We always talk about not looking back, not looking ahead, just focusing on what you're doing in the moment. Obviously falls happen, you just really need to be able to move on and trust in your training for the rest of the meet, the rest of the season. Know that you have the numbers and the consistency to compete successfully.
What has been the biggest challenge for you personally this season?
The biggest challenge for me personally has been the adjustment in general. It's really a whole new thing competing in these environments. Competing with a team, I've always competed individually. Having those different experiences and just getting used to it, I was overwhelmed at first. The first few meets, I didn't really know what to expect and I was just going with it. Now, going through the season I feel like I've grown a lot and gained a lot of that confidence. I've been able to get better and better as the season goes on and feel more confident in myself.
How would you describe yourself in three words?
Determined, quiet, and passionate.
What are you most looking forward to about competing in the postseason?
Just the excitement. For nationals, I'm super excited [after] experiencing SECs and regionals and knowing what it's like. The environment is going to be absolutely incredible. I think competing one last time with this team, enjoying every moment and doing the best that we can and being there with each other making more memories with my team.
Regionals were really close heading into the final rotation. Were you guys aware of how close the scores were?
I didn't know what the scores were heading into the final rotation but we all knew it was close. We all knew going in that it was going to come down to the final routine and we were prepared for that. I knew it was close but I didn't know how close [or] what any of the scores were.
What was said in the huddle before the final rotation?
Before the final rotation we knew that we need to go out there, not worry about anything and do what we do. We always just say "normal"—do what we always do, be confident in ourselves and take it one thing at a time and not worrying about the results, just focusing on our team.
GEORGIA ADVANCES!!!! A final push on beam seals the GymDogs ticket to the NCAA Championships! pic.twitter.com/ckh2VqEXox

— Georgia Gymnastics (@UGAGymnastics) April 8, 2018
After the final routine, were you aware that you'd clinched the spot for nationals?
Obviously you never know for sure until the score comes up but I think at that point we did know that it was super close. I think we all just had that feeling that if Sabrina hit her routine that it could definitely be enough. I think the moment that she landed her dismount, it was absolutely incredible. You had that feel that "I think we just did that" and it was so exciting experiencing that with the team. It's a moment I'll never forget, it was incredible.