2018 Women's NCAA Gymnastics Championships
Florida Freshman Alyssa Baumann: Adversity 'Has Only Made Us Stronger'
Florida Freshman Alyssa Baumann: Adversity 'Has Only Made Us Stronger'
Florida freshman Alyssa Baumann talks transitioning from elite to college, the most challenging skill to get back after her surgery, and more.
Apr 18, 2018
by Lauren Green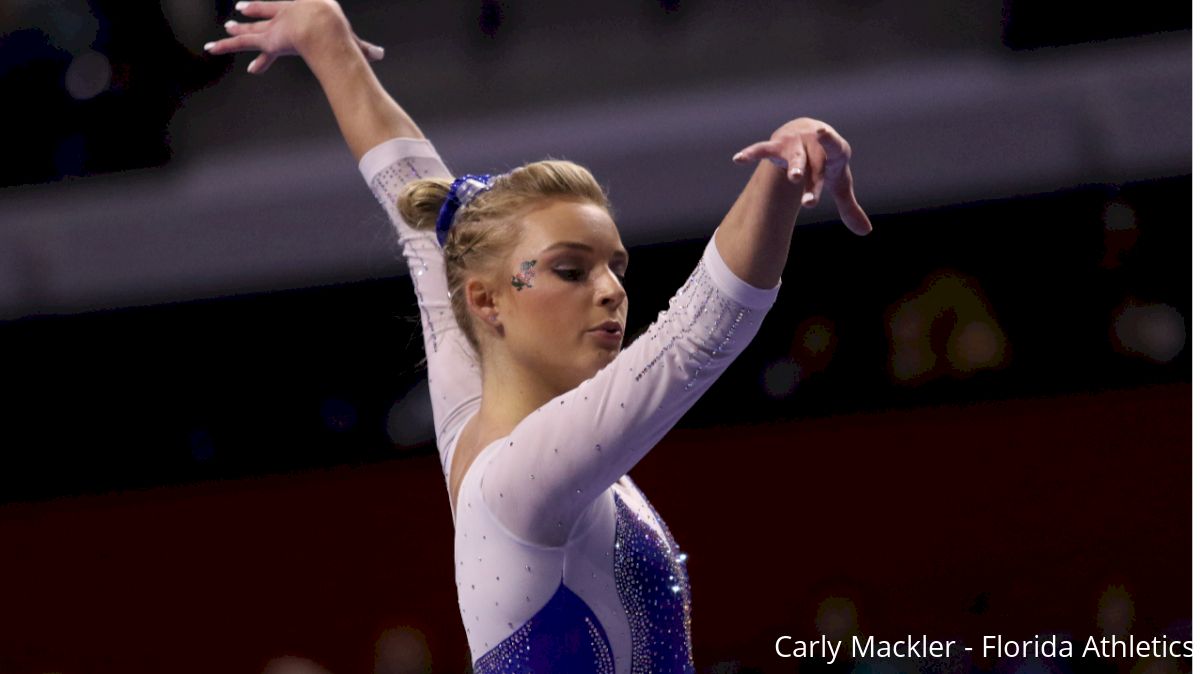 Alyssa Baumann spent 2017 rehabbing from elbow surgery instead of competing in Gainesville. The severe elbow injury had taken the former WOGA gymnast out of contention for the 2016 Olympic team. But Baumann hasn't missed a beat since starting at Florida. She has competed on balance beam and floor exercise in every meet this season and has vaulted on four occasions.
She hasn't added uneven bars back just yet, but the Gators have a deep lineup on bars this season. Baumann's best performances have come on balance beam, where she earned the event title with a 9.975. It marked the second time this season that Baumann had drawn at least one 10.0 from the judges.
With a score of 9.975, @Alyssa_Baumann_ is the SEC Champion on beam!! ?#WeChomp #GoGators pic.twitter.com/eeIiFP7G7h

— Gators Gymnastics (@GatorsGym) March 25, 2018
Baumann brings plenty of elite polish and a unique series on beam—an Onodi into a back handspring-layout stepout. She has gone 9.875 or better eight times this season on balance beam and six times on floor.
The Gators will face Oklahoma, Kentucky, Utah, Cal, and Washington on April 20 in the second semifinal session.
What is your favorite event to perform on and why?
It always used to be beam, but now in college we get to do a more fun floor routine and I get to express myself a little bit more. So I think floor has been the most fun to perform on, but I've always loved competing beam too.
What is your favorite skill to perform on any event?
My favorite skill has to be a tie between a double layout on floor and my onodi on beam. I think double layouts look really cool when you watch them and my onodi is a unique skill, so I like that I'm one of the only people who does it. I've done that skill since I was little and was excited to bring it to college. I haven't seen a lot of people do it.
When you find out you are #UF22 @GatorsGym @Alyssa_Baumann_ pic.twitter.com/XNlk56Uxlg

— Ted Spiker (@ProfSpiker) February 10, 2018
What's the most challenging skill that you've learned and what made it challenging for you?
I don't think there's anything I came to college and necessarily learned, but I did have to get a bunch of my skills back after my surgery. I think the most challenging one was probably my shaposh on bars, just because that was the skill I fell on so I have a little bit of fear coming back to it. The coaches here were really great about helping me get that skill back and build up my confidence to get to do bars again.
What has the transition been like going from elite to taking the year off to rehab after your injury to competing in college?
In elite, it was very different from competing in college because you don't really pay attention to any of the other competitors and you're competing for yourself. In college, you have the whole team that you want to do well for and you're cheering for them and trying to keep the energy up. It's not just about you—it's about the university that you're representing.
After a year off, coming in I just really had to get my energy up and just be able to adjust to a team setting.
Stellar performance from the Ice Queen @Alyssa_Baumann_ on beam tonight. ???

Relive the celebration with the #Gators again!#SECChampionship #WeChomp pic.twitter.com/2CbqeUm1zE

— Gators Gymnastics (@GatorsGym) March 25, 2018
Has it been difficult to adjust to competing every weekend as opposed to having more time between meets as an elite?
Yeah, it's definitely been a challenge because as an elite you only do two competitions or maybe three competitions a year, so competing every single weekend has been tough but I really, really like it. You work all year in elite and to only be able to do two competitions a year; it's really a lot of pressure. So in college when you get to compete every single weekend, you have more chances to be able to reward yourself for training all year. I think that's really great.
At first it was hard to adjust to competing every single weekend but I think now that you're in season, routines just become automatic.
What's the biggest thing you took away from the regular season that you'll look to use at nationals?
I think just to enjoy myself during competitions. I realized that when I'm having more fun and I'm dancing and joking around with the girls and I'm less stressed, I tend to perform better. I think we want to bring that into postseason and just focusing on little details. We all know that we can hit our routines at this point so it's just focusing on the landings and the form in the air and just the little things.
How do you bounce back from a fall?
It's difficult but just knowing that it's not just that score. We can always drop a score. Every routine matters, so even if you have two falls, you want to count a routine with a 9.4 and a fall, not a 9.1 because it can always make a difference. You never know what can happen.
I remember watching—I think it was 2013 the national championships—and Florida actually had two falls and had to count one on beam and they still won. I still keep that in mind and know that anything can happen and so you just always have to be able to recover from a fall.
How does the adversity that your team faces in the regular season help prepare you for this postseason run?
I think it's only made us stronger. It was really hard when we lost a couple of our girls but we are a very strong team and we can overcome anything. We had other girls who had to step up and they were really able to do that. We were able to carry on leadership in the team and [when] we needed a higher score on one event or anything, they were able to do that.
How would you describe yourself in three words?
Fighter, determined, and passionate.
What are you most looking forward to about competing at nationals?
I'm really looking forward to competing with a bunch of other teams. We haven't been able to compete against UCLA or Utah yet. I think it will be really fun to have six teams out there and it'll be really high energy. I'm excited for what we have to bring because we're peaking at the right moment and I think it's going to be a lot of fun.