2018 Women's NCAA Gymnastics Championships
Cal Bears Freshman Kyana George: Trusting Herself And Her Teammates
Cal Bears Freshman Kyana George: Trusting Herself And Her Teammates
Cal freshman Kyana George talks relying on her teammates, learning to trust herself and her teammates, and her favorite skill to perform.
Apr 16, 2018
by Lauren Green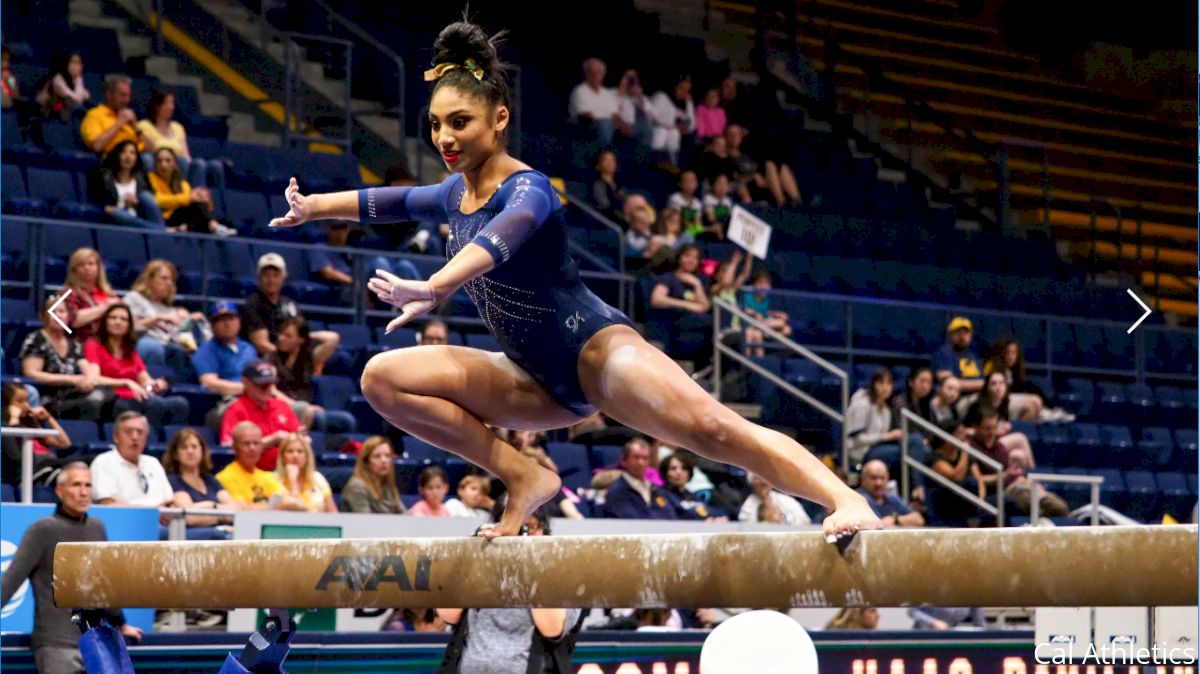 For the second time in three years, Cal-Berkeley returns to the NCAA championships. The season started off slow for the Bears, but Cal hit their stride in week 6 against UCLA with a huge 197.225. For freshman Kyana George, the early-season struggles taught her to trust her teammates and herself.
George has been a mainstay in the Bears' lineup throughout the season and competed in the all-around in every meet. Her strongest event has been floor, where the freshman has scored a 9.825 or better 11 times. She struggled with consistency on uneven bars in the first half of the season with falls in three straight meets. Since then, she has posted a 9.800 or better in eight of her last nine routines on bars.
The freshman posted a season-best 39.500 in the all-around on Feb. 25 against Utah and has gone 39.300 or better eight times this season.
Did you know: @kageorge98 is averaging a 39.365 all-around score in the last 5 meets? ? pic.twitter.com/j8BHdSK1KJ

— Cal Gymnastics (@CalWGym) March 5, 2018
After a nerve-wracking, close regional competition, Cal came out on top to snag the second spot in the Salt Lake City regional. The Bears will face Oklahoma, Kentucky, Florida, Washington, and Utah on April 20 in the second semifinal.
What is your favorite event to perform on and why?
My favorite event is floor, because I'm able to go out there and show my true personality and I really enjoy connecting with my teammates—especially when I see them dancing along with me. I love the energy of the crowd when I'm doing my floor routine and I just like to put a smile on the judges' faces.
Shared title on the floor, tying for second on vault and a 9.850 on bars to help @CalWGym to a win and their fifth-highest point total in school history sealed the deal for @kageorge98!

She takes home the #Pac12Gym Freshman of the Week. pic.twitter.com/eZyQrw2YZX

— Pac-12 Network (@Pac12Network) March 7, 2018
What is your favorite skill to perform on any event?
My favorite skill is my double turn on beam. I'm doing a wolf turn and just turn twice. It's one of those turns—I struggle doing a basic full turn—where it just comes naturally.
What is the most challenging skill that you've learned and what made it challenging for you?
My most challenging skill to learn would be my Tkachev on bars, because I struggled with knowing the basics and fundamentals of how it worked. Now it's pretty easy.
What has the transition been like going from competing in club to collegiate gymnastics?
It's very different. The team atmosphere—you always have your team to rely on. And yes, in club you could do that, but you were going home to your parents and you weren't seeing your coaches a lot or your teammates that much. So it's nice to know that you can come home and you see your teammates and you can rely on them to be there. When it comes to competitions it is a struggle to be competing every single weekend, but it's nice to know that if you do need a break or if you need help in a certain area, you can always rely on your teammates to have your back or to step in when they need to.
.@kageorge98 was one of four Bears who set a season-high on vault against UCLA to contribute to our second-best vault total in school history!

A look at her 9.90 vault: pic.twitter.com/ssDJQXVreZ

— Cal Gymnastics (@CalWGym) February 13, 2018
What was the biggest thing you took away from the regular season that you'll use at nationals?
What I took away from the regular season is trusting myself and trusting my teammates. At the beginning of the season, I struggled with thinking that I needed to be perfect and I started to not really enjoy the competitions. But then I realized that I needed to stay in my zone and rely on my teammates and know that my teammates believe I can hit 4-for-4 and that I can go out there and do the routines that my coaches know I can do.
With regionals being so close, did you have an idea of how close the scores were heading into that final rotation?
I did and I didn't. I knew that Auburn was really trying to beat us and we knew that they were going to be one of our biggest competition to make it into nationals. We knew that we'd had good meets against Utah and we did beat Utah when they came here, so we know that we were good enough to go out there and compete the way we know how to. I really didn't realize it was that close until my dismount (on bars) and we had one more person on bars and Auburn had one more person on beam. So that's when it kind of hit me.
How would you describe yourself in three words?
I would say outgoing, very optimistic, and silly.
What has been the biggest challenge for you this season?
Being mentally in the game and being able to stay in the zone and stay anchored in my routines. Using my keywords to make sure that I'm able get through my routines one step at a time and not rush.
What are you most looking forward to about competing at nationals?
I'm looking forward to just enjoying the moment. I know we are a good team but I'm just waiting for us to enjoy being there and embracing that we did work so hard this season. Just knowing that we deserve to be there.