2018 City of Jesolo Trophy
Russia, China, Brazil, Great Britain: Jesolo Team Golds Up For Grabs
Russia, China, Brazil, Great Britain: Jesolo Team Golds Up For Grabs
With USA out of the mix for the team competition, Russia, China, Brazil, Great Britain, and Canada will look for gold. Which country will steal the show?
Apr 10, 2018
by Justine Kelly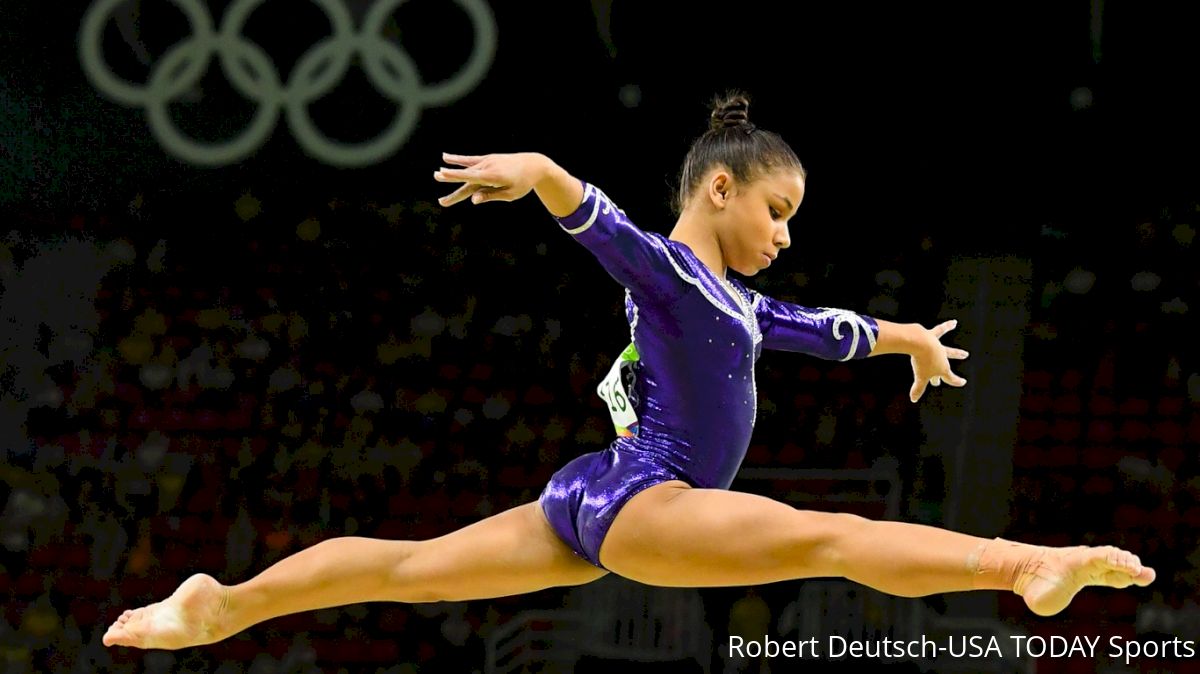 Historically, Team USA has dominated the City of Jesolo Trophy, capturing both individual event medals and winning the team competition. In fact, the U.S. seniors have won the team competition every year since they started participating in 2010. This year, the USA is not fielding a team, but are rather allowing individual clubs to compete. This leaves the team competition wide open for the top of the podium on both the senior and junior sides.
Check out some of our predictions for medal contenders below, based on the currently available rosters, and be sure to check out the competition LIVE on FloGymnastics April 14-15 out of Jesolo, Italy.
Potential Senior & Junior Team Medals Contender: Team Russia
One of the favorites to win is Team Russia, which is sending a mix of seasoned competitors and up-and-coming stars. Headlining their senior roster is Angelina Melnikova, who has already competed at several World Cups so far this year including Birmingham, where she took home the all-around gold. Melnikova was on Russia's Jesolo team last year as well; she contributed in the team competition on all four events and scored the highest for the team on vault and beam.
The senior team will be bolstered by Lilia Akhaimova, one of the team's most powerful gymnasts. Akhaimova will contribute a lot on vault and floor, and, like Melnikova, she already has plenty of international experience so far this year, including scoring well at the DTB Pokal Team Challenge. Anastasia Iliankova and Uliana Perebinosova will add to the senior team with their capabilities on bars, and they could end up contributing huge numbers if they hit all their major release moves and combinations. Perebinosova recently took the silver medal on bars at the Doha World Cup. Look out for her Tweddle to Bhardwaj combo.
On the junior side, Kseniia Klimenko will be an anchor for the team. She also competed at Jesolo last year and contributed on all four events, scoring the highest for the team on bars and beam, her two strongest events. Klimenko will be joined by fellow juniors Vladislava Urazova, Elena Gerasimova, and Daria Belousova, all of whom are fairly new to the international stage. Gerasimova competed recently at International Gymnix this year, and she'll contribute on beam and floor.
Russia finished third last year at Jesolo in both the senior and junior competitions and will be looking to improve on these podium finishes.
Potential Senior Team Medal Contender: Team Brazil
Team Brazil has demonstrated in the past that they are capable of capturing medals at Jesolo; last year, the senior team won the silver medal, placing just ahead of Russia. This year, the team is sending a lot of familiar faces, including Olympians Flavia Saraiva and Jade Barbosa.
Saraiva competed for Team Brazil last year at Jesolo, helping them win the team silver and capturing individual medals on floor (gold) and beam (silver). She has competed sporadically since then, and we have not yet seen her gymnastics in 2018. Check out her winning floor routine from last year: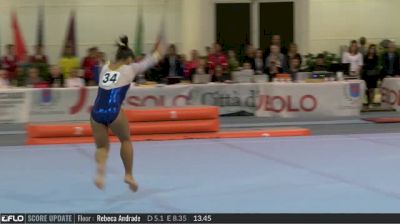 Saraiva will be joined on the senior team by Barbosa, who we also have not yet seen this year and who did not compete at Jesolo in 2017. Barbosa is especially strong on vault and bars and will complement Saraiva's strengths well.
Carolyne Pedro competed with Saraiva at last year's Jesolo competition, and it will be interesting to see if she has improved her difficulty level to help the team potentially win gold this year. Rounding out the senior team is Luiza Dominigues, a new senior this year. The question for this team will be whether they can still achieve a high score without some of their top gymnasts who competed at Jesolo last year, like Rebeca Andrade and Thais Fidelis.
Potential Junior Team Medal Contender: Team China
It will be exciting to see Team China at Jesolo this year, and they are sending some of their top juniors, including Wei Xiaoyuan, who won the all-around at the 2017 Chinese Junior Championships. We have seen her compete already this year at the 2018 WOGA Classic, where she captured the bronze medal on beam.
Wei will be joined by Yin Sisi, who is another beam star for the Chinese team. Be sure to check out her unique front handspring step-out to front tuck combination. Li Shijia and He Licheng round out the Chinese junior team. Li is another gymnast who competed at the WOGA Classic and placed above Wei, winning the silver medal.
Potential Junior Team Medal Contender: Team Canada
Team Canada is only sending a junior team this year, made up of up-and-coming gymnasts who have the ability to make it to the podium. Lucia Jakab will be expected to contribute a lot on vault and floor for the team. She competes a Tsuk full on vault, and her tumbling on floor includes a piked full-in, double layout and double double. Jakab won the vault silver medal at 2018 Elite Canada.
Jakab will be joined by Jenna Sartoretto, who will be key for the team on beam. She has some impressive skills on the apparatus, including a back handspring layout step-out, layout step-out series. She recently scored a 14.434 on the event at 2018 Elite Canada.
Quinn Skrupa is one of the more experienced competitors for this junior team and can be counted on for all four events, especially on bars and floor where she has some impressive skills.
Finally, Mia St. Pierre is new to the international field and will be one to watch on floor, where she is capable of some big tumbling.
Potential Junior Team Medal Contender: Team Great Britain
Team Great Britain is also sending a junior team to Jesolo this year, made up of Ondine Achampong, Hallie Copperwheat, Phoebe Jakubczyk, and Annie Young. All four gymnasts recently competed at the 2018 British Championships and gave us a glimpse of what they are capable of. Young finished second in the all-around, following by Achampong in third, Jakubczyk in fourth, and Copperwheat in ninth.
Young also took the top place on bars, where she scored a 12.45 with a 4.4 D-score. Achampong had the third-highest score on beam, scoring a 13.0 with a 5.0 D-score, and second on floor with a 4.5 D-score, scoring 12.75. Although the team does not bring huge difficulty, they all demonstrate great form in their execution and could be a contender for a podium finish.
Remember to tune in to FloGymnastics April 14-15 to watch the 2018 City of Jesolo Trophy LIVE.
---
Related:
Jesolo Team Preview: Canadian Juniors Ready To Rise
Jesolo Team Preview: Melnikova, Akhaimova & Urazova Headline Team Russia
Jesolo Team Preview: New Kids On The Roster For Team China
Rosters: Brazil, Romania, Germany At 2018 City Of Jesolo Trophy
Roster: Canada To Send Five To 2018 City Of Jesolo Trophy
Roster: Great Britain To Send Four Juniors To 2018 City Of Jesolo Trophy