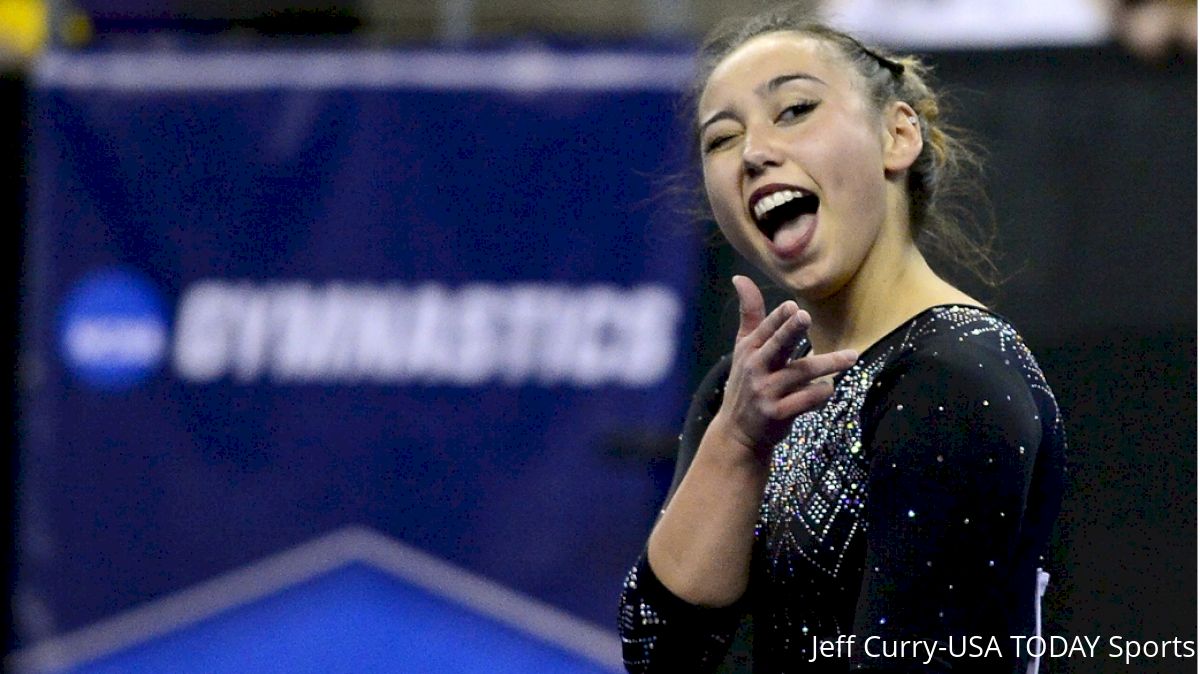 We did our best to follow the streams from regionals and cover the big moments and highlights from the day. Below are the live updates from each regional.
Updates format:
While we won't be covering every routine during every meet (because Sarah isn't a robot), we're going to do our best to highlight general updates and big moments of the day. The regionals are in descending order based on time.
NATIONAL ALERT
ADVANCING TEAMS:
Florida - 197.725
Washington 196.275
LSU - 197.675
Nebraska - 197.525
Alabama - 197.225
Georgia - 196.5
UCLA - 197.65
Arkansas - 196.775
Oklahoma - 198.000
Kentucky - 197.050
Utah - 197.475
California - 196.725
4 p.m. ET
RALEIGH, North Carolina State University
ROTATION 1
Maryland VT
Barber 9.825
SCORE: 48.9
NC State UB
Tamburro: Stuck double lay gets a cheer 9.8
Kent: Nice Jaeger to bail, stuck double lay
Breen: nice one arm hand to layout stepout, stuck 1.5 dism
Hige jaeger from Towson
SCORE: 48.9
Nebraska BB
Megan Scheihofer: stuck handspring pike, wobble stuck roundoff double full
Williams: nails triple series, balance check on leap, stuck side aerial to full
SCORE: 49.375
LSU FX
Kirby: Stumble on last front pass
Desiderio: Double lay, front through to double tuck, little foot form in leap series, knee buckle on last double pike. Solid overall
Priessman: little low on 3rd pass double pike
Edney: stuck 1.5 front to lay, back knee on leap, SUPER low double tuck ouch.
Finnegan: solid, clean
Hambrick: High double lay as always, perfect 2/1 punch front tuck, big step back out of double pike
SCORE: 49.225
UNIVERSITY PARK. Penn State University
ROTATION 1
UNH VT
Diggan: stuck Y 1/1
SCORE: 48.625
Penn State UB: 48.225
Washington BB
Still stuck in 9.7 range
Florida FX
Hundley: 9.825
Gowey: Nice double pike, little step double back, solid 3rd pass back 2.5 punch lay
McMurtry: OKAY perfect triple, duh, stuck front lay to front 1/1, slightly short leap, stuck double back 9.875
Slocum: 9.9
SCORE: 49.325
RALEIGH
ROTATION 2
LSU VT
Finnegan nice Y full 9.85
Cannamela: Huge stuck Y Full
Hambrick: Roaring crowd for huge Y1.5 9.95
Edney: Woah. massive Y1.5 stuck
SCORE: 49.45
GW UB
Winstanley: Big form break on HS, stuck full out
McLaughlin: Catches release close, stuck full out
SCORE: 48.625
NC State BB
Beucler: pretty standing lay stepout, hop on gainer full 9.725
Nelson: nice routine, major leg separation dism
Wild: nice r.o. layout stepout, stuck dism 9.825
Knight: small wobble handspring lay-stepout, major wobble, stuck dism
SCORE: 48.8
Oregon State FX
Davis: 9.85
Gill: 9.8
Jacobsen: 9.825
Lowery: nice rudy, stuck front lay-front full. Super clean routine
Yanish: Huge double lay from, slight step double tuck 9.9
SCORE 49.225
LSU: 98.8
GW: 48.625
NCSU: 97.725
ORST: 49.225
UNIVERSITY PARK
ROTATION 2
Florida VT
Baumann 9.7
Boren 9.9
Foberg 9.85
Slocum 9.95
McMurtry: 9.925
SCORE: 49.4
West Virginia UB
Bernard: 9.65
Gillette: 9.625
Kaufman: 9.275
Tun: 9.75
Cluchey: nice jaeger, pac, short HS on high bar, stuck double lay 9.7
Penn State BB
SCORE: 48.65
Arizona State FX
Kuhn and Leonard-Baker both hit 9.825
RALEIGH
ROTATION 3
Oregon State VT
Jacobson: solid tsuk laout full
SCORE 49.1
Maryland UB
Score: 49.075
GW BB
Drouin-Allaire: Solid routine, stuck double full
Cohen: Hand, hand, layout stepout, fall on front aerial
Filer: wobble but nice handspring layout stepout, switch leap gainer layout stepout, stuck dism
Bray: standing layout stepout - balance check, balance check on flight series
SCORE 48.775
Nebraska FX
Roby: back 1.5 punch front lay, low double tuck
Williams: slides foot on double pike, nice front lay to rudy, solid double tuck
SCORE 49.4
UNIVERSITY PARK
ROTATION 3
Arizona State VT
48.675
UNH UB
Diggan 9.8
Kerouac 9.8
Mulligan 9.8
SCORE 48.575
WVU BB
Muhammad and Gillette fall (9.0, 9.2)
SCORE 48.2
Washington FX
SCORE 49.35
5 p.m. ET
TUSCALOOSA, University of Alabama
ROTATION 1
Central Mich VT
Illinois UB
49.125
Michigan BB
48.975
Alabama FX
MINNEAPOLIS, University of Minnesota
ROTATION 1
Iowa VT
48.925
Iowa State UB
Big tkatchev to bail, pike-ish double lay, solid overall
Pike jaeger to bail, solid with steps in dism
SCORE 48.275
Kentucky BB
Duke 9.9
SCORE 48.9
Oklahoma FX
Showers: Nice double pike, front full punch front lay, really clean routine
Dowell: nice double front, 1.5 to front lay, stuck front lay to front 1/1
Jackson: massive half in half out, beautiful whip half front full, nice routine 9.925
Nichols: super clean routine
SCORE 49.6
RALEIGH
ROTATION 4
Nebraska VT
Krause: Stuck Y 1.5
SCORE 49.375
LSU UB
Priessman sticks dism on a great routine
Finnegan: huge clean routine, Breaux fist pumps it so, LSU is feeling it 9.95
SCORE 49.35
Maryland BB
LeBlanc: nice routine, stuck dism
Barber 9.8
NC State FX
Fillard: nice double pike, 1.5 to front pike, solid routine
Knight: nice double pike
SCORE 49.025
UNIVERSITY PARK
ROTATION 4
Washington VT
48.75
Florida UB
49.5
UNH BB
48.775
Penn State FX
48.775
TUSCALOOSA
ROTATION 2
Alabama VT
49.35
Missouri UB
SCORE 49.075
Illinois BB
SCORE 49.200
Georgia FX
Vega: sick routine 9.9
SCORE 48.950
MINNEAPOLIS
ROTATION 2
Oklahoma VT
Dowell: Y 1.5 small hop
Leerman? 1/2 on, pike off
Nichols: near stick Y 1.5
SCORE 49.4
Minnesota UB
Rambler: gorgeous first combo, little leg bend in giants before dism
Lu: nice routine, gorgeous double lay dism
SCORE 48.825
Iowa State BB
Steinmeyer: stuck handspring layout flight, nice switch leap to straddle 1/4
Russ: Near miss on flight, waist bobble on switch 1/2
SCORE 48.6
Denver FX
Karr: 1.5 to front full -clean, front 1.5, clean routine
SCORE 49.35
RALEIGH
ROTATION 5
NC State VT
Grantham: huge Y Full
Knight 9.85
Oregon State UB
Dessaints: low landing dism
LSU BB
Edney solid flight, front pike toss, stuck 1.5 dism, really big routine
Desiderio: beautiful routine
Campbell: nice front aerial series, stuck back pike, stuck leaps, stuck 2/1 twist, but pike-ish
Finnegan: great routine 9.95
GW FX
Winstanley: Fall on last pass
Karpova: nice double pike, stuck 2nd pass, solid whip 1.5: 9.775
Crasa: nice double pike, 1.5 twist to front, low double tuck to finish
UNIVERSITY PARK
ROTATION 5
Penn State VT
SCORE 49.1
Arizona State UB
SCORE 49.15
Florida BB
SCORE 49.5
WVU FX
49.0
TUSCALOOSA
ROTATION 3
Georgia VT
SCORE 49.025
Central Mich UB
SCORE 49.075
Missouri BB
SCORE 49.050
Michigan FX
Counting Zaziski's 9.625
SCORE 48.850
MINNEAPOLIS
ROTATION 5
Denver VT
49.125
Iowa UB
48.275
Minnesota BB
48.85
Kentucky FX
49.4
6 PM E.T.
COLUMBUS, Ohio State
ROTATION 1
Kent State VT
SCORE 48.575
Pitt UB
Conrad 9.8
Jones 9.85
Laymon 9.85
SCORE 49.125
Arkansas BB
Garner: fall 8.975
Yamzon 9.825
Wellick 9.9
SCORE 49.175
UCLA FX
Kocian 9.85
Kramer 9.9
Dennis 9.775
Tratz: high full-in but low landing, 1.5 to front full clean, chest down in double tuck (9.8)
Hano: Straight double lay, front full to front 1/2 running thing (so cool ugh) step back double pike
Ohashi: super high double lay, little knee buckle, solid 2nd pass, (can I go back and have this choreo?) perfect front full to font 1/2 to switch split bounce 9.925
SCORE 49.375
SALT LAKE CITY, University of Utah
ROTATION 1
Southern Utah VT
Burnside: fall 8.85
Loomis: 9.275 (counts)
SCORE 48.25
Stanford UB
Price 9.9
Flam 9.1
Navarro 9.575
Rogers 8.95
SCORE 48.05
California BB
49.125
Utah FX
Lee 9.9
Reinstadtler: 9.9
Skinner: 9.95
Soloski: 9.9
SCORE 49.6
RALEIGH
ROTATION 6
GW VT
Nebraska UB
Oregon State BB
Maryland FX
UNIVERSITY PARK
ROTATION 5
WVU VT
Washington UB
Arizona State BB
UNH FX
TUSCALOOSA
ROTATION 4
Michigan VT
SCORE 49.050
Alabama UB
SCORE 49.400
Central Mich BB
SCORE 48.975
Illinois FX
SCORE 49.05
MINNEAPOLIS
ROTATION 4
Kentucky VT
Oklahoma UB
Nichols 9.9
Jackson 9.9
Catour 9.9
Lehrmann 9.95
Iowa BB
Chow: Big wobble flight, stuck front full dism 9.85
SCORE 48.425
Iowa State FX
Young Nice tucked full in, little low front full to front lay, solid double pike 9.9
SCORE 49.225
COLUMBUS, Ohio State
ROTATION 2
UCLA VT
Dennis 9.875
Glenn 9.9
Ross 9.9
Hall: Y 1.5 small step
SCORE 49.4
Ohio State UB
SCORE 49.2
Pitt BB
Counting a 9.2
48.075
Boise State FX
Fall
East: 9.85
Nice front 2.1, solid double pike
SCORE 48.885
SALT LAKE CITY, University of Utah
ROTATION 2
Utah VT
Skinner 9.9
Tessen 9.9
SCORE 49.35
BYU UB
SCORE 49.075
Stanford BB
SCORE 49.125
Auburn FX
Millet 9.9
SCORE 49.325
TUSCALOOSA
ROTATION 5
Illinois VT
SCORE 49.050
Georgia UB
Georgia has some form issues here and there but really solid routines otherwise
SCORE 49.350
Alabama BB
49.275
Missouri FX
49.0
MINNEAPOLIS
ROTATION 5
Iowa State VT
Steinmeyer 9.85
Sievers 9.925
Martin 9.825
SCORE 49.25
Denver UB
Karr: stuck dism 9.875
Brown 9.9
SCORE 49.325
Oklahoma BB
Showers: clean handspring layout stepout, little wobble front toss connection, stuck cartwheel full dism
Nichols: perfect front aerial to split, stuck handspring layout stepout, awesome leap, stuck 1.5 dism, crowd is losing it
NICHOLS GOT A 10
SCORE 49.525
Minnesota FX
Hitchcock: super clean double pike, clean routine
Ramler: very clean double pike, 1.5 to front lay clean, hop back on double tuck
Williams: nice front handspring 2/1, 1.5 to front lay - clean, front hand to front 1.5. That was a nearly perfect routine
COLUMBUS
ROTATION 3
Boise State VT
49.075
Kent State UB
48.575
Ohio State BB
48.85
Arkansas FX
Bargiacchi 9.8
Wellick Front 1.5 solid, front full to front lay - slight leg bend 9.85
SCORE 49.25
SALT LAKE CITY
ROTATION 3
Auburn VT
Southern Utah UB
BYU BB
California FX
TUSCALOOSA
ROTATION 6
Missouri VT
SCORE 48.975
Michigan UB
SCORE 49.375
Georgia BB
SCORE 48.975
Central Mich FX
SCORE 47.975
MINNEAPOLIS
ROTATION 6
Minnesota VT
Hitch: Nice stuck YFull
Demuse: little step back Y full
Kentucky UB
Carlisle Nice jaeger, good HS work, gorgeous stuck double lay
Denver BB
Iowa FX
COLUMBUS
ROTATION 4
Arkansas VT
Speed 9.9
Wellick and Yazmon 9.85
SCORE 49.175
UCLA UB
Dennis 9.9
Glenn
Peng's bars is literally perfect aside from some steps on the dism 9.875
Ohashi: 9.925 with the most beautiful bar set
Kocian 9.85
Kent State BB
9.8 for Chapman and Fletcher
Pitt FX
48.975
SALT LAKE CITY
ROTATION 4
California VT
49.175
Utah UB
Lee 9.8
Lewis 9.875
Merrell-Giles 9.85
Skinner 9.9
SCORE 49.2
Southern Utah BB
Yee 9.2
Ladieu 9.25
Packham 9.775
Stanford FX
Price 9.95
SCORE 49.45
COLUMBUS
ROTATION 5
Pitt VT
48.95
Boise State UB
49.2
UCLA BB
Glenn: solid flight, awesome leaps, clean handspring gainer full 9.9
Kocian: little leg bend on front aerial, balance check layout stepout, sheep bobble, stuck double full dism 9.825
Nguyen: Solid all through
Ohashi: tiny bobble on flight, solid dism, super clean routine 9.9
Peng: so flighty, so crisp, big wobble on turn series yikes. The rest is lovely though 9.875
SCORE 49.475
Ohio State FX
Aepli: 9.825
McClelland: 9.875
Mattern: big double lay, so much diva. nice front lay to front full, solid double pike
49.3
SALT LAKE CITY
ROTATION 5
Stanford VT
48.975
Auburn UB
49.325
Utah BB
Stover: Nice front aerial to handspring, stuck front toss 9.875
Merrell-Giles: gorgeous all the way through, stuck dism 9.9
Soloski 9.725
Lee: Fall 9.2
Reinstadtler solid flight, stuck cartwheel full 9.925
Skinner: solid flight, little bobble on back tuck, the TINIEST foot slide on double back. Such a nice routine 9.9
SCORE 49.325
BYU FX
49.075
COLUMBUS
ROTATION 6
Ohio State VT
49.15
Arkansas UB
Laird 9.825
Shaffer: 9.825
Wellick 9.825
Yazmon 9.775
SCORE 49.075
Boise State BB
49.075
UCLA FX
49.375
SALT LAKE CITY
ROTATION 6
BYU VT
48.85
California UB
Williams 9.8
FALL
George 9.8
Schank 9.85
SCORE 49.025
Auburn BB
Riddle 9.775
Watson 9.8
Sylvia 9.85
Slappey: huge wobble, near fall on flight, solid leaps, stuck cartwheel full 9.75
Milliet: Gorgeous routine...solid all though, stick dism 9.925
Krippner: major hip bobble on leap, big bobble on flight 9.05
looks like the 49.1 will stick
Southern Utah FX
Gonzalez 9.65
Jorgesen 9.825
Jozwiakowski 9.825
McBride 9.85
Nipp 9.85