2018 NCAA Season
AAI Finalists Announced, Baker, McMurtry, Hambrick Among Top 10
AAI Finalists Announced, Baker, McMurtry, Hambrick Among Top 10
American Athletic tweeted their ten finalists for the 2018 NCAA AAI award on Monday, and we're here to appreciate these gymnasts in all their glory.
Mar 31, 2018
by Sarah Lorish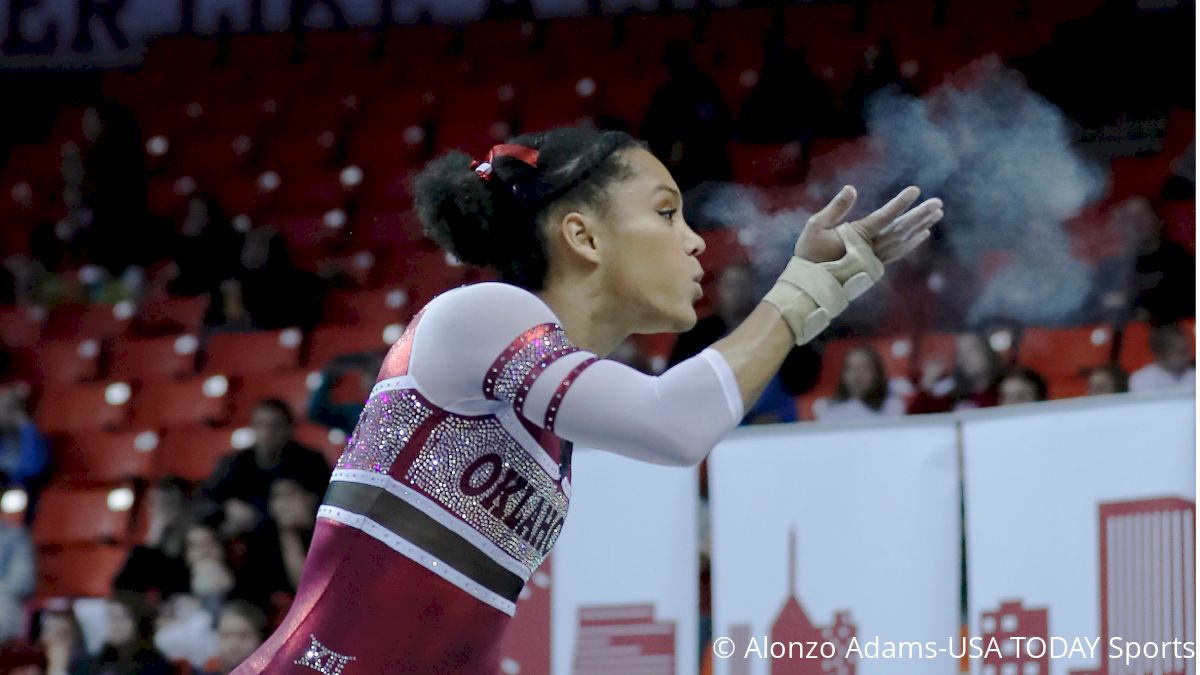 The 2018 AAI Finalists are in, and we're glad we aren't the ones who have to pick a winner.
Just about any of these gymnasts could have a statue of them erected in front of their respective schools and nobody would have a problem with it.
The AAI Award is special and prestigious because, rather than being predicated on statistics and scores tallied to determine the "best" gymnast, the selection process is determined entirely by NCAA coaches.
College coaches are asked to nominate a senior athlete who upholds the characteristics of an outstanding athlete. Then the coaches deliberate and vote, and AAI presents the award. It's the Heisman trophy of gymnastics, basically.
So, let's talk about all of the finalists and why they could potentially be crowned with the AAI award honors.
Kennedy Baker | Florida
What is fresh in most of our minds about the beloved Kennedy Baker is the cruelty of the universe after a ruptured Achilles ended her senior season prematurely. While we won't see her sass and sparkle on the floor in the NCAA again, she's a strong contender for the AAI honor. Her leadership and excellence in performance (plus three career 10s on floor) will outlast an abrupt end to her collegiate gymnastics path.
Brianna Brown | Michigan
Most recently, Brown was the co-champion on bars at the 2018 Big Ten Championships with a 9.95, helping to secure Michigan's fifth consecutive conference title. She also won bars in the 2017 Big Ten Championships. She was named 2018 Big 10 Gymnast to Watch, and is ranked 28th nationally in the all-around.
Dani Dessaints | Oregon State
Dessaints is a co-captain of the Beavers and was a major factor in Oregon's several appearances in the top 10 rankings this year. After a 2016 season-ending shoulder injury, Dessaints came back with a vengeance to not only make the bar lineup but to eventually take the anchor position.
Cami Drouin-Allaire | George Washington
As one of the most accomplished gymnasts in GW history, Drouin-Allaire has been a multifaceted pioneer for the Colonials.
She was the first Colonial to:
Qualify for back-to-back NCAA championships as an individual
Earn four career EAGL Gymnast of the Week honors
Earn All-America honors
Oh, and she also has the highest all around in the EAGL conference (39.6).
Myia Hambrick | LSU
Is anyone surprised to see Myia on this list? The 17-time All-American is tied with former teammate Ashleigh Gnat for the second-most All-American honors in LSU history. She's ranked first in the nation on floor and seventh in the all-around. She finally earned her first 10 on floor this month (how it was just her first, nobody knows), but we're sure she'd be happy to have the AAI award make up for the rest of what some of us might consider underscored routines.
AJ Jackson | Oklahoma
The Sooner for this list is a five-time NCAA First-Team All-American, 2016 NCAA bronze medalist on floor, and has a 97 percent career hit rate. Jackson is also applauded by gym fans for the "chalk-blow heard around the world," which of course, led to the heavily-debated "chalk-ography" ban. Whatever, we loved it.
Alex McMurtry | Florida
Another finalist that made us all nod in agreement. McMurtry is the 2018 SEC Scholar-Athlete of the Year, SEC Specialist of the Year, 2017 Honda Award winner, etcetera, etcetera. The 15-time All-American holds Gator records on vault, bars, and floor… all 10s, of course.
In fact, she's the first Florida gymnast to earn two 10s in one meet, which happened in January of this year when she earned one on vault and then her first ever 10 on beam to achieve the coveted "gym-slam" (put up a 10 at least once on each event), and holds the program record of nine career perfect scores.
Christine Peng-Peng Lee | UCLA
Another perfect 10 machine and a shoe-in for the finalist list is Peng-Peng Lee. She holds the national record of four perfect scores on beam. She's earned five 10s in her career including her first-ever conference title at this year's Pac-12 Championships. She's the record holder with nine career Pac-12 Specialist of the Week awards and finished this regular season on top of the nation for beam.
Basically, beam is canceled for everyone but Lee until she graduates.
Elizabeth Price | Stanford
Ebee is a 10-time All-American who steals our hearts with perfect bar routines and Instagram posts of double-twisting yurchenkos—and then makes us cry tears of joy when she competes said yurchenko double and wins the event. Price finished the regular season in third for all-around, and nobody is happy that she's almost through with her collegiate career.
Kiana Winston | Alabama
Winston now has three consecutive All-SEC honors. She holds the Crimson Tide record for six total regular-season All-American honors and five championship All-American honors. She earned a 9.95 on beam at SECs to help lock in the Tide's second place win. Also, her high all-around score is a 39.7.