2018 NCAA Season
From Club To NCAA Greatness: A Tribute To NCAA's Top Seniors
From Club To NCAA Greatness: A Tribute To NCAA's Top Seniors
Before we bid goodbye to the seniors, we thought it would be fun to look back at the careers of some of NCAA's top graduating gymnasts!
Mar 25, 2018
by Justine Kelly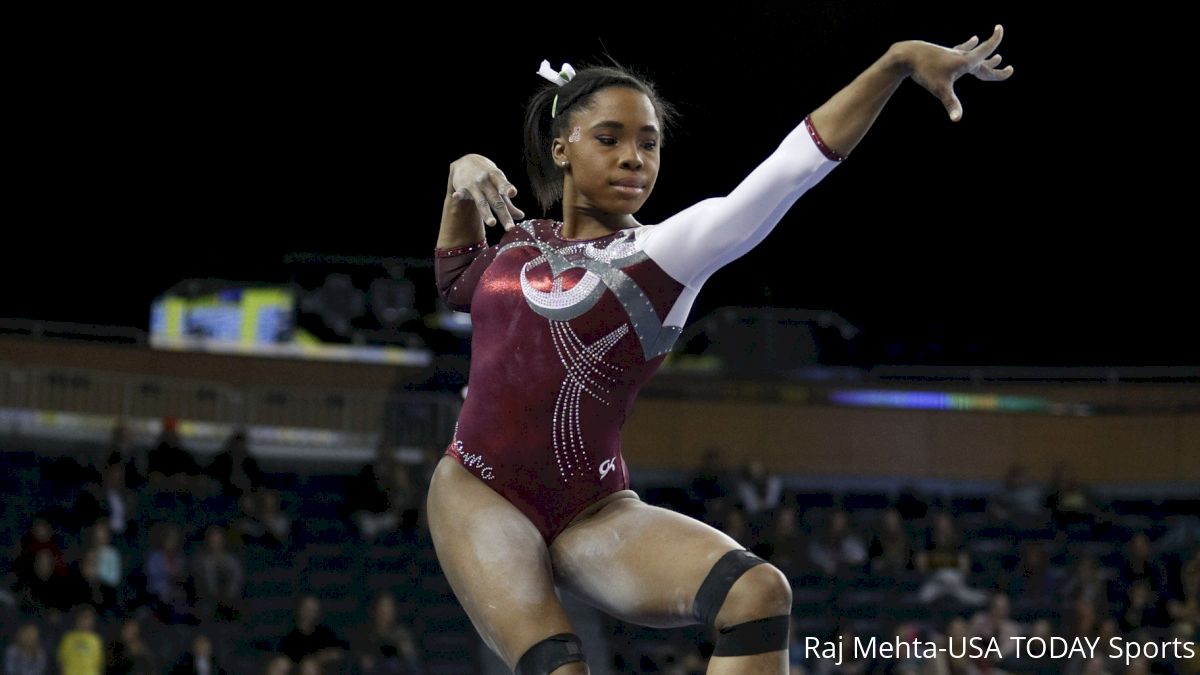 The 2018 NCAA postseason has started, with only a few competitions left to enjoy and a small number of appearances left for this year's senior collegiate athletes. For most of these gymnasts, Regionals and (hopefully) the NCAA championships will be the last competitions of their careers.
Before we bid goodbye to the graduating seniors, we thought it would be fun to look back at the careers of some of NCAA's top seniors, from their elite or level 10 days to now, and marvel at the impressive growth they have all experienced over their gymnastics journeys.
The Top All-Arounder | Elizabeth Price
Stanford's Elizabeth Price is currently the top-ranked senior in the all-around standings, and her gymnastics career has been nothing short of fantastic.
Price was an international elite gymnast who trained at Parkettes. She was a member of the senior national team from 2012 to 2014 and a member of the junior national team from 2010 to 2012. One of her shining years as an elite came in 2012, when she placed fourth in the all-around at the U.S. Olympic Trials and was ultimately named an alternate for the 2012 Olympic team in London.
Price continued competing following the Olympics, winning all-around titles at several World Cup events and winning the 2014 American Cup.
Check out this throwback clip to her bars routine at the American Cup, which carried 6.5 D-score and scored a 15.2:
Video via USA Gymnastics
Price retired from elite in her prime and had always intended to compete for Stanford University once she graduated high school. She has been a terrific addition to the Cardinals and has continued to perform some of the most difficult gymnastics on all four events.
Though she has battled through a few injuries here and there, which has kept her off of certain events at various points during college, she has really shined in her senior year in the all-around. She has scored three perfect 10.0s so far this season (one on bars and two on floor), and fans would argue she's deserved countless more. She has also notched her career-best all-around score this year with a 39.825. Check out Ebee's powerful tumbling in her 10.0 floor routine from earlier this season:
Video via Stanford Athletics
The High-Flying Vaulter | Alex McMurtry
Although there are a number of superb vaulters in this senior class, Florida's Alex McMurtry is one of the best. She is the top-ranked senior in the standings at the moment, tied for second place, just above Price. Like Price, McMurtry also competes a Yurchenko double, the toughest vault being competed in the NCAA at the moment.
McMurtry chose not to compete elite in her club days and instead was one of the top Level 10 gymnasts in the country. She is a seven-time level 10 J.O. Nationals event champion, claiming titles on vault, floor, and the all-around. She also dominated the 2013 Nastia Liukin Cup, where she came away with the all-around title and every event title except bars. She has always been a big vaulter, and competed the Yurchenko double at the 2013 Nastia Cup—check out this throwback clip below:
Video via USA Gymnastics
McMurtry has only improved since she has come to Florida, learning new skills and perfecting others. Check out her Yurchenko double from this year, which is even higher and more incredible than what she was doing during her club days:
Video via Florida Gators
What is perhaps most impressive about McMurtry is that she puts up amazing routines every weekend, despite having limited numbers due to a nagging back problem. This is particularly true on floor, which she does not compete all the time, but when she does, her routines are typically beautiful, highlighted by her high-flying triple twist opening pass.
In addition to being the top-ranked senior on vault, McMurtry is also the top-ranked senior on bars—again, just above Price. Bars was not always McMutry's strongest event, but she has learned to perfect her routine while at Florida, and even learned a new release move (a Ray). 2017 was a highlight year for her when she was crowned the NCAA all-around champion following the championships. Can she do it again this year?
Jaw-Dropping Difficulty | Peng Peng Lee
UCLA's Peng Peng Lee is somewhat of a legend in collegiate gymnastics. She's currently in her sixth year at UCLA, having redshirted twice, and fans could not be happier to have another year of her gymnastics.
Lee was a former Canadian elite who was the honorary captain of the 2012 Olympic team and one of Team Canada's top gymnasts in 2011 and 2012. She has always been a super confident competitor, especially on beam, where she won the silver medal at the 2012 Pac Rims. Let's throw it back to her 2012 beam routine, which was absolutely packed with difficulty:
Video via USA Gymnastics
Lee arrived at UCLA in 2013 as a freshman, but was still recovering from knee surgery and redshirted the season. She unfortunately had to undergo a second knee surgery in 2014 as well, making her unable to compete. Her injuries have not stopped her from contributing hugely to the Bruins' success, however.
Since 2015, she has been a mainstay in the bars and beam lineups, showing off her unique and hugely difficult skills. She not only throws big gymnastics, but she's reliable as well, and hits almost every time. Fast forward to today, check out her 10.0 beam routine from the Metroplex Challenge this year:
The Rising Star | Myia Hambrick
If you watch any SEC broadcast, you'll hear the commentators talk about LSU's Myia Hambrick as a bit of an underrated gymnast, and one who flew under the radar of a lot of schools during the recruitment process. Hambrick is certainly no longer underrated in the world of NCAA gymnastics, and she has proven to be one of LSU's greatest all-around gymnasts of all time.
Like McMurtry, Hambrick is another gymnast who decided not to pursue elite, and stayed at level 10 for her club years. She was coached by her mom, Laurie Hambrick, and was a six-time qualifier to J.O. Nationals. Check out this throwback clip of her floor routine at the 2014 level 10 state championship, in which she competed a piked full-in for her opening pass:
Video via Jamie Lucas
Hambrick actually competed all-around at her very first LSU meet, but was not put on all four consistently until her sophomore season. She quickly became one of the team's most valuable competitors. In her senior season she has especially excelled, tying her career bests on vault (9.95) and beam (9.95), and setting new bests on bars (9.95) and floor (10.0). Check out her first perfect 10.0 of her career from earlier this year:
Video via LSU Tiger TV
That "Piked" Double Arabian… | Kennedy Baker
A tribute to NCAA's best seniors would be missing something if Florida's Kennedy Baker was not mentioned. Baker unfortunately had her gymnastics career cut short this year when she tore her Achilles during a floor routine, effectively ending her season. She's recognized as one of Florida's best gymnasts on all four events, and especially on floor, where her tumbling is out of this world.
Baker is a former Texas Dreams gymnast and international elite. She was a two-time member of the U.S. senior national team from 2012-2014, as well as a two-time member of the U.S. junior national team from 2010-2011. Her accolades include winning the bronze medal at the 2013 U.S. P&G Championships, and finishing eighth in the all-around at the Olympic Trials.
Let's throw it back to 2013 and the huge tumbling in Baker's floor routine at 2013 P&Gs, where her piked double arabian is just as laid-out and huge back then as it is now.
Video via USA Gymnastics
Baker has competed on all four events for the Gators, and they have been able to use her wherever she is needed, including as the first competitor on bars and beam. She wowed right from the start, and scored her first 10.0 on floor in her sophomore season—a year when she competed in the all-around in almost every meet. She repeated her perfect 10.0 in her junior and senior seasons. Check out her 10.0 routine from earlier this year below:
Video via Florida Gators
Beautiful Gymnastics | Kiana Winston
Another Texas Dreams gymnast, Alabama's Kiana Winston, wows everyone with her beautiful gymnastics every week. Winston was also an elite gymnast in her club days and was a member of the 2011 U.S. junior national team.
One of the defining characteristics of Winston's gymnastics is her form and gracefulness, especially on events like beam and floor. There's no doubt that she'll always hit that 180-degree split (in fact, it's often an overspilt) and keep her toes pointed through everything, including her acrobatic elements. This was true back in her elite days as well—check out her beam routine from the 2011 Visa Championships:
Video via USA Gymnastics
Winston has been one of Alabama's best additions. She is capable of contributing on all four events, but has been especially clutch for the team on beam and floor. One of her collegiate highlights came on floor exercise in her 2017 season, when she scored her first perfect 10.0.
Winston is not just known for her beautiful gymnastics, but also for her reliability. Check out her beam routine from earlier this season at Elevate the Stage—you'll notice that although she wobbles on her front aerial (which is typically connected to a back handspring for her acro series), she stays calm and puts in a backup tumbling series: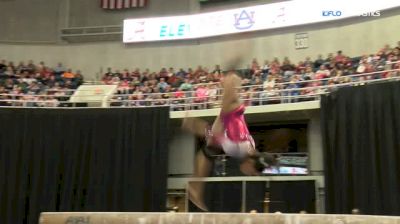 In addition to her accomplishments in the gym, Winston was also recently named to SEC Gymnastics Community Service Team, a team of eight gymnasts (one from each school). Winston was named to the team thanks to her work with various organizations, including Big Brothers Big Sisters and Habitat for Humanity.
Honorable Mention
Stefani Catour, Oklahoma
AJ Jackson, Oklahoma
Natalie Brown, Oklahoma
Erin Macadaeg, LSU
Nickie Guerrero, Alabama
Mackenzie Brannan, Alabama
Napualani Hall, UCLA
JaNay Honest, UCLA
Sonya Meraz, UCLA
Tiffani Lewis, Utah
Maddy Stover, Utah
Brianna Brown, Michigan
Paige Zaziski, Michigan
Toni-Ann Williams, California
Hailey Burleson, Washington
Correction: an earlier version of this article miscounted Elizabeth Price's 10.0s this season and her season-high all-around score.