2018 NCAA Season
Recapping The Action: Seniors, Records, And 198s From UCLA, Utah, & LSU
Recapping The Action: Seniors, Records, And 198s From UCLA, Utah, & LSU
UCLA, Utah, and LSU all hit 198s and the Big Ten teams battled ahead of the Big Ten championships.
Mar 19, 2018
by Lauren Green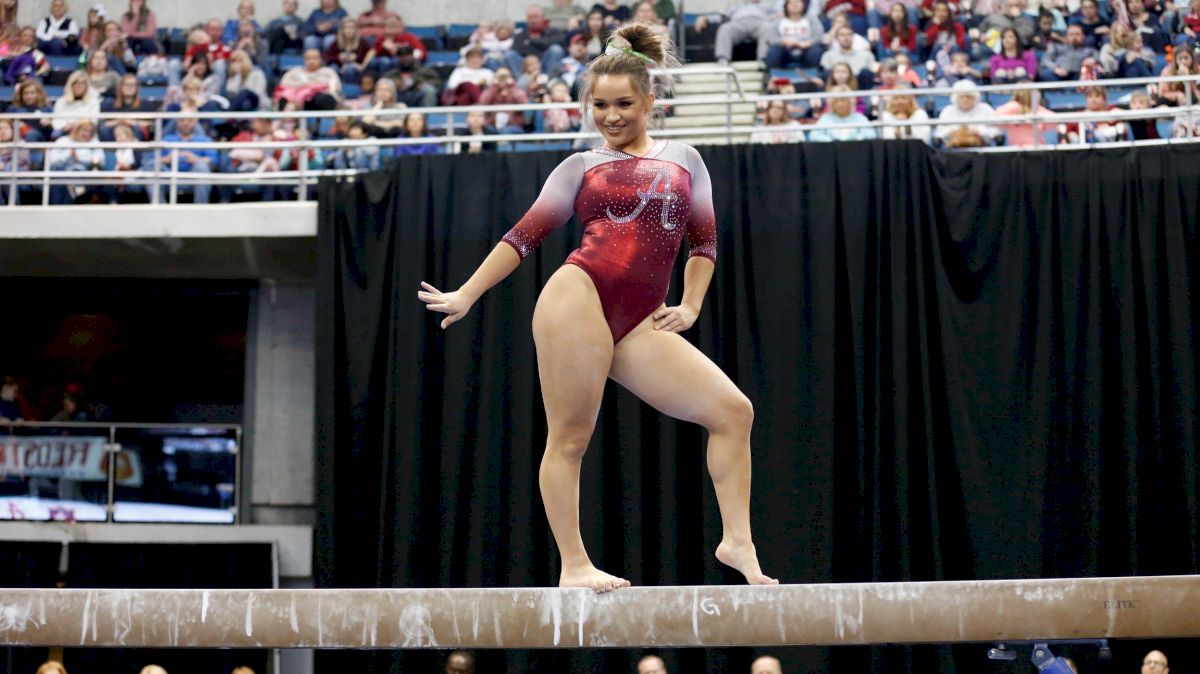 The regular season has come to a close, with teams and gymnasts putting together their best stuff ahead of conference championship weekend and, after that, regionals. From California to the Midwest to Alabama, the routines were on point over the weekend. Check out our recap below.
Bruins Vault Over 198
The Bruins kicked off the final week of the regular season with their senior night meet against San Jose State and finished with their best score of the season—a 198.275. It was the best performance for the Bruins on vault, with all six athletes sticking and going 9.875 or better. The five vaults that counted all went 9.900 or better, with senior Napualani Hall tying her season-high 9.975. UCLA posted a season-best 49.625 on the apparatus.
Napualani Hall's final vault at Pauley Pavilion = a 9️⃣.9️⃣7️⃣5️⃣! pic.twitter.com/NNnm83zoHL

— Pac-12 Network (@Pac12Network) March 14, 2018
Katelyn Ohashi scored her third 10.0 of the season on floor exercise. Ohashi finishes the regular season ranked second in the country on floor with a 9.965 RQS.
Score perfect 1️⃣0️⃣s, that's all @katelyn_ohashi does.

Her third of the year is the @OpusBank #12Best Moment! pic.twitter.com/Ml5uY7PiBL

— Pac-12 Network (@Pac12Network) March 14, 2018
After the meet, UCLA honored seniors Sonya Meraz, JaNay Honest, Napualani Hall, Christine Peng Peng Lee, Rechelle Dennis, and Melissa Metcalf. Lee performed a special exhibition routine to close out the senior ceremony.
ICYMI, watch the Bruins' special Senior Farewell performance, featuring @PengPengCLee @JaNayHonest @Puasworld @rech_alyse #SonyaMeraz. #ThankYouSeniors pic.twitter.com/5zrzod7qS1

— UCLA Gymnastics (@uclagymnastics) March 14, 2018
Steady Progress In Tuscaloosa
The Crimson Tide continued to progress in the final meet of the regular season. Alabama posted a 197.150 in the final home meet of the season against Oklahoma. The Crimson Tide's floor performance was stellar with a 49.575, and all six gymnasts scored a 9.900 or better led by Nickie Guerrero's 9.950. Abby Armbrecht, Maddie Desch, Lexi Graber, and Ariana Guerra all posted 9.900s and senior Kiana Winston posted a 9.925.
We ❤️ our seniors! #SeniorWeek #WhereLegendsAreMade #Gymnastics #RollTide pic.twitter.com/qeDA2R5sF2

— Alabama Gymnastics (@BamaGymnastics) March 19, 2018
Graber had an excellent performance on vault with a stuck Yurchenko one and a half to go 9.950. The Crimson Tide celebrated seniors Nickie Guerrero, Kiana Winston, Jennie Loeb, and Mackenzie Brannan, whose season was unfortunately cut short by an Achilles tear.
Record-Breaking Night For The Tigers
LSU set a new school record on uneven bars after a 49.750, and they tied a school record with a 49.725 on balance beam. The Tigers were paced by seniors Lexie Priessman and Myia Hambrick on bars with a pair of 9.975s and a perfect 10 from junior Sarah Finnegan. Finnegan has scored a 9.975 on bars three times this season before Saturday's meet.
DOESN'T GET MUCH BETTER THAN PERFECTION!!! It's ANOTHER TEN for @sfinnegan37. https://t.co/q2vBFd0Sgw pic.twitter.com/TZlWWu4DNg

— LSU Gymnastics (@LSUgym) March 17, 2018
On beam, LSU had five athletes hit a 9.900 or better: Kennedi Edney (9.900), Reagan Campbell (9.925), Christina Desiderio (9.950), Hambrick (9.950), and Finnegan, who posted her second 10.0 of the afternoon.
PERFECTION IN THE PMAC!!!! Watch the 10 from @sfinnegan37!https://t.co/q2vBFd0Sgw pic.twitter.com/zJVHwBfXsP

— LSU Gymnastics (@LSUgym) March 17, 2018
While the Tigers were lights out on bars and beam, they were not sticking landings on vault and struggled with landings again on floor. It did not stop them from scoring their fourth 198 of the season with a 198.125 to top Arizona. The Wildcats finished with a 195.525 and will need a big performance at the Pac-12 championships to snag a remaining spot at regionals.
Stellar Floor Performance Propels Utah
The Utes renewed an old rivalry when Georgia visited the Huntsman Center on Friday night and topped the Gym Dogs 198.150 to 196.350. The Utes got a huge performance on floor exercise with senior Tiffani Lewis and sophomore MyKayla Skinner, posting 9.975s in the leadoff and anchor positions, and junior Makenna Merrell-Giles earning her first career 10.0 on floor.
MaKenna Merrell-Giles nails her floor routine for a perfect ?. @UtahGymnastics comes away with the victory over Georgia. pic.twitter.com/N1aJ109c2B

— Pac-12 Network (@Pac12Network) March 17, 2018
Before the meet, Utah honored its three-member senior class—beam standout Maddy Stover, Tiffani Lewis, and Erika Muhaw.
Illinois And Michigan Impress, Nebraska Falters
The Fighting Illini and Wolverines paced each of the Big Five meets this weekend and earned the top spots heading into the Big Ten championships. Illinois posted a 196.850—their best score of the season—including a 49.400 on floor to earn a place in the evening session.
Rae Balthazor had a stellar meet for the Illini with a 9.900 or better on bars, beam, and floor. She earned the all-around title with a 39.525.
Rae finishes the bars rotation with a stuck 9.925! #Illini pic.twitter.com/khuV8ahF6w

— Illini W Gym (@IlliniWGym) March 17, 2018
Also advancing to the evening session were Maryland (195.700) and Ohio State (195.150). Nebraska (194.900) and Michigan State (192.825) will compete in the afternoon session. The Huskers struggled on balance beam and were forced to count two falls there and another on uneven bars.
In the other Big Five meet, Michigan came out on top with a big 197.225. Emma McLean and Lexi Funk tied Minnesota's Paige Williams for the floor title with 9.900s.
Watch Emma's 9.900 floor routine that capped off our Big Five meet win. #GoBlue pic.twitter.com/94IWLMpYt0

— Michigan Women's Gymnastics (@UMichWGym) March 18, 2018
Minnesota also struggled on balance beam and was forced to count multiple falls, but the Gophers came back with solid performances on all three other events to claim the final spot in the evening session with a 195.150. Ivy Lu, Lexy Ramler, and Hannah Hitchcock paced Minnesota in its final rotation on bars with all three going 9.900 or better. Lu won the bars title with a 9.950 as the Gophers finished with a 49.375.
The #Gophers have unofficially secured a spot in next weekend's B1G Championships evening session thanks to a 49.375 on bars! #LoveTheBattle pic.twitter.com/NK5BtLoCyE

— Minnesota W Gym (@GopherWGym) March 17, 2018
Iowa (195.275) will also compete in the evening session at the Big Ten championships. Penn State (194.375) and Rutgers (193.725) will compete in the afternoon.
Regionals Bubble Watch: New Hampshire, Central Michigan, Iowa, Arizona, Utah State and North Carolina