2018 NCAA Season
Recapping The Action: Huskers Win, Sooners And Tigers Strike Perfection
Recapping The Action: Huskers Win, Sooners And Tigers Strike Perfection
LSU and Oklahoma both hit 198, Alabama hit a season high, and Nebraska won Elevate the Stage in Week 9 action.
Mar 5, 2018
by Lauren Green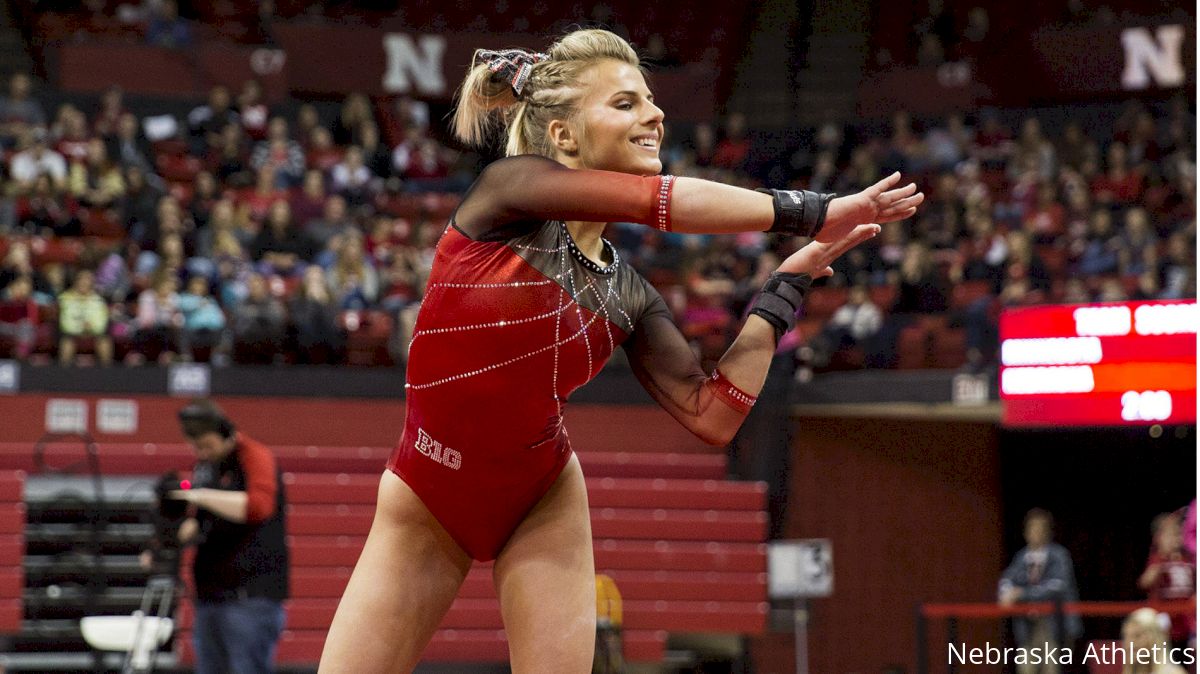 Huskers Triumph In Augusta
Nebraska had a solid meet at the Elevate the Stage in Augusta, Georgia, on Friday night and earned the quad-meet win with a 196.700 against Stanford (195.925), Illinois (195.900), and Georgia (195.825). Taylor Houchin posted a 9.900 to share second place on bars and the Huskers posted a 49.300 event total. Nebraska didn't score below a 9.800 on bars.
It was the first meet in which Stanford put up six athletes on all four events. The Cardinal have put up five gymnasts on vault or bars throughout this season leaving little room for error. Elizabeth Price had her usual stellar day, hitting a 9.900 or better on all four events to finish with a 39.650 all-around total. Stanford couldn't quite find its landings on vault, but the 195.925 will help the Cardinal's RQS.
Another sensational showing by @elizabeth_ebee, who scores at least 9.900 in every event. Wins bars, vault and sixth all-around title of season.

Now has:

2⃣5⃣ ?
2⃣1⃣ 9.90's or higher#GoStanford

— Stanford Gymnastics (@StanfordWGym) March 3, 2018
Georgia got off to a slow start on vault with just a 48.200 after a fall from Sydney Snead on her Yurchenko one and a half. The Gym Dogs were consistent the rest of the way, though, hitting at least a 49.200 on all three remaining events. Sabrina Vega led the way with a 9.975 on floor exercise and Rachel Dickson and Snead each notched a 9.925 to tie for the vault title.
Unlock this video, live events, and more with a subscription!
Get Started
Already a subscriber? Log In
Illinois had a solid performance that will also help its RQS. Rae Balthazor had a good meet for the Illini with a 39.325 in the all-around and a 9.900 on bars and a 9.850 on floor. Bridget Hodan posted a 9.875 to lead the Illini on balance beam.
.@BALthaZORO hits a career-high 9.900! #Illini pic.twitter.com/hCgDNxKflx

— Illini W Gym (@IlliniWGym) March 3, 2018
Florida Struggles In Missouri
A week after losing senior Kennedy Baker to a season-ending Achilles injury, the Gators were back on the competition floor on the road in Missouri. They had a solid meet through the first two rotations on bars and vault before heading to floor exercise. With the depth that Florida has, the Gators shuffled the lineup — Rachel Slocum missed the meet due to illness and resting both Alex McMurtry and Megan Skaggs.
? Highlights and interviews from last night's SEC regular-season finale at Missouri via @GatorVisionTV ⬇️#GoGators #WontBackDown pic.twitter.com/RQRvtA6lyI

— Gators Gymnastics (@GatorsGym) March 3, 2018
Alicia Boren and Alyssa Baumann posted matching 9.925s and Grace McLaughlin broke into the lineup to score a 9.900. The problems for Florida came in the middle of the lineup when both Rachel Gowey and Jazmyn Foberg underrotated their second tumbling pass. The errors were nearly identical.
Florida looked to rebound on beam, but a couple of leg-up wobbles kept the Gators just slightly off throughout the rotation. McMurtry and Boren led the way with a 9.950 and 9.925, respectively.
Crimson Tide Closing Strong
Alabama had its most complete meet of the season against North Carolina in Tuscaloosa. The Crimson Tide posted a season-high 197.525 to UNC's 194.975. Lexi Graber won the all-around title with a 39.500 with a pair of 9.900s on bars and beam. Nickie Guerrero posted meet-winning scores on beam and floor with 9.925s on each. Ariana Guerra earned a share of the floor title with a 9.925 as well.
The Crimson Tide's strongest performance came on the uneven bars, where they did not count a score below a 9.875: Angelina Giancroce (9.875), Kiana Winston (9.875), Graber (9.900), Guerra (9.900), and Shea Mahoney (9.925).
Season-best score for the WIN! #RollTide pic.twitter.com/a3ftR9eZ8h

— Alabama Gymnastics (@BamaGymnastics) March 3, 2018
After a rollercoaster start to the season, Alabama has found its stride over the last five meets. It's the fourth time in five meets that the Crimson Tide scored a 197.000 or better.
Sooners Soar To Top Mark
Oklahoma posted the top score in the country after a 198.375 this weekend against Michigan. Maggie Nichols led the Sooners with a pair of 10.0s on vault and beam and 9.950s on bars and floor to earn a 39.900 all-around total.
.@MagsGotSwag12 now with FOUR career perfect 10s on vault! pic.twitter.com/I1R5QL8wNk

— Oklahoma Women's Gym (@OU_WGymnastics) March 3, 2018
The Sooners posted a 49.700 on beam and did not score below a 9.900: Natalie Brown (9.900), Anastasia Webb (9.900), Brehanna Showers (9.925), Nicole Lehrman (9.925), Stefani Catour (9.950), and Nichols (10.0). Brenna Dowell posted her seventh score of 9.900 or better this season on vault.
Michigan posted its best road score of the season with a 197.175 in Norman. The Wolverines had their best performances on balance beam as well with an event total of 49.400. Lexi Funk paced Michigan with a 9.925 and Lauren Marinez and Polina Shchennikova posted matching 9.900s. Emma McLean posted team-highs on vault (9.950) and floor (9.875).
Amazing vault from Emma McLean!!!! #GoBlue pic.twitter.com/umFjbMMINi

— Michigan Women's Gymnastics (@UMichWGym) March 3, 2018
Pair Of Perfect 10s In Baton Rouge
LSU closed the SEC regular season with a win against Auburn, 198.100 to 195.625. LSU finished the meet with a stellar floor rotation that included back-to-back 10.0s from junior Sarah Finnegan and senior Myia Hambrick.
Hambrick has posted a 9.950 or better in seven straight meets, including four straight 9.975s.
FINALLY THE TEN!!!! @MyiaChristine with PERFECTION! pic.twitter.com/k64lwfrFYo

— LSU Gymnastics (@LSUgym) March 4, 2018
Finnegan, who has picked up 9.975s this season on both bars and beam, went 9.900 or better on floor five times before Sunday's meet.
SHE DID IT!!! @sfinnegan37 hits her first PERFECT 10!!!!! pic.twitter.com/rApV6AXee1

— LSU Gymnastics (@LSUgym) March 4, 2018
Kennedi Edney earned a pair of 9.975s on bars and floor.