2018 Elevate the Stage - Augusta (NCAA) | UGA, Stanford, Nebraska, Illinois
NCAA: Nebraska, Georgia, Stanford, & Illinois At Elevate The Stage
NCAA: Nebraska, Georgia, Stanford, & Illinois At Elevate The Stage
Nebraska, Georgia, Stanford and Illinois will battle it out at the Elevate the Stage meet in Augusta, Georgia, in week eight NCAA action.
Mar 1, 2018
by Lauren Green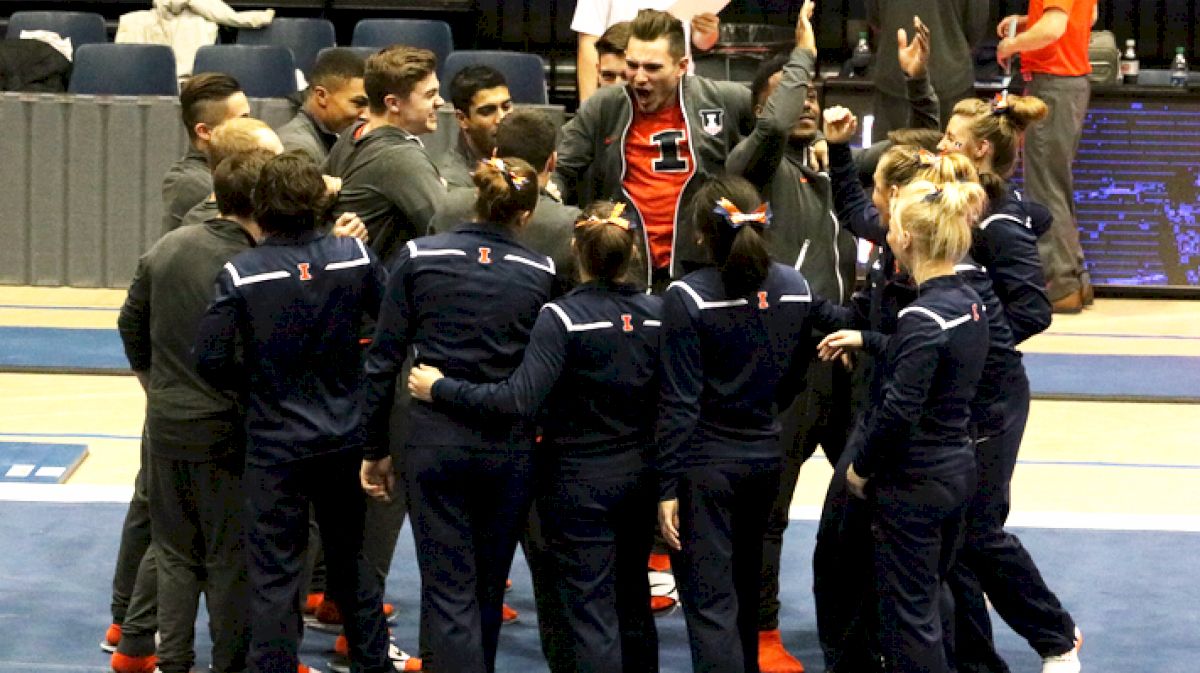 Nebraska, Georgia, Stanford, and Illinois battle it out at the Elevate the Stage meet in Augusta, Georgia, in week eight NCAA action.
Nebraska
The Huskers have been a solid squad this season and are ranked second in the Big Ten with a 196.135 RQS. They have struggled on uneven bars in each of the last two weeks, though, and were forced to count a low score both times. After a rough outing on bars in week one, the Huskers had hit 49.075 or better in four straight meets.
Nebraska has been solid on vault when the Huskers hit with a season-best 49.325 coming in week one against Penn State. Sienna Crouse and Megan Schweihofer have proven to be a steady one-two punch in the final lineup spots.
Ranked: 16th
Event to Watch: Vault (Ranked 14th)
Key routines: Sienna Crouse (vault), Taylor Houchin (bars), Grace Williams (beam)
WATCH: Sienna Crouse's 9.975 on vault from last weekend's win over Michigan.

SATURDAY we face Minnesota at 7 p.m. at the Devaney Center! Help us fill Devaney as we "Light Up the Night" and giveaway 1,000 glow necklaces ?

Doors open at 6 p.m., clear bag policy in effect. pic.twitter.com/c22571Sq7M

— Nebraska Women's Gym (@HuskersWGym) February 1, 2018
Taylor Houchin on uneven bars for #Huskers. Scored 9.9. pic.twitter.com/Hwt5ls8cef

— Brian Rosenthal (@GBRosenthal) January 21, 2018
Georgia
Entering the season, the biggest question for the Gym Dogs was how they would be putting up competitive lineups after the incoming freshman class was decimated by injuries. Vault has been a weakness for Georgia all season — not only because of the injuries, but also because of the lack of 10.0 start values.
Uneven bars has been a strong event for Georgia, especially with freshmen Marissa Oakley and Emily Schild getting into the lineups. Both were strong bar works during their elite careers and, as the second half of the season wears on, both should be putting up good scores. Sydney Snead and Rachel Dickson have also been strong for Georgia throughout the season.
Ranked: 17th
Event to Watch: Uneven Bars (Ranked 13th)
Key routines: Marissa Oakley (uneven bars), Sydney Snead (floor), Sabrina Vega (beam)
Sydney Snead's perfect ?! #TBT #GoDawgs #ReflectGreatness pic.twitter.com/wrJzzh9GAD

— Georgia Gymnastics (@UGAGymnastics) February 22, 2018
Marissa Oakley scores the first 9.9 of the night on bars! pic.twitter.com/oE9g5gpA9X

— Georgia Gymnastics (@UGAGymnastics) February 24, 2018
Stanford
The Cardinal look much improved from the 2017 campaign, but have struggled mightily on uneven bars throughout the season. Stanford has just two meets so far with an event total of 49.0 or better coming in back-to-back meets against Oregon State and San Jose State/Seattle Pacific/UC Davis.
Stanford competed the first six meets of the season with only five athletes on bars: senior Elizabeth Price and four freshmen — Kyla Bryant, Rachael Flam, Lauren Navarro, and Taylor Lawson. The past two meets, Tabitha Yim has added a sixth gymnast to the lineup — another freshman in Catherine Rogers.
Stanford has been good on both floor and vault, where they have been able to rely on Price's 9.900-plus scores and a combination of those freshmen. Bryant has scored well on floor in the 9.800 range and, once Flam figured out her vault landing, she was bringing in solid 9.800 or better.
Ranked: 26th
Event to Watch: Uneven Bars (Ranked 45th)
Key routines: Elizabeth Price (floor/vault), Kyla Bryant (floor), Rachael Flam (vault)
@rmfgymnast vaults her way to a career-high 9.925 and earns our Routine of the Week! #GoStanford pic.twitter.com/0oGGfL93VA

— Stanford Gymnastics (@StanfordWGym) February 25, 2018
Elizabeth Price sticks the landing for a 9️⃣.9️⃣7️⃣5️⃣on the vault for @StanfordWGym.

Watch #Pac12Gym live on the app: https://t.co/ZhZuI5ezsa pic.twitter.com/cM0QJJUSEb

— Pac-12 Network (@Pac12Network) February 18, 2018
Illinois
The Illini's biggest struggles this season have come on floor exercise — the worst event for first-year head coach Nadalie Walsh's squad early in the season. But Illinois has started to improve there, posting a 49.0 or better the past two meets. If the Illini are able to get more routines in the 9.800-range versus the 9.700 range, expect that improvement to continue to build. Bridget Hodan (9.875) and Haylee Roe (9.900) were both strong performers last week and each posted a new season high.
Illinois has been strong on balance beam when they are able to hit. They posted a season-high 49.300 against Michigan State in week six action, but struggled to stay on the beam last week. The consistency is going to be a big thing for Illinois as the Illini look to stay in the top 36 to grab a spot at regionals.
Ranked: 33rd
Event to Watch: Balance Beam (Ranked 26th)
Key routines: Bridget Hodan (floor), Karen Howell (uneven bars), Haylee Roe (floor)
Junior @hayroe2015 earned her second floor title of the season with a career-best 9.900 on Sunday

Illinois returns to Huff Hall on Sunday at 4 pm! #Illini pic.twitter.com/w62E96ewvr

— Illini W Gym (@IlliniWGym) February 28, 2018
Karen Howell scores a career-best 9.900 on bars! #Illini pic.twitter.com/rQww77CA2w

— Illini W Gym (@IlliniWGym) February 25, 2018
.@bhodezz scores a season-high 9.875#Illini pic.twitter.com/jyqhebOWrh

— Illini W Gym (@IlliniWGym) February 25, 2018