Create a free account to unlock this article!
Get Started
Already a subscriber? Log In
Less than a month after officially joining the UCLA women's gymnastics team, Brielle Nguyen had a feeling she would be making her debut as a Bruin at the Reno Elevate the Stage meet on January 14.
Head coach Valorie Kondos Field read off a list of gymnasts the night before the meet, and Nguyen's name was first.
"I was like, 'Whoa! I'm leading off,'" Nguyen said. "And it's not like I'm just leading off beam — I'm leading off the whole competition, so I was so nervous. I was so incredibly nervous, but I knew that I've worked so hard and that there's no way that I'm not going to hit."
After nearly a minute and a half on the four-inch-wide apparatus, Nguyen ran to the end of the beam and punched off, sticking her front layout full dismount. She had officially competed for her dream school for the first time and even tied for the Bruins' highest beam score with a 9.825.
"It was so exciting because it was on podium, and I was so excited because (the) podium's usually for postseason," she said. "Everyone was really hyped."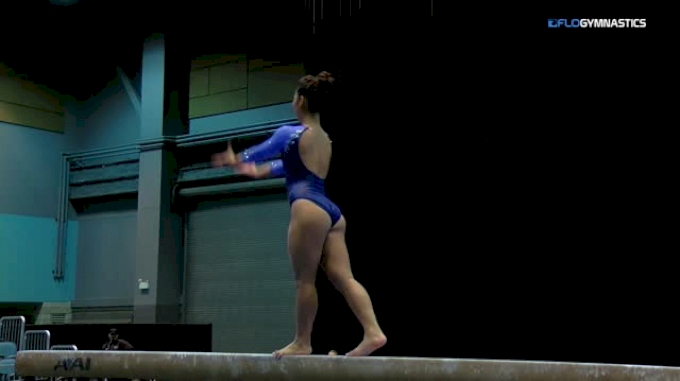 Unlock this video, live events, and more with a subscription!
Get Started
Already a subscriber? Log In
Nguyen's journey to UCLA began six months prior when she decided to transfer from the University of Illinois, where she competed for two years. She was a solid and staple competitor for the Illini on beam and floor, earning a career high 9.900 on both events; 2017 was a breakout season for her as she was named second-team all-conference and earned the team's most improved gymnast award.
But it just wasn't enough.
"I just felt like Illinois wasn't the best fit for me anymore, and I wanted to be closer to home," Nguyen, a southern California native, said.
So she started emailing college coaches in July — quite late in the transfer process — expressing her interest in possibly joining the team, and UCLA opened the door.
"I had to take the opportunity," she said.
Brielle Nguyen makes her UCLA competitive debut as beam leadoff. She is moving great - super steady and confident, just a small hop on the dismount. 9.825.

— UCLA Gymnastics (@uclagymnastics) January 14, 2018
UCLA is only an hour from home for Nguyen; she grew up watching the Bruins, and UCLA was her dream school. She loves the atmosphere of Westwood and Los Angeles, so she knew it was where she wanted to be.
While Nguyen had found her future school, in order to maintain her skills and stay in gymnastics shape, she returned to her club gym, Gym-Max, to train for the summer. Training five days a week for four hours a day with preteen and teenage level 10 gymnasts was a big difference, she admitted.
"I had to push myself and get self-motivated," she said. "I was so used to training with a team (of gymnasts) that were ages 18-22, so going back to 14-year-olds, it was like 'Oh shoot.' I went up to one of the girls that was 14 or 13 and was like, 'You need to push me today.' And they would listen and they would push me, which I love them for that. But it was still hard not to have my (Illinois) team next to me that I'd been training with for two years."
As the final months of 2017 came, Nguyen was officially accepted into UCLA and officially began training with the Bruins on December 27.
"I remember that day because it was like the best day of my life."
Joining the team in December meant she joined the extremely large team of 23 gymnasts in the middle of the school year, so all the other gymnasts were already accustomed to one another and the coaches. Even though she knew several of the gymnasts on the team ― like former club teammates Kyla Ross, Felicia Hano, and Sofia Gonzalez ― she was still worried she'd struggle and that it'd be difficult or awkward. However, that wasn't the case.
"The girls are so welcoming," Nguyen said. "The team culture and atmosphere is so amazing. It was so easy to just assimilate."
She also easily assimilated to her new lineup position: leadoff on beam. Her initial competition expectations were that she wouldn't make any lineups. Nguyen came in thinking she was "just going to push the team and do what (she) can do best to the best of (her) abilities." She said she didn't even think she was going to travel with the team to meets.
Nguyen has competed as the leadoff on beam for the Bruins at every meet since Elevate the Stage in Reno on January 14. She hasn't scored below a 9.800 and has a season and career high of 9.900.
"It's very quick," Nguyen said of her lineup position. "You warm up first, get off the beam, and compete right away. I like it a lot because I get to watch everyone afterwards and cheer for my teammates. At Illinois, I went third, so I was smack dab in the middle. I would have to wait, and I would feel like I couldn't watch the girls because I was so in my zone. I like going first."
Nguyen also likes the academic change from Illinois to UCLA. Illinois is on the semester system and has a shorter school year while UCLA is on the quarter system and has a longer school year. She's also changed her major from molecular and cellular biology to sociology.
"I actually love quarters a lot better because it's quicker and you only take three classes," she said. "So if you don't like a class, it goes by so quick."
She described herself as someone who "gets bored of subjects really easily," so she's found UCLA to be a better fit overall. But she still appreciates Illinois.
At Illinois, she was used to doing lots of numbers in the gym, which have helped build her confidence. Being an Illini gave her competitive experience and a competitive mindset, taught her what helps her focus, what calms her down and showed her how to build confidence, all of which have prepared her for UCLA.
"If there's no Illinois, there's no UCLA," she said. "That's what I tell myself every single day. That's why I'm so thankful for Illinois."
But she also has lots of gratitude for UCLA, the team she hoped to join as a young gymnast.
"I'm just very thankful that I have this opportunity to be somewhere that I've always wanted to be," Nguyen said. "I really didn't think it would happen. Honestly I'm fan-girling because I'm here. I'm just so happy to be here. It's crazy."