2018 NCAA Season
Recapping the Action: Utah Edges UCLA, LSU Hits 198 Twice
Recapping the Action: Utah Edges UCLA, LSU Hits 198 Twice
Utah edged UCLA, Oklahoma stumbled on beam and LSU hit 198--twice. Plus, perfection, times three all in Week 7 action.
Feb 19, 2018
by Lauren Green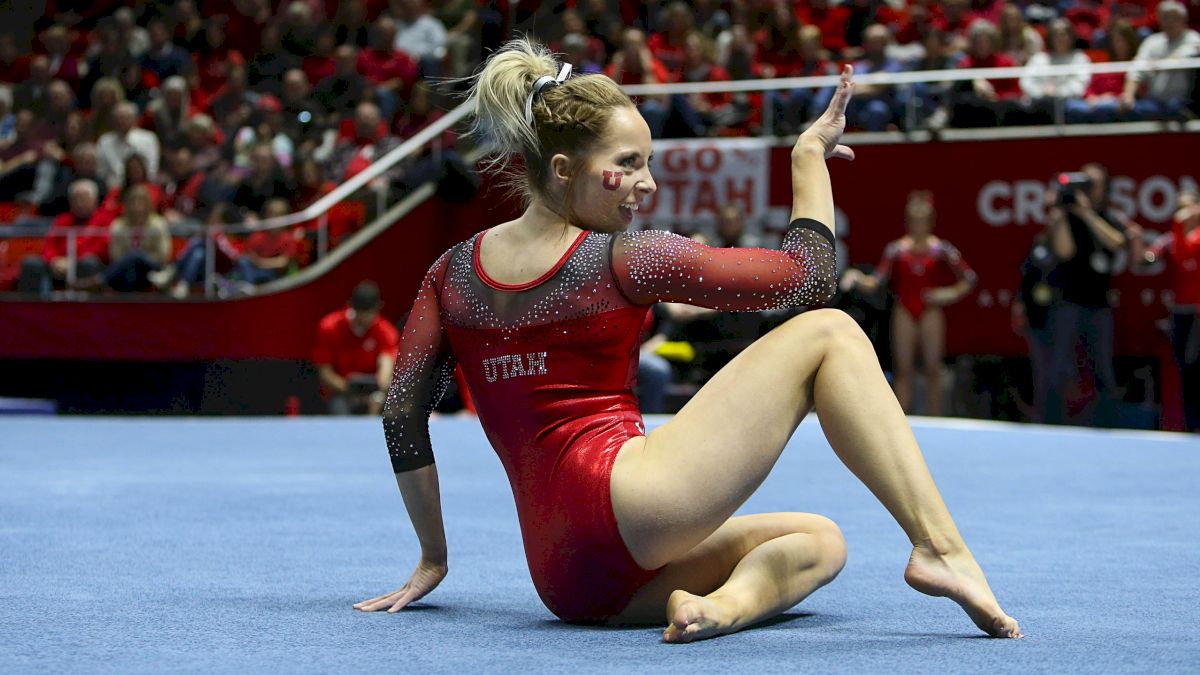 Uncharacteristic Errors In Pac-12 Showdown
In a battle between the top two teams in the Pac-12, it came down to the final rotation. UCLA had the edge early on vault and maintained the lead through the second rotation after some uncharacteristic mistakes from both squads. But Utah cut down the lead in the third rotation, bolstered by MyKayla Skinner's 9.975 on floor exercise to tie the meet, and earned the win in the final rotation 197.550 to 197.425.
The Bruins had several small landing errors on both uneven bars and balance beam that prevented them from extending their lead heading into the final rotation. Kyla Ross was just a little bit off on her bars and beam landings and Peng Peng Lee — who had back-to-back 10.0s on beam — had a major break on both bars and beam this week.
Utah had its own uncharacteristic errors on vault. Kim Tessen and Makenna Merrell-Giles both landed short on their Yurchenko one and a halfs with Tessen sitting hers down. Merrell-Giles, who earned a 10.0 on that vault on February 3 against Washington, picked up just a 9.775. She has gone 9.875 or better in each of the previous five meets. Skinner posted a 9.950 for a stellar Yurchenko double full.
MyKayla Skinner nails a huge 9.95 vault!!! #GoUtes pic.twitter.com/fkEz4aVed9

— Utah Gymnastics (@UtahGymnastics) February 19, 2018
UCLA's biggest difficulty came on floor, where three of the first four Bruin gymnasts went out of bounds — Gracie Kramer on her opening combination pass, Nia Dennis on her double arabian, and Pauline Tratz on the final pass of what was a solid routine. Felicia Hano and Katelyn Ohashi put up back-to-back 9.975s, but it wasn't enough to grab the win.
UCLA closes strong with a 9.975 from @katelyn_ohashi! pic.twitter.com/kX4XC2WWka

— UCLA Gymnastics (@uclagymnastics) February 19, 2018
FISH STICK. @fish_hano with a 9.975 on floor! pic.twitter.com/x2XYjmhQSj

— UCLA Gymnastics (@uclagymnastics) February 19, 2018
Sooners Stumble
It was a rough weekend for No. 1 Oklahoma, which defeated Nebraska 196.425 to 196.175 Friday night in the Perfect 10 Challenge. The Sooners were solid through the first two rotations, especially on bars where they posted a 49.525 with five routines going 9.875 or better: AJ Jackson (9.875), Brenna Dowell (9.875), Anastasia Webb (9.925), Stefani Catour (9.925) and Nicole Lehrman (9.925).
But it was balance beam where Oklahoma struggled mightily. The Sooners had three falls in the first four routines — with uncharacteristic misses from Catour, Lehrmann, and Natalie Brown, who was making her return to the lineup after missing the first half of the season with an injury. It was the worst performance on balance beam for the Sooners in more than 10 years — when Oklahoma finished with a 48.050 on January 11, 2008, against Central Michigan.
Oklahoma rebounded on floor with a 49.475 and did not count a score below a 9.850. After two weeks in a row struggling with her landings, Jackson bounced back with a big 9.925 in the anchor spot and sophomore Maggie Nichols won her second event title of the evening with a 9.950 on floor (and beam).
Perfection Strikes
Week seven saw three perfect 10.0s by gymnasts in three different conferences with the Big Ten, Pac-12 and SEC all recording 10.0s this week.
Minnesota's Ivy Lu kicked things off in the first session of the Mardi Gras Invitational with fabulous beam set. She has gorgeous extension and great amplitude on her leap series and pretty double turn.
1⃣0⃣ pic.twitter.com/fkHE39RxYM

— Minnesota W Gym (@GopherWGym) February 17, 2018
Lu became just the second Minnesota gymnast to earn a 10.0. She posted back-to-back 9.975s on uneven bars in her last two meets as well.
Sydney Snead picked up her first career 10.0 on floor exercise on Friday night against Florida. It marked the first 10.0 for a Georgia gymnast since 2010 and the first on floor since 2009 when now-head coach Courtney Kupets earned a perfect 10.
Relive this perfection ?✨ https://t.co/hjAFDK0ELA

— Georgia Gymnastics (@UGAGymnastics) February 17, 2018
The final 10.0 of the weekend came from Stanford senior Elizabeth Price. It marked the second 10.0 of the season for Price, who entered her final season without hitting a perfect 10. She opens her floor routine with a huge double layout stuck cold.
.@StanfordWGym saved the best for last! @elizabeth_ebee earns a P-E-R-F-E-C-T ? on her floor routine.#Pac12Gym pic.twitter.com/ux27zN9fQ4

— Pac-12 Network (@Pac12Network) February 18, 2018
198 Times Two For LSU
The Tigers posted a pair of 198s this weekend, first with a 198.075 at the Mardi Gras Invitational against SEC foes Arkansas and Missouri plus George Washington and then a 198.175 in a dual meet on Sunday against Texas Woman's University. The double 198s boosted LSU back to the No. 2 spot in the weekly rankings.
Sarah Finnegan and Myia Hambrick continued to impress and rack up the top scores, with Finnegan earning a 9.975 on balance beam and Hambrick posting yet another 9.975 on floor exercise at the Mardi Gras Invitational. After a rough beam outing a week ago, the Tigers earned a 49.525 and 49.475 respectively this weekend.
HERE COME THE TIGERS! Missouri native @sfinnegan37 closed out beam with a 9.975!!! pic.twitter.com/8qPjOHlgOX

— LSU Gymnastics (@LSUgym) February 17, 2018
The Tigers earned a season-best 49.725 on uneven bars on Sunday to set a new school record. Lexie Priessman led the way with a 9.975 of her own and Hambrick, Finnegan, and Ruby Harrold all posted 9.950s with Kennedi Edney hitting a 9.900 and Sami Durante posting a 9.800.
WOWWW @lpriessman2016 with a spectacular routine for a 9.975.
Watch: https://t.co/zYtcniLl2W pic.twitter.com/zYBqZo6stw

— LSU Gymnastics (@LSUgym) February 18, 2018
Brannan Out For The Season
Alabama senior Mackenzie Brannan announced over the weekend that her collegiate career had come to an end after she ruptured her Achilles tendon. Brannan competed on uneven bars in each of the first six meets of the season and scored a 9.875 or better in five of those meets.