2018 NCAA Season
Recapping The Action: Sooners, Bruins Keep Rolling
Recapping The Action: Sooners, Bruins Keep Rolling
Catch up on all the highlights of Week 6 NCAA gymnastics action.
Feb 12, 2018
by Lauren Green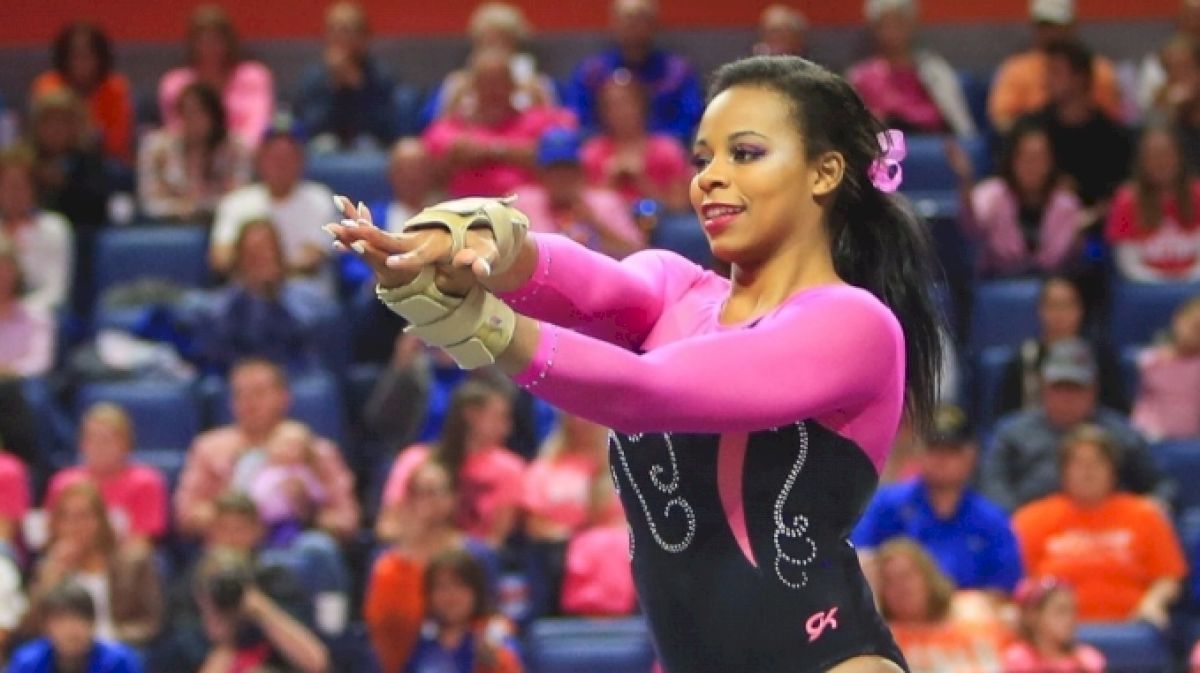 No. 1-ranked Oklahoma posted a score above the 198 mark for the third straight week, this time totaling a season-best 198.150 to top North Carolina on Sunday in Norman, OK.
Balance beam was the strongest event for the Sooners for the second week in a row, as Oklahoma finished with a 49.600, including a perfect 10 from sophomore standout Maggie Nichols. It marked the ninth career 10.0 for Nichols and her second in as many weeks on balance beam.
MAGGIE "PERFECT 10" NICHOLS!!!!!!! pic.twitter.com/7hPvfCI3tf

— Oklahoma Women's Gym (@OU_WGymnastics) February 11, 2018
Brenna Dowell had a stellar meet for the Sooners, with a 9.900 or better on all three events. She also performed well in her exhibition routine on beam, so it will be interesting to see if head coach KJ Kindler can find a place for her in an already solid Sooners beam lineup.
The visiting Tar Heels finished with a 195.750 after a rough opening rotation on uneven bars. But UNC continued to improve on the other three events and capped off the meet with Morgan Lane's gorgeous beam routine, which scored a 9.950.
Michigan rebounds in rivalry meet
The No. 7 Wolverines had one of their best meets of the season as they topped visiting rival Michigan State 197.275-194.950 on Saturday. It was UM's first meet of the season without junior standout Olivia Karas, who ruptured her Achilles tendon against Maryland on Feb. 4.
Michigan was excellent on both balance beam and floor exercise, where the Wolverines hit three routines of 9.900 or better on beam and did not count a score below a 9.850 on floor exercise. Emma McLean led the way on the floor with a 9.950.
You definitely want to watch this 9.950 by Emma McLean on floor from today. 5th straight win on the event for the junior. #GoBlue pic.twitter.com/cvThTSATot

— Michigan Women's Gymnastics (@UMichWGym) February 10, 2018
Freshman Lauren Farley and sophomore Polina Shchennikova shared the title on the balance beam with matching 9.925s.
Lineup changes? No problem for Bruins on the road
Fourth-ranked UCLA made some changes to its lineups on all four events at Cal on Saturday. The result wasn't too different than past weeks, with the Bruins scoring above the 197 mark for the fifth straight weekend and beating the Bears 197.750-197.225.
UCLA hosts Pac-12 rival and No. 2-ranked Utah on Sunday, Feb. 18, and opted to rest some of its top athletes, such as Peng Peng Lee, Kyla Ross, and Katelyn Ohashi on certain events. The changes gave some athletes a change to gain additional experience in the competition lineups this season.
Freshman Savannah Kooyman hit just her second uneven bars routine of the season for a 9.875 and added a 9.825 in her first floor routine of the year. Grace Glenn and Ohashi tied for the top spot on balance beam while Napualani Hall posted her second straight 9.950 on vault for the title. Kyla Ross and Peng Peng Lee shared uneven bars title with a 9.950 in the only event for each of them on the afternoon.
Grace Glenn tying her career high with a 9️⃣.9️⃣5️⃣ for @UCLAgymnastics is the @OpusBank #12Best moment of the meet. pic.twitter.com/ZmLfRhLEzn

— Pac-12 Network (@Pac12Network) February 10, 2018
Cal senior Toni-Ann Williams earned the all-around title and a share of the floor title for the Bears, who scored a season-best team total on the afternoon. The Bears hit 24 clean routines and did not score below a 9.775. Freshman Kyana George was stellar on vault with a 9.900 for a great Yurchenko full, and Alma Kuc hit a season-high on bars with a 9.900.
A career-high 9.90 for Alma Kuc, as all our Bears today have recorded season-high performances on Bars today! pic.twitter.com/t0EgSuit0S

— Cal Gymnastics (@CalWGym) February 10, 2018
But it was balance beam where Cal put it all together with a 49.325 — the best event total on beam in school history.
ROLL ON YOU BEARS!@CalWGym notched its best beam score in program history (49.35) en route to its 3️⃣rd highest team total (197.225) in school history!

Check out these beam queens ⤵️ pic.twitter.com/4p0Zt5JalP

— Pac-12 Network (@Pac12Network) February 10, 2018
Utah, LSU falter
Second-ranked Utah and No. 3 LSU both struggled just a little bit in uncharacteristic meets for both teams this past Friday. Hosting Arizona State, Utah was forced to count a low score on floor — a 9.650 from Missy Reinstadtler after a fall from Macey Roberts.
At Missouri, LSU's troubles came on balance beam, where the Tigers had two falls in the middle of the lineup from Kennedi Edney and Reagan Campbell.
Despite the falls, both squads posted scores over the 197 mark — LSU with a 197.150 and Utah with a 197.075 — to win their respective meets. LSU has not scored below a 197 all season, while Utah has posted 197s in five of six meets and only miss hitting 197 by 0.025 in week two.
Baker soars to perfection
Kennedy Baker posted her first 10.0 of the season on floor exercise in No. 5 Florida's win over No. 9 Alabama on Friday. The Gators came out on top 197.850-197.075 and posted a huge 49.625 on floor, with all six athletes scoring a 9.875 or better.
It is 10am ? on Feb. ?.

Time to watch @KennBaker15 ?.0⃣0⃣ floor routine from last night's win over Alabama.#WeChomp pic.twitter.com/q25a6ByNPv

— Gators Gymnastics (@GatorsGym) February 10, 2018
Teammate Alex McMurtry nearly had a 10.0 of her own on vault but scored a 9.975 on her double-twisting Yurchenko (which had arguably a better landing than the vault that hit a 10.0 against Oklahoma two weeks ago).
? Take a look at @alexmcmurtry's winning vault!! ?

She recorded a mark of 9⃣.9⃣7⃣5⃣ to finish 1st overall! #GoGators pic.twitter.com/PlDPHDcMqV

— Gators Gymnastics (@GatorsGym) February 10, 2018
For the second straight week, Alabama posted a season-best team total and went over the 197 mark. The Crimson Tide struggled a little bit earlier in the season with landings and putting together all four events but have come on strong the last two weeks. Nickie Guerrero clinched the balance beam title with a 9.950 for this gorgeous routine.
Senior Nickie Guerrero closes Friday's meet in Gainesville by winning the balance beam with a HUGE 9.95 routine! #FridayNightHeights #FierceGrace #RollTide pic.twitter.com/iyWG0gQvey

— Alabama Gymnastics (@BamaGymnastics) February 11, 2018