2018 NCAA Season
NCAA Top Routines: Peng Peng Lee, Nikole Addison, & More
NCAA Top Routines: Peng Peng Lee, Nikole Addison, & More
UCLA hosts Oklahoma in a Sunday showdown, Kentucky and Arkansas face a pair of SEC powerhouses, and Denver and Stanford both appear in quad meets.
Feb 1, 2018
by Lauren Green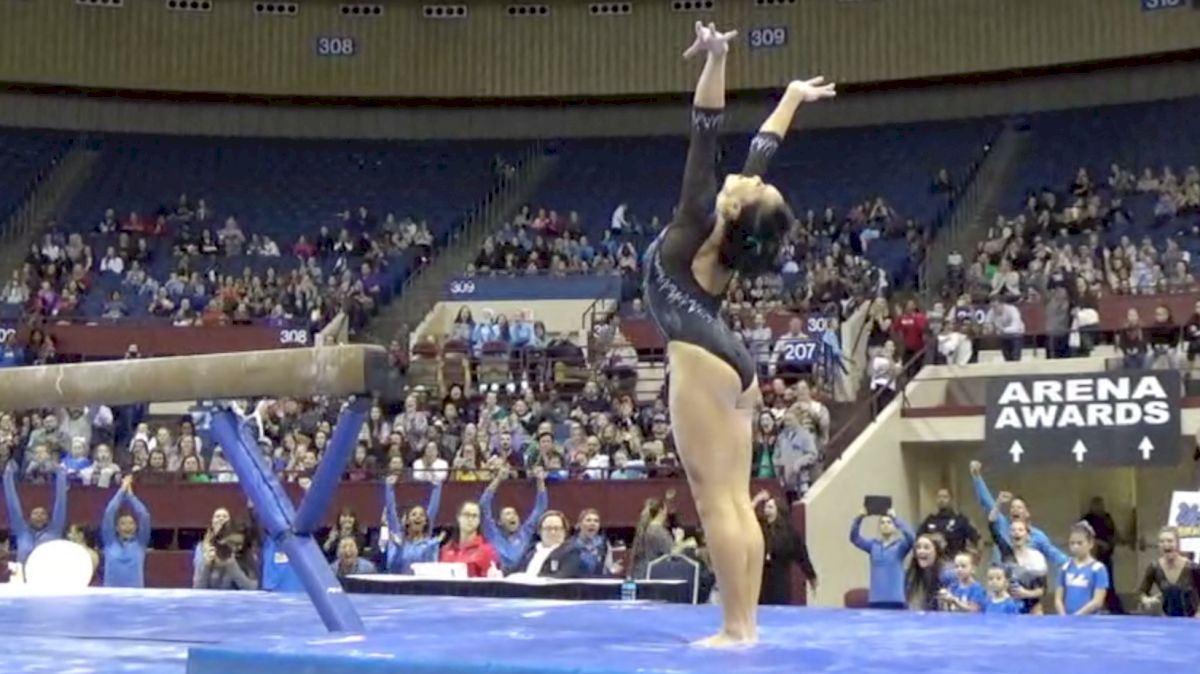 After a huge week of gymnastics that saw Peng-Peng Lee score a perfect 10 and OU and LSU reach ridiculously high scores, the NCAA has another show-stopping weekend on hand. Here are the top routines we're following this week in college gymnastics.
1. Arkansas | Sarah Shaffer | Floor
Friday, Feb. 2 at 8:30 PM ET vs Alabama
Sarah Shaffer on floor. 9.900. What a night for our freshman. https://t.co/Fu77TWnZbd pic.twitter.com/IZwIelBdLB

— Razorback Gymnastics (@RazorbackGym) January 27, 2018
Schaffer scored a career-best 9.900 in week four action against Georgia to clinch the meet for the Razorbacks. Her first two passes — a high double pike and a clean double tuck — both had solid landings. Her all-around total of 39.350 was also a career-high for the freshman.
Schaffer has competed in the all-around in all four meets so far for No. 8 Arkansas. Floor has been a weakness for Arkansas this season, but Schaffer has scored a 9.800 or better three of four meets. The Razorbacks will face another big test this week when they take on Alabama.
2. Kentucky | Ella Warren | Floor
Friday, Feb. 2 at 8:30 PM ET vs LSU
This floor routine helped @EllaWarren21 win SEC Co-Freshman of the Week! pic.twitter.com/bTF12dijha

— Kentucky Gymnastics (@UKGymnastics) January 16, 2018
Warren has been a stellar addition to a young Kentucky team. Like teammate Mollie Korth, Warren graduated early to come to Lexington. She has been fun to watch, especially on floor through the early part of the season. She has scored a 9.800 or better in all three floor routines this morning. The Wildcats are current ranked fifth in the country on floor exercise. They'll have a tall order taking on the second-ranked LSU Tigers on the road this week.
3. Stanford | Rachael Flam | Vault
Friday, Feb. 2 at 10 PM ET vs San Jose State, Seattle Pacific, and UC Davis
SWG freshman, @rachaelflam scores a season-high 9.85 on vault at Oregon State! #GoStanford pic.twitter.com/Lbg8DOuCYu

— Stanford Gymnastics (@StanfordWGym) February 1, 2018
Flam was a J.O. star on vault, but that hadn't translated to the college level through the first several meets. But Flam hit her stride on vault last week against Oregon State. She scored a season best 9.850 in week four action. Flam does an Omelianchik, which starts out at a 10.0.
Vault has not been one the team's strengths this season, but the Cardinal posted its second-highest mark of the season with a 49.050 against the Beavers. Look for Flam and Stanford to continue to improve in this weekend's non-conference quad meet.
4. Denver | Nikole Addison | Floor
Saturday, Feb. 3 at 8 PM ET vs Ball State, Bowling Green, and BYU
Nikole Addison won her first floor title of the season on Saturday, scoring 9.925 with this routine. #DU1NATION #NCAAGym pic.twitter.com/QIBGstteEn

— Denver Gymnastics (@DU_Gymnastics) January 30, 2018
Addison posted a 9.925 to win a share of the floor exercise title in Denver's last meet against Utah State to tie her season high. Addison has a gorgeous, floating double layout to open her routine. She closes with a pretty double pike and had excellent landings on all three of her passes. The Pioneers are ranked eighth on floor exercise and posted their top floor score of the season with a 49.475.
5. UCLA | Peng Peng Lee | Beam
Sunday, Feb. 4 at 4 PM ET vs Oklahoma
PERFECTION ???

?@PengPengCLee @uclagymnastics pic.twitter.com/rC2jot4bjO

— FloGymnastics (@FloGymnastics) January 29, 2018
Lee scored her first perfect 10 of the season at the Metroplex meet last weekend, when UCLA came out on top in Fort Worth. The sixth-year senior has a gorgeous beam routine with a unique composition. Her Homma flares mount always draws cheers from the crowd, regardless of where UCLA competes, and a double turn that she makes look far too easy.
Lee's score at the end of the lineup tends to draw a big number. She has scored a 9.900 or better three of four beam routines this season. This weekend UCLA goes head-to-head with defending champion Oklahoma. The Bruins are ranked second on balance beam — right behind the Sooners.