David & Goliath: Larry Nassar Fallout At Michigan State, USAG, & USOC
David & Goliath: Larry Nassar Fallout At Michigan State, USAG, & USOC
UCLA head coach Valorie Kondos Field may have said it best: this is a David and Goliath story. Here is the timeline behind the Larry Nassar fallout.
Jan 30, 2018
by Hunter Sharpless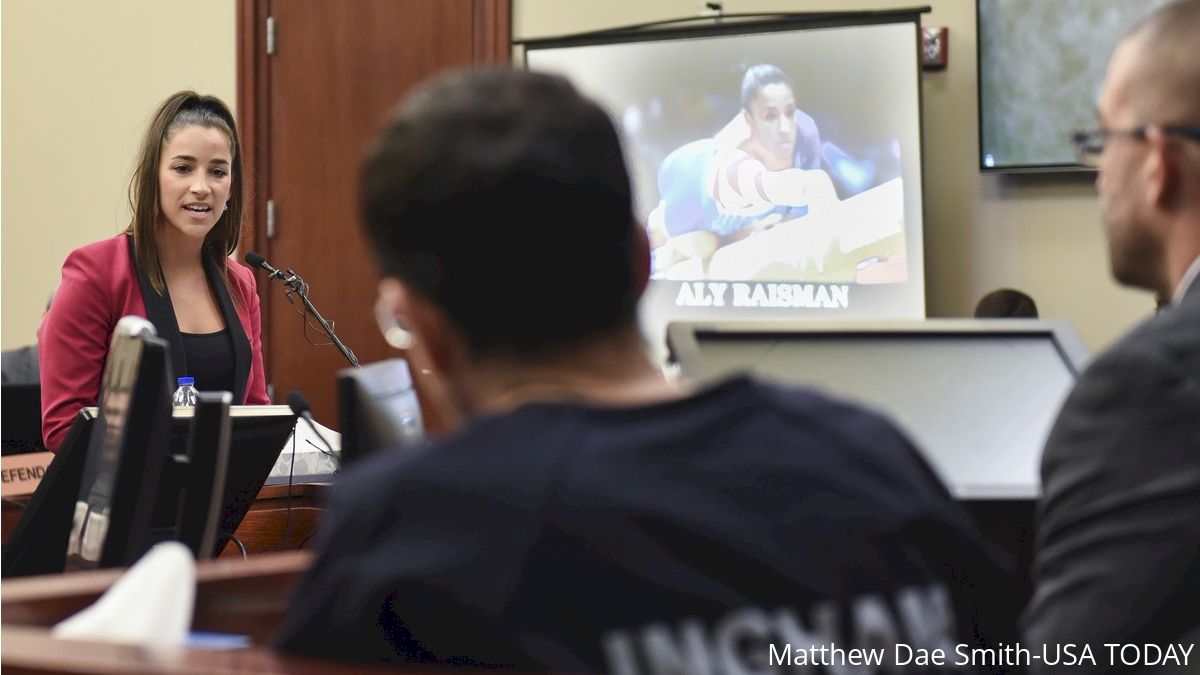 Editor's note: The following article contains sensitive information and may not be appropriate for certain readers.
In the wake of the Larry Nassar sentencing, UCLA head coach Valorie Kondos Field may have said it best: this is a David and Goliath story.
This is the story of 5-foot gymnasts confronting a university, a national governing body, and a culture of corruption. This is the story of women speaking truth to their abuser's face. Although this is a story of defeat, loss, and sadness, this is also a story of victory.
"I am so honored to be a part of gymnastics," Miss Val told FloGymnastics after Saturday night's Metroplex Challenge in Fort Worth, Texas. "[The sport] has honed this army of young women who are making significant change — not just in their sport, but nationwide and probably worldwide. When Lizzy Lemke said, 'You have pissed off the wrong army of women,' we're seeing that."
Days removed from Nassar's sentencing, the veteran coach spoke to hope that still exists within the sport.
"You cannot negate the fact that that strength that they all had, they learned in gymnastics," she said. "They learned courage, strength, perseverance. They learned how to look their abuser in the eye because of the strength they got in gymnastics. It's kind of like David and Goliath. They're these shorter-stature young women who have just gone, 'Boom, it's time for change, time's up,' and it took [these gymnasts] for significant change to start happening. How proud are we all to be a part of this?"
Although the questions persist — How far does this go? How can the sport be rebuilt in the right way? How can the culture change? — the most palpable hope remains the same: this sport is composed of gymnasts. And gymnasts are courageous, strong, and they will persevere.
Below is a timeline of just some of the changes that have already taken place at USA Gymnastics and Michigan State University.
1.18 — USA Gymnastics ends relationship with Karolyi Ranch.
USAG announced the total end of its working with Karolyi Ranch, the training facility located in Huntsville, Texas, about an hour outside of Houston. USAG had already backed out of a decision to purchase the ranch. The location had been used by USA Gymnastics for many years, and was originally purchased in the 1980s by Bela Karolyi, the gymnastics coach who defected from Romania.
USA Gymnastics had been under fire for its continued use of the ranch despite the fact that gymnasts — including Jessica Howard, Jeanette Antolin, and Jamie Dantzscher — claimed that Nassar abused them at the training location.
In a press release, USA Gymnastics president and CEO Kerry Perry said the following: "It has been my intent to terminate this agreement since I began as president and CEO in December. Our most important priority is our athletes, and their training environment must reflect this. We are committed to a culture that empowers and supports our athletes."
1.19 — MSU board of trustees offers vote of confidence to university president Lou Anna Simon.
Despite severe criticism, the growing stature and scope of the Nassar case, and increasing revelations in terms of Michigan State's involvement, the board of trustees at the public university in East Lansing continued to pledge its support to Michigan State president Lou Anna Simon.
The board issued the following statement at the time:
"Through this terrible situation, the university has been perceived as tone-deaf, unresponsive, and insensitive to the victims. We understand the public's faith has been shaken. The Board has listened and heard the victims. Today, the Board acted and has asked the Attorney General's Office to review the facts in this matter, and as information is presented, the Board will act. This can never happen again. As part of the Board's oversight authority, we will retain independent external assistance to support our responsibilities to the university community and the public at large. We continue to believe President Simon is the right leader for the university and she has our support."
1.22 — Three USAG board members resign.
Two days before the sentencing, USA Gymnastics announced that three of its board members had resigned: chairman Paul Parilla, vice chairman Jay Binder, and treasurer Bitsy Kelley. Perry released the following statement:
"USA Gymnastics thanks Paul Parilla, Jay Binder, and Bitsy Kelley for their many years of service to this organization. We support their decisions to resign at this time. We believe this step will allow us to more effectively move forward in implementing change within our organization. As the board identifies its next chair and fills the vacant board positions, we remain focused on working every day to ensure that our culture, policies and actions reflect our commitment to those we serve."
1.22 — USAG suspends John Geddert.
USA Gymnastics, citing section 10.5 of their bylaws dealing with the "safety and well-being of the gymnastics community," announced the suspension of Geddert.
Geddert was a head coach for the U.S. women's gymnastics team at the 2012 Olympics in addition to being Jordyn Wieber's personal coach, and the head of Twistars Gymnastics Club, the premier club in the state of Michigan.
ESPN's coverage of the Geddert suspension described the coach's relationship with Nassar in this way:
"Over the past 25 years, the two have been all but inseparable, professionally and socially, according to [an Outside the Lines story]. They worked together first at Geddert's Great Lakes Gymnastics Club and then, starting in 1996, at the gym Geddert owns now, Twistars USA Gymnastics Club near East Lansing, Michigan. They worked the 2012 Olympics together. Geddert was in Nassar's wedding party when Nassar got married in East Lansing in 1996. They attended each other's house parties and traveled the country and, later, the world together at competitions. They vouched for each other when faced with career-threatening circumstances."
In the days following, Geddert suddenly retired — and also faced allegations.
Lindsey Lemkey, a senior gymnast at Michigan State, told WLNS's Alexandra Ilitch that Geddert "would take girls by the shoulders, squeeze hard enough to leave marks, shake them and yell directly into their face. There was specifically one time where he picked up the vault hand mat and hit me with it because I couldn't get my vault right that day and this was already after I had crashed into the vault hard enough to bruise and bleed."
1.24 — NCAA announces 'letter of inquiry' sent to Michigan State.
After remaining conspicuously quiet during the Nassar trial, the NCAA released the following statement:
"The NCAA has sent a letter of inquiry to Michigan State University regarding potential NCAA rules violations related to the assaults Larry Nassar perpetrated against girls and young women, including some student-athletes at Michigan State. We will have no further comment at this time."
Michigan State released the full letter the next day.
1.24 — Judge Rosemarie Aquilina sentences Larry Nassar 40 to 175 years.
After more than 150 impact statements from survivors over a period of seven days in a Lansing, Michigan, courthouse, Judge Rosemarie Aquilina sentenced Nassar to 40 to 175 years in prison; Nassar had already been handed a 60-year sentence after pleading guilty to charges relating to child pornography.
1.24 & 1.25 — USOC issues statement asking entire USAG board to resign.
The United States Olympic Committee released an open letter outlining a number of changes they wished to see in USA Gymnastics on January 4, including the resignation of "all USAG directors." The USOC said they "strongly considered decertifying USAG as a National Governing Body." You can find another excerpt of the letter below.
"Since October of last year, we have been engaged in direct talks with USAG leadership on this fundamental point. New leadership at the board level is critical and you recently saw three USAG board resignations. Further changes are necessary to help create a culture that fosters safe sport practice, offers athletes strong resources in education and reporting, and ensures the healing of the victims and survivors. This includes a full turnover of leadership from the past, which means that all current USAG directors must resign."
The following day, USOC CEO Scott Blackmun sent a letter directly to USAG and outlined in greater detail the changes USOC wished to see, including the resignation of USAG's full board.
1.24 — USAG releases athletic trainer Debbie Van Horn.
In her witness statement, Mattie Larson named another person — athletic trainer Debbie Van Horn — who Larson said was often in the room at the same time as Nassar was committing abuse.
The USA Today obtained an email on January 24 in which Mark McCreary announced that the USAG had parted ways with Van Horn, effective January 22.
1.24 — Michigan State University president Lou Anna Simon resigns.
On the same day of sentencing, Michigan State president Lou Anna Simon announced her retirement — less than a week after a vote of confidence from the board and a statement saying she would remain the university's president. Simon's letter to the Michigan State board of trustees opened this way:
"The last year and a half has been very difficult for the victims of Larry Nassar, for the university community, and for me personally. . . ."
You can read the full letter here.
1.25 — Entire USAG board agrees to resign.
USA Gymnastics released the following statement in response to the USOC's January 24 letter:
"USA Gymnastics completely embraces the requirements outlined in the Jan. 25, 2018 letter from the United States Olympic Committee and appreciates the opportunity to work with the USOC to accomplish change for the betterment of our organization, our athletes and our clubs. We understand that the requirements imposed by the letter will help us enhance our ability to build a culture of empowerment throughout the organization, with an increased focus on athlete safety and well-being. Our commitment is uncompromising, and we hope everything we do makes this very clear."
1.26 — Michigan State University athletic director Mark Hollis announces resignation.
On Friday, athletic director Mark Hollis followed in the footsteps of Lou Anna Simon and resigned. Hollis said the following in a statement:
"This was not an easy decision for my family, and you should not jump to any conclusions based on our decision — listen to facts. I am not running away from anything, I am running toward something. Comfort, compassion and understanding for the survivors and our community; togetherness, time and love for my family."
You can read the full statement here.
1.27 — Michigan attorney general Bill Schuette announces investigation of Michigan State.
The question of who will investigate Michigan State — not to mention USAG, and potentially even the USOC — is a confusing one, as the handling of the Penn State situation demonstrated, but over the weekend Michigan AG Bull Shuette did announce that he would pursue the matter; he was pointed in his remarks.
"No individual and no department at Michigan State University is off-limits," he said. "This investigation is priority one."
---
At the Metroplex Challenge, the Bruins wore teal ribbons to signify their solidarity with survivors of sexual abuse. A number of other schools have worn the teal as well, and Miss Val even joked that UCLA should change its school colors.
"We're gonna wear teal for the rest of our lives," she said.