2018 NCAA Season
UCLA And Florida Earn Big Wins, Elizabeth Price Nearly Perfect Again
UCLA And Florida Earn Big Wins, Elizabeth Price Nearly Perfect Again
Catch up on the week 4 action as UCLA earned the quad-meet win at Metroplex, Florida edged Oklahoma in a showdown in Gainesville and plenty more.
Jan 29, 2018
by Lauren Green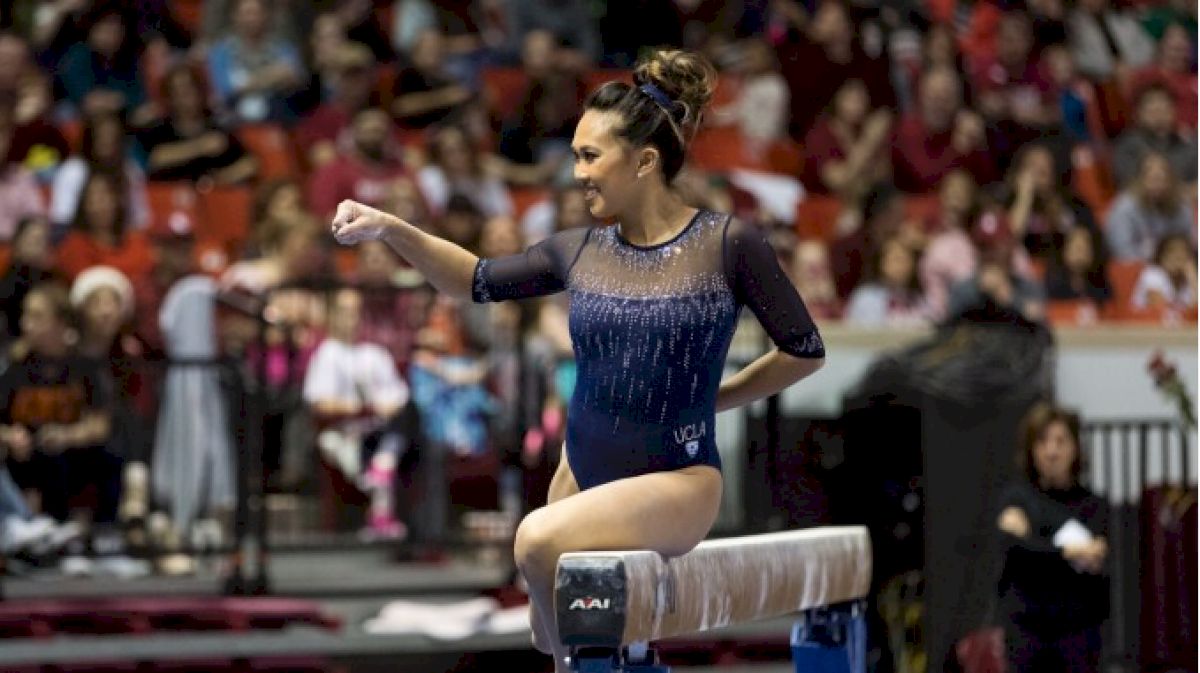 Bruins Beat LSU In Fort Worth
When one of the opposing coaches walked up to Miss Val after the Metroplex Challenge on Saturday night in Fort Worth, Texas, and congratulated her, she didn't quite know what to say.
"For what? For being at the Metroplex Challenge?" she asked.
A moment later, the coach told Miss Val her UCLA Bruins had won the meet.
No. 4 UCLA took down second-ranked LSU, No. 14 Washington, and No. 28 NC State at the quad — but the Bruins weren't focused on the scores.
"The one thing that sticks out with me with this team, from every single meet, is that they just stay the course," Miss Val told FloGymnastics after the meet. "Even when there is a mistake or they're not doing so great, they don't dip, they don't get down, I don't have to go pull them up. I've not had to tell one athlete, 'C'mon let's go get out of your funk.' They're really fun."
The Bruins scored a season-high 197.625. UCLA had an excellent meet on both floor and vault — events where the Bruins struggled during the 2017 season. The Bruins scored a 9.825 or better on five of six vaults with Kyla Ross earning a huge 9.925. Ross finished with a career-high 39.700 in the all-around after a huge 9.975 on balance beam. Peng Peng Lee earned the Bruins' first 10.0 of the season as the balance beam anchor.
Check out some highlights from the Bruins' win last night at Metroplex Challenge. pic.twitter.com/516OKIqtU9

— UCLA Gymnastics (@uclagymnastics) January 28, 2018
According to Miss Val, UCLA may just be getting started.
"We're hitting our stride, but we still haven't peaked," the head coach said. "And that's what really fun. That's what keeps them hungry. That's what makes them work out during the week."
LSU looked just a little bit off throughout the evening. Myia Hambrick was stellar for the Tigers on bars and floor, where she earned a 9.925 and 9.975 respectively. Hambrick is currently the top-ranked floor worker in the country and has not scored below a 9.950 this season.
Where da ? at tho... ?@myiachristine pic.twitter.com/IJK2CKmfMx

— LSU Gymnastics (@LSUgym) January 28, 2018
High-Scoring Affair In Gainesville
The Gators edged the top-seeded Sooners in a crazy, high-scoring meet on Friday night, 198.150 to 198.125. While the scores were high throughout the meet, it was the best meet of the season for Florida, which put together four events with major breaks.
Alex McMurtry led the way for Florida with a pair of perfect 10s — one on her Yurchenko double, as well as the elusive 10 on balance beam to earn the gym slam. Kennedy Baker posted a 9.975 on floor exercise. Florida didn't have its best night on floor — a number of passes came in just a tad short, almost like the gymnasts were trying a little too hard for the stick.
But wait........IT'S ANOTHER ?!!!!!! WOW!

This routine was @alexmcmurtry's 1⃣st perfect score on beam and her second ? of the night!! Welcome to the Gym Slam club, Alex! ???‍♀️#GoGators #WontBackDown pic.twitter.com/CQoG5GNY76

— Gators Gymnastics (@GatorsGym) January 27, 2018
Maggie Nichols led Oklahoma with a huge 39.775 all-around total. She scored a pair of 9.975s — one on what looked like a perfect Yurchenko one and a half and a second one on floor exercise. Nichols is still opting for an easier first pass — a double tuck — rather than the piked full-in she competed throughout the season last year, but she had excellent landings throughout her routine.
Maggie's 9.975 from tonight! Stuck it COLD! #HY https://t.co/ZriJ2qPJpy

— Oklahoma Women's Gym (@OU_WGymnastics) January 27, 2018
Freshman Anastasia Webb continued her stellar start to the season with a huge 9.950 on uneven bars to open her meet. Webb nailed her double front dismount and has beautiful lines on the event. Fellow freshman Carly Woodard scored a team-high 9.950 on balance beam in the final rotation for the Sooners.
Freshmen Lead Arkansas
Speaking of high-scoring affairs, the Razorbacks tallied a 197.150 in their home meet against Georgia. Arkansas enters week four ranked eighth in the country and is currently fourth on balance beam. The Razorbacks posted a season-best 49.425 on beam against Georgia.
Freshman Sophia Carter posted a huge 9.975 on balance beam and then continued her momentum through to floor exercise where she capped off the meet for Arkansas with a 9.950. Classmate Sarah Schaffer posted 9.875s on both vault and uneven bars and added a 9.900 on floor exercise in the fifth spot in the lineup.
9.975

☑️ New @ArkRazorbacks record
☑️ Second-highest beam score in all of college gymnastics this season

Freshman @SophiaGCarter ⤵️ pic.twitter.com/4hV1gWAoQO

— Razorback Gymnastics (@RazorbackGym) January 27, 2018
It marked just the third time Arkansas has topped the GymDogs.
Nebraska Edges Michigan
The Huskers posted their top score of the season with a 196.875 to No. 7 Michigan's 196.525. The Wolverines struggled on vault with top vaulters Emma McLean and Olivia Karas scoring a 9.675 and a 9.275, respectively.
Nebraska posted its best performance of the day on balance beam with an event total of 49.325. Megan Schweihofer led the Huskers with a 9.900. Sienna Crouse posted the top event score of the meet with a nearly perfect 9.975 on her Yurchenko one and a half.
Nearly Perfect
Elizabeth Price continued her strong start to the season with yet another 9.975, this time on uneven bars on Saturday against Oregon State. The Stanford senior has not scored below a 9.900 on bars this season and has scored a 9.900 or better on 11 of 16 total routines.
The reigning #Pac12Gym Gymnast of the Week @elizabeth_ebee with a 9⃣.9⃣7⃣5⃣ on bars.

Watch on the app: https://t.co/ZhZuI5ezsa pic.twitter.com/cYXluKQvf7

— Pac-12 Network (@Pac12Network) January 27, 2018
California senior Toni-Ann Williams earned a 9.975 of her own Sunday afternoon against Arizona State on floor exercise. Williams, who was granted a fifth year after a torn Achilles kept her off the competition floor last season, stuck a gorgeous double layout in her opening pass. She has scored a 9.900 or better in three of four routines this season.
That is a CAREER-HIGH tying 9.975 Floor routine from our very own @_toniwilliams_!

Come watch our final rotation on @Pac12Network pic.twitter.com/f6BAZVt5gi

— Cal Gymnastics (@CalWGym) January 28, 2018
Arizona State Continues To Rise
The Gym Devils topped Pac-12 rival California 196.800 to 194.850 for a new season high. Arizona State posted a new season-best 49.325 with five routines going 9.800 or better: Ashley Szafranski (9.800), Anne Kuhm (9.850), Morgan Hart (9.850), Nichelle Christopherson (9.875), and Cairo Leonard-Baker (9.950).
Leonard-Baker, a freshman, is having a standout season for the Gym Devils in 2018. She posted a 9.925 on floor exercise and a pair of 9.850s on vault and beam to tie for the all-around title with Cal's Toni-Ann Williams.
39.575@SunDevilGym's Cairo Leonard-Baker tied with Cal star Toni-Ann Williams for the All Around title. It's the @OpusBank #12Best Moment! pic.twitter.com/BADFsoi0ky

— Pac-12 Network (@Pac12Network) January 28, 2018
Consistency In Utah
The Utes have been consistent through four meets this season and hit a new season high on the road against Arizona in week four action. Utah topped the Wildcats 197.550 to 196.325. The Utes were led by Kari Lee scoring a 9.900 or better on her three events — vault, bars, and beam — while MaKenna Merrell-Giles earned the top spot in the all-around with a 39.625 total.
Merrell-Giles also earned a share of event titles on vault and floor. She is fifth in the country in the all-around just behind teammate MyKayla Skinner. Skinner posted 9.900s on both vault and floor.
MaKenna Merrell-Giles nails her vault and scores a 9.95! #GoUtes pic.twitter.com/cz05SMR8oh

— Utah Gymnastics (@UtahGymnastics) January 27, 2018