2018 NCAA Season
Clash Of Champions: No. 5 Florida Hosts No. 1 Oklahoma In Top-Five Showdown
Clash Of Champions: No. 5 Florida Hosts No. 1 Oklahoma In Top-Five Showdown
No. 5 Florida hosts No. 1 Oklahoma in an early-season clash of two NCAA title contenders.
Jan 25, 2018
by Lauren Green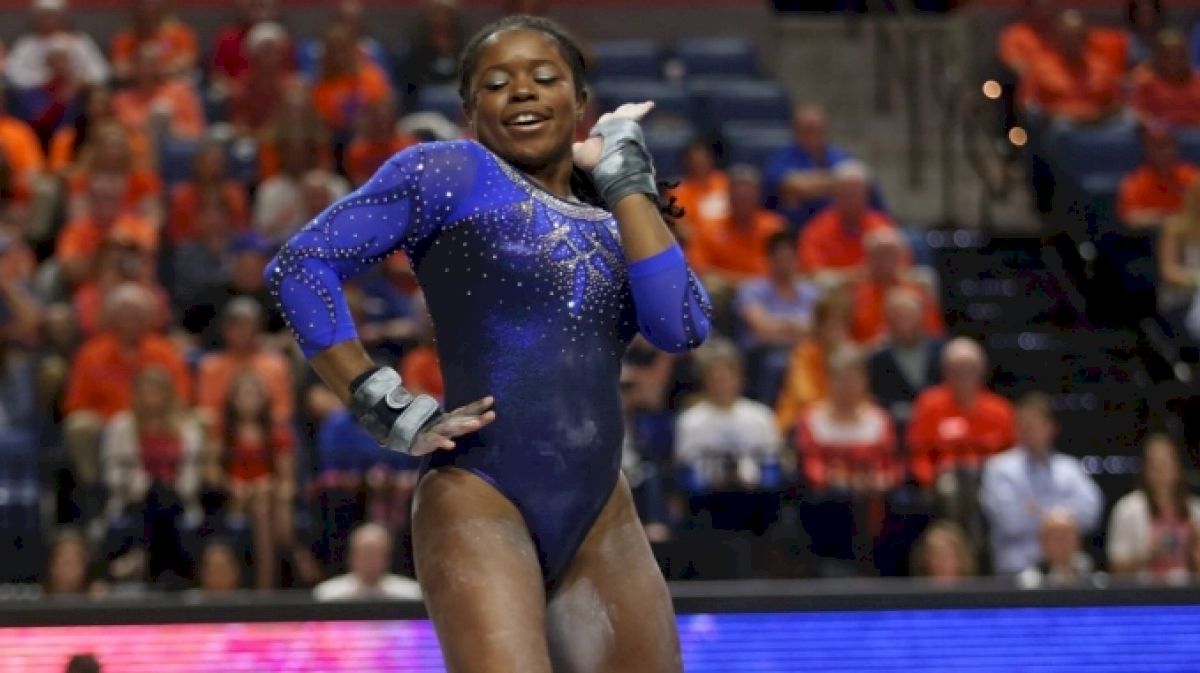 The No. 5 Florida Gators host the top-ranked Oklahoma Sooners on Friday night in what should be an incredible meet — and perhaps our first glimpse at what the postseason could look like if these two squads make it to nationals.
Five Straight
Oklahoma and Florida have combined for titles the last five seasons. The Gators were champions in 2013 and 2015, while Oklahoma earned back-to-back titles in 2016 and 2017. In 2014? The Sooners and Gators tied for the NCAA title with matching 198.175s. It was the first tie for a NCAA gymnastics title.
Sooners + Floor
Oklahoma is the top-ranked squad on three events — vault, bars, and beam — but are fourth on floor exercise. While they have excellent routines in the final slots in the lineup with Maggie Nichols and AJ Jackson as the one-two punch to close out, three of the remaining four members of the Sooners' floor lineup did not compete the event last season.
Brenna Dowell is a strong floor worker and is the lone member in that group that was in all but one floor lineup in 2017. Brehanna Showers missed 2017 with injury and Jade Degouveia did not crack into the floor lineup in 2017 while newcomer Anastasia Webb has been relatively solid in the floor lineup.
Gators + Uneven Bars:
After finishing 2017 ranked fourth on uneven bars, Florida has struggled a bit on the event this season with cracking the big scores. The Gators have slipped into the 9.700-range on bars through the first three meets and have scored a 9.900 or better just three times on bars this season.
Florida does return five of six bar workers to the lineup — Kennedy Baker, Alicia Boren, Amelia Hundley, Rachel Gowey, and Alex McMurtry. Expect that core group plus one freshman — Jazzy Foberg and Megan Skaggs have appeared so far — continue to build on the scores this season.
10.0s On Vault
Oklahoma and Florida have two of the most dynamic vault lineups in the country. The two teams combine for at least eight total 10.0 starts on vault. The Sooners have four Yurchenko one and a halfs from Degouveia, Nichols, Jackson, and Dowell plus an Omelianchik from Webb.
So far, Florida has only competed with three 10.0 starts — Yurchenko one and a halfs from Baker and Boren plus the front handspring-front pike half from Rachel Slocum. McMurtry will eventually start throwing her Yurchenko double for a fourth 10.0 start. After that, it's anyone's guess — both Skaggs and Hundley showed Yurchenko one and a halfs during preseason training but have not yet competed them.
Athletes To Watch
Alicia Boren | Junior | Florida
Boren has been killing it this season for Florida. She is tied for eighth in the country in the all-around and posted a season-best 39.575 in the Gators' opening meet against West Virginia. She's been a lot of fun to watch on floor, in particular, where she has scored a 9.875 or better all three meets this season.
#Gators open 2⃣0⃣1⃣8⃣ w/ road win!!!@gymdiva02 AA of 39.575 is top opening total ever in UF history!

? event sweep:
Vault (9.9) & UB (9.925): @alexmcmurtry
BB (9.9): @gymdiva02 & @Alyssa_Baumann_ & @rachel_gowey
FX (9.925): @gymdiva02

Story:https://t.co/SdNdP8Ua1t pic.twitter.com/XUbFvXDugv

— Gators Gymnastics (@GatorsGym) January 6, 2018
Anastasia Webb | Freshman | Oklahoma
Webb has shown a lot of poise in two competitions for the defending champions. She has been solid across all four events for Oklahoma so far and was particularly good on balance beam in the season opener, where she went up after the Sooners had made some mistakes and did not waver. She earned second in the all-around both meets with a solid 39.400.
WOW, @AWebb_! Such a beautiful beam routine for a 9.875!

She'll finish her collegiate debut with a 39.400 in the all-around!

— Oklahoma Women's Gym (@OU_WGymnastics) January 15, 2018
How To Watch
The meet will be live on SEC Network Plus at 7 PM ET, which can be streamed from WatchESPN with your cable login. The meet will be aired on tape delay on ESPNU at 10 PM ET