The NCAA side of the Metroplex Challenge this weekend in the Dallas area includes two top-10 teams: No. 2 LSU and No. 4 UCLA, as well as No. 14 Washington and No. 28 NC State.
LSU and UCLA have both posted scores above 197.000 this season. It's the second time this season that the Bruins have faced Washington — the two squads both competed at the Elevate the Stage meet in Reno.
Here are five routines you're not going to want to miss.
Grace Glenn | UCLA | Balance Beam
She has such grace on beam. 😉

Grace Glenn tied for first on beam and posted a career-high 9.950 to help @uclagymnastics to victory.

She's been named #Pac12Gym Specialist of the Week: https://t.co/zQfPkU9mZL pic.twitter.com/LtuQHmXpWm

— Pac-12 Network (@Pac12Network) January 23, 2018
Glenn missed the 2017 season with a torn labrum and showcased her first routine at the Meet the Bruins event in December. She made her collegiate debut in the season opener against Ohio State with a 9.725. Glenn posted a season-high 9.950 for this routine against Arizona. She has a lovely switch leap-switch leap-split jump series with great lines and amplitude.
Myia Hambrick | LSU | Floor Exercise
OHHH MYIA!!! How about this routine for a 9.95? pic.twitter.com/asu7ICCWUB

— LSU Gymnastics (@LSUgym) January 20, 2018
Hambrick has scored a 9.950 in all three meets this season. She has a solid landing on her opening double layout. Her second pass — a two and a half twist into a floaty punch front — is beautiful. The routine is fun and high-energy; Hambrick scored a 9.900 or better eight times in 2017.
Chelsea Knight | NC State | Balance Beam
Chelsea Knight's great beam routine #STATEment 🐺🐾 pic.twitter.com/iszwDlTwEg

— NC State Gymnastics (@PackGymnastics) January 20, 2018
Knight has been a beam standout for the Wolfpack and has scored a 9.800 or better on all three routines. Balance beam is the worst event for NC State and Knight will be a key in putting up a better team score this weekend. She has a steady presence on beam through acro and dance skills.
Zoey Schaefer | Washington | Floor Exercise
A beautiful routine by @zoey_schaefer earns her a score of 9.875! pic.twitter.com/y3ShuXLz11

— UW Gymnastics (@UWGymnastics) January 20, 2018
Schaefer's scores on floor have steadily improved this season with her best mark of the year coming last week against California with a 9.875. Her routine is high-energy and sassy with great tumbling to match. She has a great landing on her ending double tuck and great control on her middle combination pass. The Huskies are ranked ninth as a team on floor this season.
Bonus routine: Kyla Ross | UCLA | Balance Beam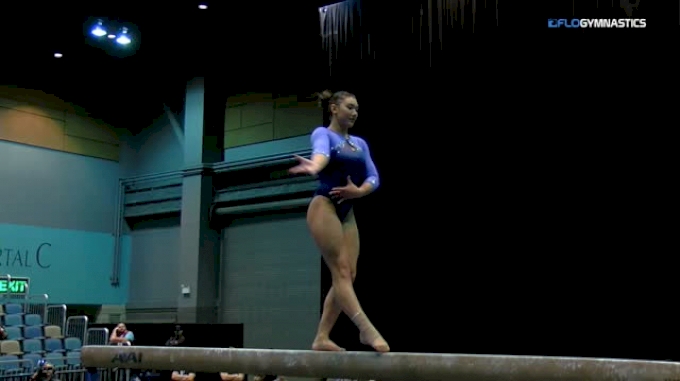 Unlock this video, live events, and more with a subscription!
Get Started
Already a subscriber? Log In
Ross didn't compete on balance beam during the Bruins' week three meet against Arizona, but has been a solid and reliable score for the Bruins. She added a new mount and a side somi to her routine, which still carries the precision and consistency that Ross brings to the table. The Bruins have a lot of routines they can use on beam, so it will be interesting to see who fits into that picture this week.