Penn State at Maryland | 2018 NCAA Women's Gymnastics
Alexis Mattern, Lexy Ramler Among The 6 Big Ten Stars This Weekend
Alexis Mattern, Lexy Ramler Among The 6 Big Ten Stars This Weekend
Another weekend of NCAA gymnastics means another week of stars. In the Big Ten, Alexis Mattern and Audrey Barber make the list — who else should you watch?
Jan 19, 2018
by Justine Kelly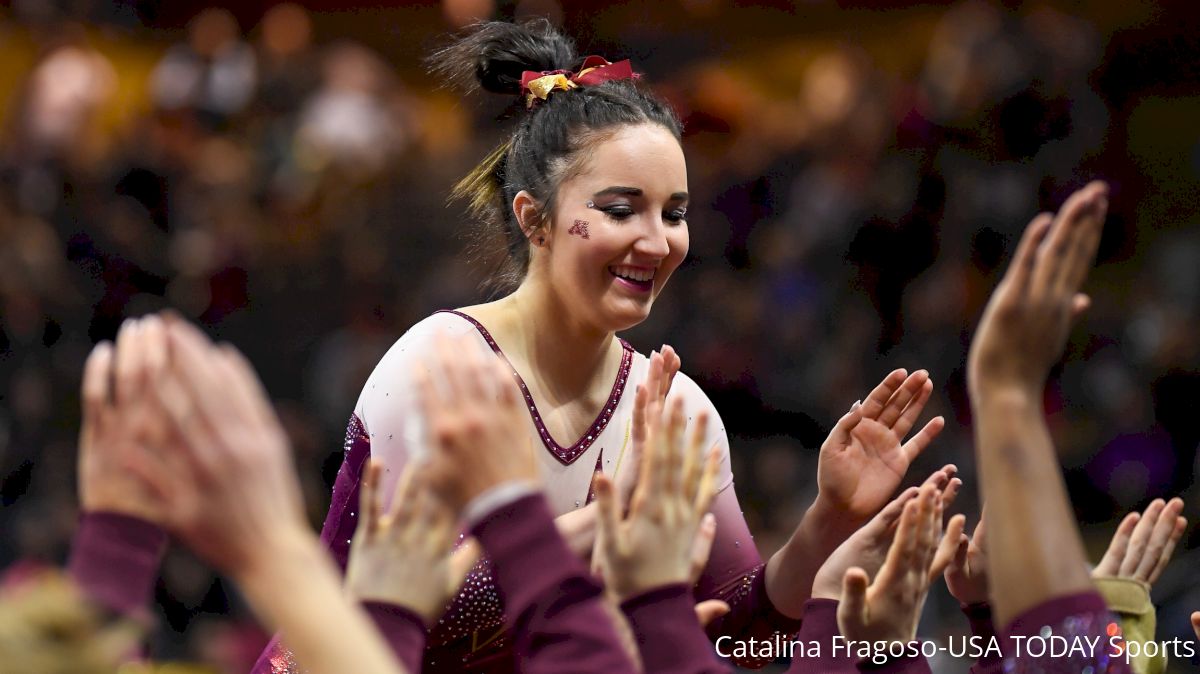 This weekend, FloGymnastics is live-streaming three Big Ten competitions in women's NCAA gymnastics this weekend, and with some strong lineups there are a number of gymnasts boasting some fantastic routines.
The action starts on Friday with No. 26 Penn State at No. 37 Maryland at 7 PM EST. Then, No. 37 Ohio State competes at No. 45 Iowa at 8 PM EST. And finally on Saturday, No. 46 Michigan State faces No. 35 Minnesota at 3 PMP CST.
Curious which gymnasts to pay particular attention to at these upcoming competitions? Check out our summary below of some of the athletes who have already made their mark this season.
Let's meet #Squad54, starting with our only senior Briannah Tsang! pic.twitter.com/uxNdPsFSbU

— Penn State Women's Gymnastics (@PennStateWGYM) December 20, 2017
1. Briannah Tsang | Penn State
Senior Briannah Tsang is one of Penn State's top all-around competitors. She is currently ranked No. 18 in the national all-around rankings, and took first in the all-around in both meets at which she has competed so far this season. At Penn State's last competition against Nebraska, she scored a 9.9 on both floor and uneven bars.
2. Hailee Westney | Michigan State
Another senior competitor who made our list this week is Michigan State's Hailee Westney. Westney is a key competitor for Michigan State on uneven bars, where she is currently ranked No. 25 in country. At their last meet against Iowa, Westney achieved the highest score on bars in the competition with a 9.875. She did the same in the first meet of the season again BGU, where she scored a 9.85. Westney's routine is loaded with skills — she competes a shaposh, Ray, and Pak salto, and she caps it off with a tucked Moors dismount.
3. Lexy Ramler | Minnesota
Lexy Ramler is an exciting freshman to watch this year. She competed on all four events for Minnesota in their first meet of the season last weekend. Ramler proved that she's one Minnesota can count on in high-pressure situations, and she managed to score an impressive 9.925 on balance beam at this quad meet. At the moment, she's ranked No. 31 on bars and tied for first in the country on beam.
4. Clair Kaji | Iowa
Iowa's Clair Kaji is a sophomore this year and contributes on bars, beam, and floor for Iowa. In the first meet of the season, she put up a solid performance on all three, scoring a 9.8 on bars and beam and a 9.85 on floor.
Alexis Mattern & Jenna Swartzentruber were named Big Ten Gymnasts to Watch!#GoBucks pic.twitter.com/jkdXNzKBj3

— Ohio State WGYM (@OhioState_WGYM) December 14, 2017
5. Alexis Mattern | Ohio State
Senior Alexis Mattern is Ohio State's star competitor. She competes in the all-around and is currently tied for the No. 10 ranking on floor. At last weekend's meet against Michigan, she put up the highest scores on vault and floor for her team, scoring a 9.875 and 9.9, respectively. Be sure to watch for her big double layout at the beginning of her floor routine.
6. Audrey Barber | Maryland
Freshman Audrey Barber has had a successful start to her collegiate career with Maryland and is already competing on all four events for the team. In the first meet of the season, she scored a 39.05 in the all-around and tied for first on bars with a 9.875. Barber is also impressive on beam, where she scored a 9.85 in the same meet.