2018 NCAA Season
Oklahoma, Maggie Nichols Shine in Season-Opening Win At Georgia
Oklahoma, Maggie Nichols Shine in Season-Opening Win At Georgia
Oklahoma and Maggie Nichols opened the season with a big win against Georgia in the defending champions' first meet of the season.
Jan 16, 2018
by Lauren Green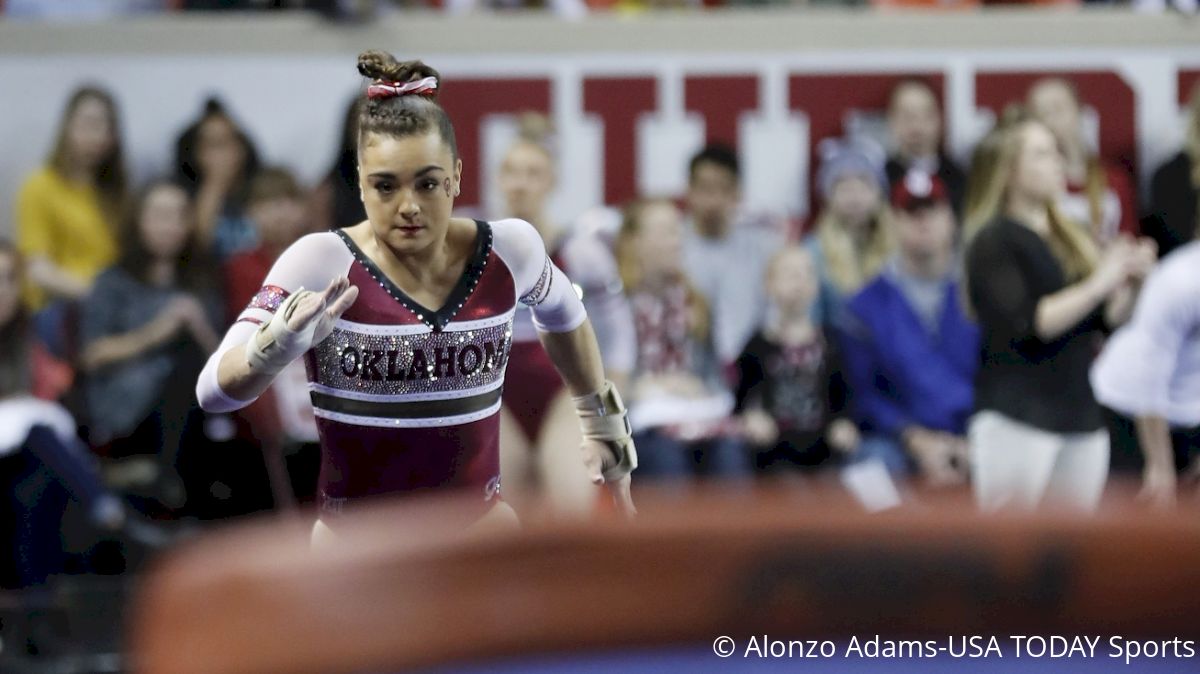 The defending national champion Oklahoma Sooners and star Maggie Nichols opened their season on the road in Athens, Georgia, in front of a sell-out Bulldog crowd. It was the second meet in four days for the GymDogs, who struggled in their opener against Alabama.
Oklahoma came away with the win at Stegeman Coliseum, 197.550 to 196.600.
SOONERS WIN!! The score of 197.550 ties the HIGHEST score in the nation! pic.twitter.com/m3EdgENtJT

— Oklahoma Women's Gym (@OU_WGymnastics) January 15, 2018
Five For Five
With injuries decimating the lineup, the GymDogs were forced to put up five athletes on uneven bars for the second meet in a row. And after GiGi Marino suffered a season-ending Achilles tear in Friday's opener against Alabama, Georgia was forced to add both vault and floor to that last as well.
Despite the added pressure, the GymDogs hit five for five on each of those events and did not count a score below 9.725. Freshman Marissa Oakley, who was coming off of some shoulder injuries during preseason, was a contributor on three events — vault, bars and beam — while sophomore Rachel Dickson and junior Sydney Snead were both solid and consistent for the GymDogs.
Thanks for joining us today, we had so much fun in #TheSteg! #OUvsUGA pic.twitter.com/j1vAIhgYDy

— Georgia Gymnastics (@UGAGymnastics) January 15, 2018
Prepared And Ready To Go
Oklahoma was the last of the top teams to start up this season and looked prepared to defend its national title. The Sooners hit uneven bars for a 49.425, which included 9.900s from junior Brenna Dowell, sophomore Nicole Lehrmann, and sophomore Maggie Nichols.
On vault, Oklahoma showed four routines starting out of a 10.0 — and that was without Nichols and her Yurchenko one and a half in the lineup. Jade Degouveia, Dowell, and AJ Jackson all contributed Yurchenko one and a halfs while freshman Anastasia Webb competed an Omelianchik. Dowell had the top performance of the afternoon on vault with a beautiful, stuck one and a half that scored a 9.950.
Okay, @brennadowell! We see you with that stick and a 9.950!! ?

— Oklahoma Women's Gym (@OU_WGymnastics) January 15, 2018
Beam Redemption
The GymDogs closed the meet in Tuscaloosa with a disastrous performance on balance beam on Friday night, scoring a 48.000 while counting two falls. On Monday afternoon it was an entirely new beam team for Georgia, as the GymDogs scored a 49.325 with zero falls.
Rachel Dickson, Natalie Vaculik, and Marissa Oakley all stayed on the beam with Dickson earning a 9.900, Oakley a 9.800, and Vaculik a 9.675. Vivi Babalis tied Dickson and Oklahoma's Bre Showers for the beam title with a 9.900.
Georgia scores 49.325 on beam

Sydney Snead: 9.850
Marissa Oakley: 9.800
Natalie Vaculik: 9.675
Vivi Babalis: 9.900
Rachel Dickson: 9.900
Sabrina Vega: 9.875

— Georgia Gymnastics (@UGAGymnastics) January 15, 2018
Slip-ups For The Sooners
Oklahoma had a couple of uncharacteristic mistakes in the second half of the meet with a fall on floor from Degoveia and on balance beam from Jackson. Oklahoma rebounded well, though, with Nichols and Jackson both going 9.900 on floor. Lehrmann, Webb, and Nichols all handled the pressure well for the Sooners on beam. Despite the mistakes, Oklahoma tied Michigan for the top score in the country as the season moves into week three.
Swaggie Watch
Nichols was held out of the all-around in the season opener, where she competed on three events — uneven bars, balance beam, and floor exercise; she scored a 9.875 or better on all three.
The sophomore standout earned event titles on both uneven bars and floor exercise. She opened on floor with a double tuck rather than the piked full-in that she used to start last season. Expect Nichols to add a more difficult opening pass as the season progresses. She did have minor knee surgery in the offseason, but according to KJ Kindler is in even better shape now. It marked the first competitive routines for Nichols since coming out last week as the first whistleblower in the Larry Nassar case.
Such a fun routine from @MagsGotSwag12 and she nails it for a 9.900!

— Oklahoma Women's Gym (@OU_WGymnastics) January 15, 2018
Vega Stands Out
Sophomore Sabrina Vega was a standout performer for the GymDogs in their home opener. Vega, who did not vault as a freshman, has been needed on the event this season and was steady yet again in the lead-off position.
She does not get a lot of power on her Yurchenko full, but it is clean in the air and she lands it well. For a Georgia squad short on vaulters, Vega is doing her job there. But where she shines is on beam and floor with solid, consistent work on both events. She has excellent dance skills and great tumbling on floor. Expect the sophomore to be a key piece for the GymDogs in 2018.
Stegeman's reaction after @SabrinaVega95 moonwalk????? #YASSS #thisishome #GymdogTradition

— Mary Beth Box (@MaryBethBox) January 15, 2018