2018 NCAA Season
Recapping The Action: Michigan Grabs Top Score, UCLA Wins In Reno
Recapping The Action: Michigan Grabs Top Score, UCLA Wins In Reno
Week two in the NCAA saw near-perfect-10s, SEC showdowns, and programs on the rise. Catch all the action you missed right here.
Jan 15, 2018
by Lauren Green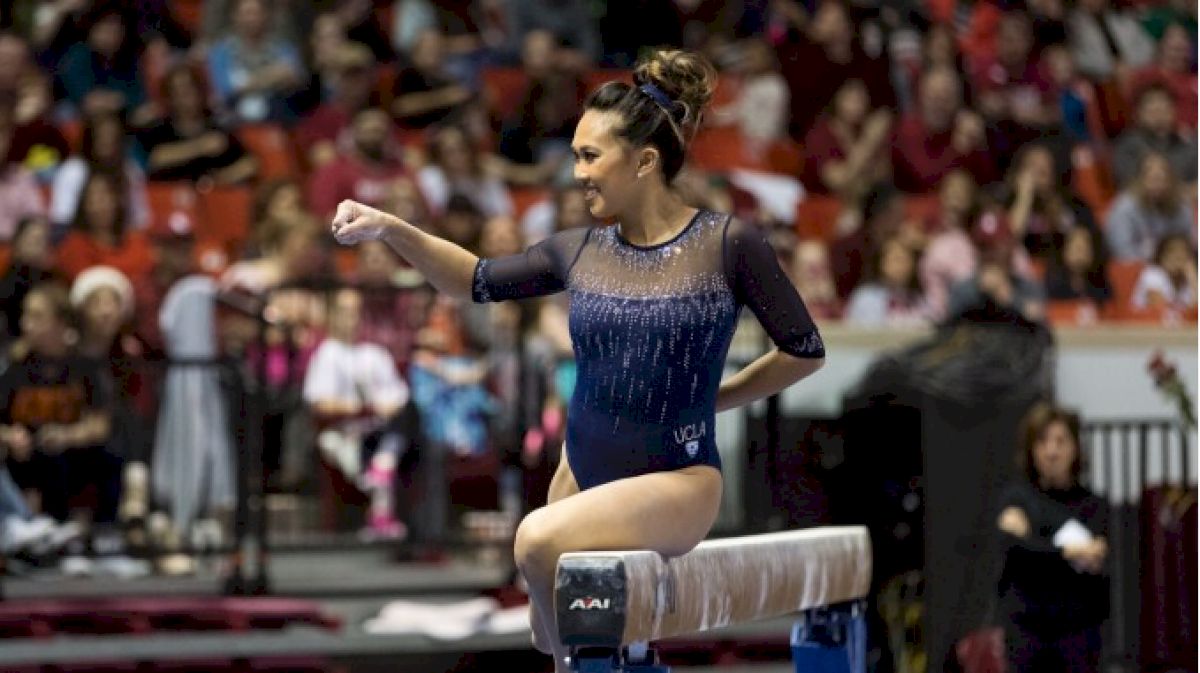 Week two in the NCAA saw near-perfect-10s, SEC showdowns, and programs on the rise. Catch all the action you missed right here.
Wolverines Top In The Country
Michigan put up the top score in the country this week with a 197.550 against Big Ten rival Ohio State and is up to the No. 3 spot in the week two rankings. Michigan was led by a huge 49.500 on floor with scores of 9.900 or better coming from Lexi Funk, Olivia Karas, and Emma McLean. Freshman Sydney Townsend had a big day with a 9.925 on vault and a 9.900 on uneven bars. Paige Zaziski won the all-around with a solid 39.450.
Bruins Edge The Competition In Reno
UCLA continued its great start to the 2018 season with a quad meet win against Pac-12 foes Utah, Stanford, and Washington. The Bruins notched a 197.200 in the win with Utah finishing second (196.975), Washington in third (195.725), and Stanford in fourth (195.350). For the second straight meet, UCLA scored a 49.400 on floor and, this time, added vault to the mix with a matching 49.400. UCLA was led by Kyla Ross, who had a great all-around competition to finish third with a 39.550.
Beautiful bar set for @kyla_ross96 to earn a 9.95 and help @uclagymnastics to a team victory at @ElevatetheStage! #NCAAGym pic.twitter.com/wgg8l2Aby8

— FloGymnastics (@FloGymnastics) January 15, 2018
The Utes, which had a great meet on both vault (49.425) and floor (49.450) were led by sophomore standout MyKayla Skinner. Skinner won the all-around with the top all-around score in the country, a 39.700. Skinner also earned the title on floor (9.975) and tied for titles on vault (9.950) and uneven bars (9.950).
Hitting Perfection
Stanford senior Elizabeth Price opened up week two with a perfect 10 on uneven bars in the Nor-Cal Classic on January 8. Price finished with a 39.650 in the all-around, which tied Sarah Finnegan for the top all-around total until Sunday's Elevate the Stage meet.
The Price was right last night at Maples!@elizabeth_ebee earned a PERFECT 1⃣0⃣.0⃣0⃣ on the bars in @StanfordWGym's first meet of the year. #Pac12Gym pic.twitter.com/31zvrzn3Nu

— Pac-12 Network (@Pac12Network) January 9, 2018
Nearly Perfect
Three gymnasts narrowly missed grab their first perfect 10s of the season:
MyKayla Skinner, Utah – Floor Exercise
Utah's @MSkinner2016 posted a 9.975 for this floor set and totaled a huge 39.7 to win the AA at Elevate the Stage! #NCAAGym @ElevateTheStage @UtahGymnastics pic.twitter.com/yD9yoJZ2uA

— FloGymnastics (@FloGymnastics) January 15, 2018
Skinner had a little too much power in week one on her final pass, but hit it perfectly here for a 9.975.
Mollie Korth, Kentucky – Vault
We're still in awe of the 9.95 from @mollie_korth! pic.twitter.com/bVg6kY7uJ4

— Kentucky Gymnastics (@UKGymnastics) January 14, 2018
Korth was first awarded a 9.975 before the score was corrected to a 9.950. The sophomore standout performed a gorgeous Yurchenko one and a half, and if she keeps hitting landings like that, should be rewarded with perfection.
Emma McLean, Michigan – Floor Exercise
Absolutely huge!!! What a performance on floor for junior Emma McLean. pic.twitter.com/tiymZb3qqq

— Michigan Women's Gymnastics (@UMichWGym) January 14, 2018
McLean landed all three passes solidly to earn a 9.975 and lead the Wolverines to a big win against Ohio State. She is currently ranked second on vault and fourth on floor after two weeks of competition.
SEC Showdowns
Friday night showcased back-to-back SEC clashes with LSU traveling to Florida and a rivalry renewed as Alabama hosted Georgia.
In a meet that was separated by 0.150 heading into the final rotation, LSU came up clutch on beam with three scores of 9.900 or better to win 197.250 to 197.125. Erin Macadaeg and Myia Hambrick grabbed 9.9s in the first two lineup spots while Sarah Finnegan earned a 9.925 that clinched the meet for the Tigers. Hambrick won the all-around title with a 39.550.
A week after being pulled from the meet for precautionary reasons, Kennedy Baker was back for the Gators where she tied for second on floor with a 9.925. Alicia Boren had another stellar meet for Florida and grabbed second in the all-around with a 39.450.
The Crimson Tide edged the GymDogs in the second matchup of the evening, 196.525 to 194.525. Due to injuries, Georgia only put up five athletes on uneven bars, but got off to a great start there led by Rachel Dickson (9.875) and Sydney Snead (9.850). The struggles for Georgia came on balance beam, where the GymDogs were forced to count multiple falls. Sabrina Vega had a great performance on beam though and earned a team-high 9.875 in the anchor position.
Ok @BamaGymnastics, we see you opening your 2018 home and SEC season with a come-from-behind win over Georgia, so cue the highlights and #RollTide! pic.twitter.com/6cUBsimDQb

— Alabama Gymnastics (@BamaGymnastics) January 15, 2018
Alabama's strongest performance came on balance beam where the Crimson Tide was sixth tenths better than week one. Senior Kiana Winston led the team with a 9.900 to win the event, and Alabama did not score below a 9.825 with Wynter Childers and Maddie Desch each adding 9.875s. Peyton Ernst made her Alabama debut on beam and picked up a 9.825.
Sun Devils Rising Up
Arizona State traveled to West Virginia in week two, and the Gym Devils defeated the Mountaineers 196.475 to 195.875. It is the best score for Arizona State since 2007 and the first time the team has hit the 196 mark since 2014.
#SunDevilPower #ForksUp ?‼️ pic.twitter.com/gClbrlyTmA

— Sun Devil Gymnastics (@SunDevilGym) January 14, 2018
Freshman Cairo Leonard-Baker was a star for the Gym Devils, winning the all-around (39.450) and event titles on both uneven bars and floor exercise. Arizona State posted season-highs on all four events and hit at least a 49.0 on all four for the first time since NCAA regionals in 2007.
Injury Updates
Georgia senior GiGi Marino will miss the rest of the 2018 season with a torn Achilles. Marino came down hard on her final tumbling pass on floor in the Gym Dogs' meet against Alabama.
Lexi Graber was pulled from the beam lineup for Alabama after coming down lock-legged on her Yurchenko one and a half.
Madison Kocian On The Comeback Trail
Kocian has missed UCLA's first two meets after having off-season shoulder surgery. It's unclear if — or when — Kocian will be back this season, but she's definitely on the comeback trail.
On that comeback trail! @MadisonKocian #ElevateTheStage pic.twitter.com/8dXAg1sreL

— UCLA Gymnastics (@uclagymnastics) January 14, 2018