2018 Elevate the Stage - Reno, NCAA | Utah, UCLA, Washington, & Stanford
Preview: Utah, UCLA, Stanford, And Washington Clash At Elevate The Stage
Preview: Utah, UCLA, Stanford, And Washington Clash At Elevate The Stage
Utah, UCLA, Stanford, and Washington clash on the podium at Sunday's Elevate the Stage college meet. Catch it all on FloGymnastics.
Jan 12, 2018
by Lauren Green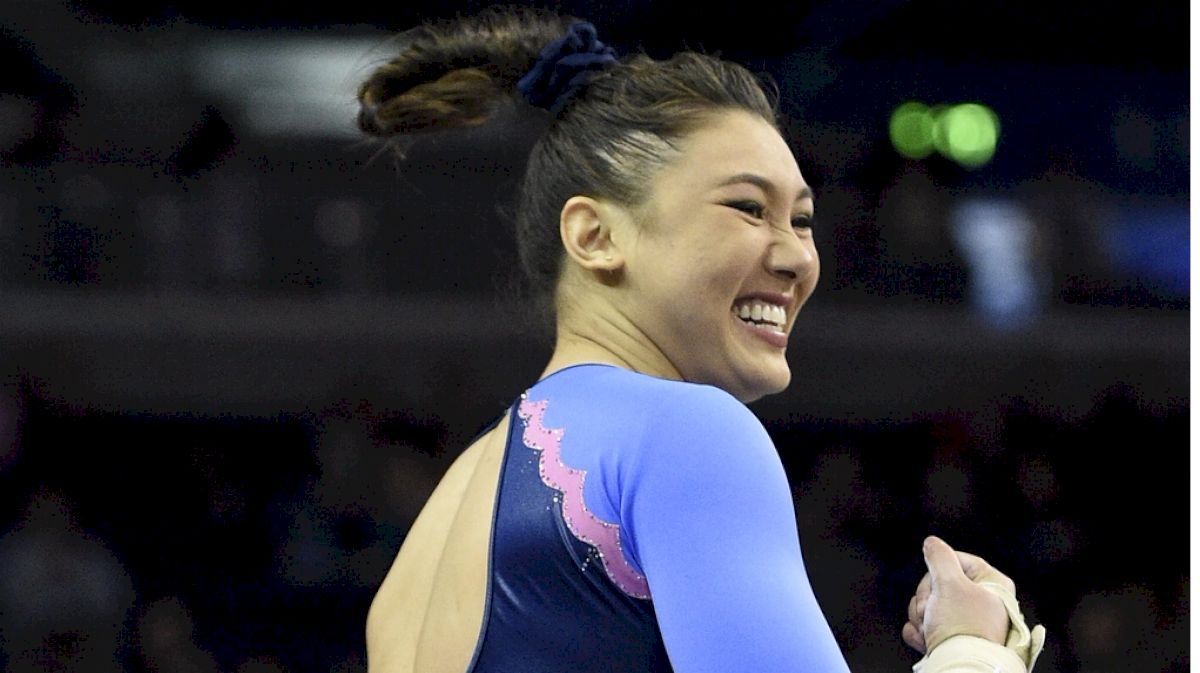 The Elevate the Stage college meet kicks off Sunday at 5 PM ET in Reno, Nevada, and will be broadcast LIVE on FloGymnastics. Watch as No. 2 Utah, No. 4 UCLA, Stanford, and Washington face off in a Pac-12 showdown.
No. 2 Utah
The Utes finished the first week of the season with the second-highest score in the country after earning a 197.000. MyKayla Skinner and McKenna Merrell-Giles tied in the all-around with a total of 39.475. Skinner was solid on vault, uneven bars, and balance beam but had a little too much power on her final pass — a full-in — on floor and stepped out of bounds.
It also marks the first of two times this season in which the Utes face UCLA and Washington.
Key events: Vault and balance beam
The Utes finished week one with the top score on vault — a 49.325. They were paced by Tiffani Lewis and Kim Tessen, who each scored a 9.900. Skinner followed with a 9.875 for her Yurchenko double full, Merrell-Giles and Missy Reinstadtler both scored a 9.825, and Macey Roberts rounded out the scoring with a 9.750. Vault has been an advantage for the Utes over the past five seasons, as Utah has finished as the top vaulting squad in the Pac-12 since 2013.
That's how you stick the landing! Tiffani Lewis with one of two 9.9s on the vault for @UtahGymnastics.
Watch live: @Pac12Network#goutes #Pac12Gym pic.twitter.com/GJae5UsXIX

— Utah Athletics (@utahathletics) January 6, 2018
Utah did not have its best meet on balance beam though and scored a 48.975. They had a fall from Reinstadtler and a second low score from Shannon McNatt (9.575). With one meet out of the way, Utah might have gotten those first-meet jitters out of the way.
No. 4 UCLA
The Bruins opened the season with a 196.200 to top Ohio State. Kyla Ross won the all-around with a 39.500 — and hit a gorgeous floor routine en route to that all-around mark. Peng Peng Lee picked up where she left off in 2017 with a 9.975 on bars and a 9.925 on balance beam. Katelyn Ohashi, who is working her way back into the all-around, competed on uneven bars for the first time since her freshman season and competed on floor despite a sprained ankle.
Key events: Floor exercise and vault
UCLA struggled with consistency and endurance on floor last season. That was not the case in the first meet of 2018, as the Bruins notched the top score in the country with a 49.425. Gracie Kramer and Ross led the way with a 9.900 apiece. Ohashi, Pauline Tratz, and Felicia Hano all added 9.875s. Freshman Nia Denis had a great routine, but stepped out of bounds on her front handspring-front layout stepout through to a double tuck. Ohashi and Hano both had lovely double layouts and Tratz added a stuck full-in to start her routine.
UCLA's floor rotation last night was pure ?! Check out the highlights from @gracekramer98 @kyla_ross96 @katelyn_ohashi @DennisNia @fish_hano #PaulineTratz. #GoBruins pic.twitter.com/vea8JsxxbY

— UCLA Gymnastics (@uclagymnastics) January 7, 2018
The Bruins struggled on vault and were forced to count a fall. UCLA did not crack above a 9.850, which Tratz earned for a stuck Yurchenko full. Napualani Hall and Gracie Kramer both didn't get enough rotation on their 10.0-start valued vaults. Hall had some consistency issues with her Yurchenko one and a half last season. Kramer made the change from a Yurchenko one and a half in the layout position to a tucked one and a half after last season.
Stanford
The Cardinal struggled in 2017 with injuries and being able to put up six athletes on each apparatus. Stanford opened its season at the Norcal Classic and while there were some hiccups, the Cardinal had some great moments throughout the meet. Elizabeth Price notched her first career (and elusive) perfect 10 on uneven bars en route to a 39.650 all-around total. Four freshmen — Lauren Navarro, Kyla Bryant, Rachael Flam, and Taylor Lawson — all made their debuts for Stanford, with Navarro and Bryant both competing in the all-around. As the freshmen gain more experience, the scores should start to rise.
The Price was right last night at Maples!@elizabeth_ebee earned a PERFECT 1⃣0⃣.0⃣0⃣ on the bars in @StanfordWGym's first meet of the year. #Pac12Gym pic.twitter.com/31zvrzn3Nu

— Pac-12 Network (@Pac12Network) January 9, 2018
Key events: Floor exercise and uneven bars
Stanford showed a ton of potential on floor with five scores going 9.825 or better. Bryant was fantastic, grabbing a 9.925, and Price put up a huge 9.975 after a stellar set. Navarro and Lawson each scored a 9.850 while Kaylee Cole and Rachael Flam added a 9.825 and a 9.600, respectively. The Cardinal finished the 2017 season ranked 46th on floor. After Monday's showing, Stanford is tied atop the national rankings with in-state rival UCLA.
The Cardinal's lowest-scoring event was the uneven bars where Stanford only put up five athletes and were forced to count two falls — one from Flam and one from Bryant. The freshmen will get more seasoned as the season goes on, but Stanford will have to get a sixth usable routine on the event as a safety net to avoid counting a fall. The potential is definitely there for the Cardinal.
Washington
The GymDawgs open their season on Friday night against Sacramento State, so we haven't seen them compete since a December intrasquad. Sophomore Madison Copiak and senior Hailey Burleson are expected to be leaders on a GymDawgs squad that returns 11 gymnasts from the 2017 team. Washington comes off a historic 2017 season in which the Huskies advanced to the NCAA championships for the first time since 1998.
Key events: Balance beam and vault
Balance beam was Washington's strongest event in 2017; the GymDawgs finished ninth in the country with an RQS of 49.300. Joslyn Goings (9.915) and Hailey Burleson (9.905) finished ranked in the top 25 on beam and will be locks on the event. Expect senior Zoey Schaefer and Copiak, a sophomore, to figure into that lineup as well.
#StickHuskies! Hailey Burleson gets a career-high 9.990 on beam for the #GymDawgs.

Watch: @Pac12Network pic.twitter.com/t6tZoBW8Iq

— UW Gymnastics (@UWGymnastics) January 28, 2017
Vault looks like the weakest event for the GymDawgs, primarily as a result of injuries. Burleson and Goings will once again likely be key pieces in this lineup. Haley Roy has a tsuk half, which starts out of a 10.0 and should be a solid score for Washington to rely on. Evanni Roberson, who did not compete last season, could break into this lineup while Copiak and Monica Riley were in that lineup last season and could figure into it again this season.