2018 NCAA Season
NCAA Gymnastics: 5 Routines You Won't Want To Miss In Week Two
NCAA Gymnastics: 5 Routines You Won't Want To Miss In Week Two
The second week of NCAA gymnastics kicks off with a major matchup between LSU and Florida, but tune in for big routines in the Big Ten and Big 12, too.
Jan 11, 2018
by Lauren Green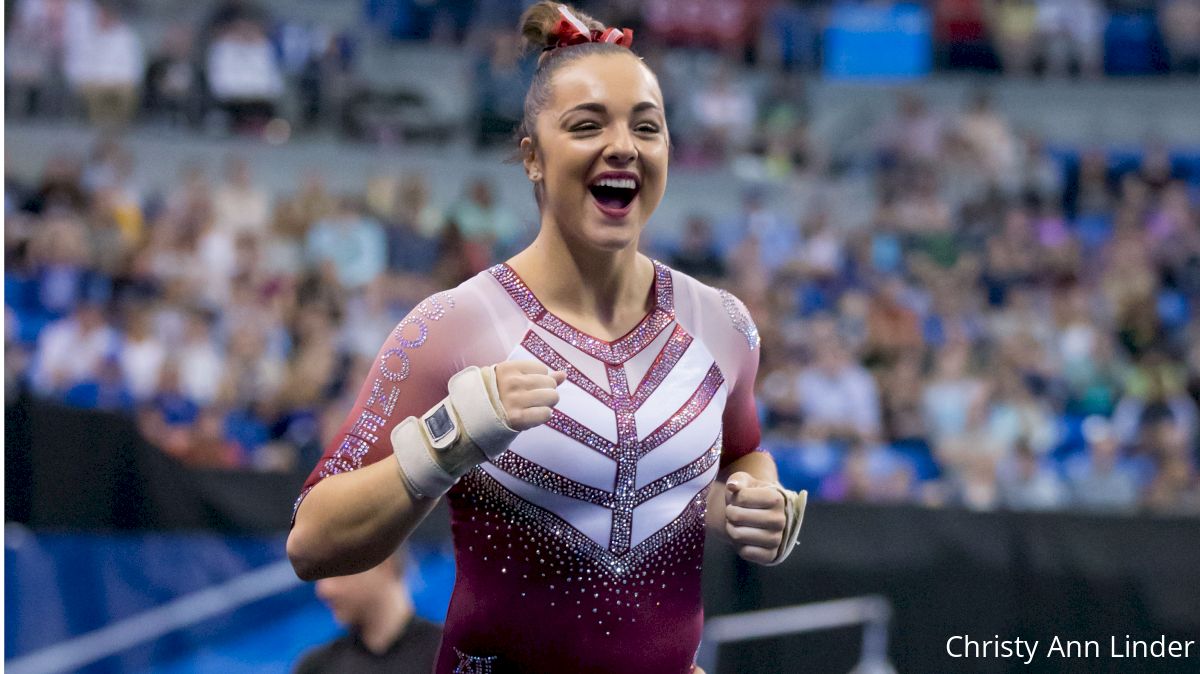 The second week of the NCAA season kicks off on Friday night with a big matchup between LSU and Florida. Big Ten rivals Michigan and Ohio State clash on Saturday, and then it's a Pac-12 showdown as Stanford, Utah, UCLA, and Washington take to the floor in the Elevate the Stage meet in Reno.
Also on Sunday, Denver takes on Air Force. Oklahoma will open the season in Athens as the defending champs take on the Gym Dogs of Georgia in Courtney Kupets Carter's first home NCAA meet as a coach.
Here are five routines you won't want to miss this weekend.
1. Sarah Finnegan | Uneven Bars | LSU
Friday, Jan. 12 vs. Florida at 7 PM ET on SEC Network
Don't miss @sfinnegan37 on bars from Friday night! She tied her career high on the event with a 9.95 and went on to set a new career high in the all-around. #LSUnstoppable pic.twitter.com/guF8LmvMkd

— LSU Gymnastics (@LSUgym) January 9, 2018
Finnegan had one of the top scores on bars for the Tigers in week one and was part of an uneven bars lineup that put up the highest total in the country with a 49.600. The junior has gorgeous lines and doesn't have a lot of built-in form deductions. Her 9.950 was tied for second in the country after the first weekend of competition.
2. Olivia Karas | Floor Exercise | Michigan
Saturday, Jan. 13 vs. Ohio State at 6 PM ET on ESPNU
What an exciting way to start the year for @lil_livkay with her 9.925 on floor. #GoBlue pic.twitter.com/gmWZS8FAHc

— Michigan Women's Gymnastics (@UMichWGym) January 10, 2018
Karas combines great energy with fantastic tumbling in one of her best events. She paced the Wolverines in week one with a 9.925, which tied for second in the country. She has a huge double arabian to open her routine and closes with a strong double pike. With the loss of seniors Nicole Artz and Talia Chiarelli to graduation, Karas is now a leader on floor for Michigan this season.
3. Maddie Karr | Vault | Denver
Sunday, Jan. 14 vs. Air Force at 4 PM ET
Thankful for another opportunity to start the season out strong. I am so lucky to be surrounded by the best teammates a girl could ever ask for.?❤️ #Ao1 #RollPios pic.twitter.com/37zhUGBXXG

— Maddie Karr (@themaddiekarr) January 7, 2018
Karr stuck her Yurchenko one and a half in the Pioneers' opening-weekend win against Arizona. She has excellent form throughout the vault and has a great ability to find the landing. The sophomore scored a 9.925 to open the season, which was the top score in the country for week one. She scored a 10.0 once during her freshman campaign and could be in line to replicate that mark as a sophomore.
4. Peng Peng Lee | Uneven Bars | UCLA
Sunday, Jan. 14 vs. Utah, Washington and Stanford (Elevate the Stage) at 5 PM ET LIVE on FloGymnastics
9.975!

Christine Peng-Peng Lee's uneven bars performance was ?.

Watch: https://t.co/ZhZuI5ezsa pic.twitter.com/3pxKONjBgq

— Pac-12 Network (@Pac12Network) January 7, 2018
Lee scored two perfect 10s on uneven bars last season and picked up a 9.975 in her first routine of the season. The sixth-year senior has a gorgeous release skill and two big transitions— a full-twisting pak salto and a shaposh half. Expect to see Lee bringing in the big scores throughout the season in the anchor spot for the Bruins.
5. Maggie Nichols | Balance Beam | Oklahoma
Monday, Jan. 15 vs. Georgia at 2 p.m. ET on SEC Network
Nichols had a phenomenal freshman season and looks to continue her success into her sophomore campaign. She had just one mishap last year, and it came on balance beam in the NCAA semifinals, which kept her from taking the all-around crown. But Nichols bounced back in the Super Six finals, removed the punch front from her routine, and scored a perfect 10 in her final beam routine of the year. This year, the punch front is back, but her double tuck dismount has been replaced with a simpler round-off one and a half.