NCAA: Florida Opens Season With Road Win At West Virginia
NCAA: Florida Opens Season With Road Win At West Virginia
The Florida Gators opened up the NCAA gymnastics season with a 195.900 to 194.425 win on the road Jan. 5 against West Virginia.
Jan 8, 2018
by Lauren Green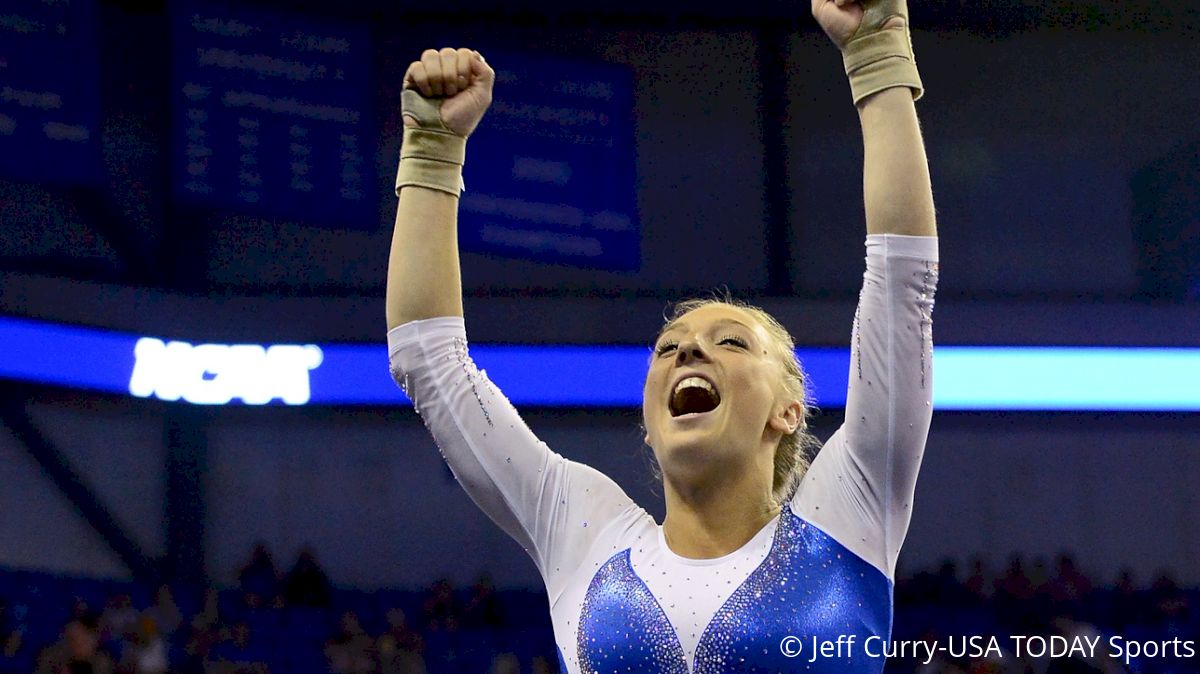 Florida opened its season with a win on the road at West Virginia, topping the Mountaineers 195.900 to 194.425 in Morgantown, West Virginia, on Friday night.
Alicia Boren led the way for the Gators with a 39.500 in the all-around, and reigning NCAA all-around champion Alex McMurtry came away with event wins on vault and bars. For the Mountaineers, Kirah Koshinski had a beautiful stuck Yurchenko one and a half that tied for second with a 9.850 while Jordan Gillette grabbed second on floor with a 9.850.
? All the highlights + postmeet interviews from the #Gators 195.90 - 194.425 win at West Virginia to start the 2⃣0⃣1⃣8⃣ season!! ???‍♀️ #GoGators #WontBackDown pic.twitter.com/jSqg0Y4eRC

— Gators Gymnastics (@GatorsGym) January 6, 2018
Last-Minute Shuffle
Both teams were forced to make unexpected lineup changes just before the meet started, or even after the competition had began. One of those changes came in the first rotation for the Gators. Senior Kennedy Baker missed her toe-on on bars several times before coming off the bar without completing her routine after cramping up as she started. She was held out of the rest of the meet for precautionary reasons.
Room To Grow
Florida entered the opening weekend ranked second in the coaches poll but had several uncharacteristic errors during its first meet of the season. The Gators also lost some scoring potential when Baker was held out of the meet. The Gators only put up two 10.0 start values on vault, with Boren's Yurchenko one and a half and Rachel Slocum's handspring front pike. Slocum had a low landing with a hop to the side and Sierra Alexander, who filled in for Baker, was unable to control the landing on her powerful Yurchenko full. Florida also struggled on floor, as the Gators were forced to count a fall after Amelia Hundley put her hands down on her final pass and Rachel Gowey had a fall on her middle pass.
Both squads had first-meet jitters with some bobbles, short handstands, and hops on landings. But the NCAA season is a marathon, not a sprint, and both teams will be aiming to peak in April as the postseason really kicks in to gear.
Heartbreak Turns To Motivation
West Virginia missed out on a chance to head to nationals last season by just three tenths of a point. Competition was fierce during the 2017 regionals, and Alabama just edged the Mountaineers in Morgantown. It was a heartbreaking way for their season to end, but West Virginia is using that to fuel the fire in 2018.
"That stung last year, just a little bit — but we've used that as motivation," head coach Jason Butts said. "They were a couple of cast handstands and one better vault landing away from going. It showed them that we do have the talent and we do have the resolve."
Not able to make it out to tonight's BIG opener vs. No. 2 Florida? You're in luck - here are the highlights! #HailWV pic.twitter.com/n5I8BjoMxn

— WVU Gymnastics (@WVUGymnastics) January 6, 2018
Debuts All Around
Between the two teams, five freshmen made their career debuts in Morgantown: Megan Skaggs, Alyssa Baumann, and Jazmyn Foberg for Florida, and McKenna Linnen and Sydney Marler for West Virginia.
Foberg, who was slated to compete on bars, vault, and floor, competed in the all-around where she finished with a 39.100 in second behind Boren. Her best performances came on vault with a solid Yurchenko full, and on floor where she nailed her opening full-twisting double tuck. Baumann tied for the top mark on balance beam with a 9.900 and Skaggs posted a solid 9.750 on vault.
Linnen posted a solid score on beam with a 9.725 and also appeared on floor. Marler posted a 9.750 on her only event, the uneven bars.
Fantasy Gym Standout
Alicia Boren | Florida | All-Around (39.575)
Boren was on fire for the Gators, posting at least a 9.900 on three of four events — bars (9.900), beam (9.900), and floor (9.925).
Quotable
"I'm actually excited that we had some mistakes. We put up lineups that we didn't expect and I think that's what you need to do. We had girls who didn't think they were competing today and they were thrown into spots and they did great. That's what you want to see in the first meet so I'm really proud of the Gators."
—Florida senior Alex McMurtry
"I tell them all the time, you gotta roll with the punches. We can only control what we do as a team. We can't control the judges and the crowd and how the meet's running. They did that and I was really proud of Erica [Fontaine] and McKenna [Linnen] and Sydney [Marler]. They got up and they hit great routines."
—West Virginia head coach Jason Butts
---
Next Up: Florida hosts LSU on Jan. 12 at 6:45 PM; West Virginia hosts Arizona State on Jan. 14 at 2 PM.