2018 NCAA Season
Top 5 NCAA First-Meet Matchups For 2018 Season
Top 5 NCAA First-Meet Matchups For 2018 Season
The start of the 2018 NCAA season is right around the corner, with teams and fans eagerly awaiting the first matchups of the year.
Dec 12, 2017
by Justine Kelly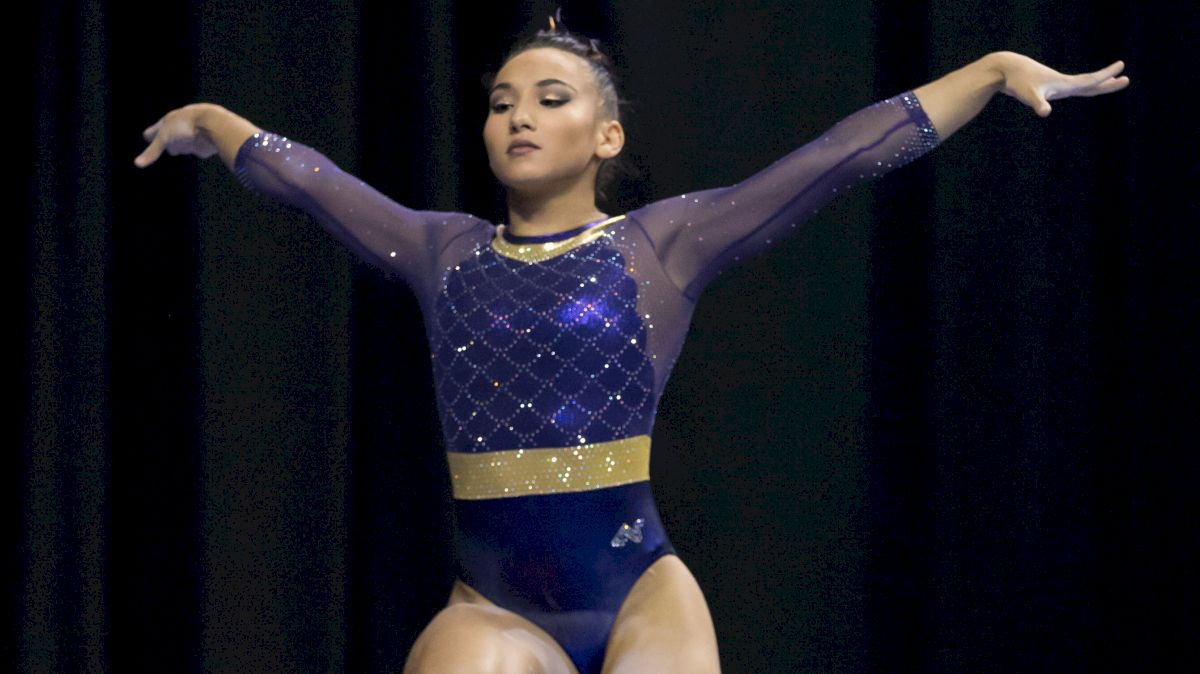 The start of the 2018 NCAA season is right around the corner, with teams and fans eagerly awaiting the first matchups of the year. The first official week of competition begins right after New Year's Day, kicking off on Friday, January 5.
Meets run through Monday with nearly all of the major programs competing. The defending national champ Oklahoma doesn't start its season until week two when the team heads to Georgia for an exciting matchup on Jan. 15.
In order to get us even more excited for the start of a new season, we've summarized the top matchups to watch out for in this first week of competition.
1. No. 6 Alabama at No. 10 Michigan
Two of the best teams in the country will go head to head on Friday, January 5, at 7 PM ET, LIVE on FloGymnastics, with Alabama taking on Michigan in Ann Arbor. Michigan recently held an exhibition meet against Eastern Michigan and put up an impressive 196.125, a respectable score for early December. Junior Olivia Karas proved that she'll be the one to beat in the all-around. She totaled a 39.275, including a 9.875 on both vault and bars. Freshman Lauren Farley will be one to watch on beam — check out her beautiful routine below which she scored a 9.85 on: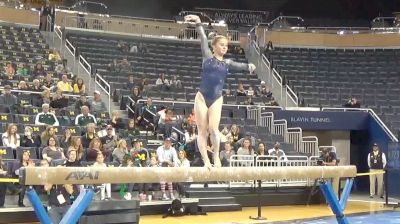 Alabama has a number of new arrivals to the roster who we're hoping to see in competition soon, including freshmen Lexi Graber and Bailie Key. Graber is known for her vaults — she stuck a Yurchenko 1.5 at 2017 J.O. Nationals to score a 10.0. We haven't seen Key on the scene for several years, but she was an incredibly talented elite gymnast with beautiful gymnastics, and she likely has a promising NCAA career ahead of her.
2. No. 19 Arkansas at No. 2 LSU
Later that evening on January 5, LSU will host the highly anticipated first SEC battle of the season against Arkansas at 7 PM CT. The Tigers have suffered a few big losses since last year, including key graduating seniors Ashleigh Gnat, Sydney Ewing and Shae Zamardi — all big scorers across multiple events. As if that wasn't enough, they have also lost junior McKenna Kelley this season following a ruptured Achilles injury. The biggest gap the team will have is on floor, where they have lost four of the six routines they competed last season. It's likely that we'll see freshman Christina Desiderio in the lineup, who was phenomenal on floor as an elite, as well as sophomore Kennedi Edney, who appeared in the lineup sporadically last season but typically put up a solid performance. Other possibilities include junior Lexie Priessman and sophomore Ruby Harrold.
Like LSU, Arkansas has a large freshman class this year, with five new freshmen and Sarah Shaffer as a redshirt. They had a bit of an up-and-down season last year, starting with one of their stars, senior Amanda Wellick, injuring her Achilles in the first meet of the season, sidelining her for the rest of the year. Their best meet actually came at regionals, when they put up a 196.6. Expect to see great things from Arkansas this year, as they welcome back their top all-around gymnasts, Wellick and sophomore Jessica Yamzon, as well as high-scoring gymnasts Sydney McGlone and Samantha Nelson.
3. No. 27 Eastern Michigan at No. 31 Penn State
Eastern Michigan named Kate Minasola as their new head coach this year. The team also lost four gymnasts to graduation, including Lacey Rubin and Natalie Gervais, two of their standout performers on bars and beam, and Sydney McEachern, a strong contributor on bars and floor. They gain a whopping seven freshmen, including redshirt Allison Smith, who competed on vault and floor for the team during the exhibition against Michigan last weekend. Senior Kendall Valentin will likely be competing all-around this year, as she did in the exhibition, totaling a 39.125. Check out her awesome bar routine below:
Penn State also starts their season under new head coach, Sarah Brown. Brown joins the team from her previous position as head coach at Eastern Michigan, so she will see some familiar faces at this meet. The team's biggest loss this year will be Nicole Medvitz, a senior last season who contributed very high scores on bars and beam. Freshmen to watch out for include Lauren Bridgens, who finished second on vault at J.O. Nationals earlier this year, and Ava Verdeflo, who competed at the elite level for the Philippines at the 2015 World Championships. Returning stars include top all-around gymnasts Briannah Tsang and Sabrina Garcia.
The two teams were close in the rankings last year and will go head to head on Saturday, January 6 at 4 PM ET.
4. Quad meet: No. 15 Auburn, No. 18 Iowa, No. 29 Iowa State at No. 41 Arizona State
Arizona State hosts a quad meet on January 6 at 3 PM PT. The most exciting race will be between No. 15 Auburn and No. 18 Iowa. Auburn struggled a bit last season following the departure of their top all-around entrant Caitlin Atkinson, and they take another big hit this year with Kullen Hlawek, Kelsey Kopec and MJ Rott all having graduated. But the team has a stellar junior class who will likely contribute many of the top scores this season, including Taylor Krippner, Emma Engler, Samantha Cerio and redshirt Abby Milliet.
Iowa is a team that has been on the up-and-up for several years now. They will miss Mollie Drenth and Angel Metcalf, both of whom graduated in 2017. Key returning athletes include seniors Melissa Zurawski, a top contributor on vault, bars and floor, and Lanie Snyder, a high-scorer on floor, as well as sophomore Clair Kaji, who contributes high scores on beam and floor especially.
5. NorCal Classic: No. 16 California, No. 42 UC Davis, No. 46 Sacramento State, No. 48 San Jose State at No. 28 Stanford
NCAA gymnastics doesn't end on Sunday for this first weekend of the season, with the NorCal Classic taking place on Monday evening at 6 PM PT at Stanford. The NorCal Classic is a mainstay in NCAA gymnastics at the beginning of each season. This year, Stanford is hosting, and the question is going to be whether Stanford or Cal will take the win.
Cal had a stellar season last year, even without one of their best performers, Toni Ann Williams, who was out with an injury. This meet will be worth tuning in to see Williams back in action, along with returning gymnasts Alicia Gallarzo, Ariana Robinson, and Mariah Peterson, to name a few. Many are looking forward to seeing freshman Kyana George in competition, who dominated the J.O. field.
For Stanford, this season marks senior Elizabeth Price's last, and we're all waiting for her 10.0 on vault, bars, or preferably, both. The team also has quite a few rising sophomores who will likely be expected to contribute a lot, such as Aleeza Yu and Kaylee Cole, both of whom featured in the lineups last season. The most anticipated freshman is probably former elite gymnast Lauren Navarro, who can be beautiful on beam.
Which matchup are you most excited to see for the first weekend of season? Let us know!
Don't miss Alabama vs. Michigan LIVE ON FLO.