FloGymnastics Holiday Gift Guide
FloGymnastics Holiday Gift Guide
With the holiday season upon us, find gifts for gymnasts and gymnastics fans with our FloGymnastics Holiday Gift Guide!
Dec 8, 2017
by Amanda Wijangco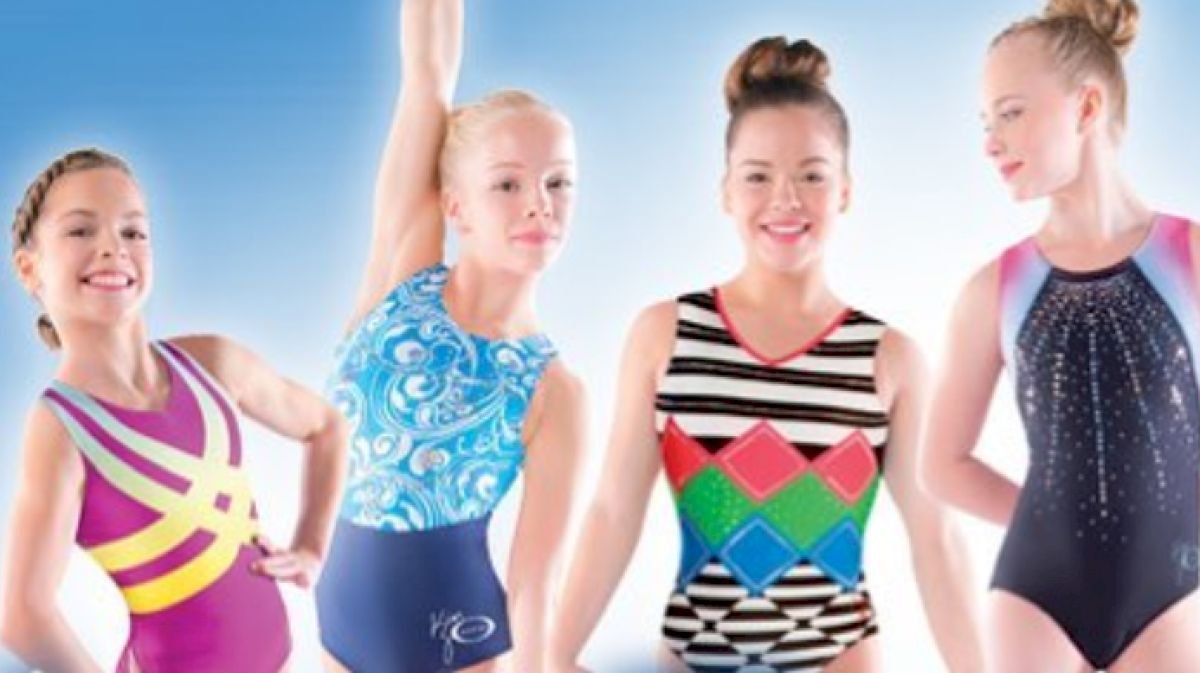 With the holiday season upon us, find gifts for gymnasts and gymnastics fans with our FloGymnastics holiday gift guide!
Leotards And Gymnastics Apparel
Perhaps an obvious gift choice for a gymnast, leotards are a staple and necessity. Besides, a gymnast can never have too many leos! While there are a plethora of brands that sell leotards and other gymnastics apparel, each brand has its perks.
GK Elite, one of the most popular leotard companies worldwide, not only offers a wide selection of gymnastics apparel for both girls and boys, but also has unique partnerships and fantastic collaborations.
Find Disney, Marvel, Trolls and Minions leotards for gymnasts looking to represent their favorite cartoon characters and superheroes. The Pennsylvania-based company also has collections from some of the top gymnasts in the world, including Nastia Liukin, Aly Raisman, Simone Biles, and Laurie Hernandez so you can buy the gymnast in your life a leotard from her favorite gymnast's collection.
Alpha Factor is another well-known gymnastics brand and is the home of the Shannon Miller collection. Miller's line includes vibrant and sporty leotards and activewear perfect for a gymnast of any age.
Ozone, a rising gymnastics brand, brings fun and distinct styles to leotards. Most recently, it partnered with 1992 Olympian Kim Zmeskal. Zmeskal's collection is like no other, using bold colors and designs and includes a replica of her 1991 U.S. nationals leotard.
Dreamlight Activewear is the perfect leotard company for gymnasts who love ombre, elegant designs, and plenty of color. So it's fitting that Dreamlight has partnered with Soviet great Svetlana Boginskaya for a collection.
For lots of prints and graphics on leotards, head to Destira. The holiday and winter collection is a great choice to get gymnasts in the holiday spirit.
A lesser known brand due to its Australian home, Sylvia P is still a fabulous option for leotards. Many designs are sophisticated and trendy with lace and floral print leotards. Plus, a collaboration with Little Miss gives cute choices for younger gymnasts. Personalize a Little Miss leo to make the gift special.
While not a gymnastics-focused brand, Justice not only sells affordable leotards but shirts, sweatshirts, leggings, and other activewear that let the gymnast in your life tell everyone the sport she's in.
At-Home Gymnastics Equipment
Know a gymnast who's always flipping around the house? Bring home parts of the gym with at-home equipment and mats.
Tumbl Trak has numerous home gym packages for gymnasts of all levels and ages, from skill builder and preschool packages to "Gymnastics is My Life" and "Go for the Gold." Tumbl Trak also has the perfect equipment for practicing handstands, a vital skill for all gymnasts. The "Handstand Homework" set also comes in different packages, allowing you to choose the best one for your gymnast.
AAI, the official provider for NCAA and USA Gymnastics meets, is the place to shop for pink and purple training and practice equipment from Nastia Liukin's collection. These mats and practice beams and bars allow gymnasts to hone their skills safely at home.
Spieth America offers a similar collection of mats and practice apparatus and has several purple packages for gymnasts who want to train like Simone Biles.
Aly Raisman has a signature series with Resilite while Shannon Miller's line can be found at Mancino.
Gymnastics Memoirs And Books
Gymnastics isn't just for watching or doing. Give a gymnastics fan the gift of reading with a gymnast's memoir or gymnastics fiction book.
Gymnasts writing their own books has become very popular over the past several years. Aly Raisman is the latest to release her memoir. Fierce is already a New York Times bestseller after just three weeks. A special edition with exclusive content is available at Target.
Other Final Five members who've shared their own stories include Simone Biles with Courage to Soar, Gabby Douglas with Grace, Gold, and Glory, and Laurie Hernandez with I Got This. Nastia Liukin also wrote about her experiences in Finding My Shine. Shannon Miller detailed her gymnastics career and her battle with cancer in It's Not About Perfect.
Two Olympic gymnasts have written autobiographical memoirs and fiction books. 1996 Olympian Dominique Moceanu wrote about her struggles as a gymnast and with her family in Off Balance and has a middle grade book series called The Go-for-Gold Gymnasts. 2008 Olympian Shawn Johnson shared how she balanced elite gymnastics and a normal life in Winning Balance and tells a similar story with her fiction debut in a young adult novel called The Flip Side.
Other fictional gymnastics books include the Letters to Nowhere series by New York Times bestselling author Julie Cross, Little Girls Dream Big by Nicole Angeleen, and Gold Medal Summer by Donna Freitas. Letters to Nowhere tells the story of a teen gymnast who's coping with the death of her parents while Little Girls Dream Big is an emotional tale about abuse in gymnastics, appropriate for older and more mature readers. Gold Medal Summer is a middle grade novel about a gymnast aiming to finally stand atop the medal podium.
Medal Holders
Show gymnasts how much they've accomplished and motivate them to set more goals with a medal holder.
Lizatards sells various medal hangers of different colors and styles and can be labeled by level or event. In addition, Lizatards also sells leotards. These are a great option for Amazon members, as Liztards' products are eligible for Amazon Prime.
Meet Tickets
Although the experience of going to a meet may have to wait a little while after the holidays, gifting meet tickets is a fantastic present for any gymnastics fan. Few things can compare to the thrill and excitement of witnessing some of the best gymnastics in the world live and in person.
Winter time also means it's time for NCAA gymnastics. While some schools and programs don't have tickets for their meets, many do. Check out the site for your favorite NCAA team to buy regular season tickets and catch the exciting action of NCAA.
Gym fans in the Midwest have quite a few opportunities to see some high quality gymnastics.
The AT&T American Cup, an FIG World Cup, event will be in the Chicago suburb of Hoffman Estates on March 3. Along with the American Cup, the Nastia Liukin Cup meet and Elite Team Cup will also occur that weekend in Hoffman Estates and will feature top J.O. gymnasts.
Two big NCAA conference championships will also be in the Midwest in spring 2018. The Big Ten Championships will be in Champaign, Illinois, home to the University of Illinois Fighting Illini. Northwest of Illinois is Ames, Iowa, where the Iowa State Cyclones will host the Big 12 Championships. Meanwhile, St. Louis will host the conference championships for the top gymnastics conference, the SEC. St. Louis will once again host the NCAA Championships in April, making meet tickets great gift for gym fans willing to take a trip.
NCAA Gymnastics Posters And Shirts
Posters of an NCAA gymnastics team are a wonderful and easy gift for gym fans from those on a budget. Posters are free and are often available at meets at the marketing/promotions table. What would make a poster an even better gift is autographs — and gymnasts often sign autographs after meets. December exhibition meets are the perfect opportunity to snag this gift. If you can't attend a meet or stop by the school to get a poster in person, many schools' athletic departments sell them online.
Another option for NCAA gym fans is a shirt to support their favorite team. If available, gymnastics-specific apparel for an NCAA team can typically be found at university bookstores and their official fan stores. Merchandise is also usually for sale at meets.
Gymnastics Camps
Give a gymnast something to look forward to with the valuable and fun training experience of going to a gymnastics camp.
Camp Woodward has two locations, accommodating to athletes on both coasts. Gymnasts of all ages and levels can train for a week at Woodward Pennsylvania or Woodward West in California. Each week has a visiting VIP, an accomplished and experienced gymnast to help the athletes improve their skills.
Summer 2018's visiting VIPs at Woodward West include Romanian legend Daniela Silivas, two-time Olympian and rising Ninja Warrior Jonathan Horton, and Olympians Betty Okino, Samantha Peszek, and Mohini Bhardwaj.
Olympians John Roethlisberger and John Macready welcome tons of gymnasts to their facilities in Tennessee every summer at Flip Fest. The Olympians have given gymnastics camp a traditional summer camp vibe as gymnasts train in wooded acres complete with a private lake. Different elite and NCAA gymnasts from all over the world work at the camp to give athletes a memorable and helpful experience.
Gymnastics camp reaches new heights at International Gymnastics Camp. With five different gyms ― the Olympic gym, the vault and floor gym, the bar gym, the beam gym, and the dance gym ― athletes training at IGC can narrow their focus. In addition, IGC has a recreation program that lets campers participate in a plethora of fun, traditional camp activities, such as campfires and zip lining.
NCAA programs also have their own summer camps, though registration and information isn't always available yet during the holidays. If an NCAA camp is ideal for your gymnast, keep an eye out as the NCAA season begins. Teams often advertise and announce details for their summer camps during season.
Know a gymnast who loves beam or would like to improve on the event? Check out 2008 Olympian Samantha Peszek's Beam Queen Boot Camp. The next camp is in mid-December in New Jersey, but new locations are sure to be announced for 2018.
Alex And Ani Gymnastics Bracelet
The Team USA Gymnastics Charm Bangle is perfect for gymnasts and gymnastics fans who love fashion and jewelry. The bracelet comes in silver and gold and is expandable to fit wrists of all sizes.
FEAT By Aly Raisman Socks
Keep your toes warm and express yourself with socks from Aly Raisman's collection with Feat. A veteran U.S. national team veteran, Raisman designed many red, white, and blue socks to show patriotism and pride. Other designs include "Girl Power," great to empower any girl or woman and "Monday Friday," which include illustrations of Raisman's emotions after winning a silver medal at the 2016 Olympics.
The "Monday" sock shows Raisman crying, as many people feel like doing once the weekend ends, while the "Friday" sock shows a smiling Raisman with a medal around her neck, depicting the joy many feel when it's finally the weekend.
Aly Raisman Tees From Life Is Good
Inspire and empower gymnasts and gym fans with shirts from Aly Raisman's collection with Life is Good. Though the collection is small, each shirt is printed with a graphic to encourage its wearer.
And of course, if you're not already a PRO member of FloGymnastics, that is always a gift that keeps on giving! You'll receive access to our technique library, training videos, original documentaries, and all of our live events!
Happy Holidays to all the gymnasts, parents, coaches, and fans out there!