Create a free account to unlock this article!
Get Started
Already a subscriber? Log In
When 2016 Olympic gymnastics champion Simone Biles resumes full-time training in November she'll be coached by Laurent Landi, according to the
Houston Chronicle
. Laurent will serve as team program director and his wife Cecile Landi will also help coach Biles and the women's team at World Champions Centre in Spring, Texas.
"I have enjoyed my time away from training since the Olympics, but am excited to get back into the gym and prepare for my return to competition," Biles said. "The past year was a chance for my mind and body to recover and I have enjoyed a lot of great opportunities since the Games. I'm looking forward to working with Laurent and am excited to get back into competition mode with my eyes on Tokyo 2020."
We are both very excited to start working with Simone and the WCC team girls and coaches! https://t.co/tg7K3idqSe

— C. Canqueteau-Landi (@CLcecile) October 17, 2017
The Landis recently left their jobs at WOGA, where they coached numerous elite level gymnasts including 2016 Olympian Madison Kocian and world champion Alyssa Baumann.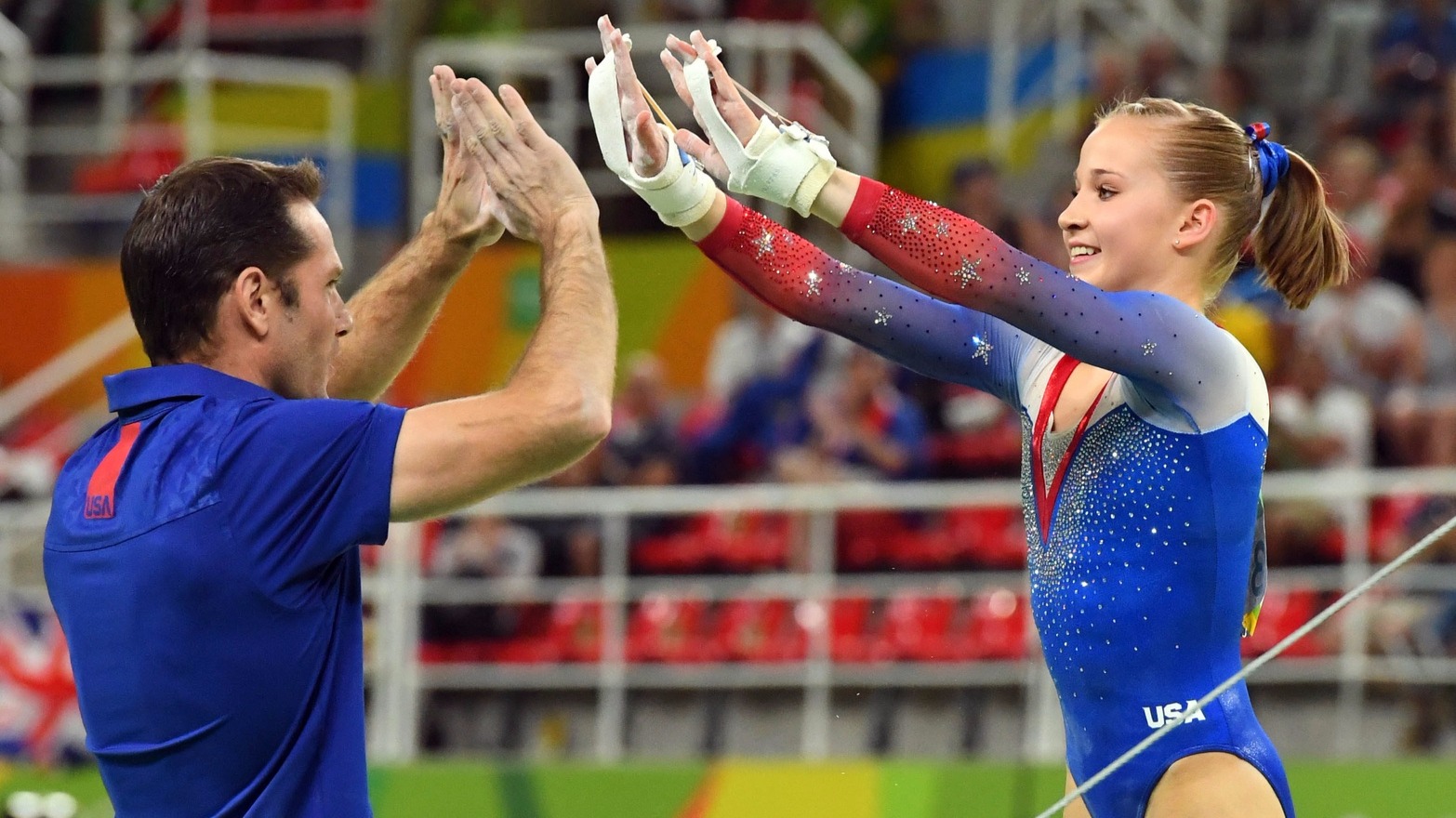 Biles told the Chronicle, "(Landi) was in Dallas, which is not far away, and had recently left WOGA, and I had worked with alongside him and know how he is with athletes. He does a good job not letting pressure get to the athletes. You can see some coaches get stressed but he doesn't."
After being coached by Aimee Boorman her entire career, Biles is optimistic about the change.
"It will be a different technique and style," she said. "But sometimes you need a change to see what you're doing and further your success. Hopefully we will do that as partners."
Laurent is excited for the new venture as well.
"It is a great honor to have the opportunity to coach the most decorated American gymnast," Laurent said. "Cecile and I are thrilled to begin our work in the gym with Simone and look forward to expanding the gymnastics program at the World Champions Centre."
According to the article, the Biles family ultimately selected Laurent over another finalist after consulting with Rhonda Faehn, the senior vice president of the USA Gymnastics women's program.
"We are pleased to welcome Laurent and Cecil not only to prepare Simone as she returns to competitive gymnastics, but also to help continue the advancement at the World Champions Centre," said Nellie Biles, co-owner of the World Champions Centre. "We believe Laurent's experience as an Olympic coach and gymnast himself, combined with Simone's success and continued drive, will be a great combination."
Biles won four gold medals and a bronze at the 2016 Olympic Games in Rio, including capturing the all-around title. She has won ten world championship gold medals, the most won by a female gymnast in history, and she is the first female gymnast to win three consecutive world all-around titles. Biles is the first woman to capture four gold medals at a single world championships since 1974 and accomplished it at back-to-back competitions in 2014 and 2015.
Related:
Beyond the Routine: WOGA, featuring Laurent and Cecile Landi
Simone Biles: Golden Girl
Stay up-to-date in the gymnastics world!
Sign up below for the FloGymnastics Newsletter and get updates on news, videos, results, rankings, live events, and more.