RECAP: Xiao Ruoteng Crowned Men's World Champion In Nail-Biting AA Final
RECAP: Xiao Ruoteng Crowned Men's World Champion In Nail-Biting AA Final
A new era has begun. The 2017 World all-around champion was named tonight and his name is not Kohei Uchimura. The Japanese gymnastics sensation injured his ankle in qualifications, leaving the title wide open for the taking. Following Uchimura's reign of
Oct 6, 2017
by Rebecca Johnson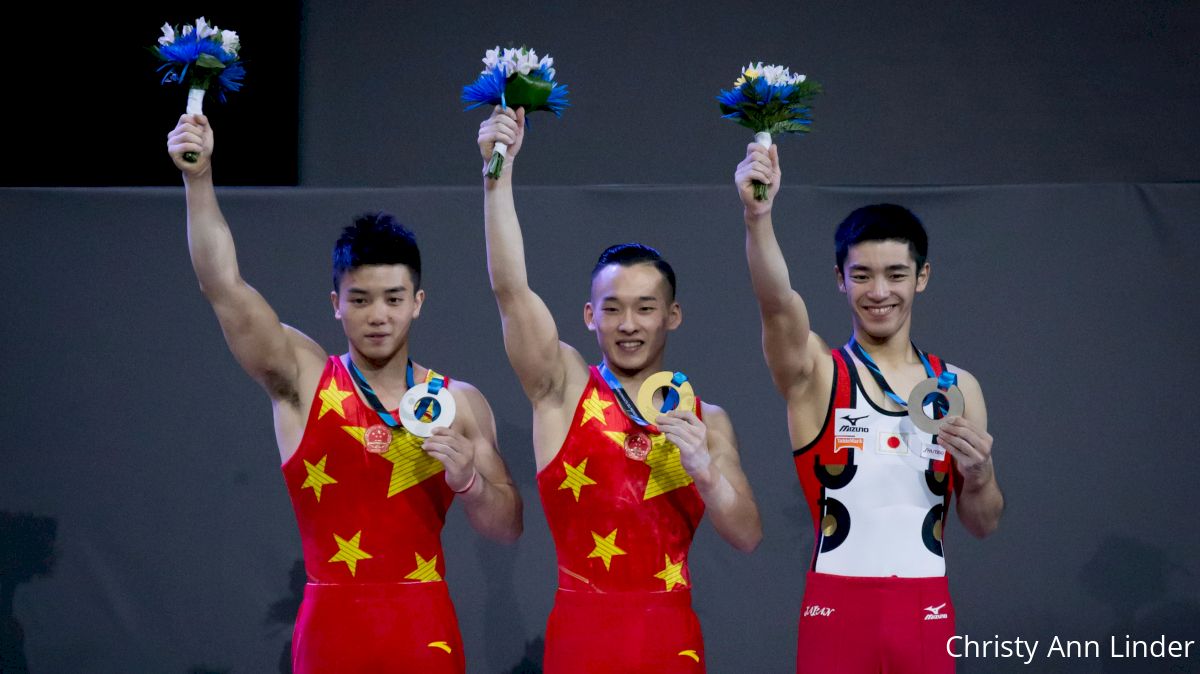 Meet Recap
A new era has begun. The 2017 world all-around champion was named tonight, and his name is not Kohei Uchimura. The Japanese gymnastics sensation
injured his ankle
in qualifications, leaving the title wide open. Following Uchimura's reign of winning six straight world championships, tonight it was China's Xiao Ruoteng who came out victorious.
Xiao put together a rock-solid all-around performance from his start on floor all the way through to his perfectly stuck dismount on high bar to end the competition. He improved his all-around score substantially from a 86.297 in qualifications to a 86.933 tonight, propelling him to gold.
Teammate Lin Chaopan finished right behind Xiao, taking the silver with an 86.448. After five strong routines, Lin was in fourth heading into the final high bar rotation and he performed a stunning set. He waved to the crowd and bowed, clapping his hands above his head to get some more cheers.
Earning the bronze was Kenzo Shirai of Japan, who totaled an 86.431. He began the competition with an incredible floor routine, including his triple twisting double layout and quadruple twist final pass. He scored a 15.733, the highest floor score of the entire competition by over one full point.
Oleg Verniaiev of Ukraine fell victim to the dreaded pommel horse. He came into the competition as a favorite for gold after taking silver in Rio, but his campaign for the title came to a screeching halt when he fell on pommel horse and then on high bar at the end of the competition. Verniaiev finished in eighth with an 83.997.
Manrique Larduet of Cuba also came in as a favorite for the title, leading the pack after qualifications. However, his routines weren't quite as impeccable as they were in qualifications, and while he hit all six, lower E-scores in the final landed him in sixth with an 86.031.
Russia's David Belyavskiy was putting up a gold-medal-worthy performance through the first five rotations. In fact, he led by over .5 heading into the final rotation on high bar. With a hit set the way he did in qualifications, the title was his. In a heartbreaking turn of events, Belyavskiy took a devastating fall off high bar on one of his simpler elements to finish in fourth with an 86.315.
USA's sole competitor, Yul Moldauer, hit six out of six routines and finished in seventh with an 84.998. He was the only gymnast in the top 10 who was competing at world championships for the first time and shared after the meet about his new goal of finishing on the podium at the 2018 World Championships to be held in Doha, Qatar.
FULL RESULTS | INTERVIEWS


Routine of the Day
With the all-around gold medal on the line, Xiao Ruoteng nailed his high bar routine under immense pressure in rotation six. He performed four huge Tkatchev variations and finished with a perfectly stuck layout double double dismount. His 14.4 score catapulted him to a 86.933 -- enough to secure the gold.
Video will be added if it becomes available via
FIG
Interviews of the Day
Yul Moldauer was thrilled to be competing alongside so many world-class gymnasts:
The full press conference with the medal winners Xiao Ruoteng, Lin Chaopan, and Kenzo Shirai.
Photo of the Day
China's Lin Chaopan after he landed his stuck dismount off high bar to finish an outstanding meet: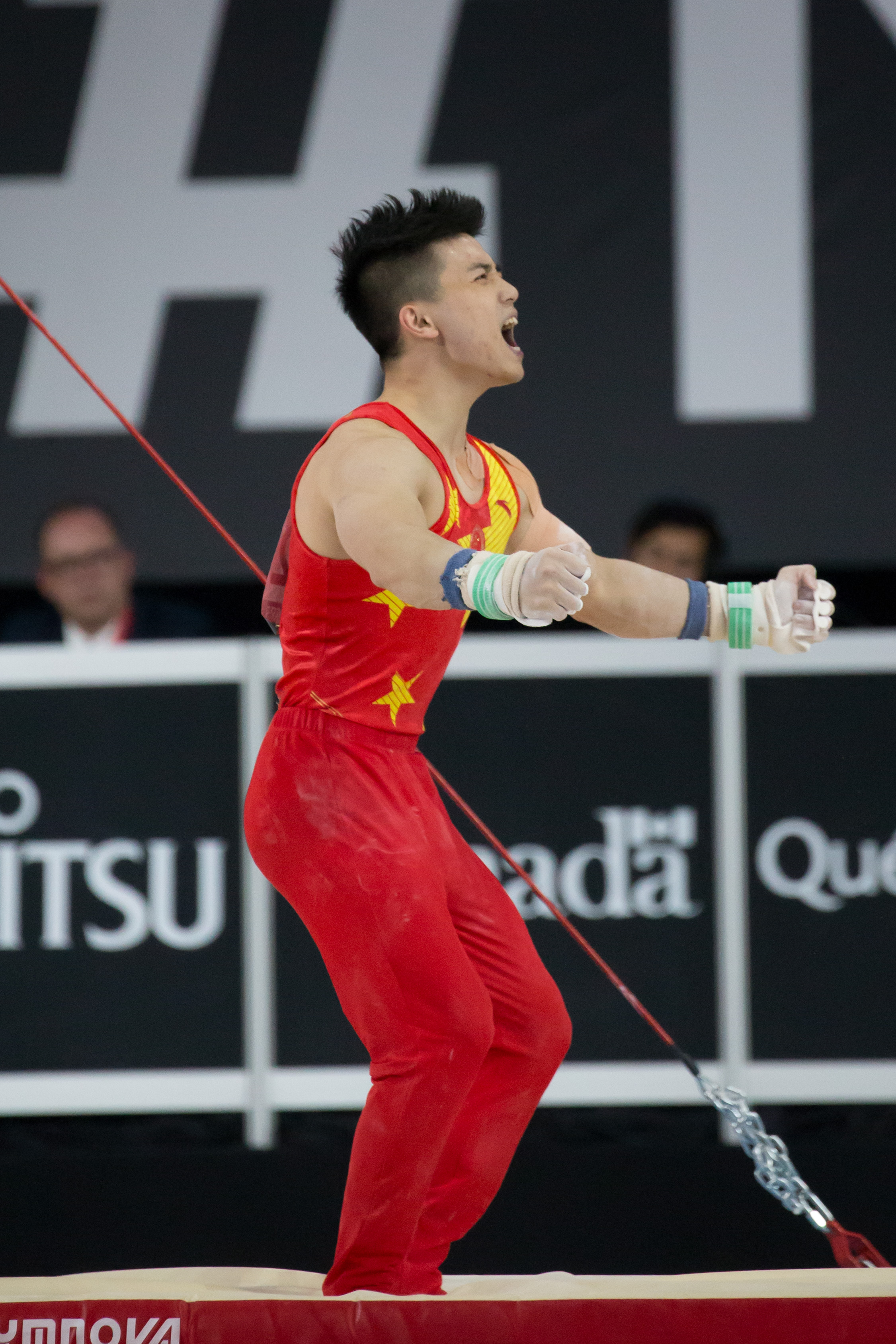 Tweet of the Day
Moldauer's coach Mark Williams is beyond proud of his Sooner star:
7th in the world! So talented. So dedicated. Such a pleasure to work with ... And hes just getting started. #MTL2017Gym #OUDNA #prOUd pic.twitter.com/5IRXbA5iTj

— Mark Williams (@wellsgymn) October 6, 2017
Instagram of the Day
Kenzo Shirai honoring his mentor and friend, King Kohei:
Related:
RECAP: Heartbreaks & Triumphs Of Women's Quals At 2017 World Championships
RECAP: A Dramatic Men's Qualification Round At 2017 World Championships
Brazil's Rebeca Andrade Out Of 2017 World Championships With ACL Injury
Larisa Iordache Injured, Out Of 2017 Gymnastics World Championships
Women's Finals Qualifiers At The 2017 Gymnastics World Championships
Kohei Uchimura's Reign Ends: New World All-Around Champion Will Be Crowned