RECAP: Heartbreaks & Triumphs Of Women's Quals At 2017 World Championships
RECAP: Heartbreaks & Triumphs Of Women's Quals At 2017 World Championships
Women's qualifications at the 2017 World Championships in Montreal, Canada finished up tonight after five total subdivisions. The top 24 all-arounders and top eight on each event have advanced to the finals.
Oct 5, 2017
by Rebecca Johnson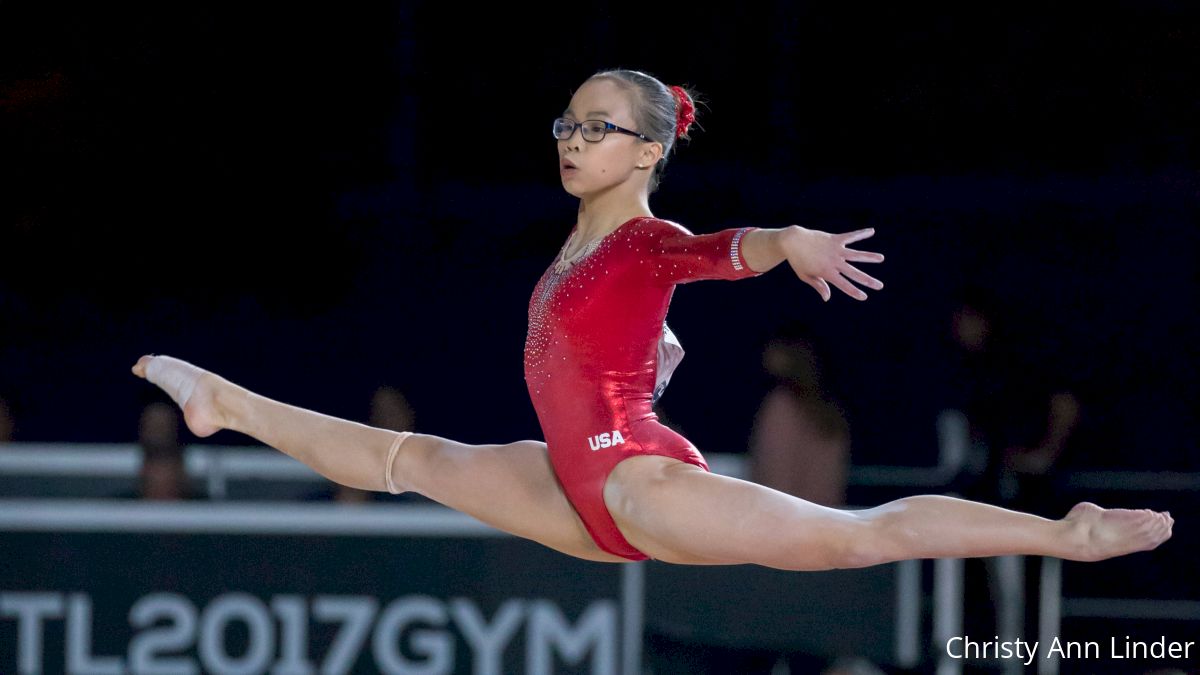 Meet Recap
Women's qualifications at the 2017 World Championships in Montreal finished up tonight after five total subdivisions. The top 24 all-arounders and top eight on each event have advanced to the finals.
FULL RESULTS | INTERVIEWS | FINALS QUALIFIERS
Over the course of a day and a half, we saw countless stellar performances, some shocking moments, and a couple of devastating heartbreaks.
The most outstanding all-around performance in qualifications came from Japan's Mai Murakami, who topped the standings with a 55.933 and now leads the pack heading into the women's all-around final on Friday. Ragan Smith finished in second with a 55.932 while Canada's Ellie Black scored a 55.766 for third.
Subdivision one was highlighted by several incredible performances from Great Britain, including Claudia Fragapane's high-flying tumbling on floor which earned her a 13.933 and a spot in the final.
Prior to the competition, Georgia-Mae Fenton and Belgium's Nina Derwael both
submitted the same original release move
to be named in their honor if completed successfully at worlds. Fenton nailed hers in a breathtaking routine during subdivision one, and later on in subdivision two Derwael did the same. According to the FIG, the skill will now be named after both athletes.
Elena Eremina of Russia also put up a strong all-around performance in subdivision two, including a jam-packed bar routine with a Nabieva to Pak to Maloney. She earned a 15.1 to top the bar standings after all five subdivisions.
Russian teammate Maria Paseka successfully landed her Cheng and Amanar vaults to average a 14.933.
Subdivision three brought a load of heartbreaking moments for key competitors. Right before the competition began, Romanian star Larisa Iordache was warming up for floor and
tore her Achilles tendon
. She was carried off the floor and left in a wheel chair to be examined by the medical staff. In the blink of an eye, Iordache's shot at a 2017 Worlds title was over before it ever began.
Catalina Ponor shared before the meet that this would be her last world championships, and she had a great chance at the beam and floor finals. Unfortunately, a fall on beam and a a step out of bounds on floor took her out of both finals and her storied career won't end atop the podium. Nevertheless, she leaves behind an incredible legacy.
Reigning Olympic beam champion Sanne Wevers missed several bonus elements and connections in her beam routine, scoring only a 12.733 and missing the final.
Germany showed up strong in subdivision four with several top performances, including a standout beam routine from Tabea Alt which scored a 13.533 -- the top beam score in all of qualifications. Teammates Pauline Shaefer and Elizabeth Seitz also qualified into the beam and bars finals, respectively.
In the final subdivision, the U.S. women took the floor. Jade Carey made her international debut and you could see that the adrenaline was pumping on her vaults. She had some uncontrolled power on her Amanar and Tsuk double but averaged a strong 14.849 to easily land her in the final.
Ragan Smith had uncharacteristic mistakes on both bars and beam, taking an extra swing on bars and falling on her back handspring back layout series on beam. But she finished with a tremendously executed floor routine, earning the top floor score of qualifications -- a 14.433.
Morgan Hurd showed poise and confidence in her first worlds competition, highlighted by a 13.500 on beam which was the second-highest of all competitors. She totaled a 54.832, good for sixth and a spot in the all-around final.
Ashton Locklear performed a nearly flawless bar routine, and despite the performance being watered down since Rio, she scored a 14.566 to clinch a spot in the final.
Fan Yilin had the standout bar performance for China, earning a 15.000 for her intricate routine.
En route to finishing with the highest all-around score of qualifications, Murakami also earned spots in both the beam and floor finals which will take place on Sunday.
Standout Routine
Russia's Elena Eremina topped the bar standings out of all five subdivisions with this incredible bar routine. She connected her Nabieva to Pak to Chow half for just the second time in competition and scored a huge 15.100.
Inside The Mixed Zone
Catalina Ponor reflects on her gymnastics career, saying it was more than she could've ever dreamed:
Favorite Photo
You can
​feel
the emotion in this photo of Canada's Brooklyn Moors showing off her floor routine.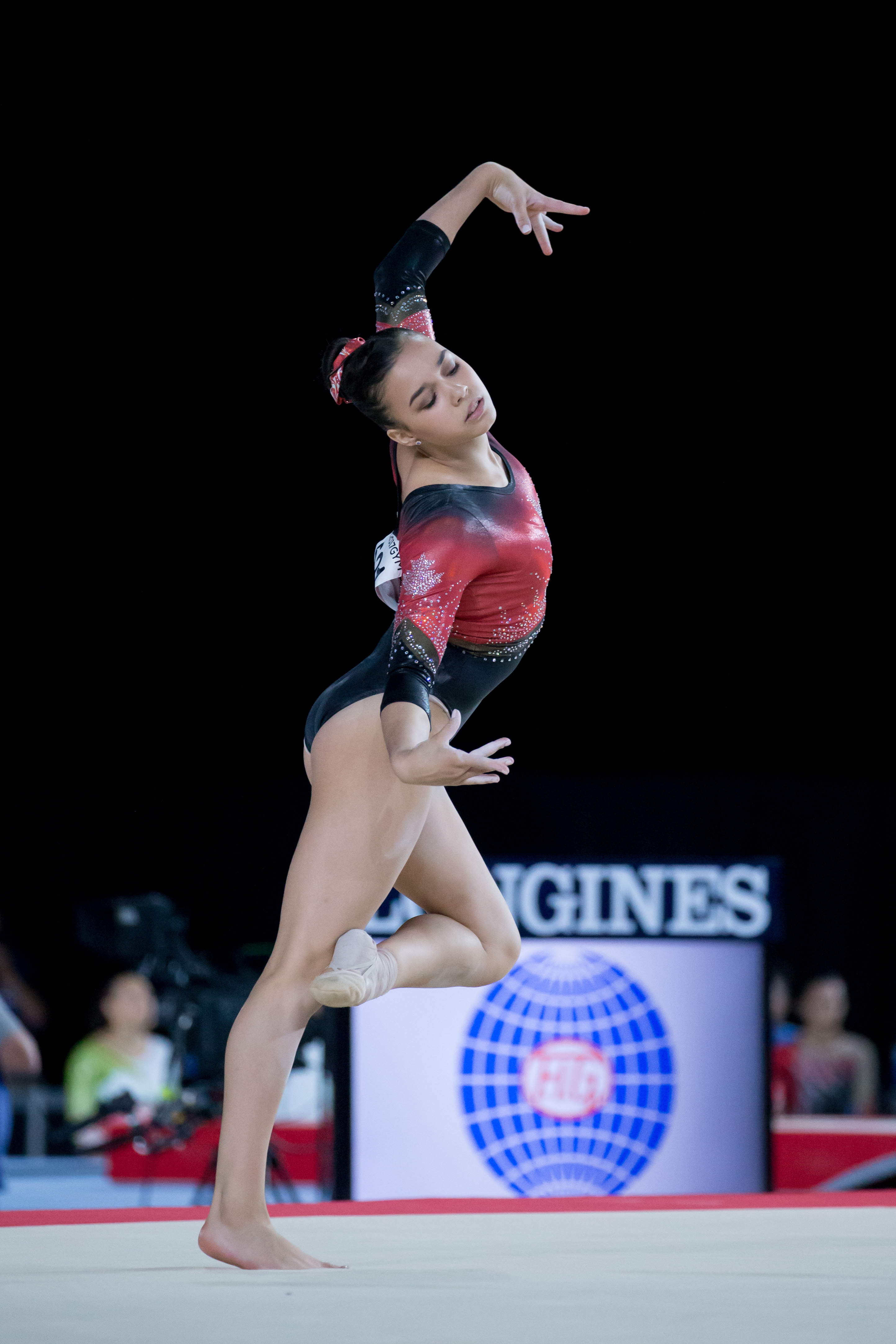 Top Tweets
Larisa Iordache shows her gratefulness for the outpouring of support after she tore her Achilles during warmups.
I never thought that I am so loved. I want to thank you so much for all the support, the messages and simply everything. I love you all.

— Larisa Iordache (@Larisa_Iordache) October 4, 2017
praying for you @Larisa_Iordache keep your head up babe
sending my love xoxo

don't ever give up girl
you're amazing & inspiring

— Simone Biles (@Simone_Biles) October 4, 2017
My heart breaks for @Larisa_Iordache

— Claudia Fragapane (@claudia_frag) October 4, 2017
So sad for @Larisa_Iordache hang in there. You will get through this. Sending you so much

— Alexandra Raisman (@Aly_Raisman) October 4, 2017
Related:
RECAP: A Dramatic Men's Qualification Round At 2017 World Championships
Brazil's Rebeca Andrade Out Of 2017 World Championships With ACL Injury
Larisa Iordache Injured, Out Of 2017 Gymnastics World Championships
Women's Finals Qualifiers At The 2017 Gymnastics World Championships
Kohei Uchimura's Reign Ends: New World All-Around Champion Will Be Crowned