Release via
Bowling Green Athletics
BOWLING GREEN, Ohio -- Head coach Kerrie Turner and the Bowling Green State University gymnastics team have announced the addition of two assistant coaches for the 2017-2018 season. Marissa Beucler is the Falcons' new assistant coach and replaces Marie Case, who accepted a position at the University of North Carolina during the summer. Alaska Richardson will join the coaching staff as a volunteer assistant.
Beucler arrives at BGSU following a season as gymnastics coach with Capital City Athletics. With Capital City, Beucler coached Level 3 through Level 10 gymnasts and completed detailed workout plans and scheduling for her gymnasts. She also served as the squad's social media and marketing manager.
She is a graduate of the University of Kentucky, where she competed from 2012-2016 on the Wildcats' gymnastics team for head coach Tim Garrison. Beucler was a three-time SEC Academic Honor Roll honoree and was twice named Academic All-American (2015, 2016). She graduated with a bachelor's degree in broadcast journalism.
With the Falcons, she will be focused on coaching vault, floor and assisting with choreography.
"I am so pleased Marissa will be joining our staff. She is an excellent communicator and brings a bright and positive energy to our program. She is eager to build her collegiate coaching career and will reinforce the culture we have established at BGSU," said Turner.
Her experience as a collegiate gymnast at the University of Kentucky and as a leader for her program is relatable to our student-athletes. She immediately shared a great rapport with the team during her interview.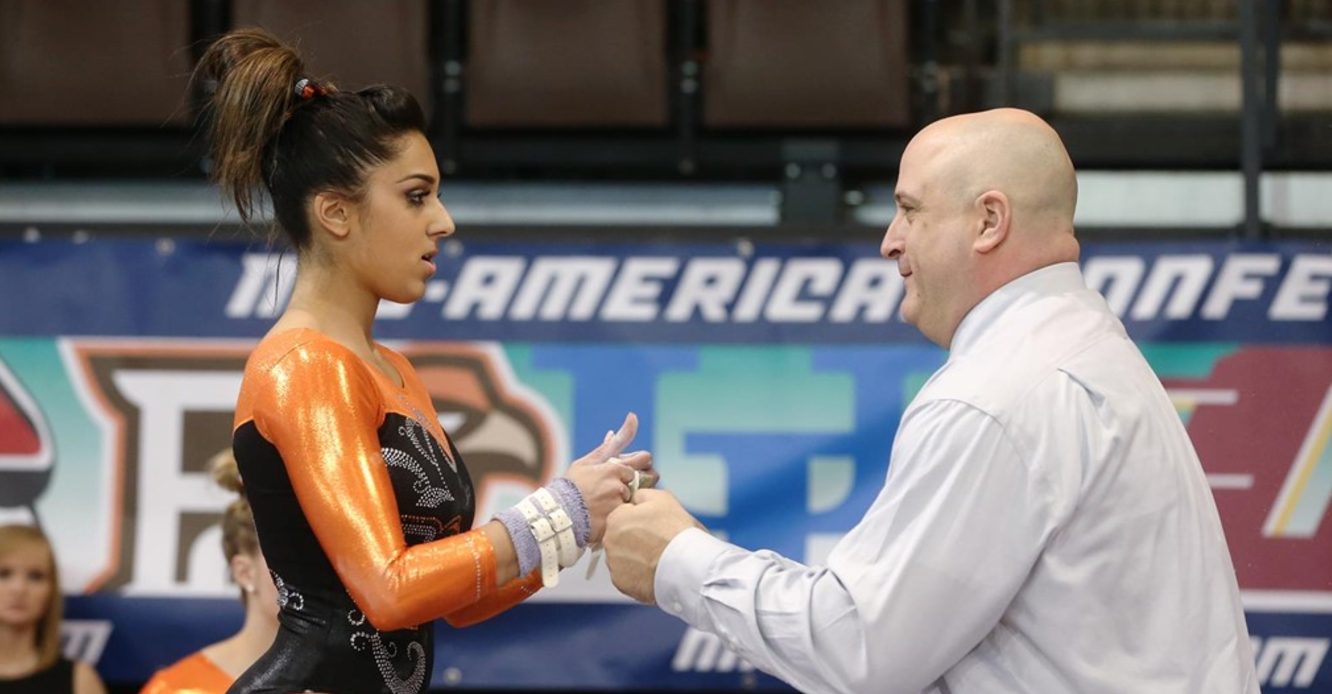 Photo via BGSU Athletics
Richardson arrives at BGSU after one year as a graduate assistant at the University of Toledo. In that time, she served as an academic coordinator for the Rockets' men's and women's tennis teams. While in Toledo, she also gained two years of coaching experience as an instructor at the Sunrise Gymnastics Academy. As coach, she assisted children of various ages in learning basic gymnastics techniques while developing physical and psychological fitness.
Richardson also gained experience as a member of the West Virginia University gymnastics team from 2009-2013. Richardson is a two-time EAGL All-Academic team member and has a bachelor's degree in multidisciplinary studies from WVU, as well as a master's degree in education from the University of Toledo.
The BGSU gymnastics team returns 16 student-athletes and adds eight freshmen for the 2018 season, which will begin on January 5, 2018, with a dual meet at Michigan State.