2017 World Championships: Which U.S. Gymnasts Made Their Cases
2017 World Championships: Which U.S. Gymnasts Made Their Cases
Which USA gymnasts made the best case to be on the world championship squad?
Sep 7, 2017
by Lauren Green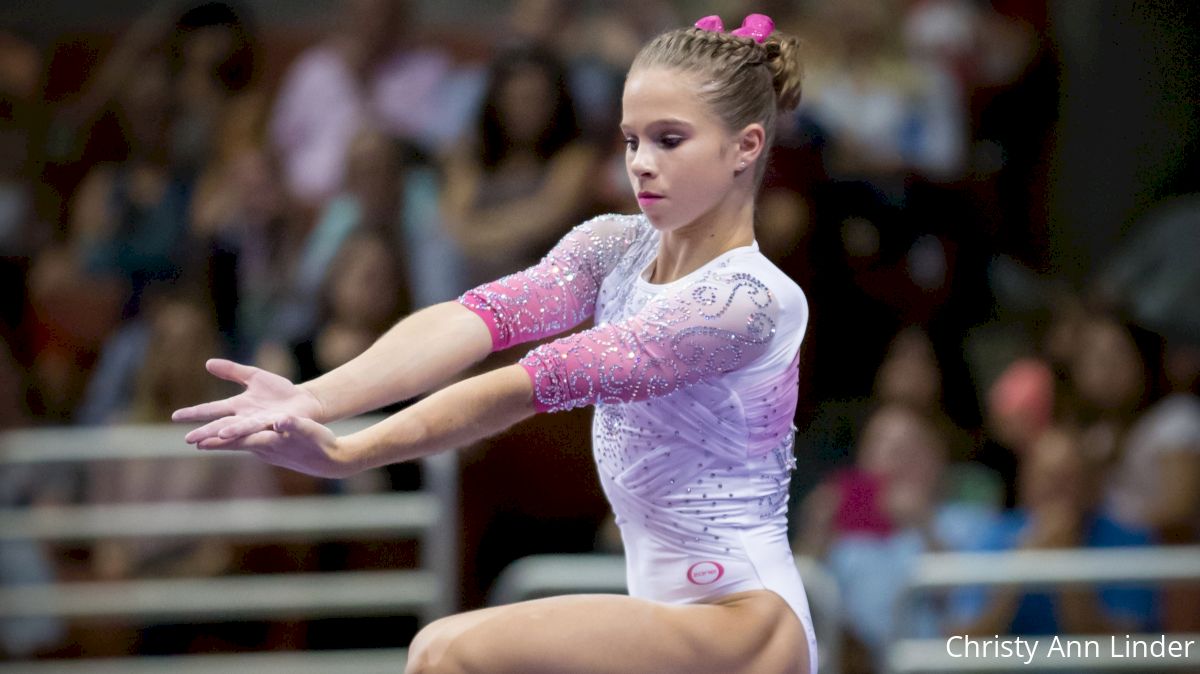 Update 9/13:
Riley McCusker Withdraws From World Selection Camp Due To Injury
Worlds selection camp takes place September 18-22 with
nine gymnasts vying for four spots
.
One additional gymnast will be named the non-traveling alternate. The world championships, held in Montreal in October, is an individual competition. Only three gymnasts from each country can compete in a given event (i.e. only three of the four Americans can compete on beam). It's unlikely that there will be three all-around competitors taken (like in 2013) so the group of four will probably be made of a combination of two all-around gymnasts and two specialists. How that shakes out is anyone's guess.
Let's take a look at who best made her case following the U.S. Classic in July and the P&G Championships in August.
Ragan Smith
​
Worlds team?
​Almost a lock.
Smith is probably the closest thing to a lock on this year's world championship squad, barring an injury at camp. Smith is the 2017 national champion and won the American Cup at March, even with a fall on balance beam. She was the new kid on the block in 2016 and kept her name in the conversation for Rio with a stellar set on balance beam. She performed well on beam at both the U.S. Classic and the second night of competition at P&Gs to earn scores over 15 and the beam title at both competitions. She has shown remarkable improvement on uneven bars and upgraded her routine recently to connect her Ricna and pak salto. She also unveiled her new floor routine, which is fun and sassy. Smith is a solid, steady, and consistent competitor -- and that could be enough to earn her a medal or two in Montreal.
Riley McCusker
​
Worlds team?
​Seems likely. (Edit: Out of contention due to injury)
McCusker has been far more inconsistent than Smith -- a disastrous showing at the American Cup was followed up by a great competition at Jesolo. She struggled at the U.S. Classic, where she was coming back from several injuries and just didn't have the numbers in training entering the meet. She looked more solid and consistent at nationals where she won the uneven bars title. She is capable of more difficulty -- she competed a triple series on beam and a Yurchenko double on vault earlier this year -- and if she adds that difficulty back in and competes it consistently, it increases her chances even more. With the additional time to train and prepare for worlds, it's hard to imagine this world championship team without McCusker. She can go for the all-around or for uneven bars and balance beam.
Jordan Chiles
​
Worlds team?
​Fighting for a spot. (Edit: With McCusker injured, chances are greater)
Chiles is the biggest question mark here. She finished second at the national championships despite a fall on her best event -- vault -- on night two. She gets a big boost in scoring with her Amanar but really hasn't shown the consistency on her other events throughout this season. She struggled on beam and floor at Classics but put together a mostly-clean meet at nationals, including
one of the most memorable moments of the night at on beam
. With Smith and McCusker being the front runners for the all-around slots, Chiles will need to impress at camp in order to seal her spot at worlds. In a post-meet interview, she said she is working on a second vault -- a Lopez -- that she would unveil at camp. A second vault puts her in contention for vault medal and could be the boost she needs to make the team. She can also fight her way into that second all-around spot if Ashton Locklear doesn't have an upgraded bars set and Valeri Liukin utilizes Riley McCusker as a bars/beam specialist.
Ashton Locklear
​
Worlds team?
​Depends on inbars.
Locklear is the most veteran member of the senior squad this year and the only one with world championship experience. She didn't compete on uneven bars at the U.S. Classic and competed her routine without her inbars at both Jesolo in March and at nationals last month. She has had some shoulder issues this year, but
posted a video
back in June training, you guessed it, her inbars. If she can show them at camp, then she's surely in contention for a specialist spot on the worlds team. Where it could get interesting is if she doesn't have those inbars back. Without them, her difficulty score is at a 5.5, behind the likes of Alyona Shchennikova (6.3/6.2), McCusker (6.1/6.0), Smith (6.0), Margzetta Frazier (5.9), Trinity Thomas (5.7), and Morgan Hurd (5.6). The inbars bump her back up to a 6.0 -- and they're just one of the biggest question marks of worlds camp.
Jade Carey
​
Worlds team?
​Depends on her Amanar.
Carey burst onto the scene this year after competing as a Level 10 and competing at her first elite meet at the American Classic earlier in the summer. Carey brings two vaults to the table -- a Kaz full and an Amanar, which helps her chances of making worlds tremendously. After the U.S. Classic, many were calling Carey virtually a lock for the team heading to Montreal. But she struggled with her Amanar on both nights of competition at nationals, where she fell on night one and barely missed sitting the vault on night two. She can definitely contend for a vault medal if she hits. With Chiles also planning to compete a second vault at camp and Carey's landing struggles at nationals, it makes Carey a bit less of a lock for the worlds team. She does have the edge in difficulty over Chiles, but her execution on both vaults has been a little bit messy, which could also factor into the decision.
Morgan Hurd
​
Worlds team?
​Doesn't seem likely, but could still happen.
Hurd competed at the Stuttgart World Cup event this spring where she picked up bronze in the all-around, and she also competed at Jesolo. She is coming off an elbow surgery and struggled with consistency at P&Gs last month, especially on night one. She has beautiful presentation on floor exercise in particular. The inconsistency at nationals hurt her case, though. With it seeming likely that Smith and McCusker will nab the all-around spots, Hurd will have to be consistent at camp and hope that she can edge McCusker and Chiles for the second all-around spot. Unlike Chiles and McCusker, she really doesn't fit into the picture as a specialist. She was fifth on beam and 10th on floor at nationals with Smith, McCusker, and Chiles all ahead of her.
Trinity Thomas
​
Worlds team?
​Doesn't seem likely, but could still happen.
Thomas had an impressive showing at P&Gs with clean routines across both nights of competition and no major breaks. She's had trouble in the past controlling her power but settled nicely at P&Gs and was lovely to watch on all four events. Her biggest challenge comes on vault, where she's currently competing only a full twisting Yurchenko. With most seniors competing at least a Yurchenko double, it makes it harder for her to be competitive internationally. It seems unlikely that she'll crack into the all-around. But Thomas is one who could benefit from a combination of circumstances -- upgrading her vault to a Yurchenko double full and both McCusker and Chiles going to worlds as bars/beam and floor/vault specialists respectively.
Alyona Shchennikova
​
Worlds team?
​Doesn't seem likely.
Shchennikova emerged as a contender for worlds after winning the all-around title at the U.S. Classic in July. Some of the top gymnasts didn't compete in the all-around at Classics, but Shchennikova won the title by nearly two points and that included a fall on beam. She has the highest D-score of the Americans on uneven bars with a 6.3. She does have some form issues on bars -- lack of toe point and slow rotation on her double layout dismount in particular -- that prevent her from scoring incredibly high. She finished eighth at nationals with mistakes on both bars and beam. At this point, it seems unlikely that she will fit into the worlds puzzle this year.
Margzetta Frazier
​
Worlds team?
​Unlikely.
Frazier finished fifth at nationals and showed great consistency across all four events. She was fifth on uneven bars with a 14.100 on both days of competition. Her steadiness could prove useful in a team situation at worlds, but without a true standout event it's hard to see where she might fit into an individual worlds situation.
Emily Gaskins
​
Worlds team?
​Unlikely.
Gaskins finished seventh in the all-around at nationals and was tied for fourth on floor exercise. She had a much better night two performance across the board, especially on bars and beam. Gaskins is lovely to watch on floor and combines powerful tumbling with beautiful dance elements. Like Frazier, she doesn't have a true standout event that would force Valeri Liukin to put her on a squad for an individual event at worlds.
​​All videos courtesy of USA Gymnastics
WORLD CHAMPIONSHIPS CENTRAL
Stay up-to-date in the gymnastics world!
Sign up below for the FloGymnastics Newsletter and get updates on news, videos, results, rankings, live events, and more.