The 2017 U.S. Classic delivered incredible gymnastics and we've already taken the time to highlight the athletes and their performances coming out of Hoffman Estates, Illinois.
Now, we'll take a look at a less important -- but just as fun! -- aspect of the weekend: the leotards. There were dozens of amazing pieces to choose from, but here are our favorites from the weekend. Vote for your favorite in the poll at the bottom of the article! All photos by Christy Ann Linder.
1. Texas Dreams
Texas Dreams picked this leo because "rainbows are HAPPY" and they sure looked joyous out there! Emma Malabuyo joked that the goal was to get to the pot of gold... and this leo takes gold in our books! The delightful piece really stood out from the field and it's hard to look at the leo and not feel uplifted.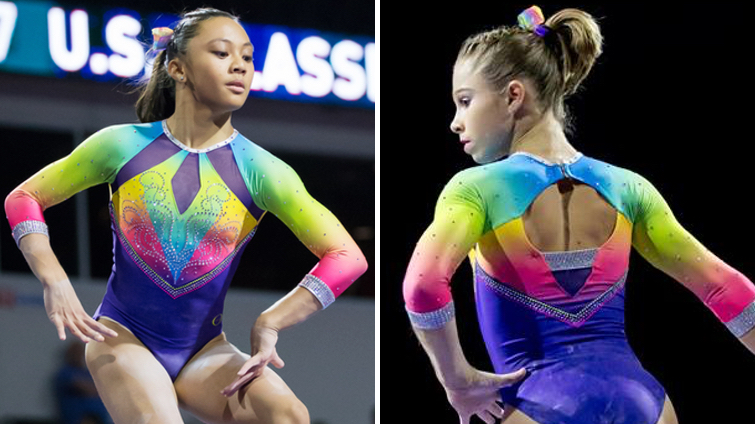 2. ENA
This leo gives of a regal, elegant look with the different materials and shades of purple. The coral-like pattern is perfectly detailed and matches the trim along the neck and arms. Bonus: Olivia Dunne, who has a passion for fashion, helped her mother and coach Jennifer Zappa design this unique leo!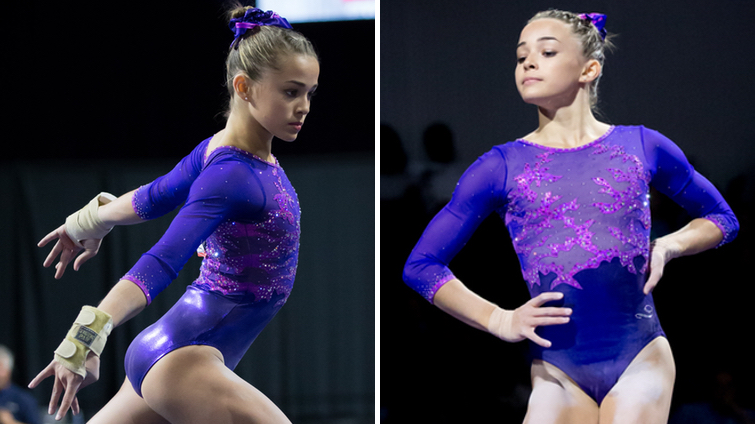 3. Twin City Twisters
This bright piece gives the gymnasts an airy and light look. The leo has so many components, including the ombre, mesh arms, swirl pattern, and scalloped V, but they all come together well as a whole.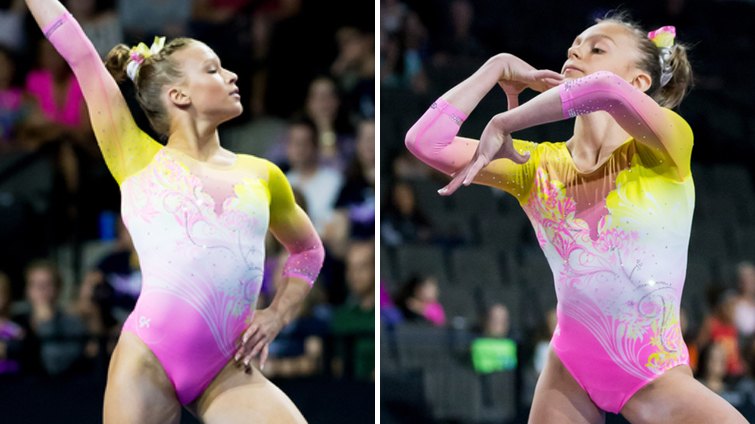 4. MG Elite
A white leo can be a risky choice but it really pays off in this sweet and sparkly piece. The variety of rhinestone sizes adds dazzling details to complete the look.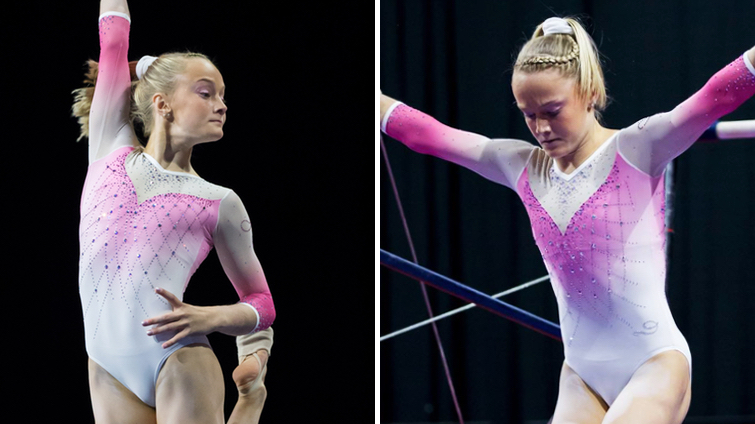 5. Legacy Elite
This leo only uses purple and white but the finished piece is far from simple. The intricate design, fun open back, and shorter arms make the leo one to remember.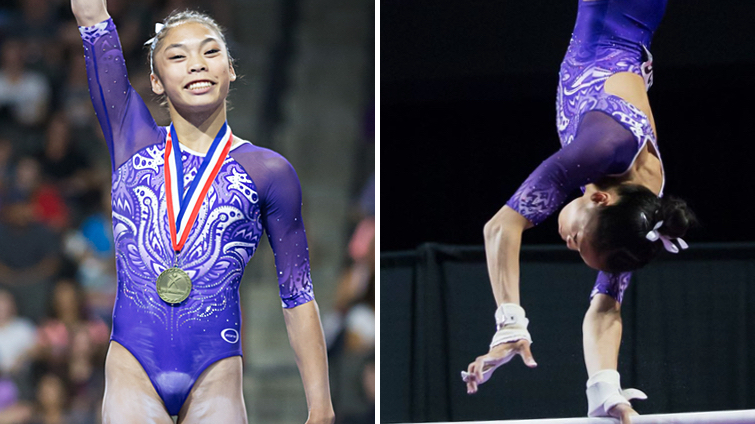 6. CGA
Polished and classic, this leo combines bold colors with a bold design. The leo looks great on both senior Emily Gaskins and tiny junior Lillian Lippeatt.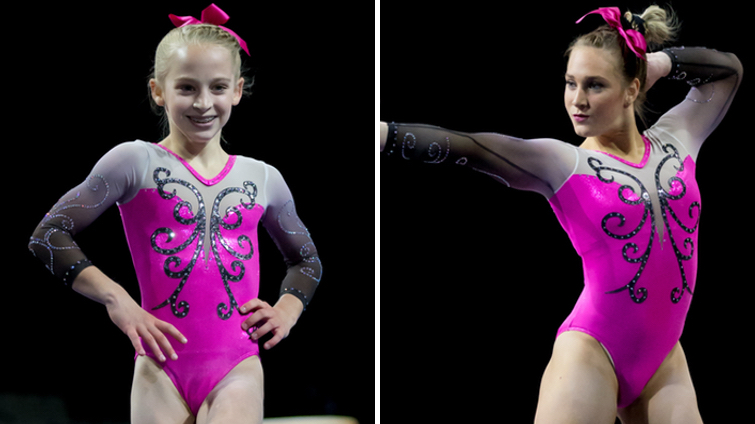 7. Salcianu
This leo is simple from afar, but incredibly detailed the closer you look. The crown-like rhinestone designs give the piece a royal feel.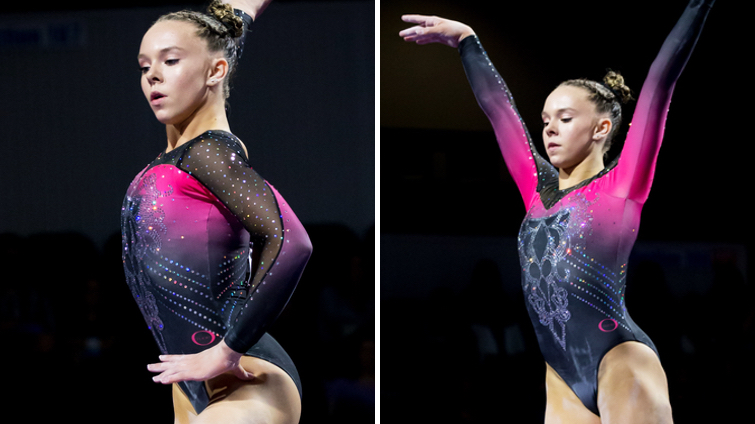 8. Colorado Aerials
Bold yet sweet, this creamy leo blends beautifully but still stands out with the strong, bright pink.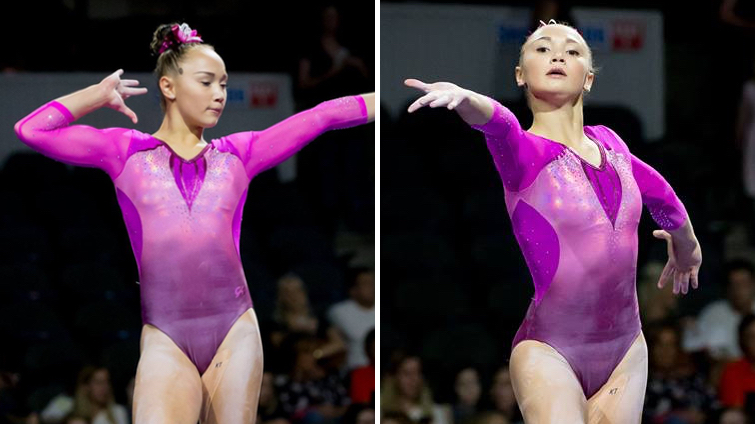 9. TIGAR
Blended colors and fluid designs make this alluring leo a winner.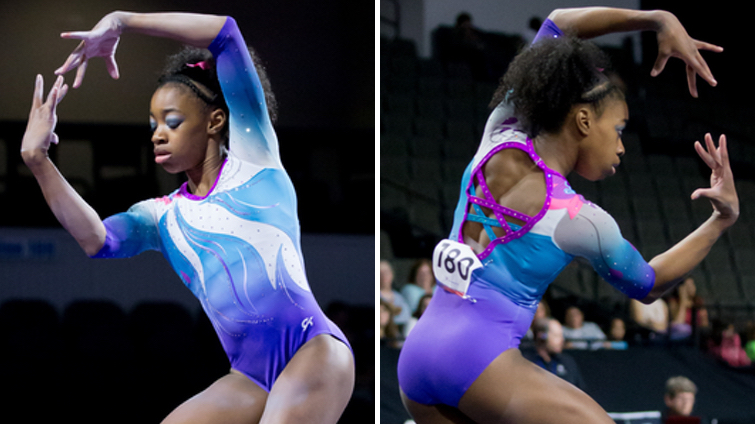 10. Prestige
This striking leo uses an uncommon neon green which, along with the black, is electrifying but still easy on the eyes.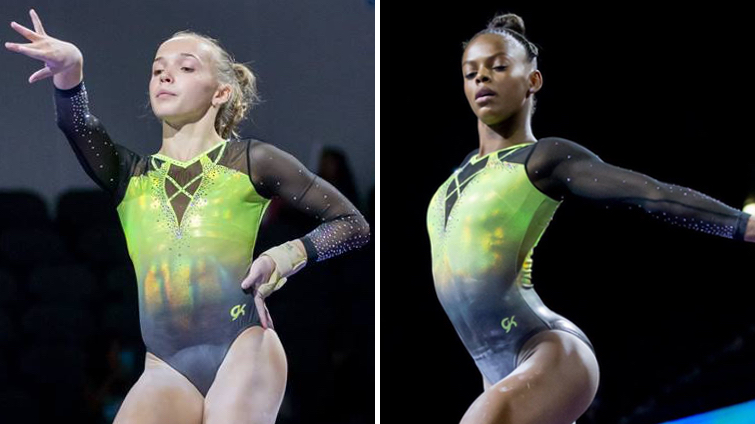 11. First State
The maroon of this leo, the eye-catching lightning-like design, and rhinestone accents create a charming, refined piece.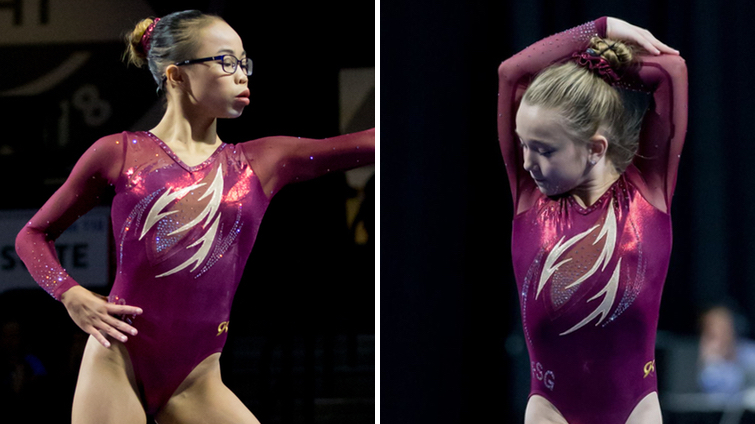 Vote for your favorite below!
Poll closes Wednesday, August 9th at midnight. You can vote once per hour.
[polldaddy]=9801517
Stay up-to-date in the gymnastics world!
Sign up below for the FloGymnastics Newsletter and get updates on news, videos, results, rankings, live events, and more.