Jennie Laeng Rebounds After Frightening Fall In 2016
Jennie Laeng Rebounds After Frightening Fall In 2016
Jennie Laeng ends career with steady, consistent performance at nationals one year after frightening fall.
May 29, 2017
by Lauren Green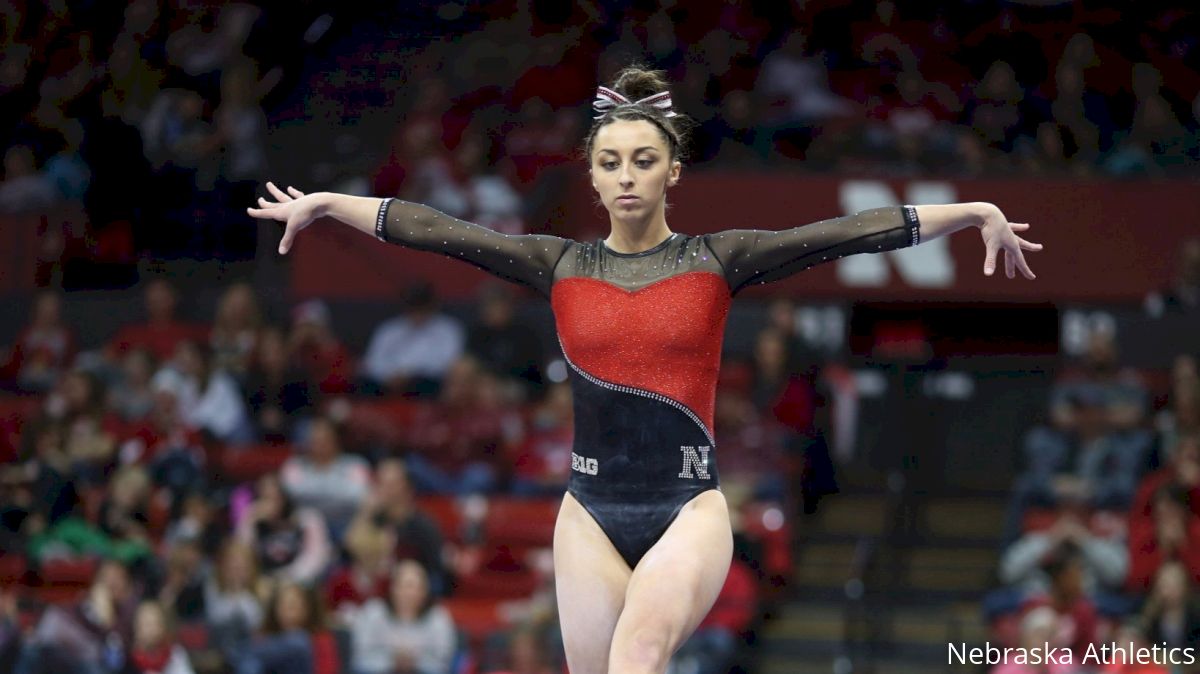 While some teams had a standout gymnast during the 2017 season, Nebraska wasn't one of those teams. The Cornhuskers utilized a balanced lineup and relied on something else -- trust. For
​Jennie Laeng
​
, who competed in the all-around in all but two meets that she participated in this season, learning to trust was one of the biggest lessons of her senior season.
"I've learned a lot about trust this season," Laeng said. "We've been very much not relying on one person. It's been very much a team effort this whole year. Learning how to trust the coaches and learning how to trust in my teammates each meet has been a huge learning process.
We just have each other's backs. We can pick each other up and we all trust in that. That's just an awesome thing to know when you're going up there.
The Huskers didn't have an individual gymnast ranked in the top 20 -- Laeng finished the season ranked 22nd in the all-around -- but they were ranked in the top 15 on vault (13th), bars (ninth), and floor (11th). The team's success came down to the balanced lineups as well as the adversity that Nebraska faced through the season.
"We have had a ton of adversity of this year. We have been stressed at almost every single meet, and I think that's awesome," Laeng said. "I think that's the best way to do it. We've been in almost every situation you could think of, and we've come out of it."
Nebraska finished its season with a team effort at the NCAA championships in April. The Cornhuskers finished fourth in the second semifinal session with a score of 197.2125. They were edged out of a spot at the Super Six team finals by 0.2875.
Nebraska's performance was incredibly consistent. The Huskers counted just one score below a 9.800 during the entire competition. It was an improvement on the squad's 2016 finish, which saw Nebraska finish eighth overall. For Laeng, the 2017 national championship competition was a far different experience by the end. Her 2016 NCAA championship competition ended after a scary fall on the uneven bars during the semifinals. The then-junior was carted out of the arena, her championships over.
Her teammates, though visibly shaken, rebounded to close the competition with a fifth-place finish in their semifinal session with a team total of 195.7750.
The fall didn't affect how Laeng headed into the competition this year.
"No, it's not difficult at all. It was maybe hard the first time I got back up on the bar after it," she said before nationals. "It was a freak thing. We've all had the feeling of peeling off the bar so I'm not worried about it at all."
Laeng posted a 9.8250 on the uneven bars en route to a 39.3750 all-around total, which was just off her season high. Her mentality on bouncing back from falls was simple.
"You can't let a fall define you or to let you crumble," Laeng said.
You have to take that fall and build yourself up on it. Trust in the training that I've been doing and know that I've hit way more times than I've fallen so I can overcome it that way.