Peng-Peng Lee Perseveres Through Injury-Riddled UCLA Career
Peng-Peng Lee Perseveres Through Injury-Riddled UCLA Career
Peng Peng Lee battled through injuries during her UCLA career to reach perfection in 2017 and was granted a sixth year of eligibility.
May 21, 2017
by Lauren Green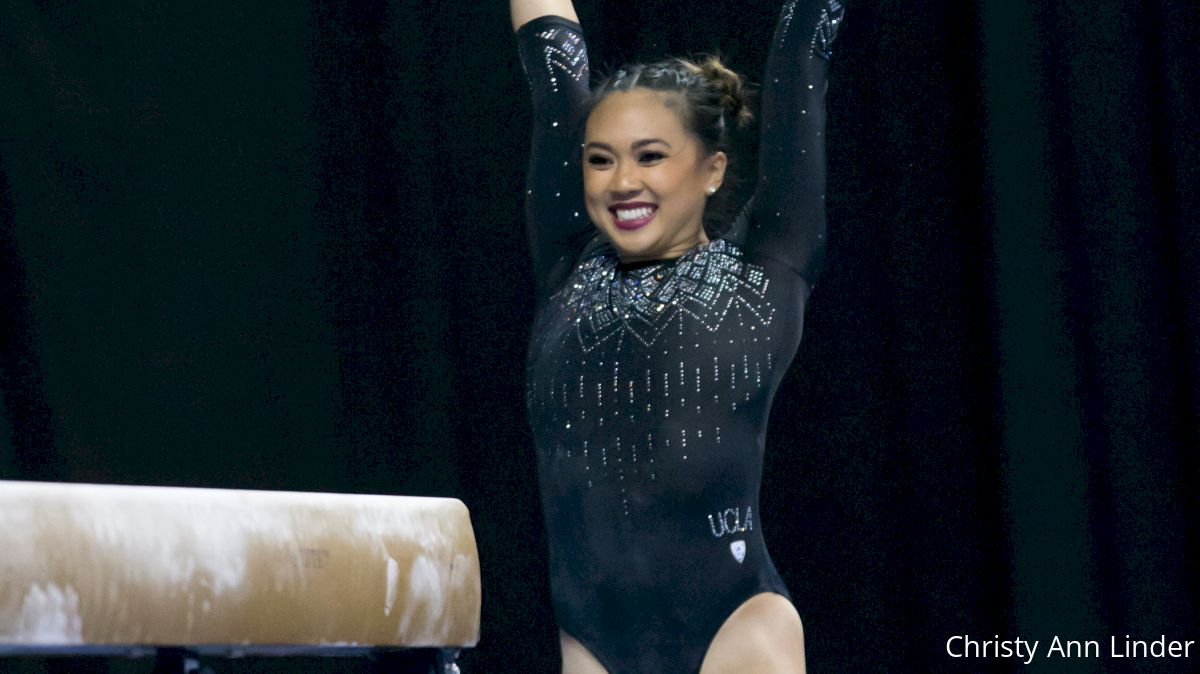 When
Peng-Peng Lee
stepped off the podium after nailing her beam routine in UCLA's third rotation during the Super Six, many thought she had just competed for the final time in a Bruins uniform. The redshirt senior put together the routine that everyone was waiting for and was rewarded with her first career perfect 10 in the event.
But while her season may have
ended with a 10.0
, Lee is not leaving UCLA anytime soon.
Earlier this week, the Bruins announced that Lee was
granted a sixth year of NCAA eligibility
due to her struggles with injuries early in her career. The 23-year-old suffered a torn ACL in 2012, which kept her off of Canada's Olympic team and off the competition floor for the 2013 NCAA season. She looked to be ready to compete during the 2014 season but found out during preseason that her knee had rejected the tissue graft used during her initial ACL surgery. She underwent a second surgery and missed the 2014 season as well.
The injuries, which may have been daunting for some, provided Lee with a valuable lesson.
"All that has taught me that there's always something better that can come out of it," she said.
And to look at the silver lining... to never give up, to strive for what you're passionate about and something can't hold you back. It may hold you back in certain aspects but not in the big picture of life.
Lee certainly hasn't allowed the injuries to hold her back during her Bruins career. She competed only on balance beam to start the 2016 season while recovering from thumb surgery. Lee then missed five meets during the middle of the season with a knee injury but returned to the lineup on uneven bars at NCAA regionals--and won the event with a 9.950.
"I remember someone telling me that everything happens for a reason so I've always gone by that mantra because it helps me move on from something, like my injury," she said.
There's always something good that come out of it even if it might seem negative at the time. There's always something positive that can come out of your injury.
Lee saw her perseverance pay off in an impressive 2017 season that saw her being named the NACGC/W West Region Gymnast of the Year and the Pac-12 Specialist of the Year. She also named an All-American for a sixth time after earning regular-season and postseason honors for uneven bars.
At the Super Six, Lee showed why she brings some of the most unique skills to NCAA competition. That sense of uniqueness is what makes two skills her favorite.
"I like my Pak full [on bars] and my flares [on beam] because I always can feel the 'wow' factor from the audience."
"I like it when they have that reaction where they haven't seen it every day."
For Lee, balance beam is where she can really show off her personality as she performs through the dance elements. The routine is a mix of good difficulty and unique skills, like her flares mount and her effortless double turn. And for at least once routine this season, it was perfection.
She scored a perfect 10 on the uneven bars twice during the 2017 season--on Feb. 12 vs. Stanford and on March 12 vs. North Carolina. Her routine is one of the most difficult in the NCAA.
A #perfect10 for @PengPengCLee!

Watch the rest of the meet live on @Pac12Network & https://t.co/0f0BUH4dTl https://t.co/8oU7hATeCC

— UCLA Gymnastics (@uclagymnastics) February 11, 2017
The former Canadian elite gets incredible height on her opening Ray release skill. She floats her full-twisting Pak salto as her first high-to-low bar transition. It's a skill that Lee says was one of the most challenging skills she has learned.
"I think my most challenging skill was my Pak full because when I was younger I did a bunch of high to low bar releases," Lee said. "I did overshoots for the longest time and all of a sudden I kind of lost it. I started going over the bar instead of hitting a handstand. So my coach was like 'why don't you just half-out of it and it would be a Pak full?' And so that's how that skill came about. I was working on that for a while."
Related:
UCLA's Peng-Peng Lee Awarded Sixth Year Of Eligibility