The 2017 NCAA gymnastics season provided us with many great moments and memories, including broken records, breakthrough titles, history-making performances, and a number of new, talented faces. With the 2017 season in the books, let's take a look back at some our favorite moments from this year.


LSU Wins Highly Coveted SEC Championship
After a 36-year drought, the LSU Tigers won the 2017 SEC Championships with an impressive 198.075. The Tigers have been a rising force for the past several years and were finally able to surpass their conference rivals to win the SEC title. At the meet, LSU was put to the test on beam after starting off its rotation with a fall. However, the Tigers proved they wanted to win by following up with five incredible routines and were able to drop the fall. LSU clinched the championship on floor following a 9.95 from
McKenna Kelley
.
Ashleigh Gnat
anchored the lineup to put the cherry on top with another 9.95. Coach
D-D Breaux
and her team held back no emotions following the competition as they won their first championship since 1981.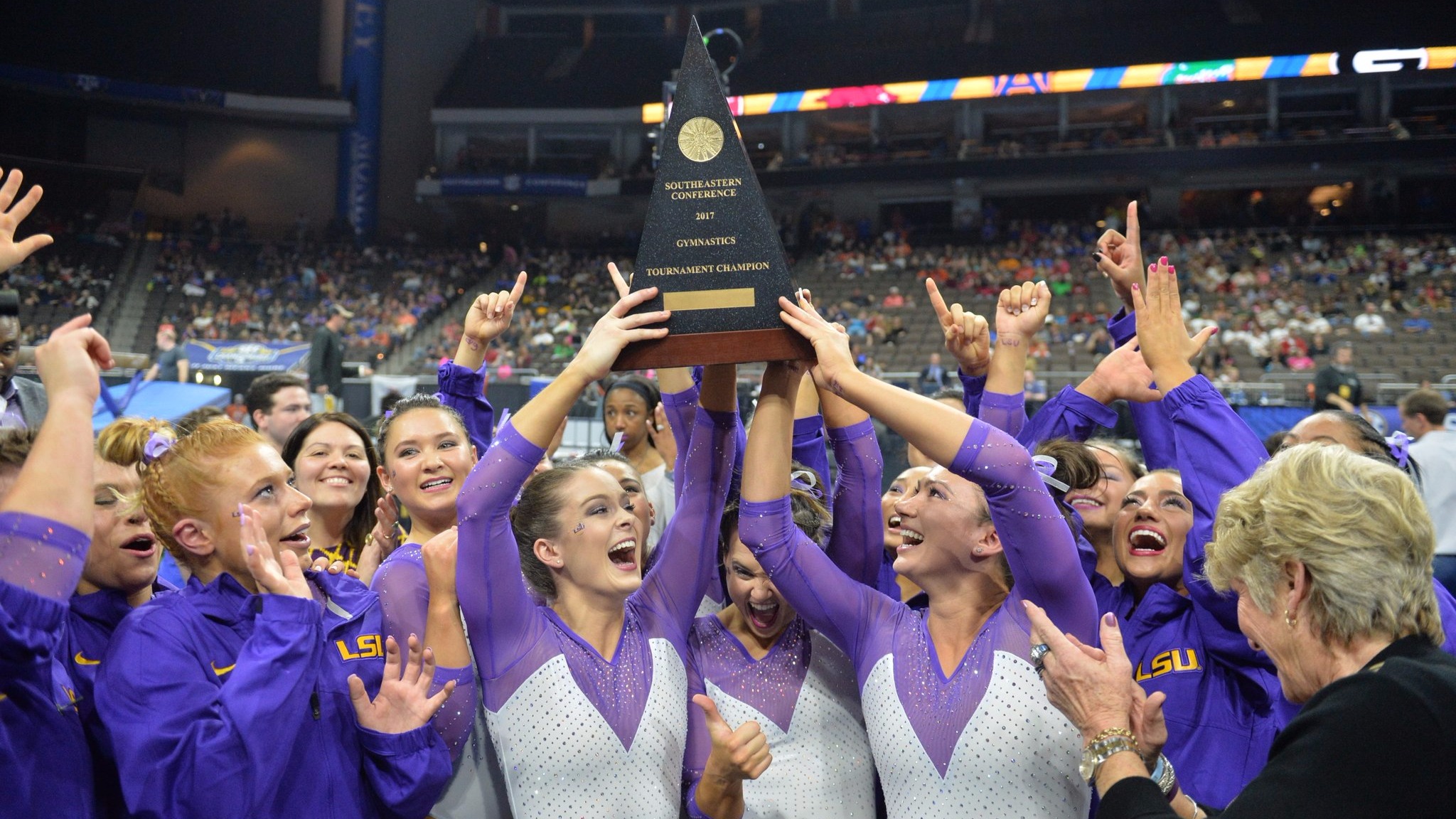 Photo by LSU Gymnastics
Nicole Artz and Peng Peng Lee Earn Long-Awaited 10.0s
Senior
Nicole Artz
has been an outstanding floor performer throughout her entire career at Michigan. She had come close to a perfect 10 many times, earning a 9.975 five times in her four years at Michigan. Artz started off her senior year with bang, scoring a perfect 10 on floor in the first home competition of the season. With her routine being the final competition of the night, the crowd along with her teammates showed great joy for the long-awaited 10.0.
UCLA fifth-year senior
Peng Peng Lee​
closed out her 2017 season on a high note during her final routine at the Super Six. In the third rotation, she not only delivered the great beam routine that the Bruins needed, but she also earned her first perfect 10 in the event. Lee has been a strong performer for the Bruins throughout her career, and on the biggest stage she stepped up in a huge way.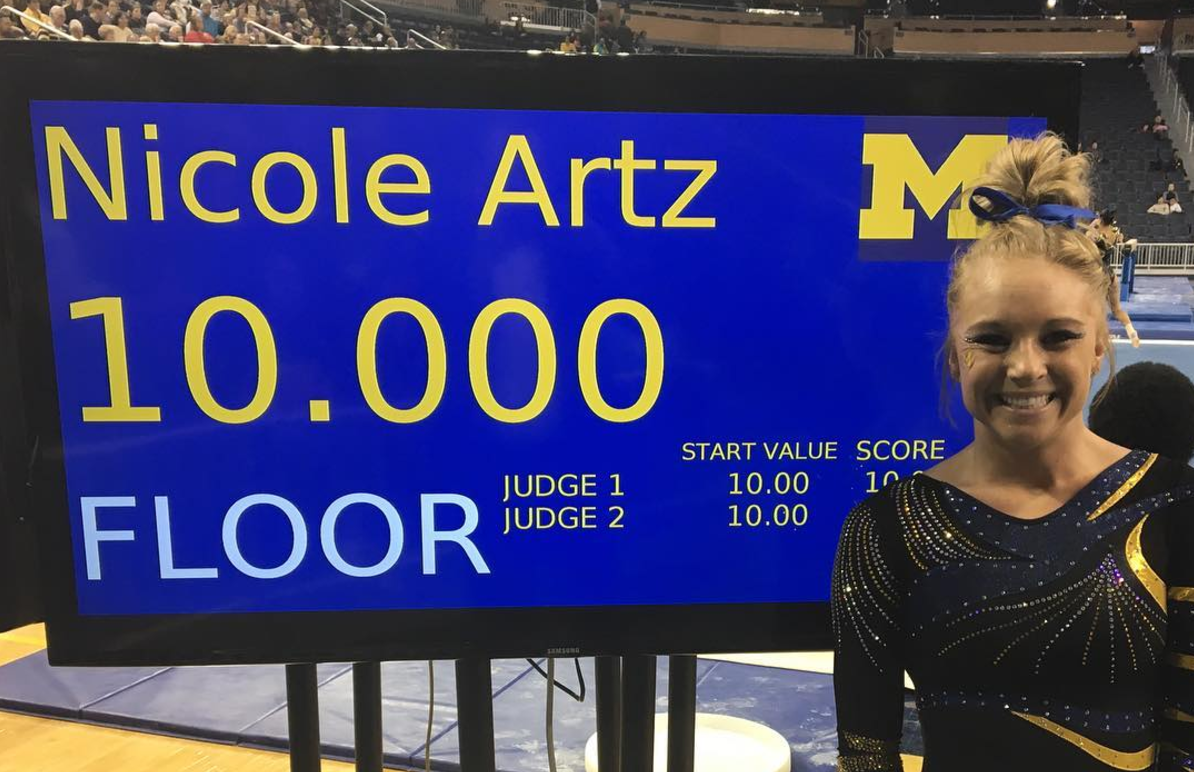 Oklahoma's Reaction to Winning Back-to-Back NCAA Championships
Although Oklahoma had been ranked No. 1 all season long, the Sooners did not take their change to win the national championship for granted. Throughout the entire Super Six competition, OU was on fire with great routine after great routine. This dominance and ability to stick landings provided outstanding emotion and excitement from the whole team. The Sooners finished on vault, closing out the lineup with a stuck Yurchenko 1 1/2 from
Maggie Nichols
, and the emotion was electric. Oklahoma won national titles in back-to-back years for the first time, and these photos say it all...
[album albumId="450659"]
Kyla Ross Becomes The 1st Olympic, World and NCAA Champion
Before starting her freshman year at UCLA,
Kyla Ross
had already achieved more in the sport of gymnastics than most could ever dream of accomplishing. She finished up her elite career with world and Olympic gold medals to her name. At the NCAA Championships, Ross added two more titles to her resume and made history as the first person to become a world, Olympic, and NCAA champion. She scored a near-perfect 9.9675 on beam to win the title outright and also
tied for first on bars with a 9.95
.
Washington Qualifies to NCAA Nationals For First Time Since 1998
The Washington GymDawgs finished out an outstanding season by qualifying to the NCAA Championships for the first time since 1998. First-year head coach
Elise Ray
had her team
ready to peak at the perfect time
. Washington qualified to NCAAs by placing second at the Seattle Regional and clinching a berth in front of its home fans. The GymDawgs ended the year with an impressive eighth-place finish in the national rankings.
Alex McMurtry Wins NCAA All-Around Title with Meet of Her Life
Alex McMurty
​really
came into her own this season as an outstanding all-around performer for the Gators and she saved her best performance for the NCAA Championships. As part of the evening session, McMurty knew the score she needed to post if she wanted to win the all-around title. She was on fire throughout the entire competition, sticking every landing on all four events. McMurty started on vault where she stuck a
near-perfect Yurchenko double full
and scored a 9.975. On bars, once again she
hit an outstanding set
that was capped off with a stuck dismount -- good for a 9.95. McMurtry
continued to shine on beam
with a strong 9.9375 and finished out an outstanding night on
floor with a 9.95
to post a huge 39.8125 all-around.
Additional Highlights to Remember from the 2017 NCAA Season:
Kentucky defeating Alabama for the first time in program history

Maggie Nichols scoring a perfect 10 on all four events in just her freshman season

CMU's Denelle Pedrick throwing a double-twisting Yurchenko to qualify to NCAAs
Related:

WATCH: Every Winning Individual Routine From 2017 NCAA Championships
Macy Toronjo Battles Through Setbacks To Shine In 2017 Season
Emma Sibson Overcomes Health Obstacles To Finish Senior Year
Former Elites-Turned-NCAA Freshmen Bring Big Boost To College Teams