2017 NCAA Regionals
Preview: Champaign, Fayetteville, And Seattle Regionals
Preview: Champaign, Fayetteville, And Seattle Regionals
Check out the teams battling for a place in the first session at the NCAA Championships, including UCLA, Utah, and Oklahoma.
Mar 31, 2017
by Lauren Green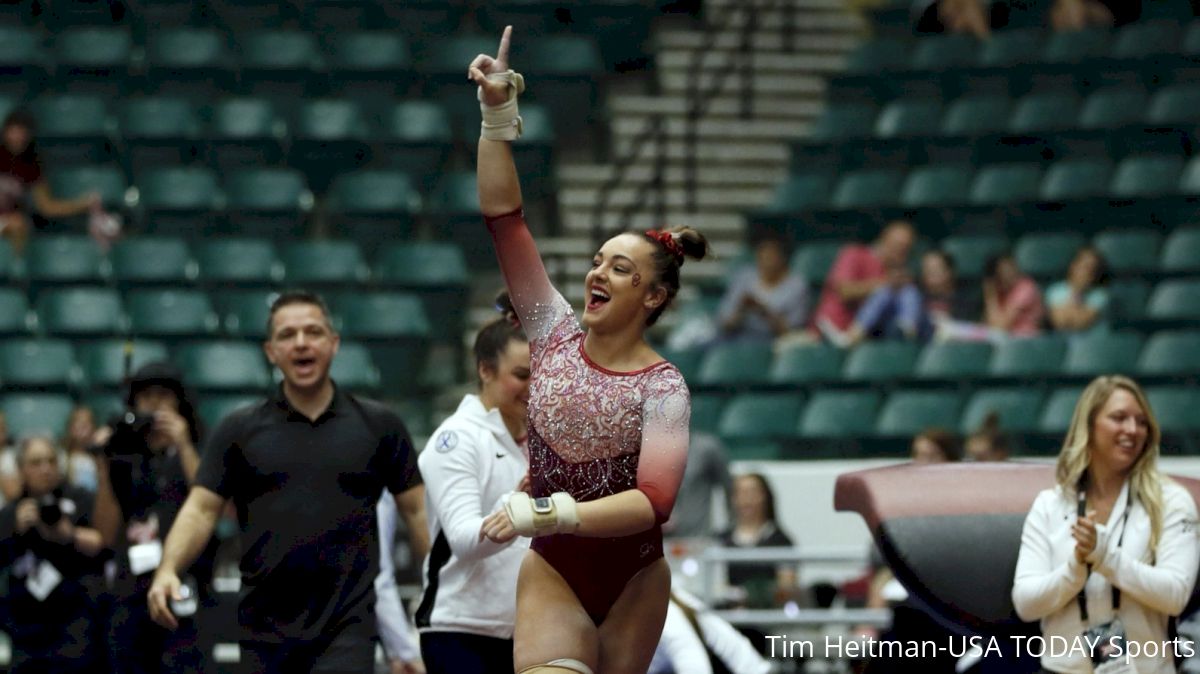 Six berths to the NCAA Championships are on the line this weekend for 18 teams at the Champaign, Fayetteville, and Seattle regionals. The top two teams from each of Saturday's regionals will advance to the first NCAA semifinals session on April 14 in St. Louis. UCLA, Utah, and Oklahoma--the top three seeds in these regionals--will likely be battling it out to advance to the Super Six. The NCAA Championships could also set up the first of two head-to-head competitions for former U.S. elites Maggie Nichols of Oklahoma and MyKayla Skinner of Utah, whose teams did not face off this season.
Urbana-Champaign Regional
Teams: UCLA (No. 5), Oregon State (No. 8), Iowa (No. 17), *Illinois (No. 19), Eastern Michigan (No. 22)
Favorites:
UCLA, Oregon State
The two Pac-12 teams are definitely the favorites to advance to nationals. UCLA has a star-studded lineup, though the Bruins have struggled to put it all together at times. UCLA's uneven bars and balance beam lineups are stacked, and there's potential in the Bruins' floor lineup to bring in plenty of big scores. Look for
Madison Kocian
and
Kyla Ross
to be solid for UCLA--they have the experience on the big stage, which should serve them well throughout the NCAA postseason. Oregon State is having one of its best seasons and is led by senior
Kaytianna McMillan
, who was named the Pac-12 Gymnast of the Year. She has scored at least a 9.825 in all 11 meets on floor exercise.
Dark Horse:
Illinois
The Fighting Illini could sneak into the 12-team field for nationals if they replicate their performance at the Big Ten Championships. They posted a season-high score of 196.875 at the conference championships with a clean meet. Illinois' strength comes on balance beam, where the squad is ranked 11th. Sophomore Lizzy Leduc has scored below a 9.850 just once this season. She has scored a 9.900 or better five times. Bridget Hodan has scored at least a 9.800 in all 12 meets.
​How to Watch: 5 PM ET / Live Stream / Live Scoring
Fayetteville Regional
Teams: Utah (No. 4), Denver (No. 9), California (No. 16), Auburn (No. 21), *Arkansas (No. 27), Central Michigan (No. 28)

Favorites:
Utah, Denver
Utah is the clear favorite in this regional as the fourth-ranked team in the country. The Utes are coming off a Pac-12 championship win, led by freshman MyKayla Skinner's all-around, floor, and vault titles. Utah has struggled at times on uneven bars and will be looking to find all of its landings throughout the competition. Denver enters as the ninth-ranked team in the country and has steadily improved this season. The Pioneers have a standout freshman of their own in Maddie Karr. The freshman has been stellar on beam, floor, and vault, where she has hit 38 of 39 routines for a 9.800 or better.
Dark Horse:
California

The Bears advanced to the national championships last year for the first time in 22 years. California has rebounded well in the second half of the season after losing standout Toni-Ann Williams to an Achilles tear earlier this season. Senior Zoe Draghi has been excellent on beam and floor this season. Her expressive floor routine is one of the highlights for Cal.
​How to Watch: 5 PM ET / Live Stream / Live Scoring
Seattle Regional
Teams: Oklahoma (No. 1), Kentucky (No. 12), *Washington (No. 13), Utah State (No. 24), Stanford (No. 32), BYU (No. 34)
Favorites:
Oklahoma, Washington

Top-seeded Oklahoma is the obvious choice here. The Sooners have been the top-ranked squad since the second week of the season. Led by freshman sensation Maggie Nichols and senior standout Chayse Capps, Oklahoma has not lost a meet all season. Nichols has racked up the big scores all season, including six perfect 10s. She has had a nagging knee injury and has not competed in the all-around since Feb. 17. Nichols was back on vault at Big 12 Championships, though, so it will be interesting to see if she's back on floor as well.
Washington has had a stellar season as well and has the advantage of being at home in this meet. The Huskies are strong on balance beam and will look to keep up the impressive performances. Hailey Burleson has scores of 9.850 or better all but once this season on beam.
Dark Horse:
Kentucky
Kentucky and Washington are separated by barely a tenth in RQS, so this is a tough one. Washington's home-gym advantage gives them a slight edge, though. It won't be surprising if the Wildcats advance to the national championships with Oklahoma, especially if their freshman and sophomore standouts hit their routines. Mollie Korth has been a great surprise in the SEC this season in the all-around. She has beautiful form but has struggled with some consistency in the latter half of the season. Alex Hyland is a standout on balance beam--she has scored a 9.875 or better 11 times this season.
​How to Watch:
​​7 PM ET / Live Stream

*Regional Host