Florida's Freshmen Aim to Get Gators Back on Top
Florida's Freshmen Aim to Get Gators Back on Top
With the 2016-17 NCAA preseason getting into full swing, FloGymnastics is taking a in-depth look at the incoming freshman classes of your favorite teams. Th
Oct 3, 2016
by Keri Monstrola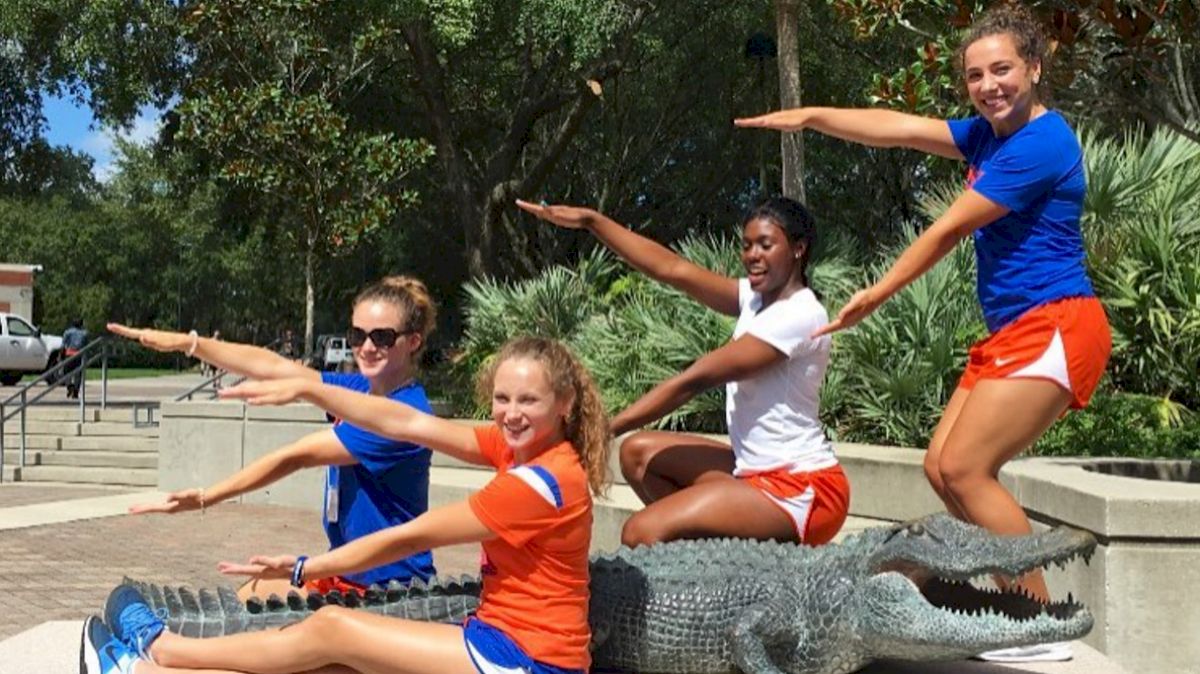 With the 2016-17 NCAA preseason getting into full swing, FloGymnastics is taking a in-depth look at the incoming freshman classes of your favorite teams. This week, we look at the talented class of the Florida Gators. The Gators welcome in four talented gymnasts who are looking to make an early impact to get the team back on top.
Florida finished fourth at last year's NCAA Championships and will have to replace top-notch routines, including those from
Bridget Sloan
. The Gators also will need to replace routines from
Peyton Ernst
,
who was
released by Florida due to injury. The team was anticipating the arrival of U.S. elite
Alyssa Baumann
to add to this talented class, however, she has deferred one year due to injury. The four freshmen include:
•
Sierra Alexander
: 2015, 2016 Florida Level 10 vault runner-up
•
Maegan Chant
: Four-time Canada National Team member
•
Rachel Gowey
: Three-time U.S. National Team member
•
Amelia Hundley
: Six-time U.S. National Team member
Sierra Alexander
Alexander is a Florida native from Fort Lauderdale, where she trained at West Broward Gymnastics. Alexander was a level 10 gymnast, and she finished second on vault at both the 2015 and 2016 Florida State Championships. Alexander was an addition to the recruiting class this past February to complete the class of 2016-17. Alexander is listed as a two event athlete on both vault and floor. She brings great power to those events and looks to add depth for the Gators.
Maegan Chant
Chant is a four-time Canada National Team member from Waterdown, Ontario, where she trained at World Class Gymnastics. Chant was a contender for the 2016 Olympic Team, as she finished in the top 10 at the Canadian Olympic Trials. Chant comes to Florida with a great deal of international competition experience, competing at the 2013 and 2014 World Championships. Chant's strongest event is vault, but she is also great on floor and considers tumbling her favorite skills to compete. She performs with a graceful and elegant style with beautiful form. Look for Chant to contribute on multiple events for the Gators.
Coach Jenny Rowland on Chant:
"It is always a great pleasure to have an athlete that brings an international flavor to our team. Meagan has a very calming demeanor, which is always helpful on and off the competition floor. This is a quality that some athletes struggle with, but not Meagan. She possesses a true competitive spirit of striving to do all that she can to improve herself each day."
Rachel Gowey
Gowey is a three-time U.S. National Team member from Chow's Gymnastics, trained by Liang Chow. Gowey had a strong showing on both bars and beam at the 2016 Olympic Trials, finishing sixth on bars and seventh on beam. Gowey comes to Florida with elegance and grace along with great experience. She brings incredible technique, lines, and execution to her gymnastics on all four events. She shines on both bars and beam, where she has the potential to make an immediate impact for the Gators with a big score. Gowey is looking good on beam this preseason via her Instagram post below.
Coach Rowland on Gowey:
"Rachel has a very strong gymnastics foundation. She's coached by one of the best coaches in the country and she proved to be very competitive both nationally and internationally. Rachel's exquisite execution is second to none. Her ability to have so much control in her gymnastics sets her apart from others. She is a well-rounded, all-around athlete."
Amelia Hundley
Hundley is a six-time U.S. National Team member from Cincinnati Gymnastics, where she trained with Mary Lee Tracy. Hundley comes into Florida fresh off a great showing at the 2016 Olympic Trials. She finished ninth overall in the all-around after posting a career-best score. Hundley is a consistent all-around performer who will be a great boost to the Gators this season. Hundley also brings a positive attitude and a work ethic that is contagious to those around her. Look for Hundley to make an immediate impact in the lineup and add to the depth of this Gators team.
Coach Rowland on Hundley:
"You never see this young lady without a smile on her face. Amelia will be an amazing role model and leader to this young team. Her work ethic and strong gymnastics foundation has helped her throughout her international success. Amelia's power and aggressiveness will be a huge asset to this team on all four events."
The Gators also added a junior transfer from Eastern Michigan,
Rachel Slocum
. Slocum was an NCAA individual qualifier last season with EMU.
Stay tuned to FloGymnastics for more previews of incoming freshman classes to watch for this season!
Related:
Beyond the Routine with Rachel Gowey
Peyton Ernst Released by Florida on Medical
Amelia Hundley Focuses on Career as a Gator