2016 Secret U.S. Classic
Roster Released: 2016 Secret U.S. Classic
Roster Released: 2016 Secret U.S. Classic
Update: Norah Flatley of Chow's gymnastics was listed on the initial roster but has since been removed. Original post below.---The roster for the 2016 Secre
May 26, 2016
by Becca Reed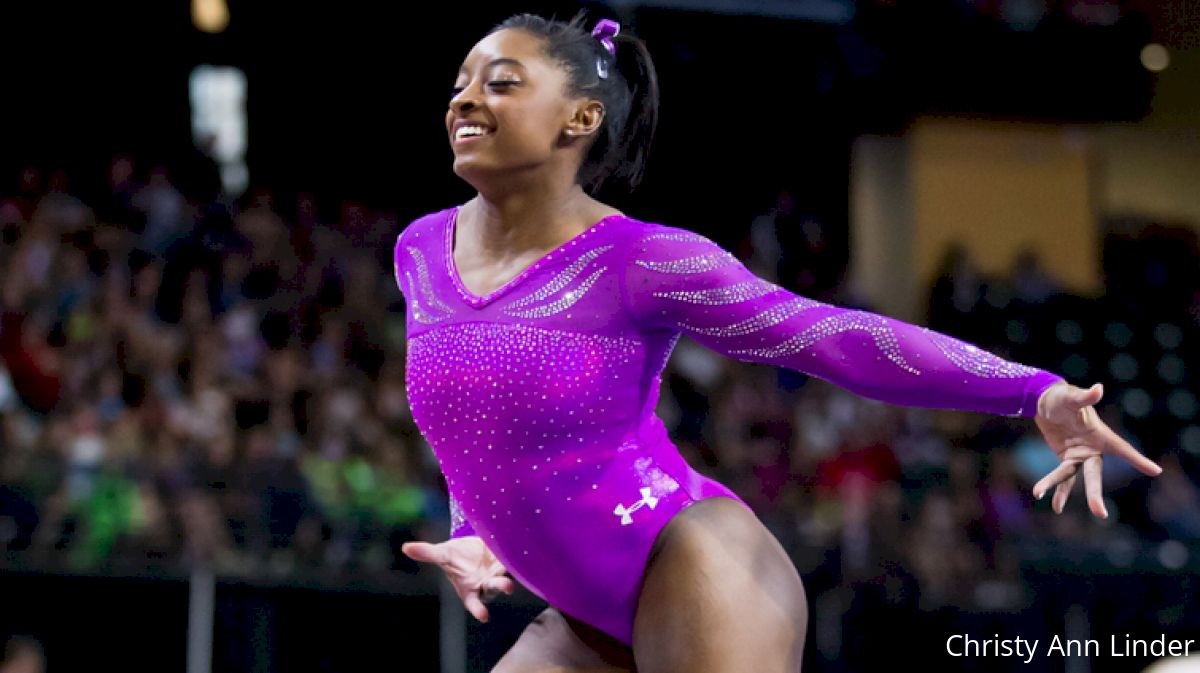 Update
:
Norah Flatley
of Chow's gymnastics was listed on the initial roster but has since been removed. Original post below.
---
The roster for the 2016 Secret U.S. Classic has been released and the field is stacked. This competition serves as a final tune-up as well as the last opportunity for gymnasts to qualify for the P&G Championships, which serves as USA's National Championships.
The roster includes a wide range of gymnasts from veterans
Simone Biles, Gabby Douglas
, and
Aly Raisman
, to many new and rising elites. See the full list of competitors below.
Press release via USA Gymnastics:
Led by three-time World all-around champion Simone Biles of Spring, Texas/World Champions Centre, eight women who have won World or Olympic gold medals are expected to participate in next weekend's Secret U.S. Classic, scheduled for June 4 at Hartford, Conn.'s XL Center. In addition to Biles, Olympic champions Gabby Douglas of Virginia Beach, Va./Buckeye Gymnastics, and Aly Raisman of Needham, Mass./Brestyan's American Gymnastics, have registered to compete.
The Secret U.S. Classic, which has athletes competing on the junior and senior levels, serves as the last opportunity for female gymnasts to qualify for the P&G Women's Championships in St. Louis (June 24 and 26), as well as a tune-up for many of the country's top women leading into their national championships.
In addition to Biles, Raisman and Douglas, five women in the field have claimed World Championships gold medals:
Alyssa Baumann
of Plano, Texas/WOGA;
Brenna Dowell
of Odessa, Mo./Great American Gymnastics Express;
Madison Kocian
of Dallas/WOGA;
Ashton Locklear
of Hamlet, N.C./Everest Gymnastics; and
MyKayla Skinner
of Gilbert, Ariz./Desert Lights.
Single-session tickets range from $13 to $65, plus applicable fees; prices vary according to competition session and location. Multi-session ticket packages, which range from $55-$105, and all-session ticket packages, which include tickets for all five sessions and range from $105-$150, are still available. Tickets can be purchased online at XLCenter.com, by phone at 877-522-8499 or at the XL Center Box Office. For Group Sales information, please contact groupsales@xlcenter.com or call 860-548-2000. For more information, go to hartford2016.com.
The competition schedule is: Secret U.S. Classic – June 4 at 1 p.m. for juniors and 7 p.m. for seniors. The Hopes Championships, which features young, aspiring female gymnasts, is held concurrently with the Secret U.S. Classic and is scheduled for June 3 at 2:30 p.m.
2016 Secret U.S. Classic Field
Alpha by state, last name
Arizona
MyKayla Skinner, Gilbert, Ariz./Desert Lights Gymnastics, senior
California
Gabrielle Douglas, Tarzana, Calif./Buckeye Gymnastics, senior
Frida Esparza, Pittsburg, Calif./Head Over Heels, junior
Emily Lee, Los Gatos, Calif./West Valley Gymnastics School, junior
Lauren Navarro, La Verne, Calif./Gliders Charter Oak Gymnastics, senior
Caitlin Smith, Valley Village, Calif./Paramount Elite Gymnastics, junior
Colorado
Lauren Letzsch, Golden, Colo./TIGAR, junior
Jaymes Marshall, Greeley, Colo./TIGAR, junior
Alyona Shchennikova, Evergreen, Colo./5280 Gymnastics, junior
Kalyany Steele, Colorado Springs, Colo./Colorado Aerials Gymnastics Center, junior
Connecticut
Riley McCusker, New Milford, Conn./MG Elite, junior
Delaware
Morgan Hurd, Middletown, Del./First State Gymnastics, junior
Florida
Emily Gaskins, Coral Springs, Fla./Palm Beach Gymnastics, senior
Sydney Johnson-Scharpf, Groveland, Fla./Brandy Johnson's Global Gymnastics, senior
Lilly Hudson, Orange Park, Fla./VEGA Gymnastics, junior
Georgia
Elena Arenas, Bogart, Ga./Georgia Elite Gymnastics, junior
Illinois
Ellie Lazzari, Wheaton, Ill./Gym Nasti, junior
Gabby Perea, Geneva, Ill./Legacy Elite Gymnastics LLC, junior
Iowa
Norah Flatley, Cumming, Iowa/Chow's Gymnastics and Dance Institute, senior
Rachel Gowey, Urbandale, Iowa/Chow's Gymnastics and Dance Institute, senior
Adeline Kenlin, Iowa City, Iowa/Iowa Gym-Nest, junior
Victoria Nguyen, West Des Moines, Iowa/Chow's Gymnastics and Dance Institute, junior
Massachusetts
Alexandra Raisman, Needham, Mass./Brestyan's American Gymnastics, senior
Maryland
Madeleine Johnston, Boyds, Md./Hill's Gymnastics, junior
Maggie Musselman, Crownsville, Md./Hill's Gymnastics, senior
Michigan
Alyssa Al-Ashari, Lansing, Mich./Twistars USA Inc., junior
Leah Clapper, Ann Arbor, Mich./Gym America, senior
Minnesota
Sunisa Lee, Saint Paul, Minn./Midwest Gymnastics Center, junior
Abby Paulson, Coon Rapids, Minn./Twin City Twisters, senior
Lexy Ramler, St. Michael, Minn./KidSport LLC, senior
Tori Tatum, Chanhassen, Minn./Twin City Twisters, junior
Olivia Trautman, Champlin, Minn./Twin City Twisters, senior
Missouri
Brenna Dowell, Odessa, Mo./Great American Gymn. Express, senior
North Carolina
Kinsey Davis, Cornelius, N.C./KPAC, junior
Lauren Little, Mooresville, N.C./Everest Gymnastics, junior
Ashton Locklear, Hamlet, N.C./Everest Gymnastics, senior
Emily Schild, Huntersville, N.C./Everest Gymnastics, senior
New Jersey
Christina Desiderio, Hackettstown, N.J./Parkettes National Gymnastics Center, senior
Olivia Dunne, Hillsdale, N.J./Eastern National Academy of Paramus, junior
Jazmyn Foberg, Bayville, N.J./MG Elite, senior
Margzetta Frazier, Erial, N.J./Parkettes National Gymnastics Center, senior
Lauren Hernandez, Old Bridge, N.J./MG Elite, senior
Nevada
Maile O'Keefe, Las Vegas, Nev./Academy of Gymnastics - Salcianu Gymnastics, junior
Ohio
Shania Adams, Plain City, Ohio/Buckeye Gymnastics, junior
Aria Brusch, Forest Park, Ohio/Cincinnati Gymnastics, junior
Amelia Hundley, Hamilton, Ohio/Cincinnati Gymnastics, senior
Shilese Jones, Westerville, Ohio/Buckeye Gymnastics, junior
Pennsylvania
Cael Bixler, Palmyra, Pa./Prestige Gymnastics, junior
Megan Freed, Bethlehem, Pa./Parkettes National Gymnastics Center, junior
Cameron Machado, West Chester, Pa./First State Gymnastics, junior
Trinity Thomas, York, Pa./Prestige Gymnastics, junior
South Carolina
Maeve Hahn, Lake Wylie, S.C./First in Flight, junior
Texas
Irina Alexeeva, Plano, Texas/WOGA Gymnastics, junior
Alyssa Baumann, Plano, Texas/WOGA Gymnastics, senior
Simone Biles, Spring, Texas/World Champions Centre, senior
Sloane Blakely, Frisco, Texas/WOGA Gymnastics, junior
Chae Campbell, Carrollton, Texas/Metroplex Gymnastics, junior
Audrey Davis, Frisco, Texas/WOGA Gymnastics, junior
Kaitlin DeGuzman, Rowlett, Texas/Metroplex Gymnastics, senior
Colbi Flory, Rockwall, Texas/Texas Dreams Gymnastics, junior
Jaylene Gilstrap, McKinney, Texas/Metroplex Gymnastics, junior
Olivia Hollingsworth, Seabrook, Texas/Stars Gymnastics Training Center-Houston, junior
Kiya Johnson, Desoto, Texas/Texas Dreams Gymnastics, junior
Hannah Joyner, Spring, Texas/World Champions Centre, junior
Madison Kocian, Dallas, Texas/WOGA Gymnastics, senior
Isabel Mabanta, Frisco, Texas/Metroplex Gymnastics, junior
Emma Malabuyo, Flower Mound, Texas/Texas Dreams Gymnastics, junior
Deiah-Marie Moody, Plano, Texas/WOGA Gymnastics, junior
Ragan Smith, Lewisville, Texas/Texas Dreams Gymnastics, senior
Abi Walker, Carrollton, Texas/Texas Dreams Gymnastics, junior
Utah
Deanne Soza, Orem, Utah/Arete Gymnastics, junior

Virginia
Abigail Scanlon, Sterling, Va./Capital Gymnastics National Training Center, junior
Washington
Jordan Chiles, Vancouver, Wash./Naydenov Gymnastics Inc., junior