2016 NCAA Championships
NCAA Semifinals Recap: Oklahoma Leads The Pack Going Into Super Six
NCAA Semifinals Recap: Oklahoma Leads The Pack Going Into Super Six
After two sessions of Semifinals today, six teams will be advancing to Super Six Finals tomorrow to vie for the NCAA Championship. Oklahoma finished in the
Apr 16, 2016
by Justine Kelly
After two sessions of Semifinals today, six teams will be advancing to Super Six Finals tomorrow to vie for the NCAA Championship. Oklahoma finished in the top spot with a 197.7875, followed by Florida with a 197.4750, Alabama with a 197.3875, LSU with a 197.3375, Georgia with a 196.7250, and UCLA with a 196.7000.
Six teams also ended their seasons tonight - Cal finished in 7th place overall with a 195.8500, followed by Nebraska with a 195.7750, Utah with a 195.7625, Stanford with a 195.5750, Auburn with a a 195.100, and Minnesota with a 194.9875.
Check out our full recap of the day below.
Session 1 - Florida, LSU, Georgia clinch their spots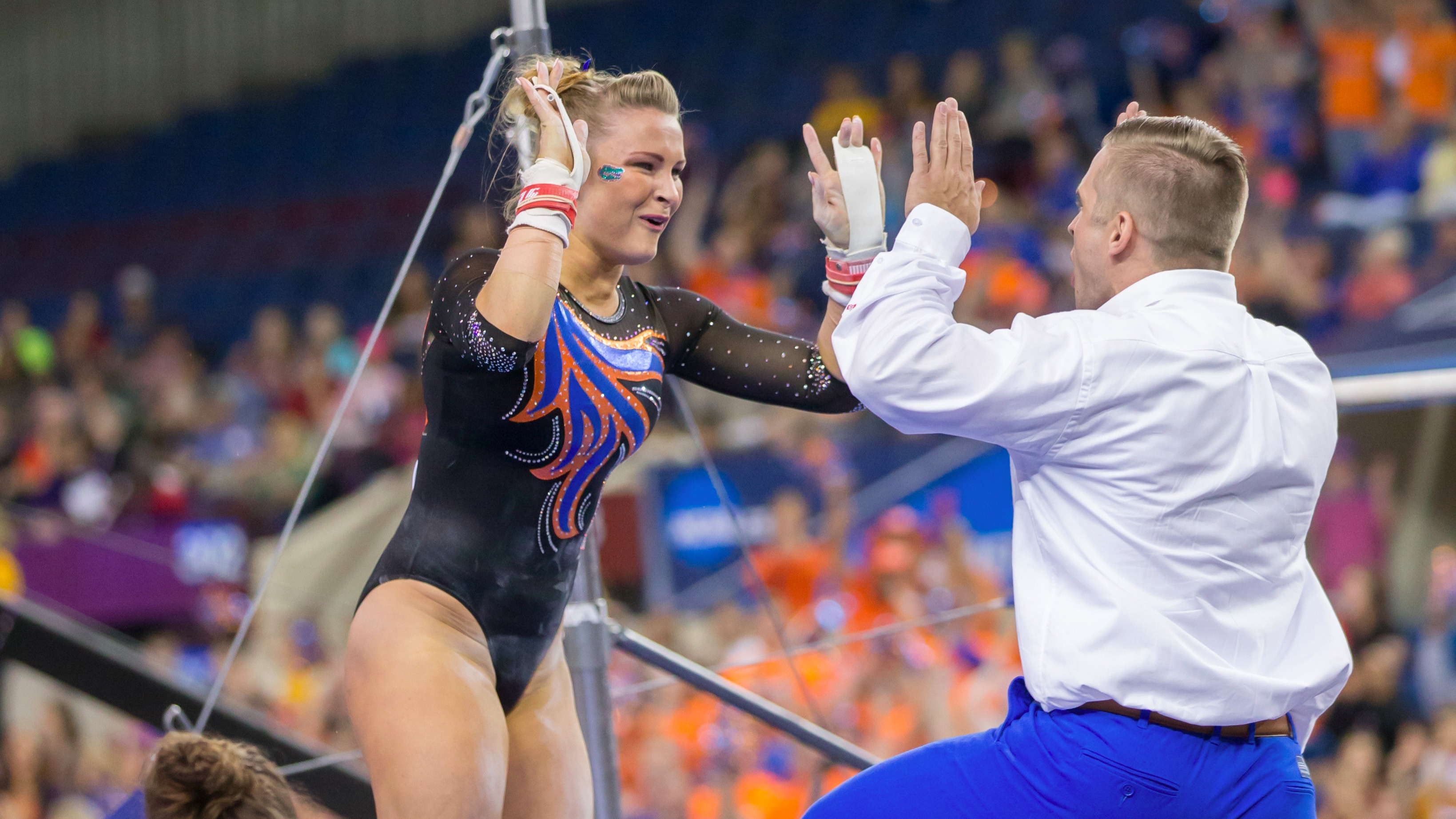 Florida and LSU were the favorites going into session 1, and they delivered with some of their best performances. Florida was particularly strong on bars in rotation 5, where they scored a huge 49.475 with multiple stuck dismounts and excellent form.
Bridget Sloan
scored the highest for the team with a 9.95, a high score that she replicated on balance beam as well. It's no surprise that she came out first in the all-around from both sessions with a 39.700, and also tied to win the bars and beam titles. Florida ended the competition on balance beam with very few wobbles from all six competitors, securing their spot at the top.
After a bye in rotation 1, LSU started off on what has been one of their weaker events - uneven bars. They had no mistakes this time, however, and all six gymnasts delivered a solid performance, including
Ashleigh Gnat
who was a last minute replacement for
Randii Wyrick
and ended up competing in the all-around. Although stumbles on balance beam kept the team out of the Super Six last year, they delivered a stellar performance this time around, despite suffering a fall early on in the rotation from freshman
Julianna Cannamela
. The remainder of the competition was textbook, and they finished up on vault with no score below a 9.8.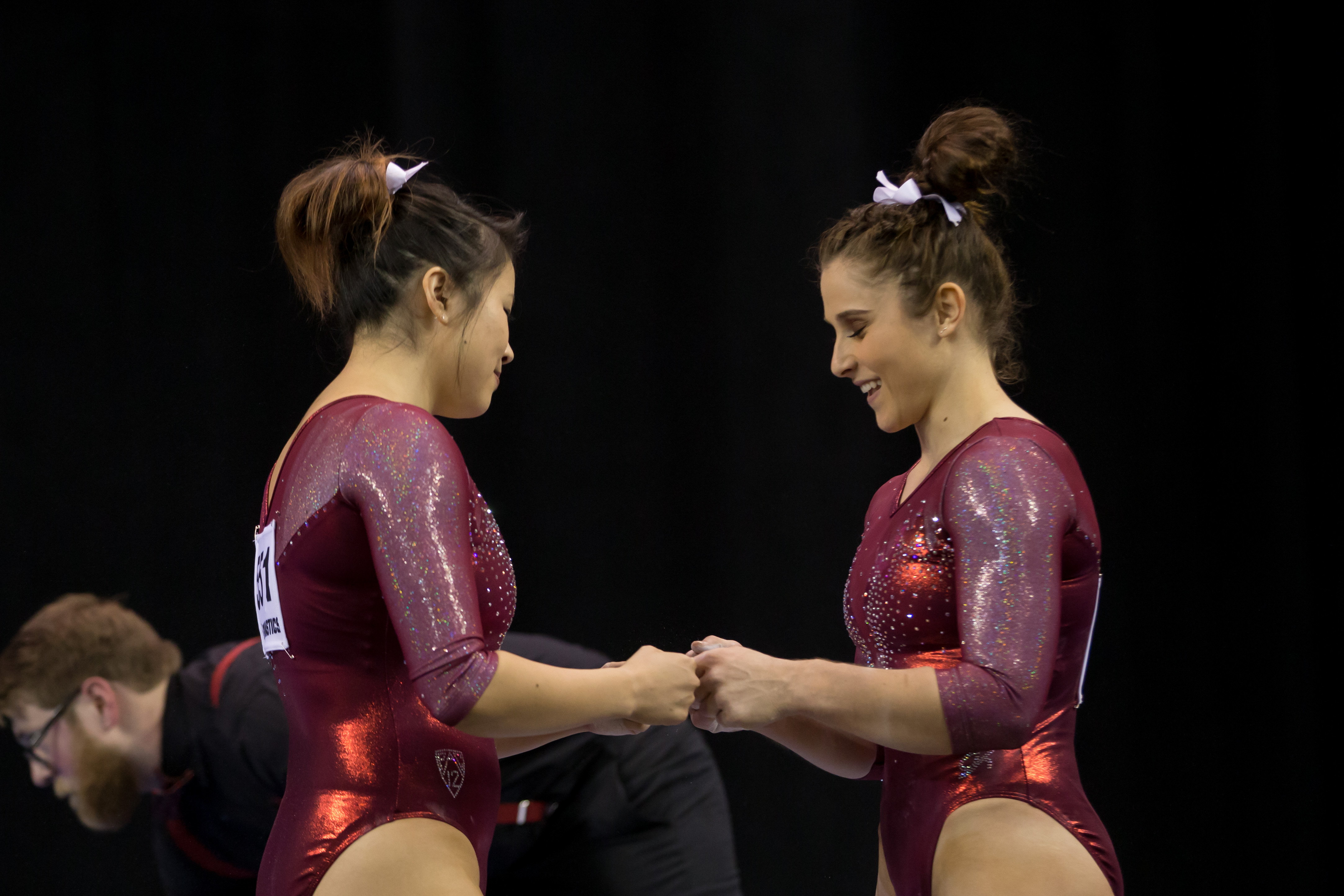 Going into competition, the third spot was going to be a tight fight between the remaining four teams. Stanford got into some trouble early on. The team started on bars, usually their best event, but had some uncharacteristic lower scores (sub-9.8 range) and also a fall from
Taylor Rice
. Although they didn't have to count a fall on this event, they usually score much higher. The team went to beam next and unfortunately had to count a fall when both Taylor Rice and
Melissa Chuang
fell.
Elizabeth Price
proved to be the star of the team on all four events, scoring a 39.55 in the all-around, with her highest scores being 9.9 on both vault and bars. We also got to see
Ivana Hong
contribute a strong performance in the all-around, her first time competing all four events in three years.
Rotation 4 is when things started to get a bit messy for both Auburn and Minnesota. Auburn suffered from two falls on beam from their lead off
Kullen Hlawek
and later
Taylor Krippner
as well.
Caitlin Atkinson
scored highest for the team with a 9.8375, and we were fortunate to see her impressive double pike dismount. Minnesota fared even worse on uneven bars, where they had three falls from
Rachel Cutler
,
Abby DeMuse
, and
Bailie Holste
. On the plus side, their anchor
Lindsay Mable
displayed a stunning routine to score a 9.9. By this point, however, things were looking dire for both teams.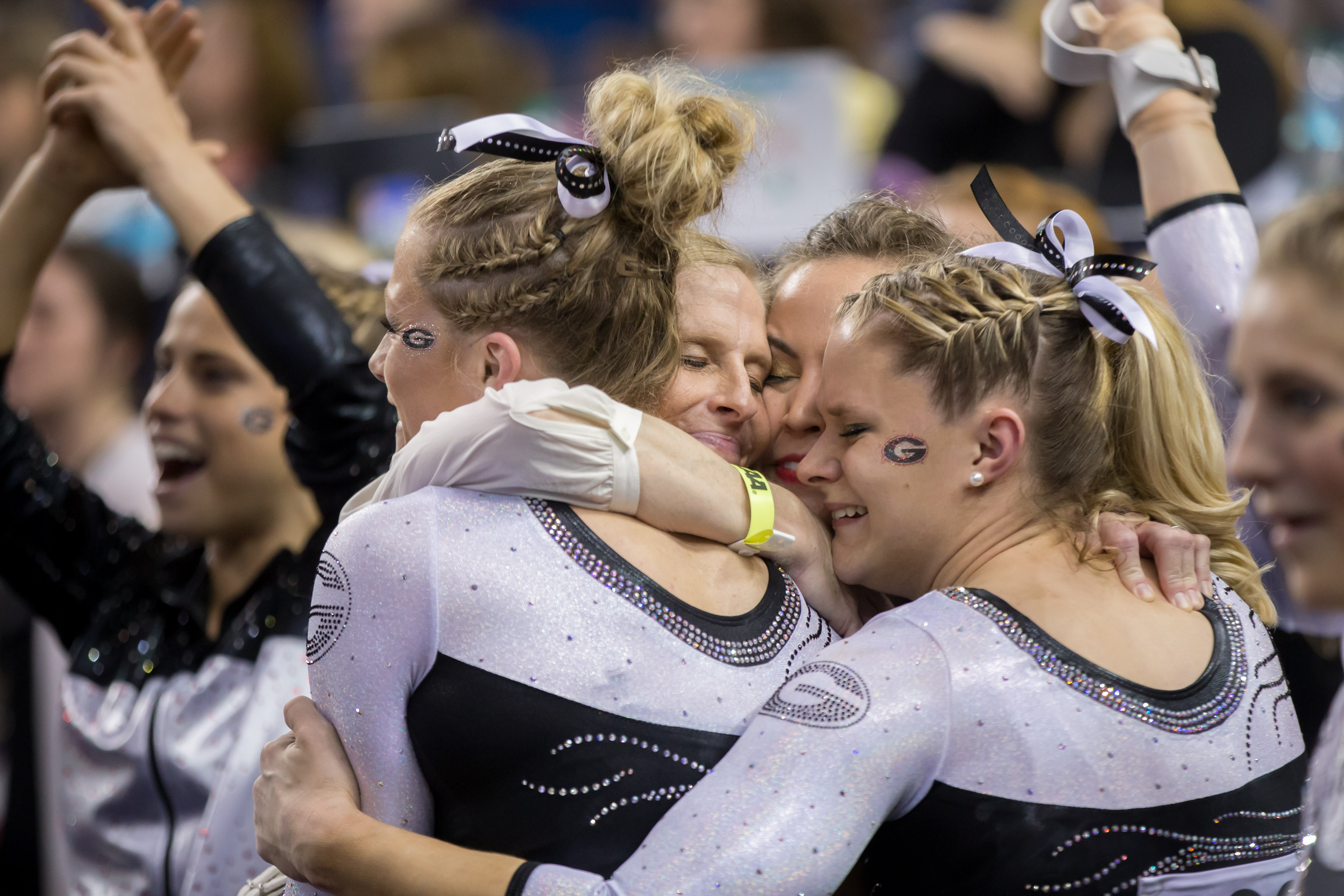 Georgia, meanwhile, put up a solid performance, with no falls or major errors throughout the whole competition. This consistency solidified their hold on the 3rd spot. Highlights include
Brittany Rogers
huge bar routine, packed with difficulty but executed flawlessly, to score a 9.95 and tied to win the bars title.
Brandie Jay
also impressed, especially on vault where she stuck her 1 ½ twisting Yurchenko to score a 9.95 and tie for the vault championship title.
Session 2: Oklahoma, Alabama, UCLA move ahead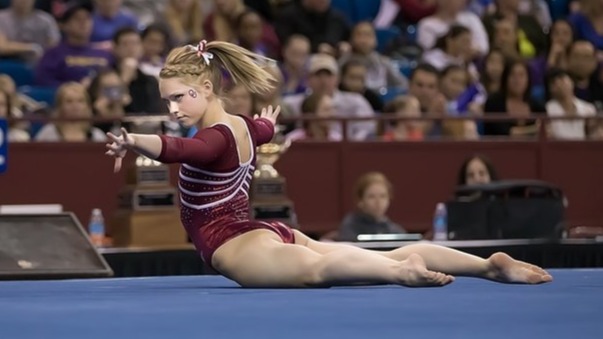 In session 2, was expected that it would be a close competition between Oklahoma, Utah, UCLA and Alabama, given that all four teams were close to the top throughout the season. Utah started off with an okay vault rotation, but not one of their best and suffered several landing deductions. Once again, rotation 4 proved to be a difficult one, and Utah suffered from a bit of a meltdown on beam in the beginning of their lineup. Both
Samantha Partyka
and
Kailah Delaney
had falls, while
Breanna Hughes
stumbled significantly on her dismount to land off the mat. They put up a good fight on floor to finish the competition, but unfortunately it wasn't enough to catch the other teams.
Oklahoma and Alabama put up the most impressive performances of the competition. Both teams did particularly well on landings, with lots of sticks on bars and vault especially. Oklahoma started their competition on floor and had three scores over 9.9 from
Chayse Capps
,
Keeley Kmieciak
and
AJ Jackson
. The team's momentum seemed to just keep going up as the competition went on. They displayed a fantastic vault rotation, with Capps, Kmieciak, Hunter Price and Haley Scaman all going 9.9+, and they were able to drop Jackson's score when she fell on a Yurchenko 1 1/2. Bars and beam proved to be their best events.
McKenzie Wofford
was the highlight on bars, scoring a huge 9.9375. The Sooners put up their highest score on their last event, balance beam, with a 49.475.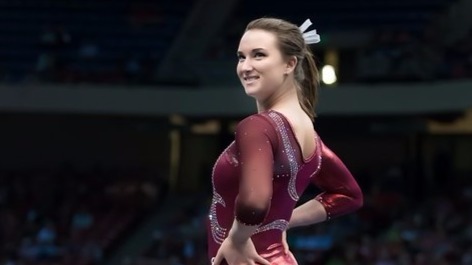 Alabama put up solid performances on bars, beam and floor, with no falls, but it was vault that was the highlight for them. They had multiple stuck landings, including on the more difficult Yurchenko 1 1/2 vaults. Both
Katie Bailey
and
Mackenzie Brannan
stuck their 1 1/2s, and Bailey tied for the vault title with a 9.95. Brannan competed in the all-around for the team and totaled an impressive 39.500.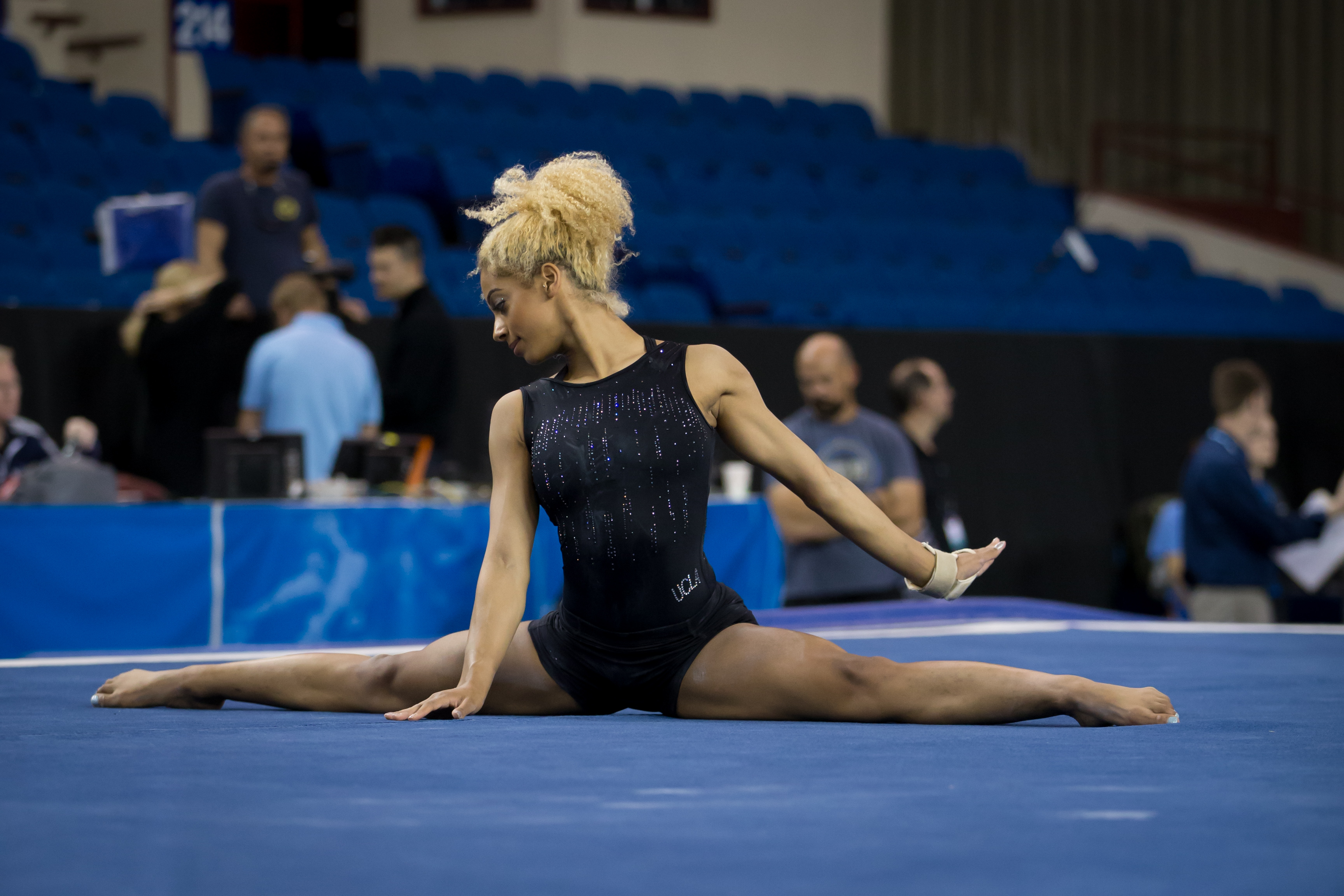 UCLA's best performance came on beam, unsurprisingly, where they scored a 49.3625.
Danusia Francis
was the highlight of the rotation, and she tied Sloan to win the beam championship with a 9.95. The team struggled a bit on vault, where they suffer a bit from a lack of difficulty in their lineup. There were no major falls, but little landing and form deductions here and there on full twisting Yurchenkos pulled their overall score down a bit.
Pua Hall
scored the highest with a 9.8625 for her Yurchenko 1 1/2. Still, the team showed a lot of consistency on all of their events and were able to clinch a spot for finals.
Despite having to compete without Toni-Ann Williams, California did very well, finishing just under a point behind UCLA. They got their competition off to a great start on beam, which proved to be their highest scoring event. The highlight came from the lead-off
Sofie Seilnacht
who scored a 9.8875.
Nebraska put up a great fight, especially given the scary fall of
Jennie Laeng
on bars during the fourth rotation. The team rallied and competed for Jennie, and ended up scoring a 48.9750 on bars, their best score of the night.
Another highlight from session 2 was
Nina McGee
's dynamite floor routine. McGee competed as an individual and scored a huge 9.95 on the event to win the floor title.
Related:
Super Six Field Set
2016 NCAA Individual Titles Crowned
Results: 2016 NCAA Women's Championships - TEAM - Semifinal 1
Results: 2016 NCAA Women's Championships - TEAM - Semifinal 2
Results: 2016 NCAA Women's Championships - INDIVIDUAL