Houry Gebeshian: 2015 World Championships Q&A Follow-Up
Houry Gebeshian: 2015 World Championships Q&A Follow-Up
26-year-old Iowa alum Houry Gebeshian competed at the 2015 World Championships in Glasgow, Scotland as an individual competitor for Armenia. After taking an
Nov 18, 2015
by Rebecca Johnson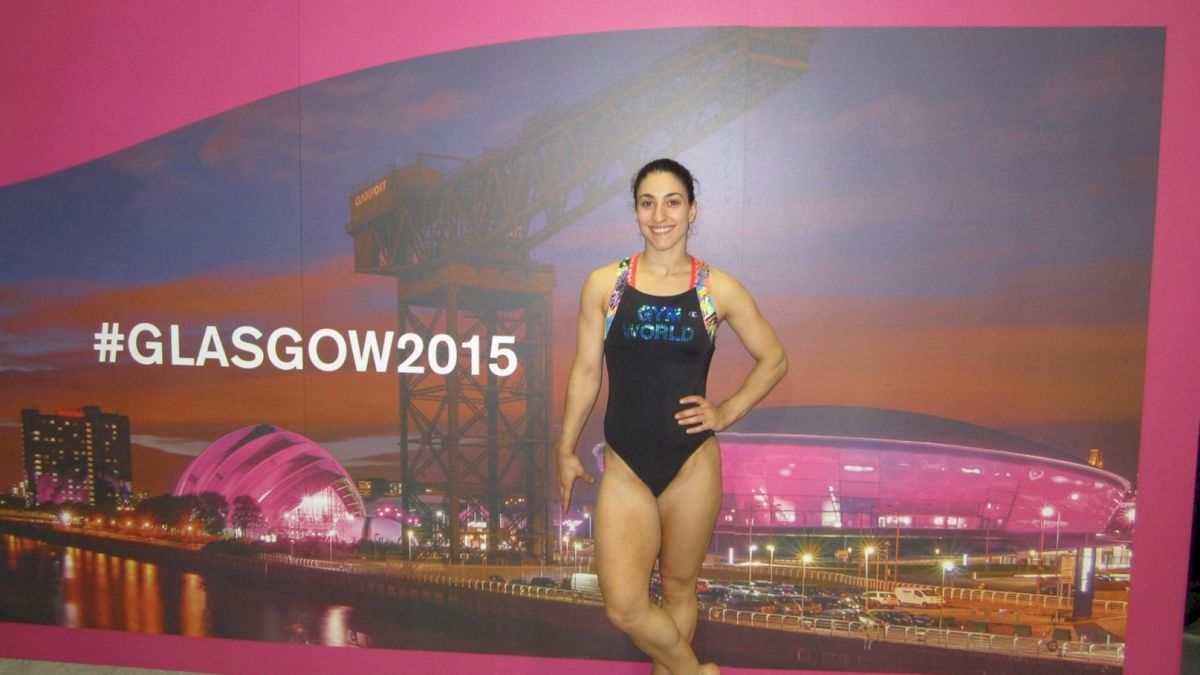 26-year-old Iowa alum
Houry Gebeshian
competed at the 2015 World Championships in Glasgow, Scotland as an individual competitor for Armenia. After taking an early fall on beam, she came back and showed three very solid sets to score a 51.965. That landed her in 68th place out of the individual competitors, which was enough to qualify for the Rio test event, which was her main goal for Worlds. Success. But, Worlds is only the first stop on GebeshianÂ's incredible journey back to gymnastics, as her eyes are laser-focused on a ticket to Rio 2016.
Read all about Gebeshian's inspiring story here
Here's an interview with Houry after her Worlds performance:
We caught up with Gebeshian after Worlds to hear more about her experience:
Q: What were your thoughts and emotions like as you competed in Glasgow?
A: I was the most nervous I have ever been competing at this World Championships. I usually can keep a pretty level head and have a lot of fun competing but this time was different. I let it get to me a little bit and fell on balance beam, but came back strong to finish the rest of the competition well. I was so relieved when I learned that I had qualified to the Olympic Test Event. Thankfully I hadnÂ't ruined my chances with that fall like I had thought. But overall I was excited to be back competing at this level. It is an honor and a privilege to compete for my country so I just tried to take it all in and enjoy every second of it. It was also the first international competition where I had family cheering me on in the stands which made it just a little more special.
Q: Did you do anything in particular to stay calm under the pressure?
A: I do a lot of self-talk and goal writing. Before every competition I will write down my performance goals in order to get focused. I will keep those goals in mind throughout my routines by talking to myself using cues. I started this process very young with my psych coach Doc Massimo and it has worked for me ever since. I practice every day like it is a competition, using my goals and cues, so on competition day it just feels like practice. Then after the competition, I will go back through the goals I wrote down and check off the ones I successfully completed. This allows me to reflect on what needs improvement.
Q: How did your early fall on beam impact your mentality for the rest of the meet?


A: I thought I had ruined my chances of qualifying to the Test Event with that fall on balance beam, but I did not give up. The expectation I adopted from coach Larissa Libby was that if you fall on beam you must still score a 9.5. So even with a fall, you must still keep fighting for every tenth. And that is what I tried to do. Another important concept I learned from Doc was EESM. This stands for Each Event Separate Meet which means that you need to treat each event with a fresh mind and a clean slate. Even if you completely bomb an event, you still have a few more to complete and what you have done in the past is done. Unfortunately the beam got me this time, but I wasnÂ't going to let that affect the rest of my competition. I ended up with the best scores yet in my international career!
Q: How did your past Worlds experience help you this year?
A: The 2011 World Championships prepared me for the 2015 World Championships because I knew what to expect. Competing at the 2015 European Championships earlier this year was also a huge help. In 2011, the World Championships was my international competition debut. I wasnÂ't familiar with the rules, I didnÂ't know where or who to salute, and I was star struck by everything. Over the past 4 years I have reflected on my experience from 2011 and have significantly matured. This time around I was more prepared.
Q: What are you up to now, training wise?
A: ItÂ's back to the grind; work and gym. I took 2 weeks off of gymnastics after the World Championships to let my body rest, relax, and recover. Now I am ready to start training again. I have designed my daily workouts, routine progressions, strength training, and diet plans for the next 6 months leading up to the Test Event. So now all I have to do is stick to the plan. Although, I am planning on doing a few club meets before the Test Event. I hope to register for the Rock and Roll meet in Cleveland, Ohio in January and the Starlight Invitational in Boston, Massachusetts in March. I think these are going to be a lot of fun, and I hope to have a positive influence on the local gymnasts watching.
Q: How is your body holding up?
A: I feel great. I am in the best shape of my life. I am fueling my body well, doing multiple different disciplines of strength and conditioning, and keeping my numbers low. I finally feel as if everything I am doing is clicking even at age 26. As long as I keep doing what I am doing by staying healthy and strong, I plan to push myself as far as I can go.
Q: What were your very first thoughts when you found out you qualified to the test event?
A: I was relieved when I found out that I had qualified to the Test Event. I really thought that I had failed again. Coach Linas Gaveika texted me immediately after my competition and was raving about how well I did and how proud he was. He was so excited and pleased that I did so well but unfortunately I couldnÂ't share his excitement. I was so worried that I ruined my shot of going to the Test Event again. Even though multiple people told me that they were 99.9% sure that I qualified to the Test Event, I wouldnÂ't believe it until the official document was released. So when the document came through and the Armenian Federation was notified I was ecstatic! I finally made it and I could not be happier.
Q: What does it mean to you to have qualified for the test event?
A: It is a huge honor to have qualified for the Olympic Test Event. I will be the first female Armenian gymnast to compete in an Olympic event, and when I qualify to the 2016 Olympic Games, I will be the first female Armenian gymnast to compete at the Olympics! I am blessed to have this opportunity to represent Armenia, and I plan to represent our country well. I hope this title allows me to become a positive role model for more young Armenian girls, and soon we will see more female Armenian gymnasts competing for Olympic medals.
Q: Upgrade plans going forward?
A: I would like to upgrade my vault. I want to get a yurchenko double full. I have also been working a Tsukahara for my second vault and would like to upgrade the layout to a full. Other than that, I want to keep working on cleaning up my routines.
Q: Overall how does it feel to be moving in the direction that will lead to your ultimate Rio dream?
A: I am so excited. I have worked so hard toward this goal for the past one and a half years. I am one step closer to attaining it and one step closer than I have ever been. I need to just keep pushing forward and keep my eye on the prize. As long as I can stay healthy and strong I am confident that everything will fall into place for me to compete at the 2016 Rio Olympic Games.
Check out Houry's bars podium training at Worlds below:
See her other podium training events here:
Vault
Beam
Floor
Related:
Houry Gebeshian: Determined Dreamer, 26 And Still Going Strong