What an amazing experience! Congress was full of some great learning. Bill Sands did some amazing lectures on training cycles, on strength training from childhood to adulthood and on pelvic instability.

Paula Lord did a great interactive lecture on posture training and balancing out the muscle imbalances.

I lectured on low back injury prevention including core recruitment, hip strengthening/stabilization and balancing out the muscle imbalances, on strength and balance training for ankle instability, on core recruitment the full progression utilizing a manual blood pressure cuff and Rehab monkeys featuring Doc Ali on how to handle the mental and physical side of injury.

I think the theme in the Sport Science section without any of us collaborating before hand was…..CORE AND HIP RECRUITMENT…. BIOMECHANICS OR POSTURE…and maintaining symmetry (balancing muscle imbalances), however you want to package it. It was great to hear so much consistancy.

I hope everyone who attended found something they could take home and utilize in there gym. This was my 2nd Congress to present and 1st Olympic Trials experience and it was a blast! I look forward to many more Congress, Visa Championships, and Olympic Trials to come.

I would like to announce the lectures I presented are now up and ready for you to review, review and review more at Perfect 10.0 Physical Therapy Presentations
Please feel free to contact me with any questions.

There were many requests to place the DVD which was available at Congress only online for many of you who wanted to order it.

Perfect 10.0 Core: Finding Your Inner Core is now available to order online and get ship directly to you at Perfect 10.0 Physical Therapy Store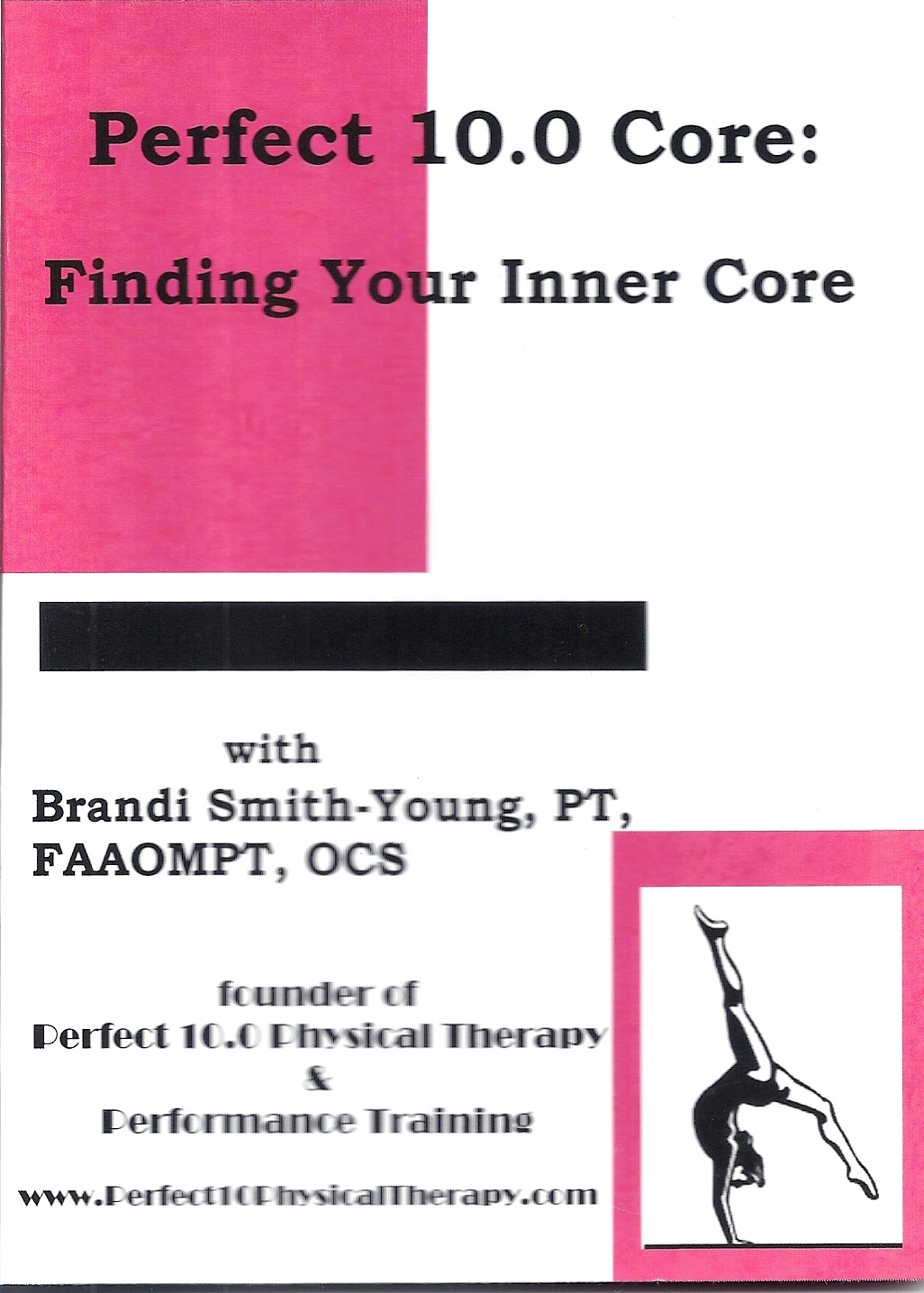 This instructional video on core recruitment by Brandi Smith-Young, PT will help your athlete achieve proper core recruitment to optimize peak performance, enhance shaping, and prevent injury. Proper neuromuscular recruitment and motor sequencing of the abdominals is imperative to initiate the internal abdominal muscles which stabilize the low back. This video includes a step by step progression of abdominal exercises utilizing a manual blood pressure cuff for biofeedback to retrain muscle firing patterns and decrease muscle imbalances. Following this progression will help your athlete achieve the shaping every judge is looking for and help keep their body healthy.


"A strong core is imperative to transfer forces through the body to achieve peak performance..."

"Proper motor sequencing and neuromuscular recruitment is the key to true core initiation..."