Health Bites: Body Image and Disordered Eating
Health Bites: Body Image and Disordered Eating
Health Bites: Body Image and Disordered Eating
Sep 12, 2014
by Karen Psiaki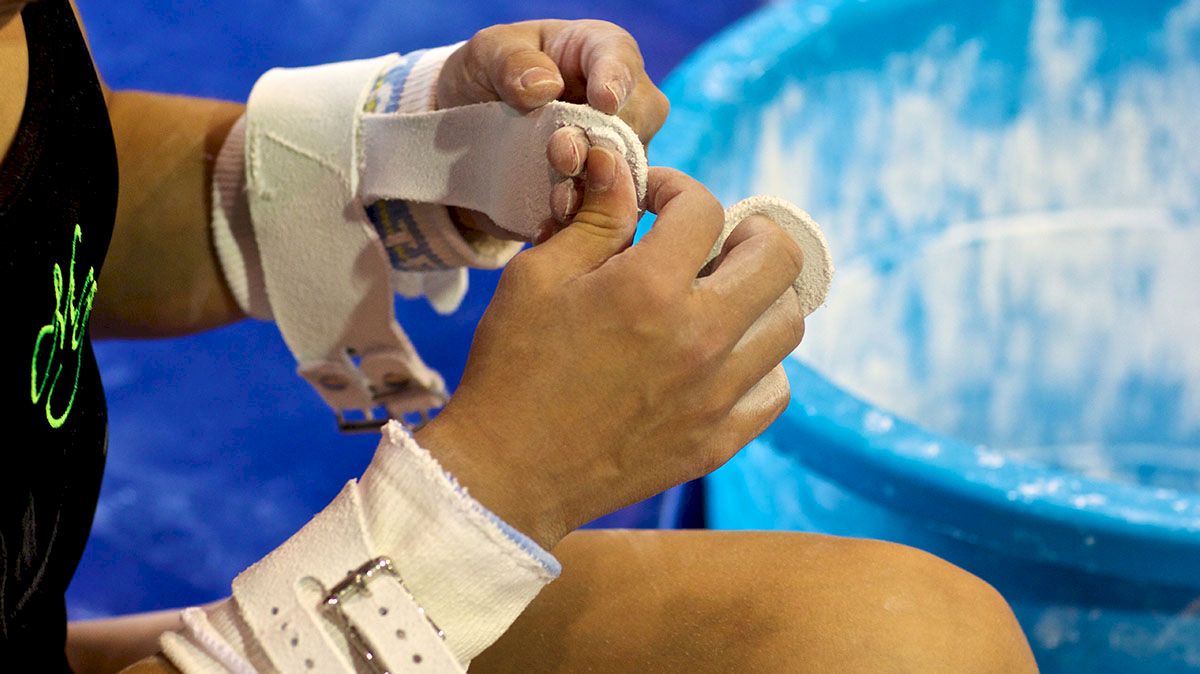 By Karen Psiaki, RDN
IOC Certified in Sports Nutrition
My name is Karen, and I'm a Registered Dietitian as well as a former gymnast. Over the next several weeks, I will be writing about health and nutrition topics for gymnasts, ranging from body image and weight management to hydration, meal timing, and specific nutrient needs. If you have a nutrition question or topic you'd like me to cover, write it in the comment section below or send Gymnastike an email!
-------------

There's a logical place to start the discussion about nutrition for gymnasts. However, it's also the most difficult place to start because it's a sensitive and uncomfortable topic that often gets swept under the rug. Well, I'm not going to tiptoe around it. The topic is eating disorders, and it's something we NEED to talk about within the gymnastics community. So I'm going to dive right in with this first post—I hope you'll stay with me!
Gymnasts are expected to be stronger, lighter, and leaner than most other athletes, let alone the rest of the world. For men, there's an expectation of nearly super-human strength (I mean… who else do you know who can do an iron cross and smile like it's no big deal?), and females fight a losing battle against puberty in order to maintain their girlish figures as long as possible. They spend a large portion of their lives wearing skin-tight leotards that show every part of their physique. They are perfectionists who push themselves farther than most would dare to go, and their commitment to success is unwavering.
But how far is too far? Some gymnasts push their bodies in dangerous, damaging ways. One of the most common practices among female gymnasts (and often among males as well) is "disordered eating," which is the scientific term for harmful eating habits used to lose weight or maintain a low body weight. This includes chronic dieting, avoiding specific foods or food groups, and even anorexia or bulimia. While these may seem like logical ways to keep weight low and stave off puberty, they actually prevent gymnasts from achieving their full potential in the gym. Under-fueled athletes are weaker, have less stamina, and can't develop the muscles they need to perform difficult skills. They also struggle to concentrate and are more likely to get injured because of falls and mistakes. Not only that, but their bones are also weak, so injuries can be more severe than in healthy athletes.
If all of that doesn't scare you, let me add this: females who abuse their bodies through constant under-eating are more likely to get osteoporosis when they're old, and they may also have trouble getting pregnant later on! (
See more info here
.) That's serious, life-altering stuff.
Disordered eating isn't just a nutritional issue—it's also related to a poor body image and low self-esteem. Some athletes are more prone to feelings of pressure or dissatisfaction with their bodies, and they are most likely to respond to this pressure with unhealthy practices. Some cases are more extreme than others, but they all deserve immediate and serious attention.
What are the signs of disordered eating?

Here are some of the signs that may indicate an athlete is struggling with disordered eating. This is not an exhaustive list, so there may be other indicators depending on the situation. (
via Mayo Clinic
)
•
Making excuses for not eating
•
Eating only a few certain "safe" foods, usually those low in fat and calories
•
Adopting rigid meal or eating rituals, such as cutting food into tiny pieces or spitting food out after chewing
•
Cooking elaborate meals for others, but refusing to eat them themselves
•
Withdrawing from normal social activities
•
Persistent worry or complaining about being fat
•
A distorted body image, such as complaining about being fat despite being underweight
•
Not wanting to eat in public
•
Frequent checking in the mirror for perceived flaws
•
Wearing baggy or layered clothing
•
Repeatedly eating large amounts of sweet or high-fat foods
•
Use of dietary supplements or herbal products for weight loss
•
Leaving during meals to use the toilet
What can the gymnastics community do to foster healthy eating and body image?
- Don't compare yourself to others. We all have different body types, and that's okay
- Think long term. The only body you'll ever have is your own, so treat it well.
- If you're feeling pressured to lose weight, talk about it with someone you trust.
-
If you have nutrition questions, ask a professional! We're here to help.
-
Watch out for the signs of disordered eating!
You spend as much, if not more, time with your athletes than anyone else, so you may be the first to notice changes in their weight and/or behavior.
-
If athletes have nutrition questions, refer them to a professional or consider bringing an expert in to give a presentation for your team.
-
Never address a specific athlete's weight- or body-related issues in an open setting. If you need to discuss these issues, do so one-on-one with the gymnast and his/her parents.
-
Provide lots of healthy, nutritious foods around the house!
-
Ask your gymnast how he or she feels about their body. It might be awkward, but if you never ask, then you'll never know.
-
Pay attention to your child's eating habits. You don't have to watch like a hawk over every snack or meal, but you should be aware of their routines and intake.
-
Respect the athletes. Criticizing athletes' bodies can do more damage than you realize.