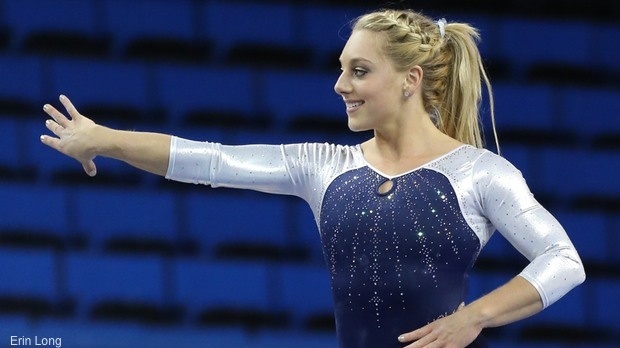 Our stellar senior this week is former Olympian and UCLA Bruin,
Samantha Peszek
. Sam is a Redshirt Senior this year, on account of her tearing her Achilles tendon in 2013 and being forced to sit out the season. Despite the injury, she has been a huge asset for UCLA over the years. Currently standing at second place in the national all-around rankings, Sam's senior year seems to be her best yet.
Sam grew up in Indiana and trained first at DeVeau's School of Gymnastics with Peter Zhao, and then trained at Sharp's Gymnastics Academy with Marvin Sharp. She was added to the US National Team in 2004 and starting competing as a senior in 2007, when she helped the US team win a gold medal at the World Championships and Pan Am Games. 2008 was her big year, when she was part of the Olympic team that won the silver medal in Beijing. Her performances leading up to the Olympics were nothing short of spectacular, and she was considered by most analysts to be a lock for the team. She ranked 4th in the all-around at both Nationals (her high scores being a 15.55 on bars and a 16.00 on beam), and at Olympic Trials. Unfortunately, she injured her ankle during warmups in Beijing and was restricted to competing bars only.
In 2010, Sam committed to UCLA and started competing for the Bruins in 2011. Her experience at the elite level was easy to see in collegiate competition - for instance, she became the first collegiate gymnast to compete a standing back tuck with a full twist on beam. Always a strong athlete on that event, Sam managed to win the NCAA beam championship in her freshman year with a score of 9.9. She proved to be a very consistent all-around competitor, also scoring highs of 9.9 on vault and 9.9 on bars that year. Sam continued to improve going into her sophomore year, scoring four new career highs (a 39.675 in the all-around, 9.95 on vault, 9.95 on floor and a 9.95 on beam).
As mentioned, Sam was unfortunately injured during the 2013 season, but came back strong in 2014. She scored her first perfect 10 on bars in a meet against ASU, and she also scored her career best in the all-around with a 39.7 at the NCAA Fayetteville Regional meet. At Pac-12 Championships, she won beam and placed second in the all-around. Her final season at UCLA has been off to a great start so far, and she has posted high scores of 9.95 on vault, 9.975 on bars, 9.95 on beam, and 9.875 on floor.
Sam's gymnastics is full of power and her execution is always spot on, so it's no wonder she manages such high scores all the time. Her bar routines are always very fluid, with impressive skills, such as a full pirouette connected straight into a gienger, and a double layout dismount. On beam, each of her skills is performed with such precision, and her dismount is one of the most difficult in NCAA - a back handspring into back layout into a full twist. You can see one of her beam routines below (and check out that stuck dismount!)
In addition to all of her gymnastics accomplishments, Sam, a Communications major, is an experienced broadcaster, having provided commentary on several of USA Gymnastics' events, as well as hosting the weekly Bruin Banter series.
So far, Sam seems to be competing at her best yet and we wish her luck for the rest of her final season with the Bruins!
Related:
Stellar Seniors - Erica Brewer
Stellar Seniors - Lloimincia Hall
Stellar Seniors - Georgia Dabritz
Stellar Seniors - Kytra Hunter