Current Georgia Gym Dog,
Brittany Rogers
, is aiming to make her second Olympic Team in 2016. Rogers was a member for the 2012 Canadian Olympic Team and will be a senior at Georgia next season. Rogers has filled out the current paperwork to petition her way onto the Senior High Performance and aim towards another Olympic Games. Rogers has begun some elite training while at Georgia, and has plans in place to continue training. Rogers plans to work toward her first meet, Nationals in late May.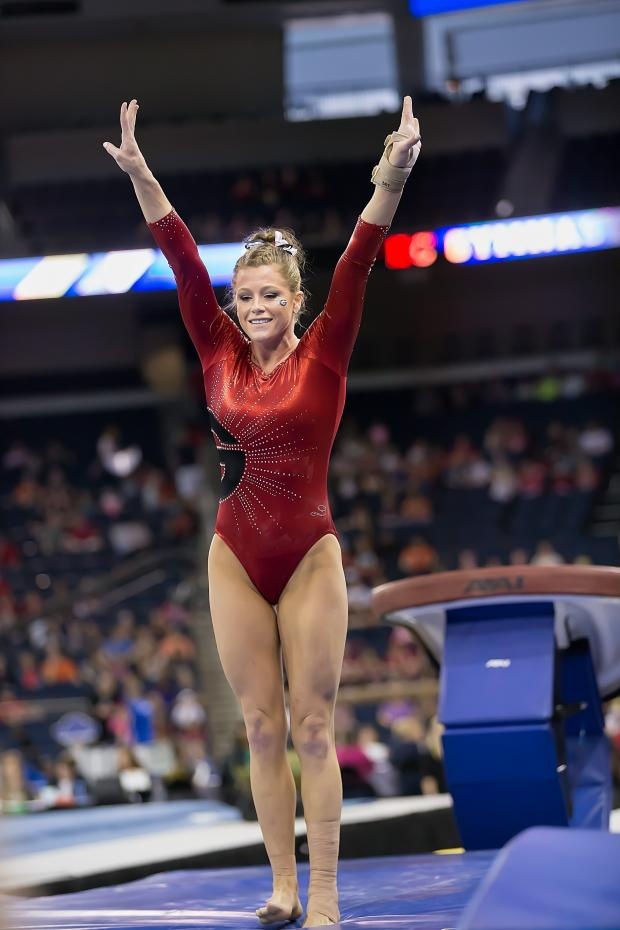 Rogers' success at 2012 Olympics
At the 2012 London Olympic Games, Rogers helped Team Canada to their best finish ever, fifth place. Rogers was a part of history as Team Canada qualified to the team final for the first time. In the team final, Rogers contributed scores of 14.866 on vault and 14.466 on uneven bars toward the Canadian team's fifth-place finish. Individually Rogers qualified to the vault final where she placed seventh with a score of 14.483. She competed a yurchenko double full (first vault) and yurchenko 1/2 on front 1/2 off (second vault).

Rogers' success at Georgia
Rogers became an All-American on bars in 2015 as a junior, where she qualified to event finals for the first time. She impressed at event finals finishing second on bars with a 9.950. Rogers was a part of helping her team qualifying into the Super Six as a freshman and sophomore. Rogers has been a strong contributor on vault, bars and beam in her career at Georgia. Rogers has very impressive career highs: V- 9.95, B- 9.975, BB- 9.95, FX- 9.90, AA-39.60.
Watch interview with Rogers following event finals
Gymnastike recently caught up with Brittany Rogers to talk about her goals and plans for Rio 2016 and finishing out her Georgia career.
What are your goals toward Rio 2016?
My main goal towards Rio is to be as valuable as I can be for Team Canada. Staying healthy and in shape follows under that goal, however with that, I want to be ready to help the team wherever and whenever they will need me.
What will your training be like moving toward Rio 2016?
My training will sort of mesh between college and elite training. Obviously during school and the fall, I will practice with the team during team hours for 20 hours a week, however I will add my elite skills into our team workouts as best as I can. Currently and in the summer, my collegiate routines are now considered my warm up routines for my elite routines, so I can fit that into my training as well. My hours won't go up an extreme amount because usually I am the only gymnast on the event I'm training, so I can be consistent and knock out many numbers quickly. I will do strength and conditioning with the strength coach at UGA, as well as some in-gym conditioning and cardio.
Will you remain at Georgia and compete as a senior?
I will remain at Georgia and compete as a senior (yay!) and incorporate elite skills and routines into practice, and maybe even compete a few.
What skills are you training to get back to your elite status?
Skills going back into my elite routines will be twisting elements on bars (from stalder and toe-on) as well as shaposh, a front toe-on half, and my new double layout dismount. On beam I will be adding my front ariel, a switch half, a full turn, and a double back dismount. On vault I have been training DTY as well as a second vault, which will most likely be yurchenko half on, front pike off.
When is your next competition for Team Canada?
My next competition for Team Canada will be determined on my performance at Nationals 2015. Pan Am Games and World Championships are my goals, however I'm excited to get the opportunity to compete at Nationals, and will be excited to have any further opportunities to represent the Team!
How have your coaches at Georgia taken to your decision to go for Rio?
My coaches at Georgia have been so supportive, helpful, and encouraging throughout this process. I think we're all equally excited! It's been great having such adaptable coaches from both ends, Georgia and Canada, to help me in pursing my dreams. Even our UGA athletic trainer and our strength coach who have also adapted schedules to be with me throughout this process have been so amazing. I also have such an amazing team supporting me. The girls who have stayed at UGA to take classes or stay at UGA over the summer have been in the gym with me, pushing me to keep going, and encouraging me to be my best. I couldn't do it without them!
Anything else you would like us to know about your training/finish to your Georgia career?
I've just been so lucky to get another opportunity to train for the Olympics, AND finish my senior year at UGA. It truly is the best of both worlds and I can't thank everybody enough. Regardless of the outcome, I know I've given everything I have and I'm proud of myself for the adversity of overcoming injuries and setbacks. This challenge will only make me stronger (physically and mentally), and I'm so ready for the ride!
Related:
Georgia Gymnastics 2015 photo album
Interview with Rogers after the 2015 NCAA Championships