For the first time ever in their careers the Peszek sisters, Sam and Jessie, will compete at the same competition. Fifth year senior, Sam Peszek will be competing with her team, UCLA as they look for a bid to nationals. Sophomore Jessie Peszek will be representing Western Michigan University as a bar specialist, qualifying as an individual. Both sisters will be competing at the Columbus Regional on Saturday.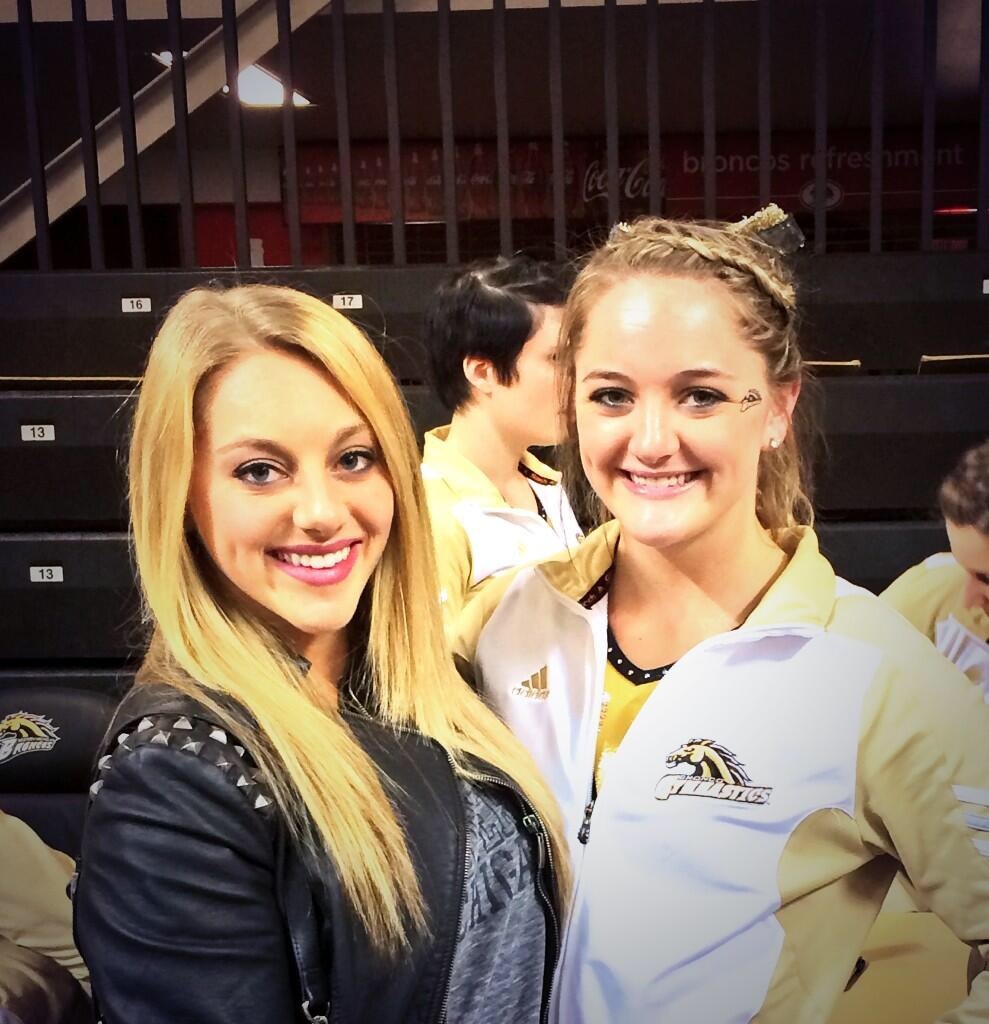 Image Via Sam's Twitter
Gymnastike recently spoke with UCLA senior, Sam Peszek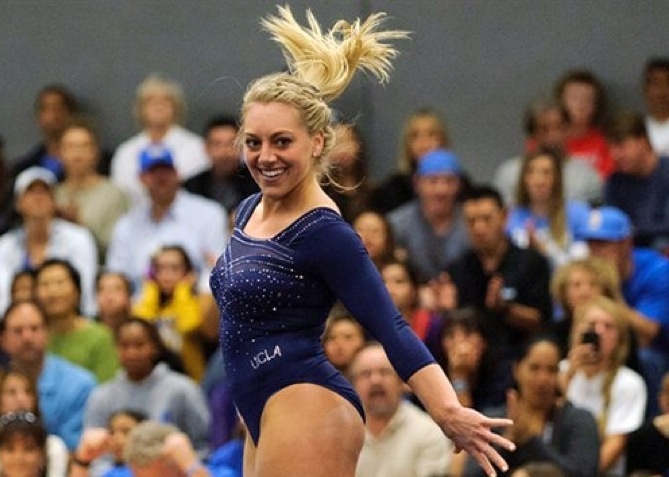 What was your reaction when you found out you would be competing with your sister?
I was very excited as we have never competed together. This year I am having a lot of 'lasts' so for me to have a 'first' is really exciting. I am so proud of her and I hope she knows she will have the team support of UCLA. It is going to be great that UCLA will be on a bye when Jessie competes bars, so we will make sure to watch and cheer for her.

What do you think your parents will do to show support to two schools at the meet?
I see my mom wearing both schools shirts or even switching back forth throughout the meet. My mom is very spirited and energetic so she loves getting into all this. My mom is already planning what noise makers and signs she can bring to the meet. My parents definitely should earn the parents of the year award as they are traveling so much to try to see as many of my meets and Jessie's. They are excited to be together this weekend.


As your career is coming to a close, what do you hope to get out of these last few meets?
My focus for the remainder of the season is to have fun and make it the cherry on top. I love competing on podium and competing, so I just want to enjoy the experience. I love the pressure and post season so I am excited. I want to enjoy the moments with my teammates and just take in every second and the final part of my adventure.
Gymnastike recently spoke with Jessie Peszek, sophomore gymnast at Western Michigan University. Jessie qualified to regionals on bars with 9.830 RQS.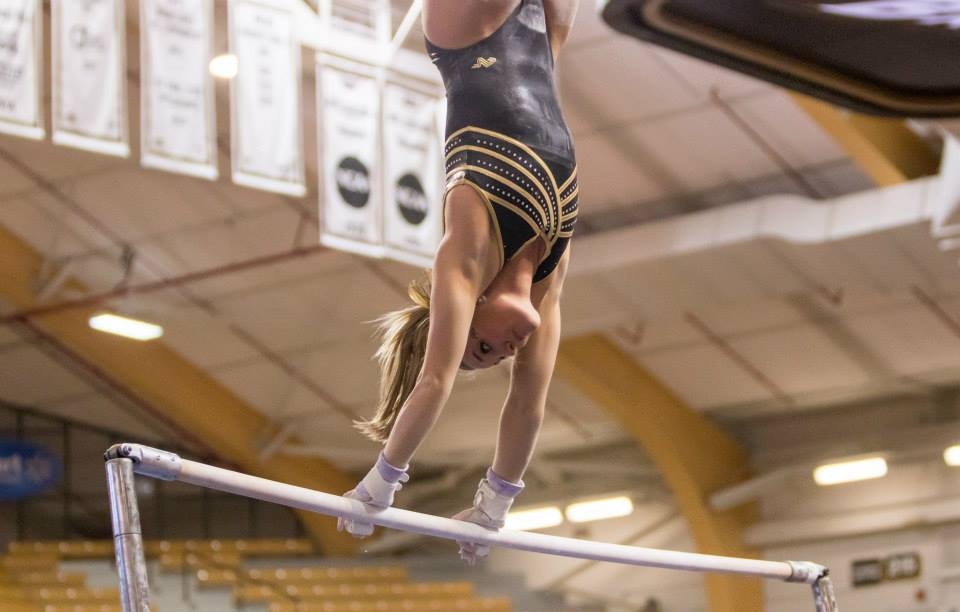 What was it like for you to find out you made regionals as an individual?
It was really exciting! I had been on the bubble all season so to make it was exciting. We were disappointed to not make it as a team, but I will have three other teammates there with me.

What are you most looking forward to at regionals?
I am looking forward to being with the big teams and the talent level. Of course I am so excited to compete with Sam! It is so crazy that we are at the same regional. It is going to be an interesting experience, and I will be cheering and rooting for her from the floor. I have always looked up to Sam and for me to be there with her for one of her last meets of her career, is going to be great.

What is this exciting competition like for your parents?
It is just great that they don't have to split up! It is going to be great that they can be at the same competition to see both Sam and I.

Gymnastike recently spoke with their mom Luan Peszek, USA Gymnastics Vice President Of Women's Program


What has it been like traveling these past two years to try to see both Sam and Jessie compete?
Well with Sam at UCLA and this being her senior year, we are trying to get to as many meets as possible. This year we have been lucky to catch a lot of Friday-Sunday meets, where we have been able to catch both girls in the same weekend. I travel a lot for my job, so if I am not able to get to the meets, I watch online with the live stream. It has been really exciting following both of their careers and seeing them succeed. Both of them are very passionate about the sport of gymnastics and their careers.
What was it like for Sam and Jessie growing up together, both as successful gymnasts?
Both girls trained at the same gym together for most of their lives, however were in different groups. Sam and Jessie both started at the age of two in the sport. Both girls have always been a huge supporter of each other. Sam went the elite route and Jessie was always there at her meets, including the Olympic Games, Nationals, Olympic Trials, etc. At the same time Sam has been a huge supporter of Jessie as well. Sam has traveled home early for holiday breaks to catch Sam at a meet, and even stayed in town after a competition taking another flight home to catch her sister compete. When they are not able to be at each other's meets, they catch the live stream.

What is the most exciting part of having your girls competing together at the same regional competition?
Well I was at the airport with the Team USA girls when I got the text that UCLA was headed to Ohio State. I was so excited that it was so close to us in Indianapolis. I immediately began asking, what about Western Michigan? Sure enough, Jessie was also named to the Ohio State regional. We couldn't be more excited to have the girls together, in a meet only three hours from us. This will be their first meet ever competing 'together'.

What was the reaction like from your girls?
We all immediately got on the family group text to talk about it. Both Sam and Jessie were on twitter sharing the news as well. We had talked about how cool it would be for them both to be at the same regional, but never thought it would happen.

As Sam closes out her very successful career, what are your thoughts on her career?
We have been blessed with how successful Sam's career has been. She has accomplished so much more that we could have dreamed. It has been so fun to watch her as she is such a passionate gymnast. We are looking forward to seeing her at two more competitions.