Geralen Stack- Eaton was a member of the Alabama Gymnastics Team from 2009-2012. Stack-Eaton won back to back National Championships with her teammates in 2011 and 2012. She was the NCAA Floor Champion as a junior in 2011 and the NCAA Beam Champion as a senior in 2012.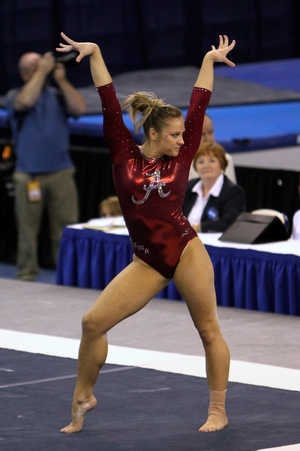 Image via Stack-Eaton's Facebook


What have you been up to since graduating in 2012?
After graduating I moved to New York City to pursue a dance and singing career. I also worked at a gym in New York. After a year I decided to move back home to Pennsylvania where I started applying for coaching positions. In late August I applied to Minnesota for the assistant coach position. Two weeks later I flew out to Minnesota to meet Jenny and fell in love with Minnesota. Jenny was very welcoming and everyone has been very welcoming within the Big Ten as well. I accepted the position and started at the end of October.
What moments stand out to you the most from your NCAA career?
Definitely winning back to back National Championships! I couldn't have asked for a better way to end my career. I miss the comradery and the bond I had with my teammates. I am also proud to have won two individual titles as well. I was very humbled to have won those titles. I am also proud that I was able to accomplish academic success. I was an academic all-American and a scholastic all-American.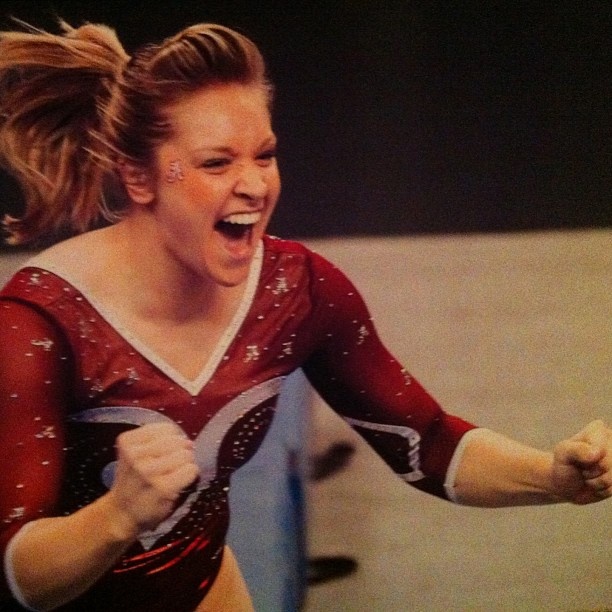 Image Via Stack-Eaton's Facebook

What was it like nailing a key beam routine to help your team win back to back National Championships?
It was really cool because we knew we were a great beam team. Sarah has always told us that championships are won on beam. So we had practiced many times ending on beam in during intrasquads. We were very confident going into the last rotation. We wanted to leave it all out there and give it our all and have no doubts. It was an amazing feeling to nail a beam rotation to win!
With Sarah Patterson retiring from Alabama, what do you think is her legacy that she left behind?
Sarah is an amazing woman! She influenced each and every one of us to be the best person that we could be. She pushed us to be the best in and out of the gym; academics were just as important to her. She did a lot for the community as well including charity work. Sarah did a lot for breast cancer awareness and our alumni association. She will always be remembered as a big part of Alabama Gymnastics.
With all of the coaching changes and controversy at Minnesota in the last year, what is the mood of the gymnasts on the team?
I think the mood of the team is very positive! We have a new staff and a fresh look. We are focusing on moving forward and not looking at what has happened in the past. Each week gets better and the motivation gets stronger. All three coaches are working hard and working well together as we have created a great bond. The coaches all respect each other and are sharing our ideas to find out what works best. We did get a late start but it is so great to see that us coaches all want to go in the same direction.
What is your current role with the team as assistant coach?
I am the beam and floor coach. I share the role with Jenny. However I do assist with other events, and as coaches we are not afraid to speak up and help on another event. I also am choreographing floor routines with Jenny. It was a great experience to work at them together. I am very excited as we just finished all the routines up today!
What are you enjoying the most about being a part of Minnesota Gymnastics?
I am enjoying being able to push each athlete to their fullest potential. I am working to get them to believe how great that I know they can be. It is amazing to watch each girl grow and get better.
What else would you like us to know about you or Minnesota Gymnastics?
I am thankful for the alumni that have reached out to me here at Minnesota and welcomed me. Everyone has been so nice and it feels like my home away from home. Everyone has offered to help in any way possible. It is nice to have community support and people that believe in me.
Related: