Gymnastike recently caught up with former Georgia Gymdog,
Cassidy McComb
. She was a member of the Georgia Gymdogs from 2008-2011. See what McComb has been doing since graduating, along with her current role with the Gymdogs.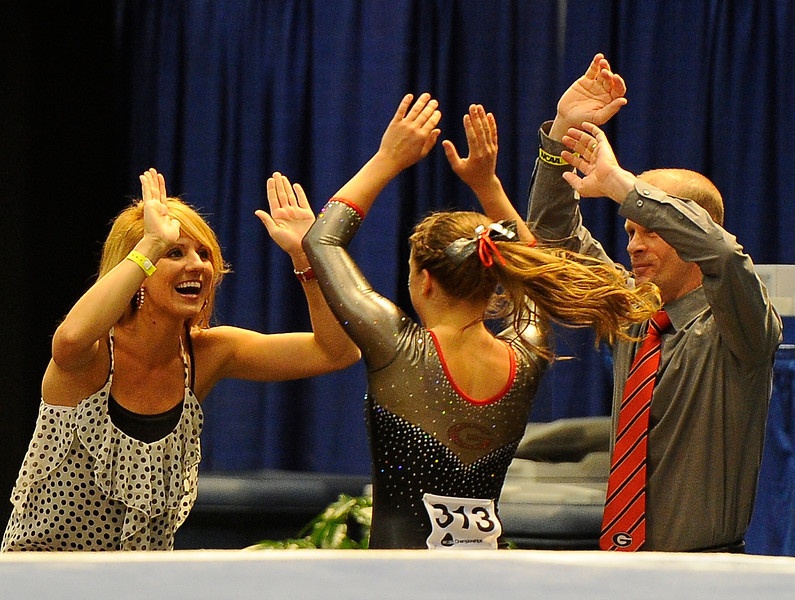 What have you been up to since graduating in 2011?
When I finished school I moved back home to Las Vegas and taught dance at my former club gym, Gymcats, for 8 months. From there, I moved to Tuscaloosa, AL for cosmetology school. After I completed that program I moved back to Athens where I was the intern for one year & now transitioned into my 2nd year as the volunteer coach.
Looking back at your career as a Gymdog, what stands out to you the most?
Winning two national championship titles were huge of course, but the friendships and relationships that grew from being part of such an amazing program are going to be with me for life.
What do you miss the most about being a Georgia Gymdog?
I miss the competition floor! One of the best assests to being a Georgia Gymdog is all the support we have surrounding us & there was nothing better than doing what I loved in front of 10,000 fans. I also miss the day-to-day family interactions with one another. The relationships that are built in four years will never leave me, but it's tough going our separate ways!
You were a part of the coaching change from Suzanne to Jay, what was the biggest change for you personally during that time?
Suzanne and Jay each helped mold Georgia Gymnastics into what it is today and I was lucky to have them both as my coaches. Each of them helped me not only in gymnastics but personally as well. I have nothing but respect for both of them and wish them well.
You were one of the few gymnasts who continued to make the moon walk famous, any insights of who has now taken over that tradition this year?
Junior, Mary Beth Box.
What is your current role with the Gymdogs?
I am currently in my 2nd year as the volunteer coach.
What has surprised you the most about being a volunteer coach for Georgia?
Being in a coaching role is way more fulfilling than I ever thought it would be. To help guide/mentor student-athletes reach their full potential is one of the greatest parts of being a coach at the University of Georgia.
Did you choreograph any of the Gymdogs floor routines this year?
Yes, this was my 2nd year.
What is next for you personally? What are your goals?
My #1 goal is to stay in the moment with everything that I do, take it one day at a time and enjoy the ride. I bleed red & black & love the sport of gymnastics so it's the perfect combination at this point!
What do you think it will take for UGA to get back to winning a national championship?
Exactly what we're doing—Focusing on the process, working hard, keeping a positive attitude & helping the athletes love every moment of it because it flies by.
Anything else you would like us to know about Cassidy McComb?
GO DAWGS! Sic' em!
Related: