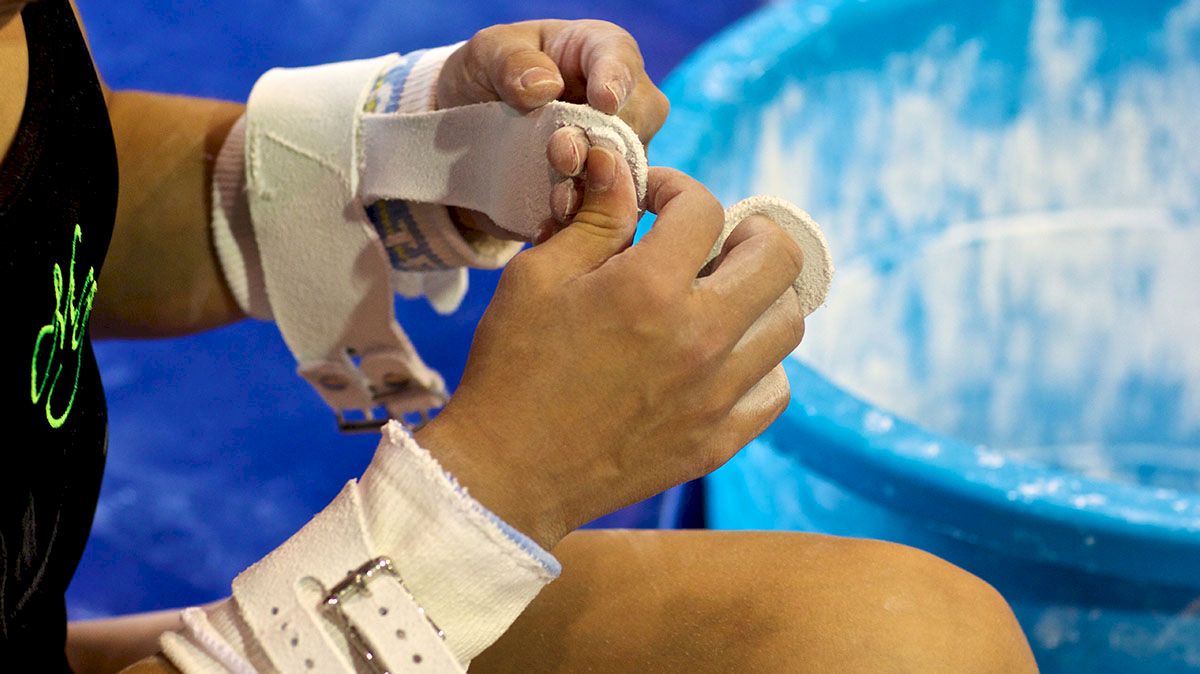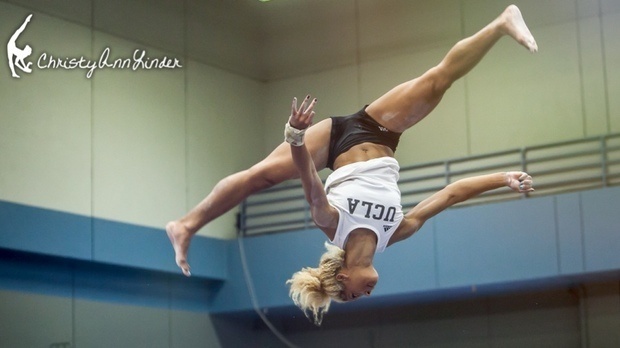 Beam is the most difficult event in women's gymnastics, however, there are many who can conquer this event with a trio of talent, mental toughness and beautiful execution. Expect to see a pool of college brilliance on beam this weekend at the NCAA Championship in Birmingham, Alabama.

Of course, Florida's Bridget Sloan is the number one beamer in the country with a 9.95 RQS. Sloan earned a perfect 10 on beam earlier this season and is certainly a front-runner for this title; however, she needs to bounce back from an uncharacteristic fall at the University Park Regional. Since Sloan is such a fierce competitor, it is doubtful that she will repeat this mistake so expect to see her standing on the podium in Birmingham.

Another Gator beam contender is senior Mackenzie Caquatto, who is ranked second in the country. Caquatto's beam performance in last year's Super Six was instrumental in the Gator's historic win. Under immense pressure, she hit her beam routine after back-to-back Gator falls. This tenacity demonstrates why this senior All American is a force to be reckoned with on beam.


Watch Danusia Francis perform her incredible dismount

UCLA Bruins have a couple of front runners: First is Danusua Francis, who lit up Pauley Pavilion last year during the NCAA beam final with her amazing side aerial. With more complexity, Francis now has her side aerial at the end of her routine directly connected to her dismount. Ranked number four in the country, Francis is another favorite for the beam title. While the second Bruin who can vie for the beam title is Samantha Peszek who is ranked fifth on beam with a 9.25 RQS. Peszek was the first NCAA athlete in history to compete a standing full on beam. Although, we won't see this skill in Birmingham, she has more than enough difficulty in her routine to contend for the title.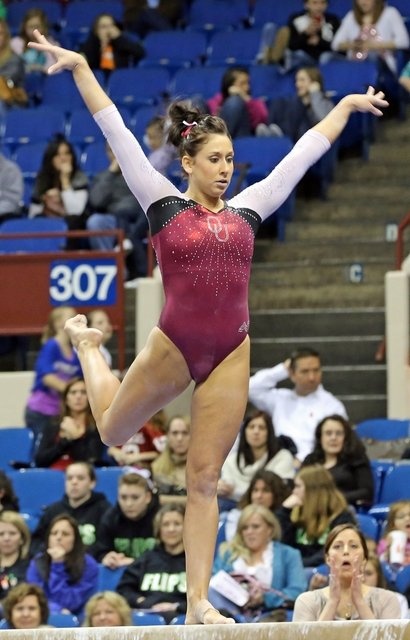 (c) Erin Long

Another school to keep your eye on is K.J. Kindler's Oklahoma Sooners who are known for being outstanding on beam. Sooner Taylor Spears is a finalist for the prestigious AAI Award and competes a beam routine that includes a plethora of difficult skills highlighted by a gorgeous onodi combination. Don't count out Sooner freshman Chayse Capps either who has both a dance background and a stunning routine which could help her make a play for the title.

Other top challengers for beam include: Lindsey Cheek of Georgia, Katherine Grable of Arkansas, Rheagan Courville of LSU and Kim Jacob of Alabama.

Whenever beam is concerned, expect the unexpected as anything can happen when the apparatus is only four inches wide. Gymnastike's coverage from Birmingham will kick off on Thursday, April 17th as the nation's top teams take to the Championship arena for the first time. Sign up for Gymnastike Gold to soak up the excitement and watch the most extensive coverage of the NCAA championships to date.


Beam Rankings via Troester
| | | | | | | | |
| --- | --- | --- | --- | --- | --- | --- | --- |
| Rank | First Name | Last Name | BB RQS | Team | Region | Ave | High |
| 1 | Bridget | Sloan | 9.950 | Florida | SE | 9.850 | 10.000 |
| 2 | Taylor | Spears | 9.935 | Oklahoma | SC | 9.835 | 9.975 |
| - | Mackenzie | Caquatto | 9.935 | Florida | SE | 9.907 | 9.950 |
| 4 | Danusia | Francis | 9.930 | UCLA | W | 9.906 | 10.000 |
| 5 | Samantha | Peszek | 9.925 | UCLA | W | 9.922 | 9.950 |
| 6 | Jessie | Jordan | 9.920 | L.S.U. | C | 9.856 | 9.975 |
| 7 | Kaylan | Earls | 9.915 | Georgia | SE | 9.827 | 9.950 |
| 8 | Katherine | Grable | 9.910 | Arkansas | SC | 9.891 | 9.925 |
| 9 | Chayse | Capps | 9.905 | Oklahoma | SC | 9.818 | 9.975 |
| - | Lindsey | Cheek | 9.905 | Georgia | SE | 9.838 | 9.950 |
| - | Rheagan | Courville | 9.905 | L.S.U. | C | 9.825 | 9.950 |
| - | Kim | Jacob | 9.905 | Alabama | C | 9.832 | 9.950 |
| 13 | Emily | Wong | 9.900 | Nebraska | SC | 9.864 | 9.950 |
| 14 | Aja | Sims | 9.895 | Alabama | C | 9.845 | 9.950 |
| - | Rebecca | Clark | 9.895 | Oklahoma | SC | 9.835 | 9.925 |
| - | Kassidy | Stauder | 9.895 | Penn State | NE | 9.856 | 9.950 |