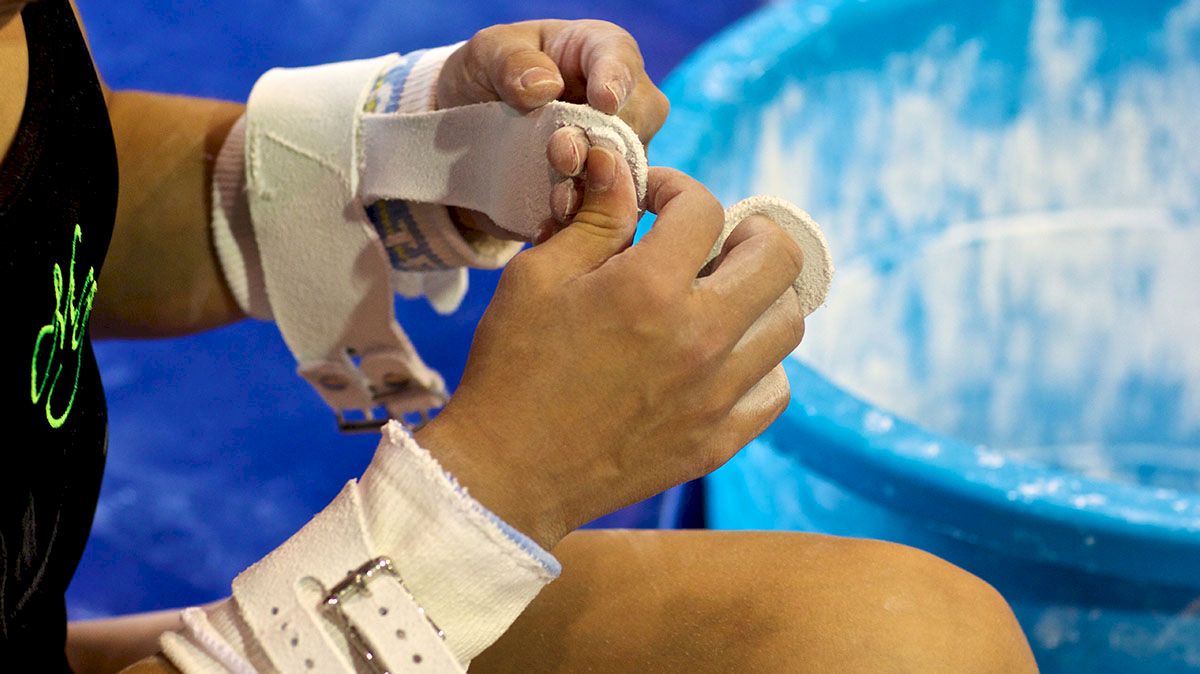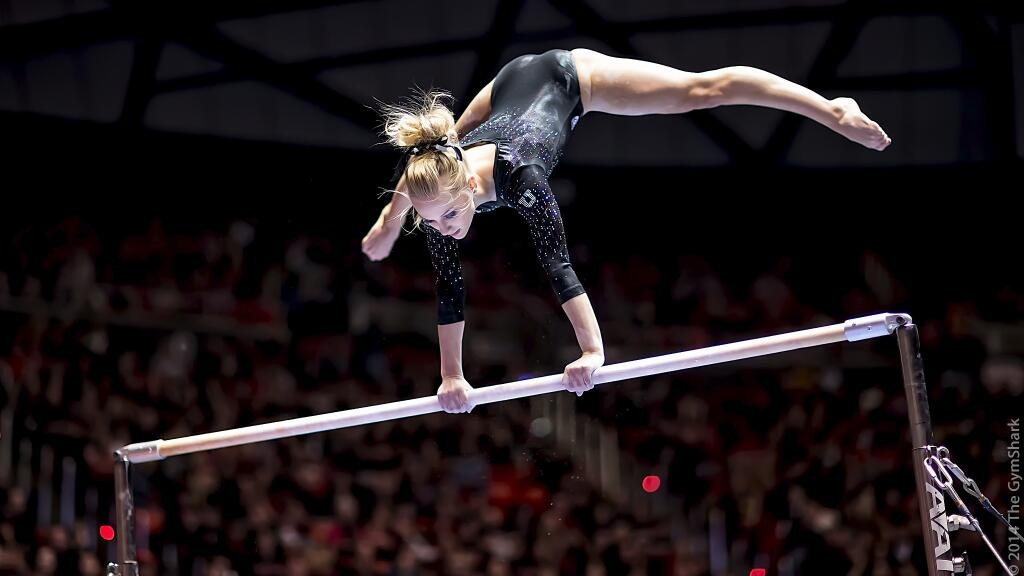 The race in the uneven bar final at this year's National Championships will be incredibly tight with so many talented athletes capable of winning the title. Let's take a look at some of the gymnasts vying for that National Title on the uneven bars.
Utah's
Georgia Dabritz
is the top ranked bar worker in the country and won the Pac 12 title with a perfect ten. Dabritz is a beautiful bar worker with nice lines and perfect toe point. The highlight of her routine is a huge yaeger release and a usually stuck full twisting double back dismount and shockingly, Dabritz does NOT wear grips during her routines. Dabritz tied with Bridget Sloan for silver on bars at the 2013 NCAA Championships.
The University of Georgia has been ranked #1 on bars all season long so it comes as no surprise that the Gym Dogs have two gymnasts that could vie for the National Title. Senior Lindsey Cheek and junior Chelsea Davis are both ranked second in the country on the event with a 9.945 RQS. Their routines are similar in that they perform huge tkatchevs, hit perfect handstands, and soar on their double layout dismounts. These Gym Dogs are both capable of winning the bar title.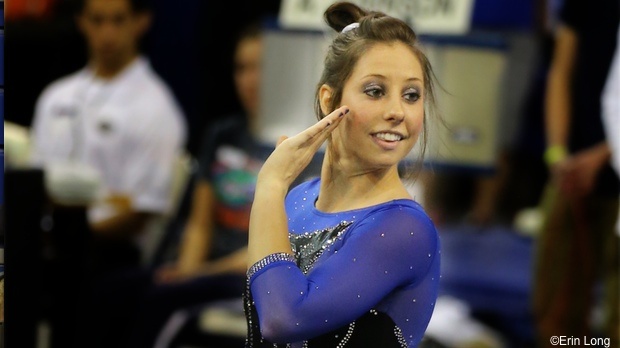 The Florida Gators have a trio of gymnasts contending for gold on the uneven bars in Bridget Sloan, Mackenzie Caquatto and Alaina Johnson. Johnson is the defending NCAA Champion and her bar routine clinched the National Title for the Gators last year in the team competition. 2013 NCAA All Around Champion Bridget Sloan finished second to Johnson in the 2013 NCAA bar final and spent a majority of this season ranked number one on the event. Caquatto is another Gator who could win gold on bars. The former U.S. Senior National Team Member has always been an incredible bar worker and scored a perfect ten in 2013 on the event. Any of these Gators could take the bar title in Birmingham.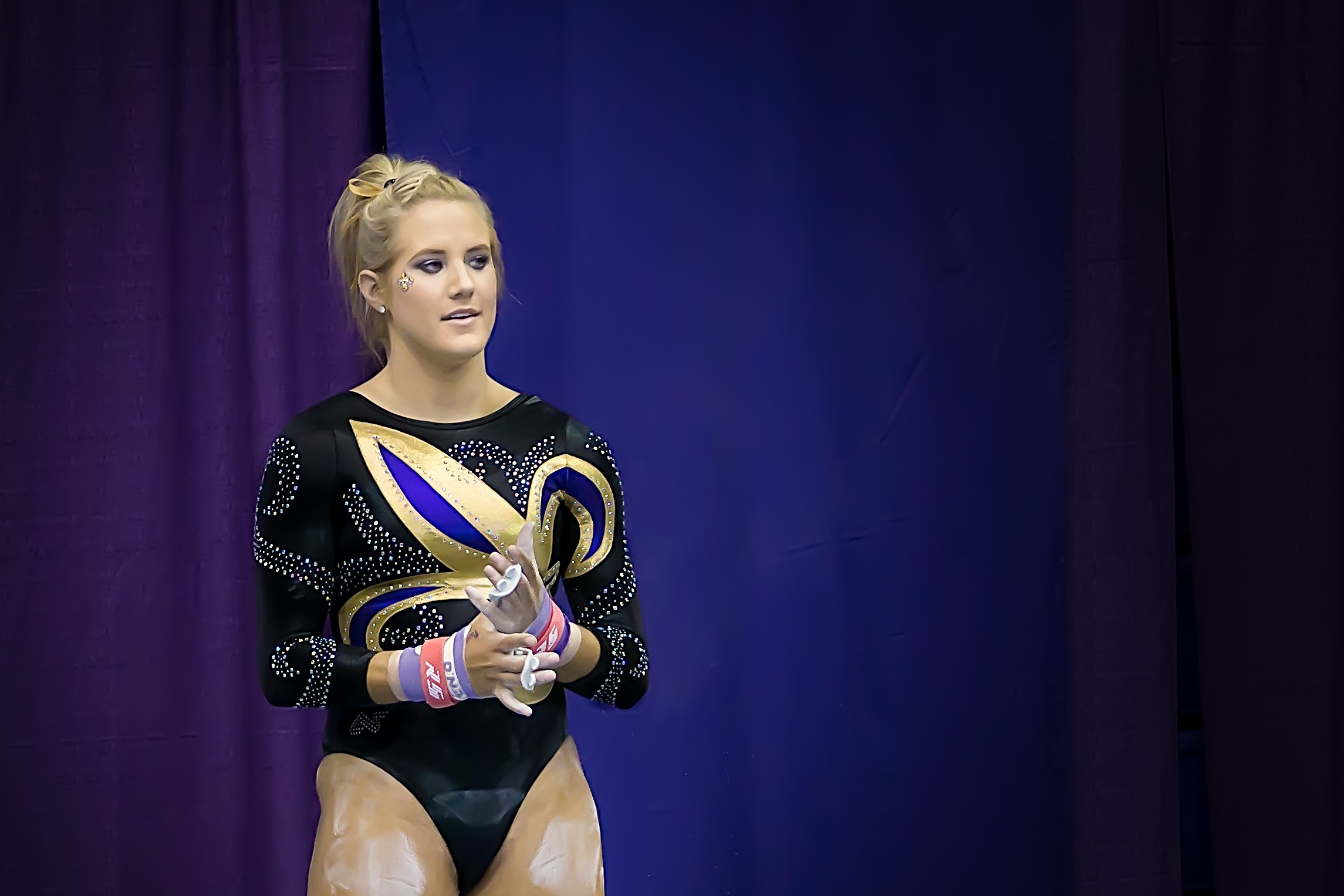 Sarie Morrison is in the hunt for the title with a 9.935 RQS and 9.915 average this season. Morrison is tied for fourth in the country on bars and has rocked this event all season for the Tigers scoring as high as 9.975. UCLA Bruin Samantha Peszek is another gymnast who could take the title on bars. Peszek missed last season with an achilles injury however, she bounced back and is one of two gymnasts this season to earn a perfect 10 on bars the other being Georgia Dabritz of Utah. Other top contenders for the bar title include Taylor Spears of Oklahoma, Nancy Damianova of Utah and Joanna Sampson of Michigan.
Gymnastike's coverage from Birmingham will kick off on Thursday, April 17th as the nation's top teams take to the Championship arena for the first time. Sign up for Gymnastike Gold to soak up the excitement and watch the most extensive coverage of the NCAA championships to date.

Rankings


| | | | | | | | |
| --- | --- | --- | --- | --- | --- | --- | --- |
| Rank | First Name | Last Name | UB RQS | Team | Region | Ave | High |
| 1 | Georgia | DABRITZ | 9.950 | Utah | NC | 9.941 | 10.000 |
| 2 | Lindsey | Cheek | 9.945 | Georgia | SE | 9.923 | 9.975 |
| - | Chelsea | Davis | 9.945 | Georgia | SE | 9.913 | 9.975 |
| 4 | Bridget | Sloan | 9.935 | Florida | SE | 9.918 | 9.975 |
| - | Sarie | Morrison | 9.935 | L.S.U. | C | 9.915 | 9.975 |
| 6 | Mackenzie | Caquatto | 9.925 | Florida | SE | 9.905 | 9.950 |
| - | Camille | Santerre-Gervais | 9.925 | Iowa State | NC | 9.786 | 9.950 |
| - | Taylor | Spears | 9.925 | Oklahoma | SC | 9.879 | 9.975 |
| 9 | Alaina | Johnson | 9.920 | Florida | SE | 9.889 | 9.975 |
| - | Brittany | Rogers | 9.920 | Georgia | SE | 9.900 | 9.950 |
| 11 | Nansy | DAMIANOVA | 9.915 | Utah | NC | 9.845 | 9.950 |
| 12 | Samantha | Peszek | 9.915 | UCLA | W | 9.906 | 10.000 |
| 13 | JOANNA | SAMPSON | 9.915 | Michigan | NE | 9.867 | 9.975 |
| - | Rheagan | Courville | 9.915 | L.S.U. | C | 9.858 | 9.950 |
| - | Sophina | DeJesus | 9.915 | UCLA | W | 9.839 | 9.975 |
| - | Emily | Wong | 9.915 | Nebraska | SC | 9.852 | 9.950 |