#2 OU vs. #5 UCLA
OU Posts an Amazing 198.375 in Win Over UCLA
OU Posts an Amazing 198.375 in Win Over UCLA
Feb 22, 2013
by Jennifer Teitell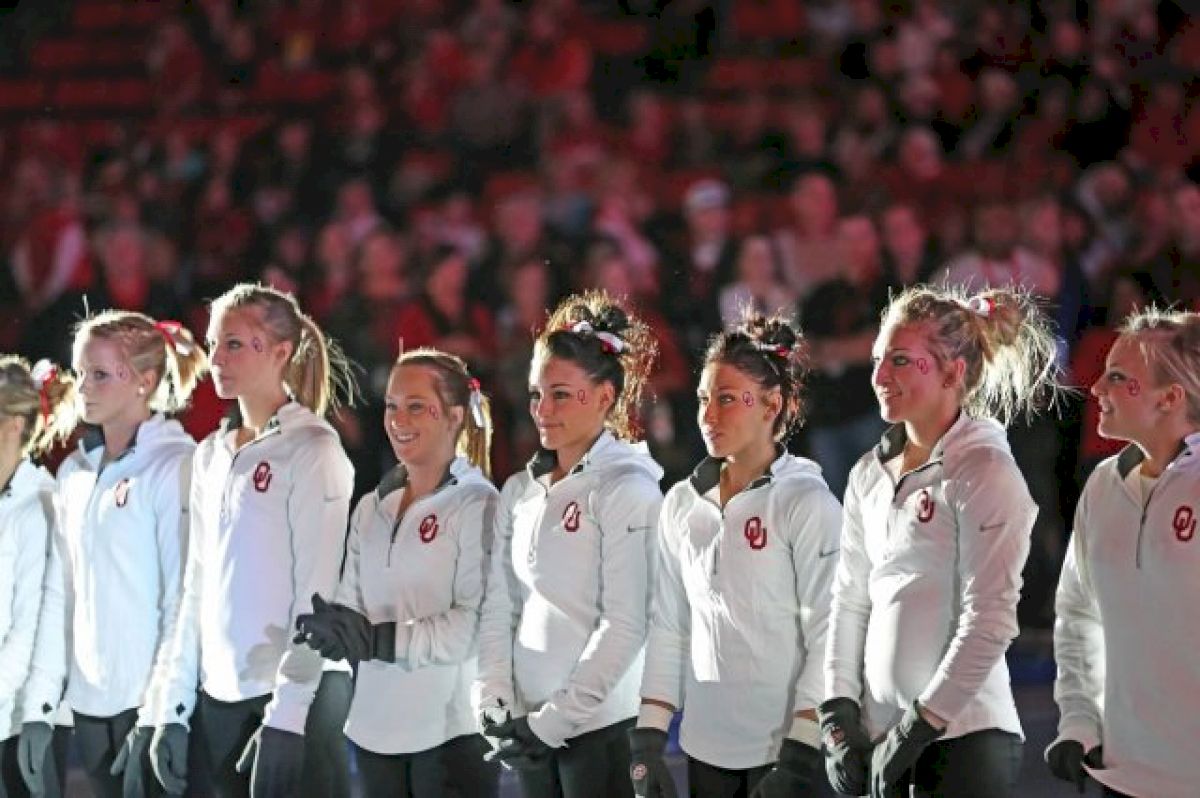 The #2 Oklahoma Sooners were on fire in Norman against #5 UCLA putting up the highest score in school history and the highest score in the Nation this season with a 198.375 to UCLA 197.2. In addition to the record-high total score, the Sooners posted season high marks on vault (49.525), bars (49.575) and beam (49.550). For the first time this season, both OU and its opponent scored a 49.000 or higher on every event.
The Sooners opened the meet on vault, where they posted a season-high 49.525. OU was led by Maile'ana Kanewa, Keeley Kmieciak and Brie Olson, who each posted scores of 9.925. Kmieciak's score tied a career high, while Kanewa made her Sooner career debut after missing the first half of the season with an injury.
Olson took the all-around title with a 39.700, a career high score that topped UCLA's Vanessa Zamarripa, the nation's top all-arounder, who scored a 39.650. Junior Taylor Spears and Kmieciak tied Zamarripa with career high scores, also scoring 39.650.



Team Scores
| | | | | | |
| --- | --- | --- | --- | --- | --- |
| | Vault | Bars | Beam | Floor | Total |
| #5 UCLA | 49.300 | 49.250 | 49.300 | 49.350 | 197.200 |
| #2 Oklahoma | 49.525 | 49.575 | 49.550 | 49.675 | 198.375 |
Rotation 1
Oklahoma

Vault

Taylor Spears

9.8

Madison Mooring

9.9

Keeley Kmieciak

9.925

Maile'ana Kanewa

9.925

Brie Olson

9.925

Haley Scaman

9.85

Total

49.525




UCLA

Bars

Danusia Francis

9.8

Olivia Courtney

9.825

Mattie Larson

9.150

Sophina DeJesus

9.850

Lichelle Wong

9.825

Vanessa Zamarripa

9.95

Total

49.250

Rotation 2
Oklahoma

Bars

Rebecca Clark

9.9

Haley Scaman

9.875

Keeley Kmieciak

9.925

Erica Brewer

9.9

Brie Olson

9.925

Taylor Spears

9.925

Total

49.575




UCLA

Vault

Dana McDonald

9.8

Lichelle Wong

9.825

Alyssa Pritchett

9.725

Kaelie Baer

9.875

Olivia Courtney

9.9

Vanessa Zamarripa

9.9

Total

49.300


Rotation 3
Oklahoma

Beam

Keeley Kmieciak

9.9

Lauren Alexander

9.875

Brie Olson

9.9

Erica Brewer

9.95

Madison Mooring

9.825

Taylor Spears

9.925

Total

49.550




UCLA

Floor

Dana McDonald

9.825

Sadiqua Bynum

9.150

Sophina DeJesus

9.875

Alyssa Pritchett

9.9

Vanessa Zamarripa

9.95

Danusia Francis

9.8

Total

49.350


Rotation 4
Oklahoma

Floor

Lara Albright

9.9

Keeley Kmieciak

9.9

Erica Brewer

9.875

Taylor Spears

9.95

Brie Olson

9.95

Haley Scaman

9.975

Total

49.675




UCLA

Beam

Kaelie Baer

9.8

Lichelle Wong

9.875

Sophina DeJesus

9.875

Mattie Larson

9.9

Vanessa Zamarripa

9.85

Danusia Francis

9.625

Total

49.300


All-Around
| | |
| --- | --- |
| Gymnast (School) | Total |
| Keeley Kmieciak (OU) | 39.650 |
| Brie Olson (OU) | 39.700 |
| Taylor Spears (OU) | 39.650 |
| Vanessa Zamarripa (UCLA) | 39.650 |